If you can't stand the heat … get your air conditioner repaired! Summer's here, and that means many homeowners will be using their cooling system for the first time in a long time. If your system needs repair—or replacing—CHECKBOOK can help you get the service you need without breaking a sweat. Here are some of our top tips for a/c repair:
Before you select an a/c company to work in your home, check the ratings and advice at www.checkbook.org. Each of our regions has many qualified companies who will do the work right and at a reasonable price, and some you'd be better off avoiding.
CHECKBOOK routinely finds there is no relationship between price and quality of service when it comes to a/c repair. Lower-priced firms often rate better than higher-priced firms for "doing work properly." You can pay less and still get top-quality service.
Although most consumers surprisingly don't get competitive bids even for costly jobs, getting more than one bid will often save homeowners hundreds or thousands of dollars.
The most important maintenance task for a cooling system is something you can do yourself—regularly replacing the air filter. If you do that faithfully, getting a maintenance visit from a technician may not be necessary every year. Yearly visits are more likely to be justified if the system is old, heavily used, in a dusty area, or in a very large house.
Be skeptical about entering a maintenance contract. If you might want one, be sure to check exactly what is covered and shop for price, which can vary significantly among companies.
Before installing a new system or doing a major system expansion, get proposals from several companies and compare their proposed designs. How well you design the system will affect how quickly and uniformly the house is cooled, how much noise and vibration you experience, how troubled you will be by drafts, how easy the system will be to maintain, and other important aspects of performance.
If you are considering buying new equipment, be skeptical about claims of cost savings from more energy-efficient equipment. There may be substantial savings, and there are compelling public-interest reasons to install efficient equipment. But some companies are prone to exaggerating the size of the savings—in order to sell new equipment, or more expensive equipment.
Get several companies to make proposals, ask for documentation of how much you will cut your energy bills compared to what you now have, and ask questions.
CHECKBOOK suggests software consumers can use to do their own energy-cost comparisons and also provides examples of the effects of energy savings for different options in an illustrative home.
When choosing a system, keep in mind that bigger is definitely not always better. An oversized unit will cost more and will cycle on and off constantly, thus boosting your utility bill, making more noise, requiring more frequent maintenance, and dying sooner.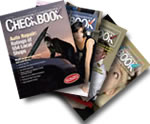 Consumers' CHECKBOOK gives you independent, nonprofit, no-advertising ratings you can trust of local auto repair shops, plumbers, veterinarians, banks, doctors, dentists, carpet cleaners...and much more...plus in-depth articles with advice from CHECKBOOK's award-winning magazine. CHECKBOOK saves you time and money for the things that matter. Available in the:


CHECKBOOK only rates firms when there are enough ratings for a meaningful evaluation. Misleading evaluations based on a handful of unscreened, anonymous posters are never the basis for a CHECKBOOK rating. CHECKBOOK accepts no money or advertisements from the firms it rates. The financial incentives for bias are non-existent. And, we've been around since 1974.