You may have heard that some of the nation's largest banks, such as Bank of America and Wells Fargo, plan to do away with no-fee checking accounts in the near future, if they haven't already. If you already pay a monthly service fee, it could be rising, as could the minimum balance your bank requires for fee-free checking.

Banks are implementing the fees as a result of 2010's Credit Card Accountability Responsibility and Disclosure (CARD) Act, which capped or banned certain bank charges, including excessive late fees, overdraft fees and steep interest-rate increases.
Even with the changes imminent, there are ways consumers can avoid or minimize monthly fees on their checking accounts. Checkbook.org's editors offer the following advice:
To Avoid or Minimize Monthly Checking Account Fees:
Speak with your current bank. It may offer a type of account that has no fees or low fees.
Comparison shop. Many smaller banks offer no-fee options or relatively low fees. The last time CHECKBOOK reported on the service quality at banks (knowledge of staff, speed of service, pleasantness of staff, etc.) many small banks beat all of the large banks. When shopping, also consider credit unions.
When talking checking with your current bank or shopping other banks, find out if any of the following will let you avoid or reduce fees:

Carrying a higher monthly balance
Choosing an account that does not pay interest
Opening a savings account, CD, or IRA account with the bank
Waiving paper statements in favor of e-statements
Banking electronically only (no teller transactions), including getting cash and making deposits through ATMs, using online bill payment,
Making regular direct deposits (minimum deposit may vary)
Having your account at a bank where your do other business (have a credit card, car loan, or mortgage)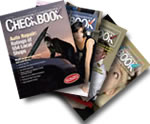 Consumers' CHECKBOOK gives you independent, nonprofit, no-advertising ratings you can trust of local auto repair shops, plumbers, veterinarians, banks, doctors, dentists, carpet cleaners...and much more...plus in-depth articles with advice from CHECKBOOK's award-winning magazine. CHECKBOOK saves you time and money for the things that matter. Available in the:


CHECKBOOK only rates firms when there are enough ratings for a meaningful evaluation. Misleading evaluations based on a handful of unscreened, anonymous posters are never the basis for a CHECKBOOK rating. CHECKBOOK accepts no money or advertisements from the firms it rates. The financial incentives for bias are non-existent. And, we've been around since 1974.