With food prices a constant in most consumers' lives, implementing simple saving strategies at the grocery store can have a significant effect on a monthly budget. Consumers' CHECKBOOK and checkbook.org have put together a number of effective dollar-stretching tips that can work for almost any shopper.
Plan your meals and make a shopping list. Proper planning makes you less vulnerable to high-cost, low-nutrition impulse items. A list also makes you less likely to forget things, sparing you from wasting time and gas on a return trip. Walking through the store where you usually shop, you can make a list of the items you regularly buy. Then photocopy it and mark up a copy each week before you go to the store.


Shop specials. Take full advantage of the specials offered by whatever store you use. For example, if tuna that usually sells for $1.59 a can is marked down to $.79, consider buying in quantity. You save $8 on a purchase of 10 cans.


Try store brands instead of national brands. CHECKBOOK has found that substituting store brands for about one-sixth of the items in a typical shopper's market basket typically cuts the grocery bill by about 5 percent.


Choose a lower priced store. In most areas where CHECKBOOK does comparison shopping for a balanced market basket of about 150 items, there are some chain stores that consistently beat other supermarkets by 10 percent or more. Even if the lowest priced store isn't convenient for you for everyday shopping, think about whether it will be convenient sometimes—when you are dropping off the babysitter or coming home from a game, for instance.


Consider a warehouse store. CHECKBOOK has found, for example, that when a Costco or Sam's Club is available, it will typically save shoppers for the items it carries about 30 percent compared to shopping, even for similar-size items, at the area's major chain supermarkets.


Consider changes in your overall eating habits. Eating less meat is likely to save you money and reduce your fat intake.


Be flexible. Adjust your eating habits to take advantage of bargains. For example, when beef goes up in price and chicken goes down, eat more chicken.


Consider less expensive recipes. Especially consider foods from other parts of the world. Many countries use much less meat than is commonly used in the U.S. to prepare exceedingly tasty dishes.


Consider the cost of convenience foods. You can save by slicing your own cheese or making your own sauces and dressings. You also usually save by avoiding products prepared in individual serving packets.


Select sizes carefully. Big roasts, hams, and turkeys usually have more meat to bone than smaller ones. Large sizes of flour, sugar, rice, salad oil, and other storable staples also usually save you money. And milk is cheaper by the gallon. But small apples and bananas may be perfect for families with small children, and small cans of tomato paste may save you money by helping avoid wasted leftovers.


Compare sizes of item-priced fresh produce before you buy. In the same store, CHECKBOOK often finds some heads of iceberg lettuce, sold by the head that weigh twice as much as others.


Use unit pricing to determine which products offer the best value—the lowest price per pound, for example.


Calculate cost per serving, not just cost per pound. Some products have more waste than others. For instance, bone-in roasts and chops will give you two or three servings per pound, while boneless meat will give three or four.


Look carefully at meat before you buy. A CHECKBOOK study to assess waste in meats found one rib steak that was 88 percent lean and another that was 48 percent lean; as a result, the leaner piece cost 45 percent less per lean pound than the piece with more fat.


Fit size and quality to your needs. You don't need perfect canned peach halves for a cobbler or whole canned tomatoes and whole mushrooms for spaghetti.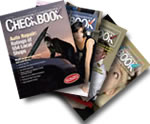 Consumers' CHECKBOOK gives you independent, nonprofit, no-advertising ratings you can trust of local auto repair shops, plumbers, veterinarians, banks, doctors, dentists, carpet cleaners...and much more...plus in-depth articles with advice from CHECKBOOK's award-winning magazine. CHECKBOOK saves you time and money for the things that matter. Available in the:


CHECKBOOK only rates firms when there are enough ratings for a meaningful evaluation. Misleading evaluations based on a handful of unscreened, anonymous posters are never the basis for a CHECKBOOK rating. CHECKBOOK accepts no money or advertisements from the firms it rates. The financial incentives for bias are non-existent. And, we've been around since 1974.