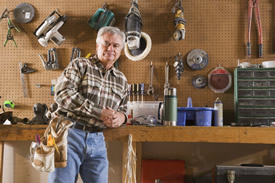 Does it seem like you always have at least five things in your home that need to be repaired? Sometimes it's lack of skills or tools that prevents us from keeping our homes from falling apart. But often it's just that we don't have the time. Enter the handyperson service. Hire one and you can hand over your home's to-do list to an expert. The best handyperson services have workers who can fix just about anything, have the tools for an infinite number of tasks, and deliver prompt, courteous service.
But CHECKBOOK receives a lot of complaints about handyperson services that make a mess of things, most of them related to shoddy or incompetent work. A lot of consumers also feel like they were taken for a ride when it came to the price they paid. Looking for help? Here's advice for choosing a top-notch handyperson—and steps to take to make sure you don't pay too much.
Make a list. When you contact a handyperson service, the more details you provide the better. Some companies won't do some tasks, such as painting, while others avoid specialized work, like electrical, plumbing, or masonry. A list of tasks is also essential for getting a price quote, or even a rough time estimate, over the phone.
Ask about areas of expertise. Workers often have strong backgrounds in some areas—say, carpentry—and know enough to do small jobs related to other trades. Other than for simple jobs, there's little reason to hire a handyperson service to perform specialized work. If you need plumbing work, hire a plumber—or an electrician for electrical work or a tiler for tiling.
Check ratings and references. Ask friends, neighbors, and colleagues for recommendations. At www.checkbook.org, you'll find informal ratings and comments submitted by consumers we have surveyed on companies they've used. Ask companies for references from former customers who live in your neighborhood, for jobs within the past year, or with other particulars that force them to reach beyond standard sets of two or three satisfied customers (or relatives). Request pictures of previous jobs similar to yours, if applicable.
Check on insurance. Anyone you hire to work in or around your home should have two types of insurance: general liability and worker's compensation. If the company doesn't have these coverages, you could be stuck paying claims.
Try to get a fixed price. Some handyperson services work on a fixed-price basis for all jobs, regardless of size; others provide fixed-price quotes, if requested, but sometimes for only medium- and large-size jobs; and still others work only on a time-and-materials basis, billing according to their hourly labor rate plus charges for items supplied. Our view is that a fixed price is always preferable. Knowing in advance exactly what you'll pay eliminates the possibility of future disputes—and is a key to letting you shop around for a fair price.
Shop around. Since many companies will provide fixed-price quotes over the phone (or via email) for most work, it's a good idea to shop around and compare costs. You will find big company-to-company differences. We regularly get prices that are more than double what others charge for the same work.
Don't assume paying a higher price gets you better work; it doesn't. When it comes to home repairs, you don't have to pay more to get more—low-priced companies are just as likely to do good work as high-priced ones.
Get it in writing. A written agreement benefits both parties: The company gets to know the limits of the project, and you get to know what to expect.
Pay only when the job is complete and meets your satisfaction. Avoid companies that require large deposits or payment in advance. If your job requires a lot of materials, and the company is responsible for buying them, it's reasonable for it to ask you to put up a deposit against these expenses. Otherwise, arrange to pay for all work only when the job is done. This arrangement gives you leverage in making sure the work is done properly, and it's another reason why a fixed-price arrangement works in your favor: A set fee means a company can't charge for additional hours if it has to take extra time to correct errors.