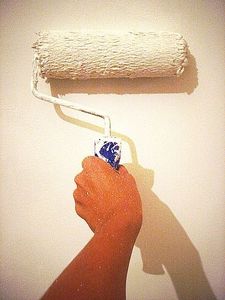 You could hire a contractor to handle a small job, though brightening one room with a fresh coat of paint is a doable DIY project—even more so if you follow these tips—
Clear the work area. Empty the room or push everything into a pile in the center and cover with a drop cloth. That leaves the work area free of obstructions and makes painting easier.



Minimize cleanup. Tape drop cloths in place so they won't shift as you work and move ladders. Also remove light fixtures and electrical cover plates so you won't have to paint around them or clean them after the fact. Nothing kills an otherwise successful job like extra hours of cleanup.



Prep the walls. The quality of surface prep like filling cracks, scraping, and sanding makes or breaks the job. Even the best paint can't hide obvious defects. If drywall seams are cracked or blistered, cut them open, add layers of compound, and sand them smooth. Dig out cracks, scrape flaking paint until you hit solid material, and sand down any hard edges of the old paint surface.



Prime raw surfaces. Cover any spackled areas with a prime coat, brushing out the edges to avoid lap marks later on. Without this step, the dry surfaces of repairs will pull excess moisture from the final coat and leave telltale flat spots.



Conceal stains. Coat blemishes like grease stains and Crayon marks with pigmented white shellac, the generic name for stain-killer products such as BIN and Kilz. It prevents color from bleeding through the final coat of paint.



Mask edges. Where it's difficult to coat one surface neatly up to, but not onto, another-a skill called cutting in-use painter's masking tape. It shields the adjacent surface and is designed to release without marring the surface.



Keep it simple. Use latex-based paint that cleans up with soap and water. Make the wall a little lighter or darker, but don't try a major color change that requires two coats. Select a roller nap that matches the finish on other walls. Thick, wooly naps leave a heavy surface stipple; smooth naps leave a sleeker surface.



Paint in sections. Paint one area at a time-from a corner to a door or window. Cut in the edges with a brush so you won't have to roll right up to the trim. This speeds paint rolling and reduces lap marks-edges of paint that dry before you get back to them and continue around the room.



Double-roll the paint. To cover a wall quickly and avoid lap marks, use a heavily loaded roller to lay on paint in spaced, horizontal strokes. Then spread the paint and finish with overlapping vertical strokes.



Spotlight the work area. To avoid "holidays" (painting slang for small bare spots) work under bright light. Surfaces that look okay under the glare of powerful bare bulbs will pass as a professional job under more natural and subdued lighting.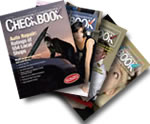 Consumers' CHECKBOOK gives you independent, nonprofit, no-advertising ratings you can trust of local auto repair shops, plumbers, veterinarians, banks, doctors, dentists, carpet cleaners...and much more...plus in-depth articles with advice from CHECKBOOK's award-winning magazine. CHECKBOOK saves you time and money for the things that matter. Available in the:


CHECKBOOK only rates firms when there are enough ratings for a meaningful evaluation. Misleading evaluations based on a handful of unscreened, anonymous posters are never the basis for a CHECKBOOK rating. CHECKBOOK accepts no money or advertisements from the firms it rates. The financial incentives for bias are non-existent. And, we've been around since 1974.