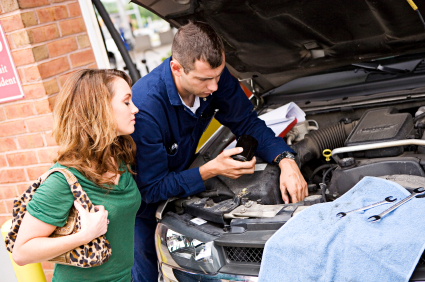 The only way to minimize the annoyance of car repair is to choose a high-quality shop. No amount of caution, communicating, or complaining will make up for starting with a second-rate shop.
You will find many top-quality shops among the area shops we evaluate on our Ratings Tables. In fact, at the time of our last full, published article, 221 out of 559 shops were rated "superior" for the overall quality of their work by 90 percent or more of their surveyed customers.
Most of these top-rated shops also score well on our survey questions on getting the work done promptly as promised, and on letting you know what the cost will be in advance—a key to giving you the opportunity to consider other repair alternatives.
But bad choices may lead to a mess of headaches. Sixty-six shops were rated "inferior" for the overall quality of their work by at least 20 percent of their surveyed customers.
Use our Ratings Tables to find shops that are convenient for you and repair your make of car. Our Ratings Tables make it easy to sort and select the shops that fit your needs—for example, to see only shops located within five miles of your home that work on Toyotas, make in-warranty repairs, and receive our top ratings for quality and for price.
Cost is a key consideration, as price differences can be dramatic. For example, to replace the water pump, timing belt, and serpentine belt on a Honda Accord, we found prices ranging from $506 to $1,200. Hourly labor rates range from $80 to $196. Our Ratings Tables show which shops on average had the lowest prices on several repairs we shopped for.
It makes sense to consider shops that not only rate tops for quality but also get our checkmark for cost. There are many top-quality, low-priced shops. Indeed, we found no relationship between the prices shops charge and the quality of their work.
Whatever shop you choose, deal with it in a business-like way. Be especially thorough in the first few years, while you are getting acquainted. In this article, we offer advice on how to conduct your dealings, including—
Give the shop a detailed, written description of your car's symptoms.
If possible, talk directly to the repair technician who will be working on your car.
Either get a written estimate in advance or write on the repair ticket that no work is to be done without your approval based on a written estimate.
Get a written, dated invoice that details parts and labor and the vehicle's odometer reading.
Pay by credit card.
If the car is still not right when you get it back, tell the shop in writing immediately.
The phone rings...and you hear what you've been dreading since you dropped off your car: "I'm calling with your estimate..."
How much will it cost? How many days will you be without transportation? Will there be more calls as more problems materialize? Are the repairs really necessary? Will the car run right when it's all over? How can you be sure the price you're quoted is fair?
Unfortunately, your dread is well founded. Auto repair problems are among the top consumer complaints, with many shops making their customers miserable by doing lousy work, creating long delays, selling unnecessary repairs, and failing to provide accurate estimates. But not all shops need be feared. There are plenty of shops that almost always do top-quality work, quickly, at a fair price.
Our evaluations of area shops should help you distinguish the good shops from the not-so-good ones. Our ratings, shown on our Ratings Tables, are based on more than 16,000 consumer reviews we collected by surveying Bay Area CHECKBOOK and Consumer Reports subscribers, checks on complaint records at local Better Business Bureaus, 2,000 price checks, and other information.
We also provide advice on how to choose a shop on your own, deal with whatever shop you choose, and maintain your car to keep it out of the shop.
The best way to get satisfactory auto repairs is to choose your shop carefully. Although there is no sure way of selecting a top-quality shop, checking a number of facts can improve your chances. Our Ratings Tables show information we have collected on area shops to help you make the right decision. It is easy to sort and select the shops that fit your needs—for example, to see only those shops located near your home that work on your make of car and received our best ratings for quality, for price, or for both.
When they need car repairs, most consumers ask their friends for suggestions. The ratings from our surveys of CHECKBOOK and Consumer Reports subscribers, shown on our Ratings Tables, let you check the experiences of thousands of your neighbors with area auto repair shops. (For more information on our customer survey and other research methods, click here.)
As you can see from our Ratings Tables, many auto repair shops make a lot of their customers very unhappy. At the time of our last full, published article, 66 of the 559 shops listed on the table were rated "inferior" (as opposed to "adequate" or "superior") for "overall performance" by at least 20 percent of their surveyed customers. For these shops, we receive comments like—
"Had to return for the same problem immediately after driving away. Had to return for a third time for the same problem a few weeks later. Car was in the shop more than in use for over a month."
"Always ends up costing more than I expect. Have no confidence they know what they are doing or that they are only doing what is needed."
"A repair that should have taken two to three days took a week. Later found out they missed spotting several items that probably were what caused the breakdown in the first place. To top it all off, they literally wrecked my car when moving it."
"Horrible, unprofessional, nightmare mechanic."
"Just stay away from these people unless you like to spend money."
Fortunately, there are many good shops out there. Of the 559 shops listed on our Ratings Tables, 221 were rated "superior" for "overall performance" by 90 percent or more of their surveyed customers. For these shops, we get comments like the following—
"Have been a customer for 20-plus years and trust this shop totally. Will never change as long as they are in business."
"Good faith and fair prices combined with honesty and automotive knowledge is a rare, rare occurrence in the auto repair business. It resides at this shop."
"Fantastic service and results. Kept my Accord running for 230,000 miles."
"Taking my car to [this] shop is a totally new experience: I don't go in feeling that I'm about to be screwed. They are competent and cost-conscious and also nice people to do business with."
"He gives sound advice on cost-effective approaches to auto maintenance and is candid about what repairs he recommends doing immediately and what jobs can be postponed... He and his staff listen carefully to their customers and will even go on a test drive with a customer to reproduce symptoms."
"I wish I had discovered them a long time ago!"
While customers might have rated a shop "inferior" on our survey even if the shop's deficiencies were fairly minor, filing a formal complaint with a consumer agency usually reflects serious dissatisfaction.
For shops that were evaluated in our last full, published article, our Ratings Tables show counts of complaints we gathered from local Better Business Bureaus (BBB) for a recent three-year period. Where we were able to, we have also reported on our Ratings Tables a complaint rate, calculated by dividing the number of complaints by our measure of the number of full-time-equivalent repair technicians working at the shop. This complaint rate is a rough way to take into account volume of work and the fact that shops that do more work are exposed to a greater risk of incurring complaints.
Although this article focuses on mechanical repair work, we were unable to select only those complaints at the BBB that relate to mechanical repairs (as opposed to complaints about body work, new or used car sales, etc.). The BBB does categorize complaints it receives into broad categories; for all of the shops on our Ratings Tables, we have included those complaints that fell into the "problems with product/service" category that accounted for the most complaints filed against independent auto repair shops. We did not count complaints that were categorized as relating to advertising/sales, billing/collection, delivery, or guarantee/warranty issues.
You can check current BBB complaint information on any company by visiting www.bbb.org or by phoning the BBB that serves the area where the company is located (see below for contact information). For any shop listed on our Ratings Tables, subscribers can click a link on the detailed ratings page to go directly to the BBB's most up-to-date report on the shop.
When using the complaint information, keep in mind that complaints are not always justified; sometimes customers are unreasonable. Also be aware that some shops may be at greater risk of incurring complaints because of the specific types of business they do. And remember that the measure of business volume we use in calculating complaint rates (the number of full-time-equivalent mechanics) is at best a very rough indicator.
As Figure 1 shows, consumer complaint information can be a very meaningful indicator of quality. You can see on Figure 1 that there is a correlation between the presence of complaints and scores on our customer survey. Shops that had no complaints on file were rated "superior" for "overall performance" by 84 percent of their surveyed customers; shops that had three or more complaints were rated "superior" for "overall performance" by only 59 percent of their surveyed customers.
Figure 1—Customer Satisfaction at Shops with Different Complaint Histories

Another approach for gauging a shop's quality is to find out about the competence of its mechanics. To become certified by the National Institute for Automotive Service Excellence (ASE), a mechanic must have worked in the automotive service field for at least two years and pass at least one of the tests offered by ASE. The written or computer-based exams are developed, administered, and scored by American College Testing, a nonprofit organization that also administers college entrance exams. A technician can become certified in any or all of eight automotive service categories, such as engine repair, electrical systems, and suspension and steering. Certification is not easy; about one-third of the tests taken are failed. About 400,000 technicians nationwide are currently certified. If a technician becomes certified in all eight categories, he or she receives "master technician" certification. There are over 100,000 master automobile technicians nationwide. To remain certified, technicians must re-test and pass exam(s) every five years.
Check on the certification of a shop's technicians by looking for plaques on the shop's wall showing names and expiration dates of ASE certification. Or ask to see a technician's credentials (which should list his or her areas of certification and expiration dates).
Although you would expect shops that employ certified technicians to rate higher than shops without them on our survey's "doing work properly" question, this is generally not the case. One explanation for this surprising result is that ASE certification ensures the competence of only individual mechanics. Competence of one or a few mechanics in one or more service specialties does not guarantee competence of a shop's other mechanics, much less their diligence and honesty.
Despite the lack of a positive correlation between certification and customer satisfaction, we are convinced that the ASE program is a well-conceived, well-managed effort, and advise you to ask that a certified mechanic work on your car. Request a mechanic who is certified in the particular specialty—say, engine repair—needed to fix your car; certification in brake work, for example, says little about ability to make major engine repairs.
While ASE certifies individual mechanics, the American Automobile Association (AAA) has a program to "approve" entire shops. The AAA inspects for a broad range of equipment and customer conveniences, examines staffing and quality control procedures, surveys a sample of customers, and checks complaint records at local consumer agencies. Approved shops must guarantee their work for a minimum of 12 months or 12,000 miles (whichever comes first), and agree to let AAA arbitrate members' complaints (at no charge to the member). Approved shops display the official AAA approval sign.
Among shops listed on our Ratings Tables, AAA-approved shops, on average, did score slightly better than non-approved shops. And AAA-approved shops don't necessarily charge more than non-approved ones. On our price index (described below), prices at approved shops averaged about the same as those at non-approved shops.
Many good shops use certain procedures to foster communication with customers and protect both shop and customer from unnecessary disagreements. We have not checked each shop's procedures, but you can check them for yourself.
Ask whether you will be allowed to speak with the repair technician who will be working on your car. Service write-up personnel at large shops often know very little about car repair, and those who do know car repair may not be able to describe your car's symptoms to a repair technician as well as you would be. The best arrangement is to take the repair technician for a ride to point out symptoms that are not easily explained. A nationwide study of auto repair found that vehicle return rates (to fix improper repairs) were about one-third lower if a customer had dealt with the repair technician rather than a service writer.
Also ask if the shop will let you test drive your car before you pay your bill. Because customers can't always be trusted, some shops are reluctant to allow them to drive away without paying, but a test drive can help you avoid inconvenience and resistance if you find a problem later.
Finally, be sure the shop makes it easy for you to follow basic good business practices—getting an estimate in advance, inspecting replaced parts, and receiving a detailed invoice. State laws and regulations for the most part give consumers the right to follow these practices, but some shops may make you feel like a nuisance when you ask for estimates or other documentation. On the other hand, there are shops that proactively encourage you to get an estimate, offer to save replaced parts, etc. You will have to try out a shop to see what procedures it follows.
You want assurance that a shop charges fair prices before bringing it your car because, like most repair work, it is difficult to shop for price unless you know exactly what needs to be done.
If you do know what repairs you need, compare prices from shop to shop by calling a handful for quotes: we find it is surprisingly easy to get price quotes from auto repair shops over the phone.
If you don't know what work is needed, call one or more shops and describe the symptoms—what the car is doing or not doing. Shops might be able to tell you over the phone what's likely to be wrong and give you a price. If so, get quotes from several shops.
When shops can't determine what's wrong with your car based on your description, you'll have to take it in for a diagnosis and estimate. Then, with the estimate in hand, and assuming that the diagnosis is correct, call other shops and ask what they would charge for the repairs. The drawback is that if you use another shop, you will have to pay the first shop for the diagnosis. Also, if your car isn't drivable, you'll have to pay to have it towed to a second shop (although AAA members can have their cars towed to a second shop for free if they want a second opinion or estimate).
If the initial estimate is not more than a few hundred dollars, you will probably want to have the first shop go ahead and do the repairs. If you have chosen a shop with a low price index score (see below), there's a good chance that the price is reasonable. If the estimate is more than $500 or so, it's worth getting more quotes. We found, for example, that for one repair job we shopped with an average price of about $775, getting three quotes would have cut the repair cost by, on average, about $80 compared to going with the first quote. Depending on which shop gave us a price first, subsequent quotes might have saved us from nothing (if the first quote was very low) to several hundred dollars (if the first quote was relatively high). You can't properly evaluate the first quote until you get additional quotes.
To help you find shops that should have low prices, along with information on repair shop quality, our Ratings Tables report our price index score for each shop that was evaluated in our last full, published article. To calculate these scores, for shops that were evaluated in our last full, published article, our researchers (without revealing their affiliation with CHECKBOOK) called shops for prices on specific repairs. Table 1 illustrates the range of prices we found. For many repairs, some shops charged twice as much as nearby competitors.
Table 1—Low, Average, and High Prices Quoted by Shops for Some Illustrative Repair Jobs

Description of job
Low price
Average price
High price
2006 Chevrolet Monte Carlo SS
Replace water pump
$368
$531
$703
2004 Ford Taurus SE
Replace starter motor
$232
$321
$495
2004 Dodge Intrepid ES
Replace alternator
$334
$502
$660
2004 Honda Accord EX
Replace water pump, timing belt, and serpentine belt
$506
$812
$1,200
2004 Nissan Maxima SE
Replace outer and inner CV joint boots and front, right-side axle
$725
$805
$941
2003 Toyota Avalon XL
Replace front wheel brake pads and rotors
$335
$463
$628
2004 Volvo S80 Turbo
Replace alternator
$536
$741
$964
2004 Volkswagen Jetta GLS
Replace front, right-side axle assembly
$430
$581
$809
1Prices quoted were in response to CHECKBOOK's telephone inquiries. The descriptions of repairs are summaries; there are specific variations for each make of car. Prices include parts, labor, and miscellaneous charges (if any) and do not include tax. The prices are those reported by the sample of shops that were priced on these specific repairs; other shops not included in this sample (including some on our ratings table) might have higher or lower prices. Although our researchers attempted to get quotes for exactly the same job from each shop, in some cases shops may have intended to do different work or use different parts. Some prices were rounded to the nearest whole dollar.
The price index scores on our Ratings Tables show how each shop compared to the average shop that quoted prices for the same repairs. For instance, if two shops quoted on the same repairs and one shop has a price index score of $120, while a second shop has a score of $100, this means the first shop's quotes were 20 percent higher than the second shop's.
These price index scores are at most a starting point for your own shopping efforts. The number of price quotes from each shop was small, and the selection and weighting of repairs included in the index may not reflect the mix of repairs you will need.
Here is a striking observation about our data: there is a negative relationship between the price index scores and our measures of quality. For example, as Figure 2 shows, shops with price index scores of less than $87 were rated "superior" for "doing work properly on the first try" by 85 percent of their surveyed customers, while shops with price index scores above $113 got such favorable ratings from only 65 percent of their surveyed customers.
Figure 2—Customer Satisfaction with Quality of Work at Shops with Different Price Levels

Our Ratings Tables also report shops' hourly labor rates. On average, as labor rates increase, repair prices increase. As Figure 3 shows, shops that charged hourly labor rates of $131 or more had average price index scores about 24 percent higher than shops with hourly labor rates of $100 or less.
Figure 3—Average Price Index Scores at Shops with Different Labor Rates

But be aware that labor is just one element of a shop's charges, and that some shops with high labor rates have low prices, and vice versa. Despite a low labor rate, a shop may still have high prices if it is a "flat-rate" shop (see below) and uses a flat-rate manual that allots generous amounts of time to each job, a "clock-time" shop with slow mechanics, or adds a big markup on parts.
A heated debate for years among consumer leaders and auto repair specialists has centered on the method for computing labor charges. Most industry representatives defend the "flat-rate" system currently used in the vast majority of area shops. Flat-rate shops charge for a repair job's labor by multiplying an hourly labor charge—say, $110 per hour—by the amount of time allotted for that job in one of several nationally published flat-rate manuals. If the manual—commonly referred to as "the book"—allows 2.0 hours to replace the water pump on a specific make and model of vehicle, the customer is charged for 2.0 hours of labor even if the mechanic completes the job in less than an hour. Most shops pay mechanics on the same basis they charge customers: according to the number of flat-rate hours their mechanics can bill, regardless of how many hours put in at the shop.
This strange system of time-telling troubles many consumers—especially since most good mechanics can "beat the book" and thus bill for more hours per day than they actually work. But others argue that using "the book" simply means a shop charges you by the job rather than by the hour. Every job has a price that you can find out in advance, and you pay no more nor less if the mechanic is slow or fast.
The really important issues in this debate relate to incentives. A shop that charges by "the book" has a strong incentive to work quickly. This encourages efficiency that might keep your bill below what you pay at a less efficient shop that charges by the clock.
But this incentive might also encourage hasty, sloppy work. Furthermore, "the book" does not always allot enough time to ensure good repair practices. If too little time is allowed for diagnosis, a shop might work by trial and error, running up big bills for repairs that more diagnosis would avoid. Since often too little time is allotted for rebuilding parts, shops may replace parts that could easily be rebuilt. And since shops often make too little adjustment for the time they save by doing two or more jobs at once, shops may perform related work once cars are in repair stalls, charging nearly full rates for these jobs despite saving considerable preparation time.
The most pernicious incentives in the flat-rate system arise when a dealership shop uses two different flat-rate manuals—one for retail customers and another with lower time allotments for warranty work paid for by the car manufacturer. At these shops, the paying customer subsidizes warranty work and makes warranty customers less profitable second-class citizens. Although we could not determine which dealers use different manuals for different types of customers, you might be able to check this for shops you consider and act accordingly.
Since almost all shops in the area charge customers on a flat-rate basis, you have little choice in that matter. But some shops pay their mechanics on a clock-time basis, a mixed arrangement that has real virtues for customers. The shop guarantees a price based on "the book," but the mechanic—the person most vulnerable to the unfortunate incentives of the flat-rate manual—can take the time necessary to do a good job without losing any pay.
The best way to choose a shop is to check out the factors that we have discussed and that appear on our ratings table. But even without such detailed investigation, you may boost your chances of getting good repairs by selecting the right type of shop. Our Ratings Tables show which shops belong to new-car dealerships. Table 2 shows how dealers and non-dealers compare on our customer survey and on two measures of cost: scores on our price index and hourly labor rates. The non-dealers scored better on both quality and price.
Table 2—How Dealers and Non-dealers Compare for Quality and Cost

| | | |
| --- | --- | --- |
| How Dealers and Non-dealers Compare for Quality and Cost | Dealers | Non-dealers |
| Percent of surveyed customers who rated shops "superior" for "overall performance" | 61% | 87% |
| Average hourly labor rate | $146 | $112 |
| Average price index score | $114 | $96 |
To some extent, dealers' quality scores may suffer because they take on more difficult jobs. Dealers argue that they are blamed for manufacturing defects, tend to work on cars when they are new and owners are especially critical, and get jobs too difficult for gas stations and independents to handle. But in an analysis of actual success rates on emissions-related repairs, as evaluated by state inspectors, independents perform substantially better than dealerships. Our conclusion: if the work you need is not covered by a new-car warranty, use an independent garage.
For dealerships, we can make generalizations on one additional characteristic: the makes of cars for which dealers are authorized to perform repairs under new-car, manufacturer-backed warranties. As Figure 4 shows, dealers authorized to repair Infiniti, Lexus, and Acura vehicles under new-car warranties had the highest average ratings for "overall performance" on our customer survey. Dealers that perform warranty work for Volkswagen, Hyundai, Audi, and Lincoln rated lowest. Whether these differences reflect the manufacturers' quality control of their dealer networks, ease of repairing different makes of cars, or pure chance is hard to say. But the data suggest that, in this area, if you buy an Infiniti, Lexus, Acura, or a few other makes of cars, you are relatively likely to receive satisfactory warranty service from a variety of dealers.
Figure 4—How Dealers that Do Warranty Work on Various Makes of Cars Compare on Customer Satisfaction

Carefully selecting a shop is the first step to good service. The second is to follow good business practices when dealing with your shop, especially while you are getting to know one another. If some of the suggestions below seem overcautious or mistrustful, remind yourself how frustrating and expensive car repairs can be. Repair shops know that some members of their industry have not always dealt fairly with their customers; rather than resenting your caution, shop personnel should respect you for caring about your car and your money, and knowing how to get the service you deserve.
Your chances of getting your car fixed right and avoiding unnecessary repairs depend heavily on your ability to communicate. Even mediocre mechanics can fix most cars if they know exactly what's wrong.
Distinguish between what you know and what you think you know. If you know what needs to be repaired, tell the shop. If your car's battery has died because of a loose fan belt, don't just say the car won't start; the service writer may write an order to check the distributor points, battery, fuel pump, and various other components—each at some cost to you. The more you know about cars and the more clearly you can explain your problem, the better off you will be.
But if you don't know what repair you need, don't try to sound knowledgeable by guessing. Simply describe the symptoms. If you mention a specific repair—say, repair of the water pump—the shop may check or even replace the water pump—and then go on to fix what is actually wrong (possibly worn out alternator bearings).
Take care in describing symptoms. Note changes in how the car sounds, smells, and drives since the problem developed. Describe how long the problem has been going on and when the problem happens: in hot weather, in cold weather, when the engine is hot or when cold, at high speeds, at low speeds. If the problem is hard to describe, ask the shop to have someone take a test drive with you.
Write down each problem you want worked on and all the symptoms you can think of before you go to the shop. Leave a copy with the shop and keep one for yourself. Ask the service writer to give the shop's copy to the repair technician who will work on your car. Use your own copy for reference later when you deal with the shop.
Go to the shop when it is less busy. You're likely to get more attention if you go in mid-afternoon, when things are usually least hectic. Tuesdays, Wednesdays, and Thursdays are often good days.
Talk with the mechanic who will work on your car. If you get to know a mechanic and are satisfied with his or her work, ask for the same mechanic whenever you bring in your car. If you don't know any of a shop's mechanics, ask for one who is ASE-certified for the specialty area in which you need repairs.
Don't leave your car at a shop without taking away a copy of a work order that clearly documents what work you have authorized and how much it will cost. A properly completed work order reduces the chances that you will be charged for unwanted services or be surprised later by an exorbitant price.
If you know what repairs are needed, ask the shop for a price—then have the shop write a description of the work and the price on the work order.
If you don't know what is needed, write on the work order: "Shop will provide customer a written estimate. The charge for the estimate will be _____. No other charges will be incurred without customer's authorization following the estimate."
Also, write at the bottom of the work order: "Keep replaced parts for customer's inspection." Even if you know you can't tell an alternator from a tailpipe, the shop does not—and it can't be sure you won't take the parts to someone who does know.
If all the work you want done is covered by warranty, don't bother with an estimate or detailed work order, but write "only warranty repairs are authorized" on the work order.
If you ask your shop to check on a problem and give you a call, don't automatically approve any major repair at any price the shop suggests. To maintain the flexibility to go to a second shop, take your car in for repairs—whenever possible—before a problem becomes so severe that it can't be driven.
Just as there is a right way to drop off your car, there is a right way to pick it up when the work is finished.
Don't pay until you receive a clear copy of the invoice to keep. The invoice should include the shop's name and address, your name, and your car's license number and mileage. It should indicate the labor charge; the name, number, and price of each part replaced; and whether parts are new or rebuilt.
Be sure to keep your bill. You might want to show it to another shop to determine if the prices you were charged are reasonable. More important, if the repair is unsatisfactory, you will need the bill to prove you paid for the work. Also, if another shop later tries to charge you for a recently done repair, you have evidence to defend yourself.
The shop's warranty should be printed on the bill. If not, have the repair technician or write-up person pen it in and sign it. If parts have been installed, ask for copies of any special warranties.
Inspect the car before you pay. If you can't tell much by inspection, ask the service writer or repair technician to accompany you on a test drive. Also, take a look at any old parts you asked to have saved.
If you don't feel the car has been fixed right, leave it until the work is done. If you need the car immediately, or if you don't discover the faulty repair until you have left the shop, start collecting evidence as soon as possible. The best approach is to get the service writer to put a signed and dated acknowledgment on your copy of the bill saying that you brought the problem to the shop's attention. Alternatively, keep a copy of a note you send to the shop citing the problem and your intention to bring in the car to have it corrected. Do not rely on the service writer's oral promise that you can bring in the car any time for a free adjustment. You may find later that the writer can't remember the promise and believes the problem you complain of is a new one caused by something you did after leaving the shop.
Despite all your precautions, you and your shop may still have disagreements. If so, you have several means of recourse.
The first step is always to go to the service manager, and then, if necessary, to the owner.
If the owner does not provide satisfaction, you can complain to the state's Bureau of Automotive Repair, manufacturers' zone offices, and the Better Business Bureau. (See below.)
If you paid by credit card, dispute the repair charges with your credit card bank. The Fair Credit Billing Act gives you procedures that enable you to refuse payment for unsatisfactory purchases made with your credit card.
If none of these provide satisfaction, go to small claims court.
California has a "lemon law" that provides relief for new-car buyers who have had repeated problems with their vehicles.
Cost estimates: All shops in California are required to provide a written cost estimate before beginning work. A shop may charge a reasonable fee to provide an estimate.
Cost exceeding the estimate: No shop may charge more than its estimate unless authorized by phone or in writing by the customer.
Return of parts: All shops must return replaced parts if requested in advance. Parts that must be returned to a manufacturer under a warranty agreement are excepted, but you have a right to inspect even the parts covered by warranty.
Invoices: Any shop operating in California must provide a written invoice itemizing costs for parts and charges for labor, and must indicate which parts are new and which are rebuilt.
You can avoid problems with auto repair shops and cut down on major repairs by maintaining your car properly.
Your maintenance bible is your car's owner's manual. It tells you what to do and how often to do it. Since different cars require different maintenance tasks at different intervals, only the owner's manual provides accurate guidance, but the procedures listed below are the ones most cars require frequently. Some you can do yourself and some should be done by a professional.
Before you get in, make sure all tires are inflated and that there are no bulges or obvious cuts.
Check gauges and warning lights.
Most car dashboards have an oil pressure warning light that comes on as the car is started but should go out as soon as you begin to drive. If it does not, stop driving the car immediately.
Some cars are also equipped with an alternator warning light; others have gauges. Warning lights should go out when the car is started; on gauges, the pointer should be approximately in the middle, between "D" and "C," or "—" and "+."
Your temperature gauge should come to rest in the "safe" or "normal" range—about 180°F—after a few minutes of driving.
Finally, your brake system warning light (if the car has one) should go out when the emergency brake is released—and stay off unless part of the brake system has failed. Since most late-model cars have two separate brake systems, one system can fail without disastrous consequences. But if the warning light goes on when the service brake (as opposed to the emergency brake) is applied, have the car checked as soon as possible.
The owner's manual tells you the correct pressure. Driving with the wrong pressure is unsafe, wears tires excessively, wastes gas, and may affect the comfort of your ride. To get an accurate reading, check pressure before you have driven more than a couple of miles. Tires heat up as you drive farther, and pressure increases.
To check the oil, park the car on level ground, turn off the engine, and wait a minute. Be sure to push the dipstick all the way in, and leave it there for a couple of seconds before pulling it out. If the oil level is at or near the "add oil" point, add a quart—but don't overfill.
Your owner's manual will indicate the right type of oil to add. In motor oil, a low first number indicates that the oil can be used at low temperatures without becoming so thick that it prevents your car from starting; a high second number, like 40 or 50, indicates that the oil will remain thick enough to be effective even at the high temperatures most late-model engines maintain.
Remove the battery caps to see whether it has sufficient water. The liquid should come to the bottom of the neck of each filler hole (maintenance-free batteries usually don't allow for adding water).
Also check for corrosion at the posts where the battery cables are attached. Corrosion can eventually cause the battery to lose power, but it easily can be cleaned away. Just apply a paste of baking soda and water to the corroded areas, let the chemical action of the paste work for a half hour, and then wash it off with clear water.
Check coolant level by looking at the reserve tank alongside the radiator tank. Caution: Never remove the radiator cap when the engine is hot; you might be scalded by spraying hot water and steam.
The fan, water pump, alternator, power steering, air conditioner, and emission control air pump are all driven by belts. With the engine off, some of these belts can be conveniently inspected for fraying, cracks, and loss of tension. Check tension by pressing the belt with your thumb; it should not give more than about a half inch when pressed hard.
Bureau of Automotive Repair
10240 Systems Parkway
Sacramento, CA 95827
800-952-5210
www.smogcheck.ca.gov
Santa Clara and Santa Cruz Counties
1112 S. Bascom Avenue
San Jose, CA 95128
408-278-7400
http://sanjose.bbb.org
All Other Bay Area Counties
1000 Broadway #625
Oakland, CA 94607
510-844-2000
http://goldengate.bbb.org