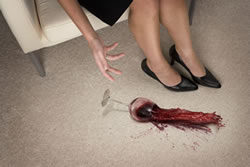 Having your carpets and rugs periodically cleaned will mean they'll last longer and look better, and will improve the quality of the air in your home.
Which company does the work will probably impact how well the job is done: how good your carpets and rugs look afterward and how long the cleaned look holds up, whether difficult stains are removed, and whether the cleaning methods and products used by the service simply attract more dirt rather than remove it. With the least competent firms, you risk permanent damage from overwetting, improper or poorly mixed chemicals, improper brushing, and other errors.
Ask for a written workmanship guarantee promising that the firm will at least redo the job if you consider it unsatisfactory. Discuss with the firm in advance whether there are some stains or other problems that it can't guarantee it can eliminate.
Compare prices. For most jobs, most firms will be able to quote prices over the phone. If your carpets or rugs are especially dirty or unusual in some other way, that may not be possible. If you can't get over-the-phone quotes, ask firms to come to your home for estimates. On our In-Home Cleaning Prices table and our In-Plant Cleaning Prices table, we give you information that will help you make at least a rough calculation of how each firm will stack up for most types of jobs.
For in-home carpet cleaning, be wary of prices quoted by the room or by the "area" as opposed to by the square foot. Firms may see more rooms in your house than you do—two rooms in what you consider one L-shaped room, for example.
Don't overpay for add-ons, such as soil retardants and deodorizers. They can dramatically increase your cost with some firms and cost little or nothing with others. What is actually done and how effective it is also varies from firm to firm.
Results will be affected by how you deal with a firm—including preparing the rooms in advance for in-home cleaning, communicating exactly what you want done, pointing out stains and problems with past cleanings, checking the work carefully before paying, and promptly reporting to the firm any problems you find.
Even the neatest of neat freaks who vacuums religiously, cleans up spills quickly, and enforces a Draconian no-shoes-in-the-house policy will eventually need the services of a good carpet or rug cleaner. Dirt and dust come in through the air and on your feet; oily residue from cooking, heating and air-conditioning systems, and car exhaust settles out of the air. All become deeply embedded into carpet and rugs.
There are reasons to keep your carpets and rugs clean other than for the sake of cleanliness alone. Clean carpets and rugs will last longer and look better, and cleaning them will improve the quality of the air in your home.
Manufacturers have made progress in reducing the need for cleaning. Advanced-generation nylon fibers, for example, are "soil-hiding." Although the dirt is still there, you don't see it as much because the fibers are shaped to diffuse light differently. Also, most carpeting is now treated with soil and stain protectants by the manufacturer. But there's no such thing as magic wall-to-wall carpets or rugs; you'll still need to have yours professionally cleaned from time to time.
On our Ratings Tables, you will find how area consumers have rated area carpet and rug cleaners. For some of these, the use of the word "professional" is something of a stretch. But for others, it is a perfect fit: they do top-quality work consistently and back up what they do.
This article tells you—for both in-home cleaning of wall-to-wall carpet and in-plant cleaning of rugs—about the different cleaning processes, the advantages and disadvantages of using a professional rather than doing the cleaning yourself, how to choose a competent firm, how to work with the firm to make your job more successful, what work you can do yourself (and how), and what problems just can't be fixed.
We receive a fair number of complaints about carpet cleaners from our subscribers.
"My carpets were worse after they finished and they performed an expensive dog cleaning followed by a general cleaning. I do a better job with my carpet steamer. I will never use them again. I felt like they ruined my carpets."
"The technician cleaned two rooms and a stairway in less than 10 minutes. I didn't even know he had started. There were still dust bunnies in the corners. I had to have them come back and the technician gave me attitude about it."
"The carpet was still VERY damp after 24 hours and I had to call the company back to extract more moisture two days later. This was my finished basement room which now has a faint moldy smell that I never had before the carpet was cleaned."
"They are a rip-off. They refused to honor the price on their coupon and tripled the charge due to 'excess dirt.' They seem to only want to clean carpets that don't need cleaning."
Doing the job right is important because there is much that can go wrong.
Overwetting
The biggest danger is that the carpet will get too wet. Overwetting occurs in various ways: use of poorly adjusted hot-water extraction equipment, which pulls water out at too low a pressure (see description of cleaning methods and equipment below); passing over areas too many times with hot-water-extraction equipment or shampoo; applying too much shampoo; and spilling.
If moisture reaches a carpet's backing, any of a number of problems can result. There may be a separation of the secondary backing. If the backing is jute, which is common in older carpets, the moisture may cause fibers in the backing to shrink and tear seams, and the moisture may dissolve the cellulose in the backing and wick it to the surface, causing brown stains. The dye in an overwet carpet may bleed. Mildew may develop if a carpet remains wet for several days. And wood floors beneath carpet may suffer warpage or other damage.
Brushing Improperly
The brushing that occurs during some cleaning processes—especially the shampoo and bonnet methods—may sometimes distort carpet yarns so that different sections of pile lie in different directions. This can create the appearance of shadows, or even of soiling, and it may be impossible to correct. The trick is to avoid over-brushing or to use a soft brush if a stiff one appears to be causing too much pile distortion.
Using Too Alkaline a Solution
Carpets are cleaned most easily with highly alkaline detergent solutions. But these solutions can cause the colors in some carpets to bleed and can cause browning. One of the arts of the professional carpet cleaner is to mix or select a cleaning solution to fit the carpet—sometimes even using an acidic solution where there is a substantial danger of bleeding or where there is a strong alkaline residue from previous cleanings. Many of the newer stain-resistant carpets specify that the warranty will be voided if the carpet is cleaned using a solution that is too alkaline or a solution using brightening agents.
Other Errors
Some other dangers include—
Using the wrong dilution ratio or using chemicals that leave sticky residues.
Using chemicals that contain substances that may cause allergic reactions or may be toxic.
Causing dyes to run by using inappropriate cleaning agents or solvents.
Allowing rust or wood stains to get on wet carpet by replacing furniture without putting down leg covers or other protection.
Although quality of service is essential, you'll also have to pay close attention to cost. Some carpet cleaning firms will try to sell you services you don't need, and prices for the same service vary from firm to firm by more than 100 percent. Comparing is difficult because firms that are low-priced for one type of service or one type of carpet may be high-priced for another, and add-ons (such as carpet protectors and deodorizer) can convert a seemingly low price into a high one. Also, services that are called by the same name by different companies, such as "deodorizing" or "sanitizing," may actually be different services. In addition, you must be wary of companies that use fliers and other advertising techniques to mass market services at extremely low per-room prices and then switch customers to higher priced treatments.
Ratings from Customers
You can start by finding a few firms with which your friends have had good experiences. To provide you with additional feedback of this kind, we surveyed area CHECKBOOK and Consumer Reports subscribers and asked them to rate carpet and rug cleaning firms they had used. our Ratings Tables list the firms rated by 10 or more customers on this survey. (For more information on our customer survey and other research methods, click here.) The highest rated firms were more than two times as likely as the lowest rated firms to be rated "superior" on our survey question "doing work properly."
Complaint Records
On our Ratings Tables, for firms that were evaluated in our last full, published article, we show counts of complaints we gathered from the Better Business Bureau (BBB) for a recent three-year period, and the number of complaints on file with the Consumer Protection Division of the Office of the Attorney General for a recent two-year period.
Where we were able to, we have also reported on our Ratings Tables a complaint rate for each firm, calculated by dividing the number of complaints by our measure of the number of full-time-equivalent employees who clean carpets and rugs for the firms. These complaint rates are intended as a rough way to take into account volume of work and the fact that firms that do more work are exposed to a greater risk of incurring complaints.
You can check current BBB complaint information on any firm by contacting the BBB at 312-832-0500 or by visiting www.chicago.bbb.org. For firms listed on our Ratings Tables, in the details under the firm's listing, click a link to the local BBB to go directly to the BBB's most up-to-date report on any complaints about the firm.
What Guarantee You Get
Most carpet-cleaning services offer written workmanship guarantees. What they promise varies. Most firms, even if they do not put a guarantee in writing, will redo a job at least once if the customer says it is unsatisfactory.
Some firms require you to call about a problem within a few days, since they feel any problem that does not show up in that time is probably new. But others will let you wait a month or more before calling—giving you a good chance to be sure the problem you perceive will not just go away.
You will want a firm that talks candidly with you about the limits of its service and your carpet's characteristics before beginning work. Some types of stains—such as urine, coffee, tea, mustard, or mildew—are extremely difficult or even impossible to remove once they have set, and firms may not know whether they can remove them until they try to do so.
Some firms may have forms for you to sign in advance explicitly excluding a wide range of trouble spots from their responsibility. This practice enables you to turn to another firm at the start if the first firm can't guarantee it can take care of the problems that concern you.
In addition to any guarantee you can get for the cleaning work, if your carpet is still under its manufacturer's warranty you might want to ask the firm whether its services will keep the warranty in effect. Carpet warranties are notably murky when describing their coverage for "wear" and "appearance," and many manufacturers include a clause in their warranties declaring that in order for these sections of the warranty to remain in effect, the buyer must be able to prove the carpet was "professionally maintained." This typically means that you must have your carpet professionally cleaned once every 12 to 18 months using a hot-water-extraction method. So if you care about this warranty coverage, you might want to show any warranty information you have to the cleaning service and ask it if it can assure you that its services will meet any professional maintenance requirements.
What Methods They Use
You'll want to be sure to select a firm that offers cleaning methods appropriate to your carpet. (See "Cleaning Methods," below.) If your carpet is lightly soiled, any of the methods will be acceptable if performed properly. But in most cases, you're likely to be best off with a firm that offers hot-water extraction with truck-mounted equipment or a combination of shampoo and hot-water extraction.
In addition to high-quality work, you want a good price. If you give firms a description of your carpet and calculate the square footage, most will give you a price by phone. Those that won't will usually come to your home to give a free estimate on in-home cleaning. We have included pricing details for the firms we evaluated On our In-Home Cleaning Prices table. For many homeowners, the information on this table is enough to calculate what each firm would charge them. But if your carpet is in bad condition or not of the type shown on the table, or if you want a combination of add-on services, you'll need to talk with the firms—and, of course, prices can be expected to change as time passes. So just use the table as a starting point.
Several factors determine what you'll pay:
Type of carpet—Some firms charge extra to clean very light-colored carpet while commercial-grade carpet sometimes costs less. Cleaning services almost always charge more to clean wool carpeting, since it is much more subject to shrinkage, browning, and warping than carpets made of other fibers, and therefore it takes more time to clean it properly.
How soiled it is—Many firms charge more for badly soiled carpets than for carpets that are in better condition.
Cleaning method—Some firms that offer more than one method charge different amounts for the different methods—with the same firm's prices for in-home cleaning of several rooms sometimes varying by 50 percent or more.
Whether you contract by the room or by the square foot—Some firms offer a price per square foot. Others quote for a combination of two or three rooms and for additional rooms. Some quote both ways so that you might save by taking the per-room price if your rooms are large or the square-foot price if your rooms are small.
On our In-Home Cleaning Prices table, we show the price for several specified rooms—a combination of a living room, dining room, and hall totaling 330 square feet, and the price for these areas plus an additional room measuring 130 square feet (460 square feet total). For the sample areas measuring 460 square feet, per-square-foot prices for hot-water extraction for medium-color domestic pile ranged from $.13 to $.80.
When shopping for per-room prices, be sure to check what constitutes a room. Don't let yourself be surprised by a firm that counts an L-shaped room as two rooms.
The greatest danger of misunderstanding arises when firms advertise charges by the "area." If the meaning of the word "room" is sometimes debatable, what constitutes an "area" is even less clear.
Which, if any, add-ons you request—Since add-ons (described below) can sometimes double the cost of a basic cleaning, you'll need to think carefully about what you really need and check exactly what it will cost. Whatever add-ons you want, order them just for the portions of your carpet that need them.
How many steps must be cleaned—Some firms that are low-priced for other work are high-priced for steps.
Whether furniture must be moved—The prices On our In-Home Cleaning Prices table assume that a typical amount of furniture will have to be moved. Many firms give a five- to 10-percent discount to customers who agree to move their furniture themselves before cleaning.
A firm may advise that, in addition to carpet cleaning, you get one or more add-on treatments. You'll need to consider whether any of these treatments is worth the cost.
Carpet Protectors
Carpet protectors can be used to coat carpet fibers so that oil and dirt particles are repelled. The result is much more effective vacuuming and a longer time between cleanings. Carpet protectors also give you the chance to get to a spill before it is absorbed into carpet fibers.
Almost all carpets are now treated with a carpet protector at the mill. But reapplication may be needed in time. Typically, in heavy-traffic areas such as hallways, steps, entranceways, and family rooms, carpet will lose its protective coating two to four years after purchase; in low-traffic areas, the coating may never be lost. After a carpet loses its coating, it is likely to need retreatment once every 18 months to three years.
When your carpet is dry, before cleaning, you can test whether it currently has effective soil or stain protection. Part the yarn and put a drop of water on the side of the yarn tufts. If the water beads, your protector is still effective. Do this in the heavily used parts of each room and in out-of-the-way places; you may be able to confine treatment to limited portions of only a few rooms.
If you decide you want retreatment, make sure that it is applied after cleaning and not as part of the cleaning process and make sure that the job is done with a fluorochemical-based protector. Other types of protectors may actually attract soil and will void carpet manufacturers' warranties.
Keep in mind that there may be health risks associated with most soil or stain protection treatments (see below).
Sanitizing or Deodorant
If your carpet smells from urine, mildew, smoke, or other causes, a professional carpet cleaner may be able to help you. But success is far from certain and depends heavily on the technician's skill and the extent of the contamination.
For smells that arise from mildew (fungus), bacteria, yeast, and other microbes, a sanitizing agent, applied after cleaning, may help reduce or eliminate the odor. The cleaning itself will remove most of the microbes, but the sanitizing agent will help to prevent remaining microbes from multiplying.
To be effective, these products must reach the source of the problem. If urine is deep in a carpet pad, reaching it with a sanitizing agent may require overwetting a carpet so severely that the potential harm to the carpet outweighs possible benefits of odor reduction. Also, the carpet pad may need to be replaced.
For odors (such as odors of smoke or incense) that don't arise from microbial sources, you might get some benefit from deodorants that are designed to cover up smells. But deodorants often cause more problems than they prevent: to work, deodorants have to remain behind after the cleaning process, which means their presence could just attract more dirt later.
Whatever firm you choose, the quality of service you receive will depend in part on you. Here are a few tips:
Preparation
Remove or raise hanging objects that might be hit by cleaning personnel, who generally walk backwards as they work.
Move prized valuables—antiques, bric-a-brac, bookcases. Cleaning personnel will generally move such items for you, but not necessarily with the care you desire.
Lift draperies that might touch, or nearly touch, the floor. You can throw the bottoms of the drapes over hangers suspended from your curtain rods.
Some firms require you to vacuum first; some do it for you free. It can't hurt for you to do it.
Communication
If you want a particular kind of service—such as truck-mounted hot-water-extraction cleaning—tell the firm before the day of your scheduled appointment.
When the firm's personnel arrive, treat them like professionals. Ask the serviceperson to explain what is going to be done and what you have choices about.
Specify exactly the add-on features you want, and those you do not want—carpet protector, deodorizer, etc.
Describe past cleanings. If shampoo has been used, your serviceperson may have to alter the cleaning solution for the current job to compensate for residues from previous jobs. If an absorbent powder has been used, the serviceperson may have to do a more thorough vacuuming or use extra liquid to compensate for absorption by the powder that remains in the carpet.
Point out stains and explain what caused them, how long they have been there, whether they are likely to go all the way to the backing. Reach an agreement with the serviceperson on each stain—that it will be removed in the normal process of cleaning, that it will be removed at additional cost, or that it will not necessarily be removed.
Alert the serviceperson to furniture with weak legs, seams in the carpet (if you know where they are), and any other potential problem areas.
Get the total cost of the job in writing before service begins.
Afterwards
Don't pay until you have walked around the carpet and inspected it. Check for spots. Don't accept the excuse that "you can't walk on it." You can, if you are careful. If you are not satisfied with the finished job, explain that you will not pay until the work is done properly.
Be sure that plastic or foil shields have been placed beneath all furniture legs.
Before the serviceperson leaves, ask for an estimate of carpet drying time and ask for any special instructions.
If the weather is not too cold, open windows and doors wide to speed drying.
Don't put anything on top of the carpet to walk on; this will slow drying. If you must walk on the carpet, wear socks.
Leave moisture shields under furniture legs until you are sure the carpet is dry. Mahogany, teak, redwood, and freshly stained wood pieces will bleed color into carpet.
Vacuum immediately after carpet is dry and then vacuum on a regular schedule.
If you discover spots or other problems after the serviceperson has left, call the firm immediately. The longer you wait, the more suspicion there will be that the spot is new. If the carpet still seems to be damp after 24 hours, call the firm to see what can be done to speed drying (unfortunately, not much in most cases).
If you cannot resolve a dispute, complain to the Consumer Protection Division of the Office of the Attorney General or the Better Business Bureau. There are independent inspectors who will, for a fee, come to your home and give a third party judgment. They will also help you arbitrate a complaint. You can reach an expert through the Institute of Inspection, Cleaning and Restoration Certification's referral line by calling 800-835-4624 or by visiting www.certifiedcleaners.org.
Even the most capable carpet cleaning professional will find certain problems difficult or impossible to cure.
Urine. Urine stains can't be removed unless treated before they dry. Urine odor can sometimes be controlled or masked by a deodorant, but generally cannot be completely removed.
Shading, or "pile reversal." The apparent shadows that result when carpet yarns are distorted under heavy traffic or improper shampooing can never be eliminated.
Dyes. Dyes can't always be removed. This includes stains left by some soft drinks, Kool-Aid, coffee, tea, and mustard.
Mildew. Can't always be removed.
Wood stains. These can rarely be removed.
Latent stains. Some chemicals cause stains that only appear under certain conditions of heat or humidity. This is true of some household pesticides, floor waxes, plant foods, cosmetics, and deodorants. Benzoyl peroxide, the active ingredient in some acne medications, can rub off face or hands unnoticed until humidity—or moisture from carpet cleaning—accelerates its bleaching action. By the time hidden stains are discovered, damage is often irreversible.
Bleach spots and areas where sunlight has caused fading. Although carpet can be dyed, you can never fully compensate for a faded area; it is usually difficult to blend the dyed area to match the surrounding area.
The life of your carpet will depend more on what you do than on what is done by an occasionally hired professional.
Selection
Be sure to purchase the right kind of carpet for the area you will be covering. (See our article on area carpet stores and installers.) A thick, white pile will not hold up in a busy entranceway no matter how diligently you maintain it. When you are shopping for carpet or rugs, call a carpet-cleaning firm for advice. A reliable professional will know which kinds of rugs hold up best in various situations, and will not have the biases some carpet and rug salespeople might have.
Spot Removal
To prevent permanent stains, clean up spills immediately. See below for tips on spot removal.
Vacuuming
Vacuuming is the biggest factor determining how long your carpet will wear and how long it will look clean. Frequent vacuuming prevents traffic from working soil particles down into your carpet and from embedding the particles among the twisted fibers of the yarn. There are no hard data on the effect different frequencies of vacuuming have on carpet life to tell you how much effort you should put out to preserve your carpet. The best guide the experts can offer is to vacuum your carpet whenever dust, litter, and matting appear.
Do-It-Yourself Cleanings
You may want to do your own carpet-cleaning job rather than call a professional.
There are good reasons to turn to a professional. The obvious reason is that a professional will save you time and trouble. But good professionals also have other important advantages. They have heavier, more efficient equipment than homeowners ordinarily can buy or rent; they know how to recognize fiber types and the risks of bleeding; they know from experience about how much water a carpet can stand; and they have had enough practice to be able to work relatively quickly. Furthermore, some professionals offer prices not much higher than the costs of a homeowner-done job.
On the other hand, if you clean your own carpet, you can avoid the task of shopping for a professional; you can work until you satisfy your own standards, which may be higher than those of some professionals; you can be as careful as you want with your carpets, your furniture, and your walls; and you will almost certainly save at least a small amount of money.
For thorough cleanings, you can rent hot water extraction or shampoo machines from hardware stores or tool rental outlets for about $20 to $30 per day. These machines usually have much less power than found in the machines used by most professionals. You can also buy the chemicals to use with your rented equipment at various outlets. When applying chemicals, make sure to read all warning labels first, and carefully measure out the correct amounts.
In recent years, vacuum cleaner models that can also act as carpet cleaners have become popular with many consumers. These machines—such as Hoover's SteamVac line, Bissell's Deep Cleaner models, and Dirt Devil's Easy Steam—use a solution of water and detergent that is scrubbed into the carpet and then the dirt and water is vacuumed up. The cost of these machines has come down in recent years—basic models cost less than $100. But these machines won't completely replace the need for professional cleaning because they have only a small fraction of the power found in the machines used by professionals, and won't be able to give you the deep cleaning that your carpets will need from time to time. But they can be effective at giving topical, light cleanings and are also good for regularly cleaning carpet in entranceways, stairs, and other areas that get dirty quickly.
Keep in mind that no carpet-cleaning machine is a stain remover; you'll still need to clean up spills right away and to try and remove stains with specific cleansers.
If you decide to do your own cleaning using professional equipment—
First, vacuum the carpet to remove as much dry soil as possible.
Avoid getting the carpet too wet.
Avoid using too much detergent. Doubling up on the amount of detergent you use won't make it easier to clean carpet that is extra-dirty; instead, you'll simply leave residue that may attract soil and then cause excess foam the next time the carpet is cleaned. If a first pass doesn't remove all of the dirt, wait for the carpet to dry and then try again.
Avoid applying carpet protector.
Avoid using powder deodorant since its effectiveness is limited and since it can form into a hard cake at the time of later cleanings if it is not completely removed by vacuum cleaning. Also, if you fail to completely vacuum out powder detergents, the residue can become a lung irritant.
The cleaning of area rugs brings many of the same risks as cleaning carpet—rugs can be permanently damaged from improper or poorly mixed chemicals, or improper brushing. But for some rugs—particularly for expensive, hand-made wool rugs and many antique or semi-antique rugs—there are additional dangers: dyes might run; fringes, backing, or the rug itself might tear; the rug might shrink or warp; and colors might be distorted.
Area rugs are also more challenging to clean than wall-to-wall carpet, since the yarns of many rugs are much more densely concentrated than the yarns in carpet. The most common method of making wall-to-wall carpet is by tufting, where a machine with hundreds of yarn-threaded needles pushes yarn through a backing fabric, forming loops as the needles push in and pull out. This process leaves a small amount of space between the carpet yarns; during cleaning, this space facilitates the loosening and pulling out of dirt. Area rugs, on the other hand, are usually made using processes—such as weaving or knotting—that create a much more dense pile. Because of this density, a rug won't get dirty as quickly as carpet (since dirt tends to stay on the surface of the rug, rather than settling into the rug) but once dirt has penetrated the rug's surface, this density makes it especially difficult to remove. Removing the dirt in a typical area rug requires that the rug be subjected to a washing process that vigorously agitates the rug's pile to loosen dirt and then completely soaks the rug through with water to flush the dirt away.
Another key difference between carpet cleaning and rug cleaning is that, in most cases, rugs have to be cleaned outside of your home, so you likely won't be able to supervise the work. If a firm improperly cleans wall-to-wall carpet in your home, you can ask it to try to correct errors on the spot, perhaps before permanent damage occurs. But if an incompetent firm improperly cleans a rug in its plant, you likely won't be made aware of problems until it is too late.
Because the work is difficult and so much can go wrong, and since even a machine-made Oriental rug can cost you well over $3,000, you'll want to make sure that you're trusting your rugs with a true expert.
The vast majority of rugs can tolerate a rigorous cleaning process where rugs are immersed in and flushed with water, shampooed, rinsed, and then dried.
Vacuuming/Dusting
Before cleaning, most firms will try to remove as much dust and dirt as possible by using heavy-duty vacuums, beating the rug, using automatic dusters, and/or spraying the rug with compressed air.
Inspection and Stain Treatments
If you already know of specific spots or stains and what caused them, be sure to call them to the attention of the firm and make sure that these problems are written down on the work order—before cleaning, spots and stains should be pre-treated with appropriate cleansers. You should also notify the firm if the rug has been in contact with urine, feces, vomit, or blood, so that the firm knows that it needs to be decontaminated.
As with wall-to-wall carpeting, some stains or problems can be difficult or impossible to correct; the representative should speak candidly with you about the limits of its service. Keep in mind that firms often won't know whether or not they can successfully treat a trouble spot until they try to do so.
Cleaning
The rug is then spread out in the cleaning area of the plant. Usually this area is a large, concrete basin with plenty of drainage in a large garage, small warehouse, or, in the case of large operations, in a small, factory-like setting. The rug is pre-washed and soaked using a high-pressure hose that sprays the rug with tepid water that usually contains a mild detergent.
Usually, the rug is then shampooed. Hand-washing rug cleaners pass a hand-scrubbing machine back and forth over the rug. The scrubbing machine is similar to a carpet shampooer in that it runs a mixture of water and carpet shampoo through a rotating, soft nylon brush, which is passed back and forth over the rug, loosening dirt and grime that lie deep in the rug's pile. The rug is then rinsed with the high-pressure hose. The cleaner should rinse out as much of the loosened dirt and shampoo as possible; if loosened dirt particles are not removed, they will just work their way deeper into the pile of the rug; and if the cleaner does not rinse out all of the shampoo, it may lead to a buildup of a sticky residue, which will accelerate re-soiling.
Be aware that "hand-washing" is a generic term used by almost all rug-cleaning operations, whether they clean rugs using the preferred method described above, or not. So it makes sense to ask firms to describe in detail what they mean by "hand-washing" and to even drop off a rug yourself so you can see the plant's cleaning facility yourself to make sure you're getting what's advertised.
For example, some firms, particularly very large rug-cleaning operations, will clean rugs using a large machine that passes them through an assembly-line process that automatically shampoos and rinses them. Unlike hand-washing cleaners, which employ a relatively labor-intensive procedure, automated cleaners can clean a rug in less than a minute. The machine first moves the rug underneath a spray of water to wet the rug, and then passes the rug through a series of brushes that move back and forth over the rug, scrubbing it with a shampoo and water mixture. After scrubbing, the rug is then rinsed underneath a series of rinsing jets.
One disadvantage of using an automated rug washer is that the operator has little control over the cleaning process. If a certain area of the rug needs more attention than other areas, an automated machine won't spend extra time scrubbing the problem area. And a possible risk of automated rug washing machines is that the fringes of the rug, or the rug itself, can be snagged and damaged as the rug passes through the assembly line—although this risk can be largely avoided if the operator is carefully monitoring the machine.
Other firms, particularly small rug-cleaning operations, skip the shampooing step altogether. These firms spread the rug out onto the floor of a garage or small warehouse, and then clean the rug using the same hot-water-extraction equipment that they use for in-home carpet cleaning, except that they usually run tepid water through the machine. Hot-water-extraction machines can adequately clean a rug made from wall-to-wall carpet remnants, but for other types of rugs, you may want to avoid firms that use this process, since hot-water-extraction equipment is designed for cleaning less dense wall-to-wall carpet, and likely won't be effective in removing dirt that has become embedded into a rug's dense pile.
Similarly, other small rug-cleaning operations may clean rugs using the same bonnet-cleaning system that they use for cleaning wall-to-wall carpeting. As with bonnet cleaning wall-to-wall carpet, this method's limitations are that it provides only a topical cleaning of the rug—many of the loosened dirt particles are never removed. Also, since firms that use the bonnet method rarely utilize a rinse process, repeated cleanings can overload the rug with residues and may contribute to accelerated re-soiling.
Special Treatment of Delicate Rugs
A common problem with antique or semi-antique rugs is that the warm water used to clean them can cause dyes to run. Firms can prevent this problem by lightly spraying the rug with an acidic conditioner before cleaning.
The vast majority of rugs can be cleaned using the cleaning processes described in the above section, and in fact, most rugs—even expensive, hand-made rugs—are washed using an immersion washing process after being made. But highly delicate rugs may require a different method, particularly rugs that are made of silk or imitation silk, or very frail rugs.
If you have a highly delicate rug, it can still be cleaned, but you will want to make sure you hire an expert to do the work. In most cases, delicate rugs are cleaned similarly to other rugs, except that they are given a lighter, lower moisture cleaning. Often, the rug can be lightly shampooed by hand. To rinse out remaining dirt and shampoo, the rug is lightly misted and then wiped clean before being spread out to dry.
Other types of delicate rugs can be cleaned using steam-cleaning equipment, but instead of using boiling-hot water, the cleaner will use tepid water. In these cases, the cleaner is treating the rug as he or she would clean upholstery.
Some delicate rugs just can't stand water at all. In these cases, the cleaner will remove as much dirt from the rug as possible by brushing it, vacuuming it with heavy-duty equipment, and beating out of the rug as much remaining dirt as possible, and then will use a dry cleaning process.
Grooming
After cleaning, a good firm will "groom" the rug with a brush so that the lie of the rug's nap runs in the correct direction to give the rug an even appearance. Firms may also give special treatments or care to the rug's fringe or edges, and may repair damaged areas.
Drying
It is important that the rug is dried as quickly as possible; a rug—particularly one made of wool—that remains damp for more than a few days can become mildewed, warped, or discolored.
Drying a rug that has been completely soaked through with water is no simple feat. One option is to squeeze out most of the water using a large wringer system. Usually a wringer device is the last step in the assembly line for large, automated operations, and some cleaners that do not use an automated system may still use a wringer after rinsing the rug. Cleaners that do not have a wringer usually use their hot-water-extraction equipment to pull out as much water as possible from the rug. After the rug is sent through a wringer or sucked dry using extraction equipment, some firms then use a high-power wet vacuum system to pull as much remaining moisture as possible from the rug.
Larger operations will then hang the rug to dry in a drying room. These rooms are usually climate-controlled areas with industrial-size dehumidifiers and a heating system that pumps in dry heat. Using this approach, a rug can be completely dried in six to 12 hours, depending on the thickness of the rug, how much water the cleaner has been able to pull out of the rug, the humidity level in the drying room, and the number of rugs hanging in the drying room.
Smaller operations will spread the rug out flat on a floor and direct large fans onto the rug—depending on the thickness of the rug, how much moisture remains in the rug after cleaning, and humidity levels, it will take 24 to 72 hours to dry a rug using this method.
Other Services
After drying, firms usually will groom or brush the rug again, and give special treatment or care to the rug's fringe or edges, or repair damaged areas.
Some carpet-cleaning firms that take in area rugs for cleaning don't actually do the work themselves, but rather send rugs to specialized cleaners. These firms may contract the work out to a local rug cleaner or to a large-scale, out-of-area operation that uses automated equipment. It makes sense to ask firms whether they do the work themselves. You will probably retain a little more control over quality by dealing directly with a firm that will actually be performing the work.
You might also want to ask firms whether or not they employ a dedicated rug cleaning staff, or if the firm's in-home carpet cleaners simply spend a certain amount of time each week cleaning area rugs. Having a rug cleaned by someone who usually cleans wall-to-wall carpet won't be a concern so long as the cleaner is also an expert at cleaning rugs, but it will be easier for someone who spends all of his or her time cleaning rugs to gain expertise. Keep in mind, however, that an automated operation might place more emphasis on production than on diligence.
The results from our customer surveys and our review of complaint records at area consumer agencies, shown on our Ratings Tables, should help you find a firm that does good work.
If you own an expensive or delicate rug, you may want to have several firms come to your home to inspect the rug and give you a proposal as to how they would clean it. If you're uncomfortable with the answers you are given, or get conflicting answers from different firms, ask the representatives to justify their cleaning proposals.
When the cleaner picks up your rug, or when you drop your rug off, make sure that you are given a receipt that lists the type, the size, and a description of the rug. If you own a hand-made, antique, or semi-antique rug, be sure that the receipt notes this fact.
If you know your rug is valuable, or suspect that it might be valuable, you may want to have it appraised so that you are fairly compensated by the firm or by your homeowners insurance carrier if the rug is ruined or lost. As we've already noted, a delicate rug can be easily damaged by a less-than-diligent cleaner. And though you might think that it would be difficult to lose a rug that measures 80 square feet or more, our reviews of complaint files at consumer agencies around the U.S. reveal that one all-too-common problem among some cleaners is that they just can't seem to keep track of their customers' rugs. A few of the rug cleaners we spoke with while preparing this article warned that some disreputable rug cleaners take in expensive rugs for cleaning, sell them to rug dealers, and then tell their customers that their rug has been lost or stolen.
our In-Plant Cleaning Prices table shows prices firms quoted to CHECKBOOK shoppers for in-plant cleaning of an eight-by-10-foot, all-wool, hand-knotted, Oriental rug. As you can see, cleaning prices ranged from $40 to $200 or more. We also asked firms for their charges for picking up and delivering the rug if the customer lives 10 minutes away. Many of the firms' prices would be increased by $40 or more for pickup and delivery.
our In-Plant Cleaning Prices table also shows prices the firms quoted for some popular add-on services.
The prices on our In-Plant Cleaning Prices table should be used only as a reference point for your own shopping, since we asked the firms to quote prices assuming that our rug was only moderately soiled, was of a medium color, and had no stains. Your rug is likely to be of a different size, color, and condition. Most firms will quote prices over the phone if you accurately describe your rug and its condition. Before cleaning, ask any firm to provide you with a written, fixed-price contract for the cleaning and any add-on services you want.
There are many ways to clean a carpet. Some may work better than others, depending on the condition of your carpet.
Hot-Water Extraction
In the hot-water-extraction method (sometimes referred to as "steam cleaning"), hot liquid is sprayed under high pressure into carpet pile and immediately vacuumed back out along with suspended soils. The liquid usually is hot water containing a detergent, but may be hot water alone if there is already a residue of detergent from previous cleanings. This method, if done properly, can clean even heavily soiled carpets.
This type of cleaning can be done with portable equipment (some types of which you can rent yourself at tool rental shops) or with truck-mounted equipment. Truck-mounted equipment generally does a better job on heavily soiled carpets than is possible with portable equipment. The truck-mounted equipment allows the technician to heat water (either from your water supply or from truck-mounted tanks) to a high temperature and to spray and extract the cleaning solution at much higher pressures than are possible with most portable equipment. The high pressures allow the process to reach relatively deep into carpet pile.
Many "truck-mounted" units are simply portable units bolted to a truck, and they lack power. The most effective machines are powered by an engine in the truck rather than the home's own electrical system.
Many firms that use hot-water-extraction machines enhance the effectiveness of the process by spraying the carpet with a conditioner and then lightly agitating the carpet with brushes before cleaning. The conditioner acts as a de-greasing agent, which helps to remove dirt and grime, and also lubricates the carpet so that the hot-water-extraction wand doesn't distort the carpet pile.
Shampoo
Shampoos for carpets operate in a manner similar to the operation of laundry detergents you use to wash clothes. Some shampoos also contain chemicals to reduce odors, retard future soiling, brighten colors, and speed drying. The shampoo is released onto the carpet through openings in a rotary brush. The rotary action converts the detergent into a foam and works it into the carpet. When the shampoo dries, it leaves dry particles that can be removed by a vacuum cleaner.
Unfortunately, many of the loosened dirt particles are never removed and simply work their way deeper into the carpet pile. Use of low-quality detergent, too much detergent, or overly concentrated detergent may lead to a buildup of a sticky residue on carpet fibers. Repeated cleanings without proper extraction will overload the carpet with residues and may contribute to accelerated resoiling.
Combined Shampoo and Hot Water Extraction
Because high-powered, truck-mounted hot-water extraction equipment—especially when used after carpet has been treated with a conditioner—will usually get even heavily soiled carpet clean, this two-step method is rarely used in residential work. The shampoo and hot-water-extraction process uses shampoo and rotary brushes to loosen dirt particles, followed by hot-water extraction, using water rather than a cleaning solution, to remove the soil. Although some professional machines combine the shampoo and extraction methods, usually the two steps are separate, and therefore expensive because of the extra labor costs.
Foams
Foams are really just a form of shampoo. Professionals use machines that generate foam and agitate it on the carpet with brushes. Foams used mostly by homeowners are available in aerosol cans. Foams are applied in a thin layer, then rubbed in with a damp sponge. When dry, the residue is simply vacuumed away. The main advantage to do-it-yourself users is that foam contains very little moisture, making it unlikely to damage carpet by overwetting. But the low moisture content also means that not much soil is removed, so this method results mostly in surface cleaning. Some foams are difficult to rinse out even with multiple cleanings and may interfere with later attempts to clean the carpet.
Bonnet Cleaning
Originally designed for use on commercial carpeting, bonnet cleaning uses a round absorbent pad, or bonnet, which is attached to the bottom of a rotary floor machine. Detergent is sprayed onto the carpet; then the pad is rotated over the surface, removing soil that adheres to it. When one side of the pad is soiled, it is reversed until both sides are soiled; then the pad is rinsed.
The bonnet method's limitations are similar to those of shampooing—many of the loosened dirt particles are never removed and simply work their way deeper into the carpet pile; use of low-quality detergent, too much detergent, or overly concentrated detergent may lead to a build-up of a sticky residue on carpet fibers. And since firms that use the bonnet method rarely utilize a rinse process, repeated cleanings can overload the carpet with residues and may contribute to accelerated re-soiling.
Absorbent Dry Compounds
Dry powdery compounds containing detergents or solvents can be sprinkled on carpet, worked into the pile by machine, then removed by a vacuum cleaner. The detergent or solvent dissolves the oily film on carpet fibers, freeing the soil to be vacuumed out along with the powder after about half an hour. Although it usually is not as effective as other methods, dry compound cleaning has special applications.
The most common soil and stain protectors used for carpeting are DuPont's Teflon or 3M's Scotchgard products. For the past several years, there has been much debate between the chemical manufacturers and environmental groups as to whether the perfluorochemicals (PFCs) used to manufacture these types of products pose serious health risks.
The EPA has stated that perfluorooctanoic acid (PFOA), a chemical compound that is used in the manufacture of Teflon and other advanced plastics, is a "likely carcinogen" in humans and that it has found "suggestive evidence" of PFOA's potential human carcinogenicity based on animal studies.
The chemical companies claim otherwise, and assert that even if PFOA and other PFCs were harmful, they are not released from finished consumer products. Environmental groups claim that the PFCs are highly toxic and point to their own research showing that Teflon and Scotchgard products do emit PFCs under normal conditions.
What's clear is that the chemical companies appear to want to move on from the subject, and quickly. In January 2006, eight chemical companies, including DuPont and 3M, agreed to cut emissions of PFOA by 95 percent by 2015, and both have claimed that their new generations of Teflon and Scotchgard already have much less PFC content. Whether these changes actually mean the products are safer is still being disputed.
Since PFCs are so ubiquitous, completely avoiding contact with them would be difficult. But if you have concerns, one obvious step you can take is to ask your carpet cleaner not to apply soil retardant. Since carpet mills usually apply a coating of Teflon or Scotchgard when manufacturing carpet, your carpet likely won't be completely free of these products, but at least you won't have more of the product introduced into your home in the form of an airborne mist.
The Green Movement has spurred new service industries—and marketing schemes—aimed at capturing eco-aware customers. Some carpet cleaning businesses have begun declaring they use different, green cleaning methods and practices, including—
Using smaller trucks and/or equipment that use less fuel;
Treating used water before disposal or at least disposing of it in a sewer so that it goes to a water treatment plant, rather than simply dumping it into a storm drainage system that takes it directly into local waterways;
Using detergents derived from plants—such as, orange peel—rather than conventional chemicals; or,
Instead of the usual hot-water-extraction method, using a smaller amount of hot water that includes a peroxide solution or softened water containing natural disinfectants.
Are the "greener" claims just marketing nonsense or do they have merit? If the companies actually do what they claim, are the results actually more environmentally friendly than traditional cleaning methods? And in terms of results, how do these methods compare to conventional cleaning methods?
Unfortunately, none of these questions is easily answered.
Among the green strategies, treating wastewater before disposing of it—or paying to have it treated by sending it to a wastewater plant—is a practice any company can employ to minimize the effect their used water and solutions have on local waterways. You could simply ask any company you're considering what it does. Of course, you'll have to accept their answer without verification unless you're willing to follow their trucks back to the office/plant.
Using equipment that uses less fuel is also a way any firm could lessen its impact on the environment. But equipment with less power will mean equipment with less cleaning power, which means the equipment will have to be used for extra amounts of time to do the job—and might not be able to do the job as well as full-powered equipment.
Other approaches and claims—use of natural detergents and solutions that don't include detergents instead of the water-plus-detergent method—may be just marketing hyperbole. The owners of top-rated carpet cleaning outfits we spoke with certainly believe this is the case (we'll refrain from repeating the colorful language a few used when sharing their opinions with us). A key point they make is that cleaning carpets using the hot-water-extraction process doesn't use a lot of detergents or other chemicals to begin with; after all, virtually all of the cleaning effect comes from hot water, shot into carpet pile and then immediately vacuumed back along with suspended soils. Detergents that are used are non-toxic and hypoallergenic; it's not as if carpet cleaners are soaking carpets in a drycleaning solution. If the cleaner is properly trained and diligent, detergent often isn't used at all, and if it is used, it is used sparingly so residues don't attract future dirt.
Another claim made by companies espousing new, greener cleaning methods is that these processes allow carpet to dry faster, meaning the possibility of mold and mildew issues is avoided. But as we discussed elsewhere in this article, carpets that have been properly cleaned using the hot-water-extraction method will take a day or two to dry, and if the areas remain well ventilated, that's not enough time for mold and mildew to have an effect.
Stains can ruin a carpet. But if you act quickly you can avoid disaster.
Immediately blot up spills, using a clean, white, absorbent material.
Pretest spot-removal agents. Put a few drops of solution on each color in the carpet. Then, using white absorbent material, hold it against each color, count to ten, and examine the results. If the dye has bled into the absorbent material, or if there has been a change in the colored area, call a professional.
Don't overwet. Work with small amounts of solution.
Don't rub or brush. Excessive agitation may cause distortion.
Work from the outer edge toward the center of the stain.
Have patience—some stains respond slowly.
Remember, haphazard attempts at spot removal may result in indelible stains and/or permanent damage to fabrics. If you have doubts, seek the advice of a professional.
Depending on the stain, you'll want to try one or more of the following cleaning agents (note: NEVER mix together ammonia and bleach):
1. Drycleaning solvent.
2. Mixture of one-half teaspoon of white neutral detergent (a mild liquid dishwashing detergent containing no strong alkalies or bleaches) with a cup of lukewarm water.
3. Mixture of one tablespoon of ammonia with one-half cup of water.
4. Mixture of one-third cup of white vinegar with two-thirds cup of water.
5. Mixture of a solution of powdered enzyme laundry detergent made by following the directions on the label or box. The solution should remain on the stain for the length of time recommended by the manufacturer.
Try these cleaning agents in the order indicated in the following list until the stain is removed. Apply small amounts of the cleaning solution with a clean, white, absorbent towel. Blot frequently and continue to apply and blot until the staining material is no longer transferred to the absorbent material. The final step is to blot any remaining moisture or cleaning solutions by pressing or padding the area with an absorbent towel.
Stain Agents
Beer 2, 4
Blood 2, 3, 5
Butter 1, 2, 4
Candle wax 1, 2
Catsup 2, 3, 5
Chewing gum 1, 2
Chocolate 2, 3, 4, 5
Coffee or tea 2, 4, 5, 1
Cosmetics 1, 2, 3
Crayon 1, 2
Egg 2, 3, 5
Food coloring 2, 3
Fruit and juices 2, 3, 4, 5
Furniture polish 1, 2, 3
Furniture stain 1, 2
Glue, school 2
Grease 1, 2, 3, 4
Ice cream 2, 3, 4, 5, 1
Ink 1, 2, 3
Iodine, Merthiolate 2, 3, 4
Milk 2, 3, 4, 5, 1
Mustard 2, 4, 5
Nail polish 1, 2, 4, 5
Oils 1, 2, 3, 4
Ointment 1, 2, 3, 5
Paint, oil-based 1, 2, 3
Paint, water-based 2, 3, 1
Perfume 2, 4
Rubber cement 1, 2
Shoe polish 1, 2, 3
Soft drinks 2, 3, 4
Soot 1, 2, 3
Syrup 2, 3, 4, 5
Urine 2, 3, 4
Vomit 2, 3, 4, 5
Water stains 1, 2, 3, 4
Wine 2, 4, 3