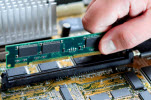 Of the many types of services we evaluate, computer repair shops are among the lowest rated. On our Ratings Tables, you will see a number of shops that are rated "superior" or even "adequate" by fewer than 70 percent of the customers we surveyed. That means that they were rated "inferior" by 30 percent or more.
You will also see that there is big price variation, with some shops charging prices that are more than twice as high as the prices charged by nearby competitors.
If your computer needs repairs, shopping for price is difficult because many shops will charge $70 or more to give you a diagnosis and estimate. But if you are looking for an upgrade—for instance, a new hard drive or additional memory—or if you know what repair you need, you will be able to shop by phone. You will find substantial price differences. For instance, we found prices ranging from $30 to $148 to add a gigabyte of memory to a Dell PC.
To get the best repairs at the best price, you will need to deal carefully with whichever shop you use—
Give the shop a thorough written description of the symptoms prompting a repair visit.

Insist on a written estimate before repairs can proceed.

Consider whether repairs are really worth making—or whether it is time to move on to a new model.

Before paying, get a detailed invoice, including a description of the components repaired, the date, a breakdown for labor and the price for each part, and the warranty.

Test equipment as soon as you get it home and return it to the shop or notify the shop in writing right away if it is still not working right.
There is that feeling in the pit of your stomach. When you've rebooted multiple times. Fiddled with the power cords. Called tech support. Threatened and cursed. And still your computer won't respond and come back to life. You need help.
After all, it's just your entire life on that computer...and you're pretty sure you backed it up fairly recently, but...
Fortunately, there are computer repair businesses in the area that might be able to get you up and running again. To assist you in finding one that does quality work at reasonable prices, we've evaluated area outfits. Our Ratings Tables show the results.
With most of these shops, customers ordinarily bring or ship their computers to the shops. But some may offer the option of coming to your home. In addition, there are companies that only come to customers' homes. Some of these in-home services can be found under the "Computer Help—In-Home Assistance" category in the "Neighbor-to-Neighbor" section of our website. (We set up our Neighbor-to-Neighbor area as an informal exchange where subscribers can post ratings and comments—and read other subscribers' comments—for services we haven't yet covered in our full ratings articles.)
Some of the shops listed on our Ratings Tables get very high ratings, but there are also several you'll want to avoid. In fact, of the many types of services we evaluate, computer repair shops are among those with the highest frequencies of strongly dissatisfied customers.
We surveyed CHECKBOOK and Consumer Reports subscribers and asked them to rate shops on several different aspects of service. Our Ratings Tables show the results for shops for which we received at least 10 ratings. (For more information on our customer survey and other research methods, click here.)
Most of the listings on our Ratings Tables are for individual shop or store locations. For multi-store chains—Apple Store, Best Buy/Geek Squad, and Fry's Electronics—the listings show the combined ratings for computer repair we received for any of the chains' area stores. For the chains, some simple repair and upgrade work is performed in stores, while more complicated work is sent to a centralized repair center, a subcontractor, or the manufacturer.
As you can see from the scores on our Ratings Tables, the customer ratings varied widely from shop to shop. At the time of our last full, published article, nine of the 62 shops were rated "inferior" (neither "adequate" nor "superior") for "overall performance" by 30 percent or more of their surveyed customers. On the other hand, 18 of the shops were rated "adequate" or "superior" overall by 95 percent or more of their surveyed customers.
To help you find a shop that not only does good quality work but also charges reasonable prices, we calculated a price index score for each shop that was evaluated in our last full, published article. The scores are based on prices quoted to our shoppers for five computer equipment upgrade and repair jobs. These scores, which are shown on our Ratings Tables, show how the prices each shop quoted to our shoppers (who did not reveal their connection with CHECKBOOK) compared to the prices all other shops quoted for the same jobs. The price index scores are adjusted to a base of $100. Thus, a shop with a price index score of $110 quoted prices that averaged 10 percent higher than the average of all shops' quotes for the same jobs.
There were substantial shop-to-shop differences in price index scores—the scores ranged from less than $75 to more than $125. On Table 1, you can also see that the prices on specific jobs varied even more broadly than the price index scores.
While our price index scores can help you focus your shopping efforts, they do not tell you which shop will cost the least for the specific repairs you require. In fact, some shops with low prices on some jobs may have high prices on others.
If you know exactly what work you need done, it's a good idea to call several shops for price quotes. At some shops, you'll have to push pretty hard to get a firm price, and some will simply refuse to quote a price over the phone. But at least some will give a quote with the understanding that the price might go up if what needs to be done is different from what you've specified.
If you don't know what's needed or you simply can't extract quotes from shops you call, you'll have to take in your equipment for a diagnosis and estimate. Our Ratings Tables show shops' charges for a written estimate. Almost all of the shops said they apply the estimate fee to the cost of the repair if you have them do the repair. Estimate charges at the surveyed shops ranged from $0 to $99. Obviously, you're better off, everything else being equal, to avoid high estimate fees. If a shop has a high fee and gives you a high estimate, it will be costly for you to pull out your job and take it to another shop.
Some shops will require you to authorize repairs up to a "call-over" amount at the time you drop off your equipment. This means the shops will simply proceed with repairs without calling you if they determine the job will cost less than the call-over amount. While shops with call-over amounts no doubt often keep their charges below the amount, your agreeing to a call-over amount gives a shop more discretion than we think is desirable. (From the shop's standpoint, of course, your advance authorization saves the time and bother of tracking you down to approve moderately priced repairs after the estimate is completed.)
Add one gigabyte of memory to a Dell Dimension 9200 desktop computer
$30
$77
$148
Replace the power supply in an HP Pavillion Elite desktop computer
$60
$106
$175
Install a customer-supplied DVD/CD-RW drive on an HP Pavillion Elite desktop computer
$20
$49
$125
Add a customer-supplied, secondary hard drive to a MacPro desktop computer
$20
$64
$140
Add three gigabytes of memory to a MacBook laptop computer
$129
$185
$255
1 For each job, firms were given additional detailed specifications.
It is important, of course, to choose a good shop, but it is also important to deal in a businesslike fashion with whichever shop you use.
Should You Take It In?
Some shops will come to your home to make repairs if you don't want to take your equipment in. But there are advantages to taking your equipment to the shop. First, the price will generally be lower. Second, you avoid having to wait around for the technician to arrive. Third, there's likely to be more and better diagnostic equipment at the shop than the technician can bring to your home, and the technician probably will have colleagues to turn to for advice. Fourth, if the problem with your equipment is intermittent, the technician will need to have the system run over a period of time to check it out. In fact, a technician who comes to your home may have to take your unit to the shop anyway.
There are some advantages to in-home repairs, however. First, you get to see how much time the technician actually works on your computer so you can check the charges. Second, you spare yourself the trouble of unhooking your system and making the trip to the shop. Third, if the problem with your system is caused by your Internet connection or the computer's interaction with peripherals, the technician won't know about these problems unless you bring in the peripherals or the technician comes to your home.
Communicate
Give the shop a written description of symptoms. Observe when the problem occurs, how long it lasts, exactly what happens, etc. Put this information in writing; otherwise, it may be forgotten by the time the shop begins to work on your computer.
Try to Get to the Source
As in most types of repair work, it's best to talk directly with the person who'll be doing the work. In a face-to-face exchange, you can be sure you've adequately communicated the symptoms.
Insist on a Written Estimate
Unless the shop is adamant about your authorizing repairs in advance up to a certain dollar amount, say you want a written estimate first.
Under California law, as soon as you ask, "What's it going to cost me to get this fixed?" the shop is obligated to give you a written estimate. You should never have to settle for a verbal estimate in California. The estimate must include all costs for parts and labor, and the shop may not charge for work done or parts supplied in excess of the estimate without your prior consent.
If a shop finds a repair will cost more than its estimate, the estimate can be revised, but you may refuse the new estimate and the shop must restore the equipment to its original condition. In this event, however, you may have to pay an estimate fee.
Consider Whether the Repair Is Worth Making
Repairs to computers often cost well over $200. If yours is a newer system and you are satisfied with its capabilities, spending that much may make sense. But if it is an old system that is soon to be obsolete, you might decide you're better off to give it up and apply that money toward a new computer.
If the Price Seems High, Try to Get Other Estimates
Although it can be difficult to get estimates over the phone, some shops will give them, especially if all you need are upgrade services. Call a few with a description of the needed upgrade or the repairs another shop has recommended. If you are shopping for repairs, of course, this process doesn't tell you whether the first shop's diagnosis or recommended repairs are correct. If you suspect that the recommendations are incorrect, consider taking your unit to a second shop for an estimate—keeping in mind that doing so will probably cost you an estimate fee.
Even if you need a computer quickly, you may be able to give yourself a little time to deal with shops by renting equipment. Some shops offer a replacement computer while yours is being repaired.
Tie Down the Time
Although unforeseen problems can arise, you'll be in a better position to argue for priority service if you've gotten a written promise in advance as to the date when the work will be completed.
Ask to Have Replaced Parts Returned to You
Although you may not know a hard drive from a mouse, a shop won't know how much you—or your brother-in-law—might know. The shop will be reluctant to pull out good parts or to claim falsely that it has replaced parts if it knows it has to return replaced parts to you.
Get a Receipt
Never drop off equipment without getting a receipt.
Get a Detailed Invoice
The invoice should state—
Name, address, and phone number of the repair shop.
Your name and address.
A description of the components repaired.
The date the repair was completed.
An itemization of charges.
The name of the technician.
A statement of any warranty on parts or labor.
This invoice will be necessary if you need to take advantage of the shop's repair warranty. It will also be useful for reference if another repair shop tells you that you need the same repairs at a later date.
Pay by Credit Card
If you are dissatisfied with a repair, you'll have the option to dispute the transaction under the Fair Credit Billing Act.
Ask Whether There Is Any Indication that You Are Not Caring for Your System Properly
Find out if the problem could have been caused by your actions and how to avoid causing it again.
Test Your Equipment as Soon as You Get It Home
If you find problems still exist, either take the system back to the shop immediately or drop a note to the shop documenting the fact that the problems were never solved.