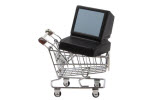 Your computer used to start up in the time it took to get coffee brewing. Now it seems like it takes enough time to make and eat a full breakfast.
Even when it's up and running, it is painfully slow. New technology places new demands on our computers. Digital photos and music take up lots of hard-drive space. Streaming video requires newer, faster, and more efficient processors and video cards. Even if you don't care about these features, new software version releases with extensive graphics and features that tax older processors may still require that you eventually buy a new computer or upgrade your old one.
This article should help. For novice computer users, we have attempted to provide a foundation of knowledge to help in your shopping. If you're an old hand, our information on the service quality and prices of specific retailers may give you useful perspective on the marketplace.
If you'll be buying a new computer, you'll have two different families of computers from which to choose.
One is Apple Computer's Macintosh family ("Macs"). This family accounts for less than 10 percent of the personal computer market, but enjoys an extremely loyal following.
The computers in the other family are known as "PCs" and are made by various manufacturers—Acer, Dell, Hewlett-Packard, Lenovo, Samsung, Sony, Toshiba, and others.
The differences between Macs and PCs are much less clear than they once were. PCs have been favored by some for their number crunching and statistical analysis strengths. Macs have been attractive to those who use artistic and graphic arts software packages, and have seized the initiative in home video production. These relative advantages and disadvantages are much smaller than they once were. The big differences that remain between the two families mainly are in "feel"—the interfaces the two families use. So if you're thinking about defecting from a PC to a Mac or vice versa, it's a good idea to try out equipment and software from each family, doing the types of tasks you expect to do most.
Whether you choose a PC or a Mac, you'll be able to accomplish many of the same tasks, play the same games, and purchase many of the same software titles. But your primary concern when deciding between a PC and a Mac will be compatibility, since it may be inconvenient or difficult to move work from a PC to a Mac or vice versa, and some of the software and some types of related equipment will work with only one computer family or the other. You'll also want to make sure it will be convenient for you and your family to run the same programs at home that you run at your office or that your children run at school (Apple is a leading supplier of computers to schools). And if you or a family member has a lot of experience with one family or the other, it might just be easier to stick with that family.
Before buying any new piece of computer equipment, you need to think through how you will use it—and whether you will really use it.
You can get good advice from several websites, such as, CNET.com and PC Magazine, some of which include useful product overviews by editors along with recommended equipment and customer feedback. Consumer Reports also has ratings of various models of desktop computers, laptop computers, netbook computers, printers, monitors, scanners, and some types of software.
You can, of course, also visit local stores to try out equipment you're considering and to seek out advice from salespersons. The ratings of stores on our Ratings Tables for advice should help you find stores with sales staff that can help. (We discuss our ratings of computer stores later in this article.)
The following discussion highlights some of the issues to consider in choosing a system. We focus on PCs, but many of the issues are applicable to Macs also.
A major consideration when buying electronics is reliability. Surprisingly, Consumer Reports' most recent, large-scale survey of consumers found there were minimal differences in reliability among the major laptop manufacturers. For desktops, Consumer Reports did find that Apple had a considerably better reliability record than any of the major PC manufacturers, but among the PC manufacturers, there weren't any clear standouts.
Since there don't seem to be large differences in the major brands' track histories for repairs, it makes sense to focus on comparing brands on price and features.
Laptop computers let you take your work with you. You can take your computer back and forth to work, on trips, or from room to room in your house. Laptops have become so capable, convenient, small, and light—without a large price penalty—that they now dominate home-computer sales.
Even smaller and more easily portable than laptops are netbook computers. Whereas laptops typically have screens measuring diagonally somewhere between 13 and 18 inches and weigh between three and eight pounds, netbooks have screens that measure about 10 inches diagonally and these small computers typically weigh three pounds or less. You give up something in power and features and in keyboard size in exchange for the smaller size of a netbook, but those things may not matter to you.
Smaller still are tablet computers, now flooding the market following the enormous success of Apple's iPads. The display is even smaller on these devices, as is the overall size and weight. While the portability, capabilities, and overall user experience with tablet computers make them a compelling option for many consumers, we do not focus on tablets (or smart phones) in this article—although some of the considerations with these small devices are similar to considerations with laptops and desktops.
When shopping for a laptop, you'll want to consider the same factors as you would consider for a desktop with regard to speed, storage, and other capabilities (see below), but there are also other considerations. Size and weight are issues, of course. The larger the computer, the more cumbersome it will be. But remember that as the size of laptops goes down, the screen and keyboard also get smaller. You may want to spend a bit more for an active matrix display of 15 inches or more and put up with two to four pounds of extra weight to save yourself some squinting.
Another issue with laptops is how long you can go between battery recharges. Three to six hours is fairly typical. Manufacturers' claims tend to be exaggerated, so it's best to get an independent assessment from someone who has tested the system.
At the time you buy a laptop, it's a good idea to buy an extra battery and an external battery recharger so you can recharge one battery while you're using another, and so you can take two batteries with you when you expect to be away from an electrical outlet for a substantial amount of time, like on a long airplane trip. Don't count on being able to buy a battery or recharger at a later date. Many computers have batteries configured specifically for them; when the computer ceases to be manufactured, the battery may become unavailable.
The "brain" of a PC is known as a central processing unit (CPU), processor, or "chip." Among the most well-known chips are those manufactured by companies such as Intel (with its Core, Pentium, and Celeron brands) and AMD (with such brands as Phenom, Athlon, and Sempron). There are other low-cost imitators as well, but Intel has fought off attempts to make chips mere commodities by heavily promoting its brands.
Chips are critical to a computer's speed. In advertisements, you may see a computer that comes with an "Intel Pentium Dual Core 2.8 GHz" processor. "Core" is the brand name given to this generation of Intel chips to indicate the structure of the chip and the logic the chip uses to process information. Intel's Core processors are faster than its Pentium 4 chips were, Pentium 4 chips were faster than Pentium III chips, and so on. The 2.8 GHz (gigahertz) is the level of "clock speed" at which the CPU operates. As this number increases, so does the CPU's speed. But you can't compare chips from different generations by looking only at their respective processing speeds, since each new generation of chips uses more efficient logic and has more efficient designs that produce better overall speed. For example, an Intel Core processor that operates at 2.66 GHz will run much faster than the Pentium 4 processors that operated at 2.66 GHz.
Another factor to consider when choosing a chip is whether it operates as a single-, dual-, quad-, or higher count core processor. Older generations of chips were single-core processors, meaning they were built to perform one set of operations at a time; newer generations of processors are at least dual- or quad-core, which means they effectively process two, four, or more sets of information at a time, which means faster processing speeds.
New software and technologies are constantly pushing chipmakers to make the next generation of chips, which come out every couple of years. Since new software and operating-system features take advantage of these new speeds, a typical PC user can feel like his or her computer has become obsolete overnight.
If you mainly use your computer to type letters and to send and receive e-mails, an older chip should be fast enough. But if you want to work with streaming audio and video media, speed will be critical. And you may have to keep your system up-to-date to keep pace with many common programs—such as tax return preparation programs—that are continually redesigned with graphics and other features that make them more user friendly but that also require chips that have higher processing speeds. Also, if you select a computer that is much slower than one that you use regularly at work or school, seconds will feel like hours while you wait for it to complete tasks.
In selecting a processor, you may be tempted simply to check the minimum requirements given by the manufacturers of software you commonly use. But keep in mind that these requirements are minimums; software companies want to sell their software as broadly as possible, so they are often tempted to encourage potential customers to buy even if performance for these customers will be very sluggish.
A computer uses random access memory (RAM) to hold some of the data it is working with and some or all of the data needed to run programs it is using. RAM is measured in megabytes (millions of bytes) and gigabytes (billions of bytes), indicating how much data the device can store.
Like processors, there are various generations of RAM, with the latest generations designed to operate faster and to use more efficient logic than previous generations. As of this writing, the latest generation of RAM was DDR3.
The more RAM your computer has, the more tasks it can do at once, which speeds operations. If you have just the minimum amount of RAM a program requires, only the most commonly used parts of the program may be in RAM all the time and less commonly used parts will have to be fetched from a disk drive when needed. That "fetching" takes time that could be saved if more of the program could be held in RAM. Lots of RAM can also limit the headaches of frequent freeze-ups and failed programs that occur when the computer runs out of needed memory resources.
When choosing a system, pay careful attention to the amount and type of RAM included. Since buying more RAM is usually an inexpensive add-on, it makes sense to purchase as much RAM as your system and budget will accommodate. But be aware that each release of Windows has a limit on how much RAM it can use. For its 32-bit operating systems, the limit is four gigabytes of RAM; for 64-bit systems, the limit is between eight gigabytes and 128 gigabytes of RAM, depending on the operating system or system settings. So if you're using the 32-bit version of Windows 7, and don't plan to upgrade to a 64-bit version, there's no sense in buying more than four gigabytes of RAM, since your computer won't use more than four.
No matter how much RAM you decide to get, make sure that your computer will be expandable in case you outgrow your current RAM needs. But if you know you will need a certain amount of RAM soon, don't buy less now and plan to expand later; it's usually less expensive to buy RAM already installed at the time you buy your computer.
To be able to display video and graphics-intensive games efficiently, newer computers shift the processing workloads of graphics from their CPUs to separate chips—graphical processing units (GPUs)—that are designed specifically to process this information and display it.
Like CPU chips, newer generations of GPUs are built and programmed to operate faster than previous generations. For example, new GPU chips can quickly process 3D graphics and video. Most new GPU chips are coupled with high-end video cards, which essentially act as RAM devices that are dedicated to graphics. Since advancements in home computing largely have been, and will continue to be, in the graphics and video areas, you may as well opt to buy a computer with a newer GPU chip, a video card with a capacity of at least 512 megabytes, and if you are using a monitor that supports high-definition resolution, the ability to display full 1920 x 1080 resolution.
Cache memory is a relatively small memory space that helps you get extra speed when running some programs. The computer holds in cache memory some information it expects to be using again soon, such as the Web addresses of sites you've visited. Think of cache memory as a desk drawer. If you can keep many documents in your desk and can see them without getting up, you will operate more efficiently than if you have to keep going to your file cabinet. New CPUs come with at least 512 kilobytes (thousands of bytes) of cache memory pre-installed. If you expand that, you are in effect expanding the size of the computer's desk drawer. Some of the newest CPUs available provide as much as 12 megabytes of cache memory. The amount of cache memory that will benefit you depends heavily on the specific programs you'll be using, but this is a case where the "more is better" rule will generally apply.
Most of your day-to-day work—composing, calculating, editing, etc.—will entail moving information to and from your hard drive. That is also where your programs reside. Hard drives that hold as much as 750 gigabytes of data are not uncommon today. If you'll primarily be using your computer to view Web pages, send and receive e-mails, and do other basic tasks, you won't need much extra hard-drive space; most new computers—even entry-level models—come with at least 500 gigabyte hard drives, which will be more than enough capacity for you. But be sure to consider how you might want to use your computer in the future, especially if you will be storing or editing digital music, photos, or movies—you may decide that more storage makes sense, since these types of files take up a lot of space.
You can expand the amount of storage space your computer has by buying an external hard drive. External drives are somewhat slower than internal drives, but those using USB 2.0 or FireWire connections are fast enough for most purposes. External hard drives are also convenient for backing up files from your internal hard drive.
Most new computers come with combination CD-R/CD-RW-DVD drives. These drives can play and burn CDs and play DVDs, but you may have to pay more to get a drive that will let you burn information to a DVD.
If you will want to be able to burn DVDs using your computer, you'll need to consider some compatibility issues. First, you'll need to decide whether you'll want to use Blu-ray high-definition discs, since they require a special player/recorder.
Even for non-Blu-ray DVDs, there are two primary formats of recordable DVD being marketed by different manufacturers: DVD-R/DVD-RW and DVD+R/DVD+RW, and within these formats, Double-Layer (DL) or single-layer options. Both make strong arguments about their compatibility with stand-alone DVD players, but both use unique technology and require recordable DVD discs to match their format.
Another consideration when choosing a CD or DVD drive is speed. The speeds of CD and DVD drives are indicated by a number followed by an "X," such as 16X. Multiply the number in front of the "X" by 1,353 kilobytes per second to get the maximum rate of data transfer from a DVD to the computer. For example, a DVD drive with a maximum speed of 16X can transfer data at the rate of about 21,648 kilobytes (21.648 megabytes) per second. Since most DVD drives burn DVDs at a much slower rate than they can read DVDs, you'll often see multiple speeds for these drives.
Keep in mind that if you plan to record DVDs, you'll need to use blank DVD discs that are rated at a speed that matches your drive in order to benefit fully from having a fast DVD drive. For example, if you have a DVD drive that can burn DVDs at 8X, in order actually to record at 8X speed, you must use blank DVD discs rated at 8X. You'll also need DL-format discs if you wish to use the longer recording times that come with a DL DVD drive.
Putting aside the issue of choosing the correct recordable DVD media, the simplest solution to the DVD format dilemma is to choose one of the multi-format drives now being marketed by manufacturers like Sony, Pioneer, and others. This choice maximizes your chances of compatibility with an existing stand-alone DVD player and removes the worry surrounding which format will prevail. An excellent resource for recordable DVD information is www.videohelp.com. You'll find information on an extensive list of DVD players and their compatibility with the various formats and media types, tutorials, an active user message board, and updates on high-definition Blu-ray DVD drives and more.
With computers constantly becoming more powerful and capable, you want to make sure that you don't have to start from scratch with a new system when there is an innovation. Good computers are designed to allow growth.
Computers have ports that let you attach peripheral devices, such as a printer. In PCs, you'll probably find parallel ports and serial ports, once common for printers and modems; IEEE 1394 or firewire ports, frequently used for high-speed digital connections, such as, connections to digital cameras; and USB ports, often used to connect printers, scanners, external hard drives, wireless keyboards, and many other new peripherals. Your computer should have at least five USB ports with connections conveniently located on several sides. Additional ports will give you the flexibility to expand your system with various peripheral devices.
Desktop computers also have expansion slots which allow you to add cards or boards that give additional capabilities, such as, high-powered graphics cards. You'll want at least three expansion slots; more slots will give you more future flexibility.
For desktops, it is also desirable to have an extra expansion slot in case you eventually fill your hard-disk drive and want to add another one or a CD or DVD drive, or a drive for one of the other removable storage media.
For most users, size will be the most important aspect of monitor choice.
If you're buying a laptop, you'll find that screen size can have a fairly large impact on price.
But for desktop buyers, if you want a large monitor, you won't have to pay too much more than you would for a smaller, entry-level model, since the price differences between 14-, 15-, 17-, 20-, and even 24-inch monitors have shrunk significantly in the past few years. If you're considering buying a monitor larger than 24 inches, you'll want to compare prices of dedicated computer monitors with those of TVs. Also, keep in mind that the monitor you buy will be the only part of the computer system that won't quickly become obsolete, so you may want to consider buying the largest size, highest quality monitor that your budget will allow.
Regardless of whether you're buying a desktop or laptop, if you know you'll be using your computer to watch or edit video or graphics, play new games, or watch television and movies, you'll want to buy a high-definition monitor.
The most commonly available monitors are widescreen LCD displays. Since LCD monitors are digital devices, if you're buying a desktop system you'll want to take full advantage of the monitor's capabilities by using a DVI or HDMI connection, if possible. With a DVI or HDMI connection, the double-conversion from digital to analog back to digital that might otherwise occur is eliminated. Even if your computer itself doesn't have a video card that supports DVI or HDMI, you can always upgrade your video card later.
LCD monitors have what is called "native resolution," which might be indicated as 1024 x 768 for smaller models and up to 1920 x 1080 or higher for very large monitors. (You can change the resolution with the Display Settings tab in the Control Panel of a PC; higher resolution means you can fit more on the screen but things—type, for example—will look smaller; you need to decide what you like best.) When using an LCD monitor, its native resolution will be the one that will let it display images most clearly. With this in mind, you may want to base your monitor selection on what resolution you are most comfortable using and whether you wish to optimize high-definition content. If you want to maximize the resolution of high-definition video, look for a monitor that will support at least 1366 x 768 resolution (the equivalent of a 720p HDTV signal) or 1920 x 1080 (the equivalent of a 1080p HDTV signal).
It is preferable to avoid standalone monitors that come with integrated speakers. Although these designs might save you desk space, stand-alone computer speakers are inexpensive, and speakers tend to have a higher failure rate than monitors. If you have stand-alone speakers and they die, you can replace them without too much expense; but if you have a monitor with built-in speakers and the speakers fail, you will be left without a monitor while they are repaired or, even worse, have to buy a new monitor.
If you want to connect to the Internet, you'll need a modem. Just about all computers sold today come with Ethernet and USB ports that allow you to connect a broadband modem. Laptops also come with integrated wireless modems.
There are two main types of printers on the market: laser printers and inkjet printers. Laser printers produce high-quality type and graphics at high speed (many print more than 25 pages per minute). They are usually more expensive than inkjet printers but require less upkeep. You'll need to replace the average laser printer ink cartridge every 5,000 to 10,000 pages. Inkjet printers generally are slower, produce lower quality printouts of type, and require you to replace ink cartridges more often. But they are less expensive, smaller, and quieter. You can get low-end, color inkjet printers for only about $40. Low-end laser printers that print only in black can be had for about $200, but a good laser printer that will produce color printouts might cost more than five times that amount.
Depending on your intended use, a low-end printer might not be satisfactory. Printers intended for high-quality printing of photographs have made huge strides in quality. Dye-sublimation printers that can match professional quality, fine-art photographic printing, for example, are still pretty expensive, but high-quality, album-size home prints can now be achieved using photoprinters that cost a few hundred dollars.
There are other devices you might want—scanners, microphones, cameras, camera chip readers, and many more. You can learn more about such devices—and much more about the devices we have touched on here—from friends, websites, store salespeople, and other sources.
Never buy any component or peripheral device—monitor, printer, etc.—unless you have seen it work with a system similar to yours, have convincing evidence that it will work, or have an ironclad guarantee that you can return it (without paying a restocking fee) if you're not satisfied. Many unhappy equipment buyers spend hundreds of dollars and hours fiddling with a new purchase only to find that they can't make it work.
Macs have historically been more expensive than PCs, but that difference is no longer clear-cut. Within the PC family, there are significant price differences among manufacturers. Little-known manufacturers can sometimes offer comparable machines at prices 25 percent or more below the prices charged by big-name companies.
As you consider price, you'll no doubt have questions about reliability. Unfortunately, we can't tell you about the reliability of the many computer makers' specific products, but many lesser known brands have performed very well. Comparing different stores' prices of personal computers can be difficult because the systems you see on display at computer stores rarely have the exact same components from store to store.
Your computer purchases are more likely to be satisfactory if you find a good store, or stores, to deal with.
A good store can advise you on which hardware and software will serve you best, how to get started in using products, and how to solve problems that arise.
When deciding what to buy, it's a good idea to talk with a number of salespeople at a number of stores. You'll always have to keep a degree of skepticism, remembering that it's a salesperson's job to sell you a product, that the product has to be one the store carries, and that the store makes more if you spend more. But you can learn a lot. Keep track of the salespeople who answer your questions clearly and who make you feel at ease. These are good candidates to buy from since you may have questions after the purchase.
Our Ratings Tables show how outlets were rated when we surveyed area consumers. We asked CHECKBOOK and Consumer Reports subscribers to rate computer stores they had used "inferior," "adequate," or "superior" for "advice on choice and use of products," "staff attitudes and atmosphere," "ease of looking at and testing products," and other questions. For each store or chain that received 10 or more ratings, our Ratings Tables show the percentage of surveyed customers who rated it "superior" on each question. (For more information on our customer survey and other research methods,click here.)
As you can see from our Ratings Tables, there is considerable variation in how surveyed customers rated the companies. For example, at the time of our last full, published article, the Best Buy in Aurora was rated "superior" for "advice" by only six percent of its surveyed customers; the Micro Center in Chicago was rated "superior" by 40 percent of its surveyed customers; and the Apple Store in Deer Park was rated "superior" by 93 percent.
Although the quality of advice and information you get from a store are important considerations in deciding where to buy, remember that retailers are not the only sources of such help. Consumer Reports and computer magazines and websites like www.cnet.com and www.pcmag.com are excellent sources for information. You can also learn a lot from the manufacturers. Most manufacturers have not only websites but also telephone help lines that you can call for pre-purchase information and for help with problems you encounter using a product. Before making a major product purchase, it's a good idea to call the line set up to help customers who have already bought. Take note of how easily you get through and how patient and helpful the staff is in answering a few questions.
The best way to find out whether a product really meets your needs, of course, is to take it home and try it. Many online and mail-order outlet stores give you a one-month trial period for hardware during which you can return the product for a full refund if you just don't like it. (Online and mail-order firms have a much less liberal return policy for software.) Local stores may have more restrictive policies, so ask about current policies on returns at any store you're considering. Ask specifically about any restocking fees you might be charged if you return equipment after you've opened boxes. Best Buy, for example, charges a 15-percent restocking fee for laptop computer returns if the box has been opened; Apple's restocking fee is 10 percent.
Even if you are an experienced computer user and don't feel a need for much advice and assistance, you'll be interested in how surveyed customers rated stores on "reliability (standing behind products, delivering on time, etc.)." Our Ratings Tables report customer ratings on "reliability" for the listed firms.
When you have figured out what you want to buy, you want a good price. If you're thinking about buying an Apple computer, you'll find zero price variation (unless you buy used). But for PCs, you'll find substantial price variation from brand to brand, and by shopping around you should be able to find considerable price differences when comparing prices for the same brand and model from store to store.
If you find a better price elsewhere, you certainly don't have to buy at one of the stores that gave you advice. There are advantages in buying from a store that has been helpful, however, since it will be easier to ask for advice on additional equipment you may later wish to buy. Also, a firm that has given good presale advice is a good prospect—though not a sure bet—to be helpful with questions as you start to use your new purchase.
Unfortunately, we could not compare prices for entire PC systems, because different stores sell different systems with different, usually prepackaged components. And comparing stores' prices for specific models of individual computer devices is difficult because it is often hard to find a model that is being sold at any two stores, since there are thousands of models available. But we found that we were able to shop prices for software and for some types of standalone hardware items, such as, printers, monitors, external hard drives, scanners, and wireless network routers. For firms that were evaluated in our last full, published article, our researchers (without revealing their affiliation with CHECKBOOK) shopped prices for nine software titles and nine different hardware models from the stores listed on Table 1. We also collected prices—including firms' charges to ship the items to the Chicago area—from a sample of large online, mail-order stores.
Table 1 shows how each outlet's prices compared to the average prices quoted by other surveyed stores that quoted prices for the same mix of items. A price index score of $102, for example, means that prices at this store were on average two percent above the average for the same items for all surveyed stores.
As you can see from our Ratings Tables, unlike most of the subjects we cover, we found only moderate store-to-store price variation for computer equipment and software. Among selected local stores and chains we shopped, price index scores ranged from $78 at Costco and $93 at Best Buy to $102 at Staples and $106 at Apple Store. Table 2 shows the range of prices we found for the items on our shopping list.
Online stores tended to have lower prices than local stores, even after allowing for shipping charges. But there was substantial variation in prices among online stores and, for some items, there were some local stores that had lower prices than many of the online stores. Among the selected online stores we shopped, we found price index scores ranging from $86 at B&H Photo Video Pro Audio, $87 at Costco.com, and $88 at Buy.com to $112 at Zones.com and $145 at Computer Brain.
We also found that shopping via the Internet using price-comparison websites can yield significant savings. We searched for prices using four price-comparison tools: CNET, Google, PriceGrabber, and Yahoo!
These price-comparison sites search a number of online retailers and you can easily ask each site to calculate shipping costs and sort search results by total price. When we searched these four websites for prices for the products on our shopping lists, the best prices we found (including shipping costs) were, on average, 24 percent lower than those quoted by area stores and the selected online firms whose websites we went to directly.
On tables 1 and 2, you can see how the price-comparison websites stacked up compared to each other and compared to the local stores and the big online retailers whose sites we went to directly. As you can see, we usually found the best deals by using these comparison websites, but some of these sites returned better deals than others, and sometimes we found a better deal from a store that did not show up on the price-comparison sites.
Buying products online from unknown vendors makes many consumers nervous; fortunately, the four price-comparison websites we shopped all ask users to rate their experiences with firms they've used and the sites show firms' current ratings on search results pages. Although we do have some concerns as to how diligent the price-comparison websites are in preventing ballot-box stuffing, these scores can provide a measure of comfort if vendors you are considering have received positive ratings from several hundred users. (When shopping the price-comparison websites, we took the lowest price offered—including shipping—only considering prices from retailers that had received at least 100 ratings and had been given a grade of at least four out of five by the price-comparison website.)
Another concern might be ensuring that you get goods with a valid factory warranty or that software you buy isn't a pirated copy. For hardware, you can link from the price-comparison website to the actual vendor websites and at those websites check their claims as to whether they are factory-authorized online retailers that will deliver a valid warranty. For software, it will be much more difficult to determine whether or not a store is selling you a pirated copy.
We sometimes find that some brick-and-mortar chains, such as, Best Buy, will have different prices for items for sale on the store floor than on their websites. All of these stores' websites will ship to you. Most charge for shipping but there are often free shipping offers—for example, free shipping (using the lowest cost, slowest shipping option) for all orders over $25. With shipping charges included, buying online from these stores is often more expensive than buying in the store.
Best Buy offers the option of chososing a product and paying online, then picking the item up at the store at the online price—thus avoiding shipping charges for any item that otherwise would carry such charges. Best Buy says that if the price you pay for a product you purchase online is higher than the in-store price, Best Buy will automatically credit your credit card with an amount equal to the price difference, plus 10 percent. We have not been able adequately to test this automatic refund process ourselves, but have heard from some subscribers who told us that this process does indeed work as described.
| | |
| --- | --- |
| Costco | $78 |
| Best Buy | $93 |
| Office Depot | $94 |
| Fry's Electronics | $96 |
| CDW | $98 |
| Micro Center | $98 |
| Krex Computers | $100 |
| Staples | $102 |
| Apple Store | $106 |
| B&H Photo Video Pro Audio | $86 |
| Costco | $87 |
| Buy.com | $88 |
| J&R Music and Computer World | $93 |
| Newegg.com | $94 |
| Best Buy | $99 |
| OfficeMax | $99 |
| PCConnectionExpress.com | $99 |
| Apple Store | $100 |
| Radio Shack | $1012 |
| Dell | $103 |
| MacMall.com | $103 |
| Office Depot | $103 |
| CDW | $104 |
| Fry's Electronics/Outpost.com | $104 |
| CompUSA/TigerDirect | $105 |
| Overstock.com | $107 |
| Microcenter.com | $109 |
| PCMall.com | $109 |
| Staples | $109 |
| Zones.com | $112 |
| Computer Brain | $145 |
| Google | $79 |
| PriceGrabber | $81 |
| CNET | $85 |
| Yahoo! | $88 |
Symantec Norton Antivirus 2010 software, license for one user
$19.99
$37.55
$46.98
$15.49
Adobe Acrobat 9 Professional software (for PCs), upgrade version
$99.90
$155.15
$197.85
$128.99
Microsoft Halo 2 (for PCs) game
$19.80
$24.97
$35.98
$19.95
Samsung 20" widescreen LCD monitor #B2030
$145.76
$163.52
$175.49
$145.76
Seagate FreeAgent external hard drive– 2 TB–7200 rpm–#ST320005FDA2E1RK
$136.49
$165.90
$210.38
$147.04
Logitech QuickCam Pro 9000 webcam
$59.99
$82.29
$109.99
$59.99
Microsoft Office software, Mac 2008, home and student edition
$125.95
$144.46
$155.98
$109.47
The Sims 3: Ambitions game
$29.96
$35.76
$45.78
$29.99
HP Officejet Pro 8500 Wireless all-in-one printer/scanner/copier
$199.99
$334.54
$506.24
$192.98
Logitech Wireless Performance MX mouse
$74.99
$97.74
$111.89
$78.28
Targus Laptop "Chill Mat" for 17-inch laptops
$24.99
$42.43
$60.98
$29.98
Intuit Quicken Deluxe 2011 software, license for one user
$39.95
$54.32
$71.48
$44.94
Office 2010 Home & Business software (for PCs), license for one user
$216.11
$258.19
$285.98
$181.00
Left 4 Dead 2 (for PCs) game
$19.96
$22.19
$28.98
$18.93
XFX Radeon HD 585X 1 GB graphics adapter
$262.99
$295.80
$340.25
$254.99
Kodak ESP 7250 all-in-one printer/scanner/copier
$125.95
$178.47
$218.49
$125.95
Verbatim wireless multimedia keyboard and mouse #96665
$33.99
$47.19
$70.54
$33.84
Many electronics and computer stores will try to sell you at checkout on buying an extended warranty on your computer-related purchase. These arrangements usually extend your warranty an additional one to four years. Extended warranties are profitable for the stores, and salespeople get a piece of the action, too. We recommend against buying one unless having to pay for the repair or replacement of your equipment would be a financial catastrophe for you.
If you are interested in the online or mail-order store options, here are a few suggested guidelines—
Don't use an online or mail-order store unless you are familiar with computers or have someone who is to help you; you may need a store to demonstrate products for you and to help you set up your system. Without help, it may take you many hours to determine whether your installation is wrong or the product is incompatible.
Buy only from firms that sell equipment with full manufacturers' warranties.
Buy only from firms that offer at least a one-month, complete satisfaction, 100-percent money-back guarantee.
Buy from firms that have been advertising consistently for a year or more. The biggest risk of mail-order or online buying is that a firm will take your money and go bankrupt; that's less likely if the firm has been around awhile.
Pay by credit card. The Fair Credit Billing Act gives you procedures that enable you to refuse payment for charges on your credit card for purchases that are unsatisfactory or are not delivered. These protections do not extend to purchases made with debit cards.
If you decide to buy a computer (rather than peripherals) by mail, buy a well-known brand name unless you are familiar enough with computer equipment that you'd be comfortable taking it apart and replacing internal components. On the other hand, unknown brands—delivered with a 30-day, 100-percent guarantee—can give you big savings if you know what you are doing.
Be careful to learn about any product before you order it so you can specify exactly what you want. Computer magazine reviews, manufacturers' product descriptions, and a mail-order firm's sales staff can help you pin down the details.