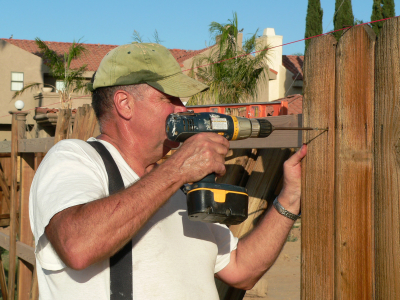 They say that fences make good neighbors. They also help keep your pets in (and your neighbors' pets out), provide privacy and security, define boundaries, and improve the aesthetics of your property. But good fences cost good money. To get the best fence for your hard-earned cash, you'll want to hire a great fence builder that will charge a fair price. We've found a few outfits in the area that were rated high by their customers—and others that were rated disturbingly low.
If you aren't already sure what type of fencing you'll want and how you'll want it constructed, you'll first have to decide on fence type, materials, finish, height, spacing and width of slats, and post size. You will also want to consider whether or not you want any extras, such as latticework or an electronic gate. Most fence builders have catalogs you can look through to give you a good starting point in what design will work best for you.
Here are some questions to start with:
What is the purpose of the fence? Is it to keep pets and children in, for privacy, for security? Is it for a windbreak, for sound insulation, to block light? The different types of fencing have different qualities—a chain-link fence is extremely functional and cheap, but not pleasing to the eye. A privacy fence may give you some sound buffering, but will block sunlight.
How much money are you willing to spend? You can pay roughly $8 to $12 per running foot for chain-link fencing, over $20 per foot for most types of privacy fencing, and over $30 per foot for decorative metal fencing.
How long do you want your fence to last? How much effort are you willing to spend on its upkeep? Brick and stone walls are virtually indestructible, while picket fences need periodic repairs. A decorative metal fence may have to be repainted often to prevent rust. Living hedges require attention just as a garden does. You'll pay more for cedar or redwood than for pressure-treated or untreated lumber, but may also get a longer lifespan with less care.
Does your design need to blend in with its surroundings, including other structures?
Are there trees or shrubs that you don't want cut down in the path of the future fence? Fence contractors should be able to suggest options to accommodate such obstacles.
How high does the fence need to be?
Where will you want gates placed? Keep in mind the location of your garage, utility meters, and storage areas for trash containers.
Do you want a deck, tool shed, gazebo, or other feature built to match the fencing design? Will you be adding on to your home, digging a swimming pool, or doing other future work that will require removing a section of fencing either for the structure itself or to allow heavy equipment access?
If you are sharing the costs of the fencing job with a neighbor, what is a fair way to share, and will you need help in drawing up the contract?
It's also important that the firm you choose be aware of any restrictions on your property due to a community building code. Each community has its own rules. For example, posts must be sunk below a certain level and fencing must be within a set distance of your property lines and set back a certain distance from streets or sidewalks. Also, you may be allowed to build only certain types of fencing in your yard, and some communities limit the height of fences and walls. Almost all communities mandate some type of minimum fencing around swimming pools.
our Ratings Tables give the results of our survey of area CHECKBOOK and Consumer Reports subscribers when we asked them to rate fence builders they had used. The table shows the results for the firms for which we received 10 or more customer survey responses. (For more information on our customer survey and other research methods, click here.)
As you can see, several firms got high accolades, but several others were rated "inferior" (less than "adequate") for "overall performance" by 20 percent or more of their surveyed customers. Based on the comments we received from raters, most of the negative ratings related to poor workmanship, lousy customer service and communication, and taking too long to complete the work.
In addition to ratings from consumers, for firms that were evaluated in our last full, published article, our Ratings Tables show counts of complaints we gathered from the Better Business Bureau (BBB) for a recent three-year period, and the number of complaints on file with local government consumer protection offices for a recent two-year period.
Where we were able to, we have also reported on our Ratings Tables a complaint rate for each firm, calculated by dividing the number of complaints by our measure of the number of full-time-equivalent employees who perform residential work for the firms. These complaint rates are intended as a rough way to take into account volume of work and the fact that firms that do more work are exposed to a greater risk of incurring complaints.
You can check current BBB complaint information on any firm by contacting the BBB at 202-393-8000 or by visiting www.dc.bbb.org. On our Ratings Tables, in the details under the firm's listing, click a link to the local BBB to go directly to the BBB's most up-to-date report on the firm.
Consumer protection offices in the District, Fairfax County, and Montgomery County also have available online databases that let you check complaint histories on any firm. See below for links and contact information.
When using the complaint information, keep in mind that complaints are not always justified; sometimes the customer is unreasonable. Also, be aware that some firms may be at greater risk than others of incurring complaints because of the specific types of business they do. And remember that the measure of business volume we use in calculating complaint rates (our measure of the number of full-time-equivalent employees performing residential work for the firms) is at best a very rough indicator.
our Ratings Tables report for each firm that was evaluated in our last full, published article, CHECKBOOK's price index score. The index scores are based on quotes CHECKBOOK's shoppers got from firms for three different types of fencing work. The scores, which were adjusted so that the average for all surveyed firms equals $100, tell you how each firm's prices, on average, compared to the average prices for all firms quoting on the same jobs. Thus, a score of $110 means a firm's prices averaged 10 percent above the all-firm average. The price index scores can steer you to good candidates for reasonably priced work.
Although we have been able to get firm quotes by phone for specific, very straight-forward fencing jobs, you will probably want builders to come to your home to give you estimates. Our shoppers collected quotes from builders for yards that were flat, did not have existing fences, and did not have any vegetation or obstructions in the path of a fence. Our prices were also per running foot, not including a gate or other specialized work. Chances are, your job will have more special features.
The key to getting a good price is to get several bids, whether you are considering outfits we have evaluated or other firms. The time you spend getting two or three bids is likely to pay off generously. Your second bid may be higher than the first, but it will be lower just as often.
You can also save a lot, of course, by splitting the costs of a fencing job with neighbors.
District of Columbia Office of the Attorney General
441 4th Street, NW, #11455
Washington, DC 20001
202-727-3400

Fairfax County Department of Consumer Affairs
12000 Government Center Parkway
Fairfax, VA 22035
703-222-8435

Howard County Office of Consumer Affairs
6751 Columbia Gateway Drive
Columbia, MD 21046
410-313-6420

Maryland Consumer Protection Division, Office of the Attorney General
200 St. Paul Place, 16th Floor
Baltimore, MD 21202
410-528-8662

Montgomery County Office of Consumer Protection
100 Maryland Avenue, Suite 330
Rockville, MD 20850
240-777-3636

Virginia Office of Consumer Affairs
Department of Agriculture and Consumer Services
102 Governor Street
Richmond, VA 23219
800-552-9963 or 804-786-2042

1411 K Street, NW, 10th Floor
Washington, DC 20005
202-393-8000
www.dc.bbb.org