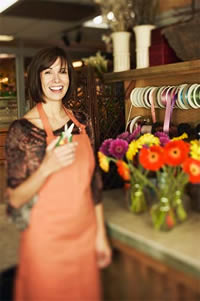 If you are buying flowers for a wedding or other major occasion, or want them delivered, you will probably want to use a florist shop. But in our comparison of prices, we found that, for the limited range of products they sell, supermarkets and street vendors can offer tremendous savings compared to florist shops. In our shopping, prices at supermarkets and warehouse clubs were, on average, 47 percent lower than those at florists. Prices at street vendors were even lower: 65 percent lower than those at florists.
Among florist shops, we found big differences in prices. For a dozen carnations, we found prices ranging from $10 to $40 among local shops, and for a peace lily in a 10-inch pot, we found prices ranging from $20 to $70.
Among florist shops, we also found big differences in the level of service provided. For example, for the quality of advice provided, some shops were rated "superior" by 60 percent or fewer of their customers we surveyed while other shops got such favorable scores from 90 percent or more of their surveyed customers.
If you will be ordering flowers to be delivered in a location outside of the area, you have several options, including the following: order through an area florist that will set up for a florist in the destination location to arrange and deliver the order; contact a florist in the destination location and deal directly with it; or use a national order-taker that will set up for a florist in the destination location to arrange and deliver. We describe these options and name a few companies you can use for each approach.
We also tell you how to choose flowers that will last and how to care for them.
Flowers can make a weekday dinner at home feel like an elegant occasion. Create a smile on a birthday, anniversary, or other special day. Or offer hope and support during dark times. Really, flowers are magical.
And the best floral shops seem like magical places. Unlike many products you buy, floral arrangements are usually ordered and delivered sight unseen. This means that skilled florists are somehow able to—during a short phone call—interpret your tastes and those of the recipient, determine what's appropriate for the occasion, and then design and build a work of art that fits those needs. Of course, the best floral shops also use fresh products that will last, deliver on time, and keep costs within your budget. Although great florists work wonders, not-so-great florists likely will fall short. Our ratings of Twin Cities area florists, shown on our Ratings Tables, should help you make the right choice.
The vast majority of cut flowers sold in the U.S. are imported, though a substantial number are grown in California. Thanks to the wonders of air freight, flowers growing in fields in Colombia (which produces about half of the cut flowers sold in the U.S.), Ecuador, or Holland can be in your home in as little as 48 hours.
Though there are many different arrangements, the traditional distribution chain includes five links: grower, broker or importer, wholesaler, retailer, and consumer. Flowers ordered through a broker are usually transported from the grower to the wholesaler by plane or, in the case of domestically grown flowers, in refrigerated trucks, packed in wooden or cardboard crates. The wholesaler may cut and clean the flowers before delivering them by truck to area florists.
Inevitably, every hand that touches the flowers is left a little greener. It is not unusual for the markup between a grower and the consumer for a fresh-cut, designed flower arrangement to be more than 600 percent.
In an effort to reduce costs, this traditional distribution chain is often short-circuited. For instance, some growers may sell directly to wholesalers without getting a broker involved, and some brokers sell directly to retailers.
You'll find flowers all around—at traditional retail florist shops, supermarkets, sidewalk vendors, even hardware stores. The following questions should help you decide which type of seller to use for your purchase:
Do you know exactly what you want to buy, or do you want help and advice?
Do you want to pick up the flowers yourself, or do you want them delivered locally or to another city?
Do you want cut flowers to arrange yourself, or do you want someone else to do the arrangement for you?
Are you looking for a large variety of exotic and unusual flowers?
How much money do you want to spend?
How much time and interest do you have in making the best choice?
Street Vendors
If you work in the city, you can find street vendors at many key intersections of highly traveled foot routes throughout the business district. You may also be able to find flower vendors near shopping areas and along major thoroughfares in the suburbs. These vendors cater to the impulse buyer. They thrive on being quick and easy—no high-pressure sales tactics, no major decisions. Just hand over a few dollars and walk away with a brightly colored bouquet of flowers.
Some street vendors sell only roses; others offer a variety of cut flowers (such as, carnations, daisies, and gladioli) wrapped in bouquets and displayed in buckets. Potted plants and arrangements are rarely available. The quality of the flowers they sell can vary a great deal depending upon when and where the vendor got the flowers and when you are making the purchase. Street vendors may get their flowers from the same wholesalers that supply retail florist shops, but they may be peddling several-day-old flowers from a wholesaler who is trying to make room for a new shipment. Be careful if you buy on your way home from work at the end of the day; even if the flowers in the buckets were fresh from the wholesaler, chances are that they have been sitting in the sun all day and won't last very long.
In addition to speed and convenience, street vendors have one other major advantage: price. In our shopping, we found street vendors' prices averaged about 17 percent lower than those at supermarkets and about 65 percent lower than those at local florists.
On the downside, however, selection is usually very limited. And, of course, you can hardly expect to turn to a street vendor for flower arrangements for a wedding or for delivery of flowers to a friend recuperating in a distant hospital.
If you buy from a street vendor, use the tips below on inspecting a flower's freshness and quality. Since quality and prices sometimes vary substantially from vendor to vendor, check out a few vendors to see which offer the best value.
Supermarkets and Membership Warehouse Stores
Like street vendors, supermarkets, membership warehouse stores, and other mass merchandisers make most of their sales to shoppers who do not set out to buy flowers. The strategy is to take advantage of a high volume of foot traffic to capture the impulse buyer. These stores specialize in basic cut flowers, blooming plants (especially around holidays when they stock up on the holiday favorites such as poinsettias, lilies, and mums), and green potted plants. More than half of major supermarkets today handle floral products on a regular or seasonal basis.
The services provided by supermarket floral departments range from very basic to full-service. Some stores simply have pre-made bouquets at the checkout or in the produce section. Others may have a separate service counter for flowers as well as potted plants, custom-made corsages, and balloons. A few full-service floral departments may even offer wire services and flowers for weddings.
Note that with many supermarkets you may have to pick up the flowers yourself, even for a wedding, since many supermarkets don't deliver (although some do now have business relationships with wire services).
A major advantage of picking up cut flowers at a supermarket is price. In our shopping, we found that supermarkets' prices averaged about 47 percent lower than prices at traditional florists.
There is substantial price variation for the same item among different supermarkets (sometimes even within the same chain). For example, we found supermarket prices ranging from $20 to $36 for a dozen red roses.
Hardware Stores
If you're looking for a bouquet of flowers, you might not think of your local hardware store. But hardware stores often offer a wide variety of potted plants and hanging baskets, along with outdoor plants and supplies.
Retail Florists
Almost any flower-oriented need can be met by your neighborhood retail florist. Most florists offer wire service; most carry plants and other gifts; and most are able to service large occasions such as weddings. Whether you are wiring an arrangement of flowers to your parents for their anniversary or sending flowers as a get-well wish to a sick friend in the hospital, the retail florist can do the job.
Florists differ in the emphasis of their business and in the style of arrangements they produce. Some focus primarily on wire service business and produce arrangements with a standard "wire service look" to both the container and the design of the bouquet. At the other extreme are "custom design shops." These shops do little or no wire service business and carry more unusual and exotic flowers. They seek originality and unique design qualities. Many of these specialty shops will keep files with information on the design and color scheme of your home and will keep records of past orders to help them achieve a look that's right for you.
In buying a floral arrangement, you are buying a work of art. You'll want to find a shop whose use of color and flower types fits your individual taste.
This is true if you are ordering a flower arrangement for a dinner party or a silk flower arrangement for your living room. It may be even more important if you are spending hundreds of dollars for a wedding or other special occasion requiring a large number of flowers. Whatever the occasion, don't wait until the last moment to select the florist; give yourself time to shop around.
Beyond taste, there are several factors to be considered in choosing a florist: quality of products, variety, quality of advice, reliability and promptness, and price. To find a shop that offers what you'll want, you might want to visit a few. Since a majority of all florists' sales are arranged by phone, you'll want to have confidence that the shop you deal with will deliver a product—sight unseen—that you'll be happy with.
As strange as this may seem, visiting a shop in person also has the advantage that you'll know you're actually doing business with a local shop. The Federal Trade Commission (FTC) has warned for several years that some telemarketing firms pose as local florists by placing ads in local phone listings or on the Internet using business names that sound like local shops, but are not. These out-of-the-area phone banks simply act as middlemen, sending orders to truly local florists, while hitting customers for added fees. Many consumers who have been taken in by these firms have complained that the flowers weren't delivered as ordered, or were never delivered at all.
our Ratings Tables show ratings that we collected from our surveys of area CHECKBOOK and Consumer Reports subscribers for florist shops that received at least 10 ratings on our surveys. (For more information on our customer survey and other research methods, click here.) In addition, the table shows results from our price surveys.
As you can see, many of the florists listed on our Ratings Tables received high ratings from their surveyed customers. The comments we received from these shops' surveyed customers included: "true artists," "knowledgeable," "accommodating," "dependable," and "sell only the best and freshest products." But the ratings and comments we received for some of the shops listed on our Ratings Tables prove that a rose is not just a rose—
"Delivered days late, wilted. Refused to give refund; had to seek refund through credit card issuer."
"Arrangement was very ordinary for the price."
"The flowers never arrived... [W]as told that due to mistake they were going to upgrade the order and send a box of chocolates as well. The next day I received a small, misshapen basket of flowers almost two weeks past delivery date with a four-piece box of some heinous, cherry-flavored 'chocolate.'"
"Bad attitude, flowers die too soon."
"Floral arrangements contained approximately one third of the value of the flowers ordered and paid for; did not use same flowers as ordered and paid for; and were not the same size as ordered and paid for."
"Delivered the wrong flowers to my son's wedding."
To find the right shop, you'll want to consider several aspects of service, including the quality and variety of flowers sold; the competence of the advice offered by staff; whether the shop can deliver what it promises, on time; and the prices charged.
Product Quality
On our Ratings Tables, you can see that there were big shop-to-shop differences in how florists were rated by their surveyed customers for "quality of products."
You can check quality yourself using the tips for selecting good flowers, discussed below. You may also want to see whether the person doing your work is an accredited member of the American Institute of Floral Designers. Accreditation shows that the florist has successfully completed an evaluation of his or her flower arranging skills, passed an open-book test, and pledged to follow the Institute's code of ethics.
In addition, you can check guarantees. A responsible florist should allow you to return flowers or arrangements for a replacement if you are dissatisfied within a 24-hour period. Ideally, the guarantee would be written, but verbal assurances can suffice. Be sure to discuss the guarantee before the purchase. If you are dissatisfied with your flowers, complain to the florist promptly.
Variety
Area florists generally received their lowest customer ratings on "variety." For example, while the average percentage of customers who rated their florists "superior" on "quality of products" was 84 percent, the figure for "variety" was only 71 percent. To assess variety, you can check the customer survey scores on our ratings table. As you deal with a florist, you'll get a clearer picture of whether it offers a sufficient variety of products to meet your needs.
Advice
When ordering for a wedding or other big event, you may need extensive advice from a florist. And even for a modest gift, you might want a little guidance. In addition to advice on selection, you will want instructions on care—particularly in the case of potted plants. Our customer survey results will help you find a florist where you can get good advice, but you'll also want to judge for yourself whether firms you try listen to your questions and give reasonable-sounding answers. Remember, the better you communicate to the florist your tastes and expectations, the better the florist can advise you.
Reliability and Promptness
If you are sending flowers in celebration of a friend's birthday, you don't want them delivered to the friend's next-door neighbor two days late. Our customer survey ratings on reliability and promptness may help you avoid such mishaps.
Price
Our researchers called the firms that were evaluated in our last full, published article (without revealing their affiliation with CHECKBOOK) and checked prices for a variety of arrangements, cut flowers, and potted plants. The price index scores on our Ratings Tables show how each florist's prices compared to the area-wide average prices for the items it had available. The scores are standardized to a base of $100. If a florist has a score of $120, that means it was 20 percent more expensive than the average store for the items it had available. Price index scores ranged from a low of $73 to a high of $165. On Table 1, which shows the lowest and highest prices we found for some of the items for which we shopped, you can see that we found even larger percentage differences for individual items.
Interestingly, unlike almost all of the subjects we cover, there does seem to be some relationship between what you pay and what you get at many florists. For example, at the time of our last full, published article, the eight florists that were rated "superior" for "quality of products" by at least 95 percent of their surveyed customers had an average price index score of $115, while the average price index score was much lower ($100) for the florists that were rated "superior" by 75 percent or fewer of their surveyed customers.
Our price index scores are based primarily on prices quoted where the items would be picked up at the florist, but include a few arrangements that were to be delivered locally. Florists' formulas for pricing local delivery are too varied and complex to sum up in our ratings table, but you can call florists you're interested in using and check their delivery charges for where you'll want items delivered.
When you need to send flowers to someone in a distant city, what do you do?
Wire Services
One option is to call a local florist and have it send the order to a florist in the recipient's city via a wire service such as FTD or Teleflora, the two largest wire service operations. Since much of the business of florists is processing wire orders for delivery of flowers or plants to distant locations, it's important to understand how these services work. By choosing a good florist, you enhance the chances that a high-quality product will be delivered in a distant city to the right place, at the right time, at a reasonable price. There are generally three elements in the charge you pay your local florist for a wire service order.
The bulk of the charge is for the flowers themselves. The local florist estimates the price of the flowers in the distant city. That estimate will vary from local florist to local florist depending on how well the local florist knows the market in the distant city. Generally, the out-of-town florist will fill the order even if it means losing a couple of dollars on the transaction. But if the price quote is way out of line, the out-of-town florist can refuse the order. Then your local florist must either find another florist that will deliver or contact you. Alternatively, the out-of-town florist might simply skimp on the flowers it puts in your arrangement although you've specified the exact arrangement in a wire-service catalog. (If through its routine checks the wire service catches the florist skimping on flowers, the florist can lose its membership in the wire service.) Of the amount billed for the flowers, about 70 to 75 percent goes to the out-of-town florist, about 20 percent goes to the sending florist, and five to 10 percent goes to the wire service.
The second element of the price for a wired arrangement is the delivery charge. This figure is estimated by your local florist (generally a standard estimate is applied). Once again, the out-of-town florist must live by the quote or refuse the order.
The third element is the wire or phone charge. This is your local florist's service charge on top of the amount billed for the flowers.
Since all three of these price elements are set by the local florist, you can call five different shops in the area, order the same arrangement from each shop right out of the wire service catalog, and get five different price quotes. But if the florist usually has good prices, the markup on the wire/phone charge or service fee will probably be reasonable as well.
It is important that the local florist accurately estimates the cost of the arrangement you order. If the price is too low, you might not get what you want. If it's too high, you'll just be lining the pockets of the out-of-town florist (its staff may return the favor to your florist when it next places an order in the Twin Cities area). A knowledgeable local florist will know the market in other parts of the country and be able to advise you on what flowers would be a good value there. Also, an established florist keeps track of its experience with florists in other cities, thus increasing the likelihood that you'll get good quality there. Often a good florist will follow up to make sure your flowers are delivered.
If you discover a problem with what is delivered, you can complain directly to the local florist. The more reliable the florist, the greater the chances that the problem will be corrected quickly. Each of the major wire services has a guarantee attached to the flowers ordered through its system. If there is a problem, you can contact your florist or the wire service's main office. In most cases, a replacement will be sent.
Florist Networks and Buying Online
Other options are find-a-florist networks, order-taking services, and direct shippers.
Find-a-florist networks provide consumers city-by-city directories of florists. Florists pay an annual or monthly fee to be listed in a particular network. You can contact a network by calling its toll-free number or by visiting its website. After you provide destination location information, the network will list names, phone numbers, and Web addresses of florists in that area so that you can contact the florists directly.
By contacting a florist in another city directly via a network, you avoid charges paid to a wire service and service fees paid to a Twin Cities area florist. Also, you might receive more personalized service when dealing with the florist who will actually put together and deliver the arrangement. On the other hand, you don't get the benefit of having a Twin Cities area florist choose a florist with which it might be familiar in the distant city; you don't have the possibility of getting help from your local florist or its wire service if there are problems in the distant city; and you don't get the kind of advice you might get from a local florist you trust.
If you want to use a find-a-florist network, here are a few:
If you will be using a florist in one of the other metropolitan areas CHECKBOOK serves, you can choose a top-rated one from our Ratings Tables
You can also order flowers from an order-taking service that has a toll-free number or website. These order-taking services will make arrangements for your flowers to be arranged and delivered by a florist located near the destination location—without your even knowing who that destination florist is. Examples of these order-taking companies include 1800flowers.com (800-356-9377) and CoastToCoastFlorist.com (866-220-5066). Using one of these order-taking companies gives you even less control of the final result than calling a florist at the destination location would, and might add to the final cost by bringing an intermediary into the transaction between you and the destination florist.
The major wire services, FTD and Teleflora, also have websites and toll-free numbers with which you can skip using a Twin Cities area florist. We found that the prices listed on the FTD and Teleflora websites were about the same as the average price quoted by local florists. You can use these websites and toll-free numbers to find a local florist at the destination location as you would with one of the find-a-florist services listed above, or you can simply order with FTD or Teleflora, which will in turn have flowers arranged and delivered by a florist at the destination location, as an order-taking service would. You can reach the wire services at www.ftd.com (800-736-3383) or www.teleflora.com (800-835-3356).
Still another option is to deal with a service that picks, arranges, and packages flowers at a location near the grower and ships the flowers via an express delivery service directly to the recipient, with no involvement of a retail florist either at your end or at the recipient's end. This is the approach taken by Proflowers.com.
Unless you know a lot about flowers, you'll probably be dependent on your retailer to help you pick high-quality, reasonably priced flowers. Your florist knows what is in season, what is available, and what is fresh. But there are a few general rules that will help you exercise a little independent judgment.
Look at the color, form, and trim of cut flowers. Avoid flowers that are wilted or bruised, have blemishes, are losing petals, or have a sour smell. Buds should be fairly tight, a flower's color should be vivid, and the base of the stem should be firm and neatly cut, free of dirt and slime.
If you are buying from a street vendor, try to buy early in the day to increase the likelihood that the flowers will not have been sitting in the sun too long. Also check to be sure the water in the buckets is not murky.
If you are ordering an arrangement over the phone, think about how to describe what you want—the size and shape, the colors you want included, and an explanation of how you plan to use the arrangement.
If ordering for a large occasion, be sure to go see the florist shop yourself. Ask to see examples of its work and ask for references from customers who have had similar orders. Place the order far enough in advance so that the florist can specially order any flowers that you may want included.
Several hints on keeping prices down:
Flower prices are a product of supply and demand, so you will pay extra to buy popular flowers at a holiday time. Consider something less popular.
Buying stems and using a vase from home will reduce your costs.
The simple look of a single flower can be elegant while saving you a lot of money (unless you buy a very exotic stem).
If possible, pick up the flowers yourself, rather than having them delivered.
Some organizations with helpful websites for consumers are the California Cut Flower Commission (www.ccfc.org) and the Society of American Florists (www.aboutflowers.com).
Always start with a very clean, well-scrubbed vase.
Flower stems should be re-cut with a sharp knife or with scissors designed for cutting flowers. Avoid using dull scissors, as they may crush capillaries that carry water to the bloom.
Remove any leaves or foliage that will be below the water line in the vase. This helps prevent algae and bacteria from growing and blocking up the stem.
Put the flowers in water immediately after re-cutting. Change water daily or if it becomes cloudy. Warm water will help open blooms that haven't fully opened; use cool water to preserve flowers that have fully opened.
Using a flower nutrient/preservative in the water can help prolong a flower's life. These additives, available at most florist shops, kill bacteria and feed the flower.
Keep flowers in a cool place away from heating vents and direct sunlight. Warm, moving air will cause flowers to lose water faster than they can take it up.
Keep flowers away from fruit. Ethylene gas, released by fruit, accelerates ripening of flowers.
You can extend the life of an arrangement by dismantling it every two or three days and re-cutting the stems. If a stem is wilting, you can even insert a wire down the center of the bloom to act as an internal splint. Also, older flowers should be discarded to keep the arrangement fresh looking.
You can rejuvenate silk flowers by blowing the dust off them. You can use the low, cool setting of a hair dryer.