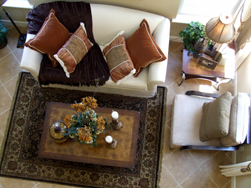 You can sink a lot of money into furniture. If you don't buy carefully, you can spend too much, wind up with defective products or months-late delivery, get items you don't like, or be stuck with furniture that doesn't hold up.
We found big quality differences among stores. Some stores were rated "superior" for the advice provided by their staff by 80 percent or more of their surveyed customers; others received "superior" ratings from 40 percent or fewer. Some stores were rated "inferior" for reliability—standing behind products, delivering on time, etc.—by 20 percent or more of their surveyed customers—a big red flag for possible headaches ahead.
Comparing prices is difficult, because many retailers sell items that aren't available elsewhere, and among stores that do sell national brands, it's unusual to find the same item at more than one or two different retailers. But there are some strategies for getting a good price. One proven strategy is to ask several independent stores to bid competitively for your business.
Before you begin shopping, make a general plan—a rough drawing of your space showing what will fit and where items you already own will go, a budget, and some idea how the furniture will be used and how long you expect it to last.
To help you make a general assessment of furniture quality, we provide you with a list of quality signs to look for.
You've flipped your sofa cushions in every possible permutation, but there's still no way to further hide the stains and wear...
Your coffee table (which multitasks as dining room table, foot rest, and dumping ground for all types of personal property), has devolved well beyond anything that reasonably could be considered "shabby chic"...
So many of your dresser's drawers are stuck closed that storage capacity is limited to what you can pile on top...
The sleek, modern furniture you bought a few short years ago now screams 1990s...
Face it: some of your furniture won't last long enough to qualify as antiques—and needs to be replaced.
Buying furniture should be a relatively straightforward process, but CHECKBOOK receives an inordinate number of complaints—and poor ratings—from customers of many area furniture stores. These consumers lament incompetent and indifferent salespersons, defective pieces, items that wear quickly, long delivery delays, and delivery of wrong items. Add to this the fact that comparing stores' prices is difficult, and you may find that furnishing your home can become a major headache.
Fortunately, there are plenty of furniture stores that make shopping easy and pain-free. These stores are staffed by helpful and knowledgeable salespersons who provide appropriate advice and place accurate orders; offer high-quality products; deliver items when promised, using careful and courteous personnel; and quickly step in to make things right when something goes wrong.
Our ratings of area stores, on our Ratings Tables, should help you separate the good from the bad. We'll also arm you with practical advice for choosing the right products and making sure you get what you pay for from any store.
Most of us have made unwise furniture purchases that might have been prevented with a bit of planning.
Start by using graph paper to sketch various arrangements, possibly making to-scale cutouts representing different pieces and moving these cutouts around the sketch. You might try moving around existing furniture pieces in the room, and you might find it helpful using masking tape to mark where furniture would be placed. Another option is room-planning software, which is available for free at many furniture store websites. The software on some websites lets you place specific items in the room, choose different wall colors and floor coverings, and look at various upholstery options.
As you think about decorating your space, consider several questions—
What is your budget? Knowing what you can spend will force some choices.
How will the furniture be used? Do you want an elegant sofa for formal entertaining or something more casual for the family? Will pets and active children be around? Do you need a convertible sofa bed or just a couch?
How long do you expect to keep the furniture? Will you be moving to a larger or a smaller home soon? Will you be having children? Will your children be going off to school?
What existing pieces of furniture will you keep? Are there some items you're fond of but could live without, and others you'd never part with?
Are there limits on what can fit through your doors and hallways or staircases?
Also think about color. You'll want colors that you like, work together and with existing furnishings, are practical, and contribute to the mood you'd like for the room (perhaps bright, sunny colors, for example, for a room lacking natural light).
Think about style. Do you prefer contemporary or traditional furniture? Stuffed, upholstered chairs or leaner lines? High-tech finishes, dark wood Victorian reproductions, or bright country styles? An elegant, formal look or something more casual?
To help your planning, you might want to see what others have done. You can buy home decorating magazines, look at websites and catalogs from furniture manufacturers and stores, go on showcase house tours, and visit open-house events at houses for sale in your neighborhood.
Though seeing and reading are very helpful, you may want to turn to a human being for suggestions and answers to your questions. One possibility is an interior designer; below for more on that option. Or rely on salespersons at furniture stores. Our ratings of area furniture stores should help you find sources for advice—and furniture stores that sell quality products, deliver on time, and meet their obligations.
At some furniture stores, well-informed, helpful staff make shopping pleasant and guide you to the right choices. Accurate delivery time frames are quoted, goods arrive as promised, and store management makes sure you get the results you expect. But subscribers send us an alarming number of complaints about abysmal furniture-shopping experiences, such as the following—
"After waiting six months for our furniture, we canceled the order."
"My furniture order was a disaster from beginning to end. Well, I shouldn't say 'end' since it's not over yet. After mistakes in ordering and corrections, one item still was delivered in the wrong fabric. The item was reordered and I am awaiting the correct item."
"Took my order for seven pieces of furniture, made me wait four months, then told me they couldn't get it from the supplier! Yet they were still selling it in their stores."
"Call us crazy but we've bought from this company three different times and delivery has been a nightmare each time. We love to shop here as there is such a large selection. However, if you ever have problems, forget prompt resolutions. The staff passes the buck, one to another, and the result is that nothing gets done without the customer spending untold hours on the phone or even going in person. To make matters worse, [the store's management] just doesn't seem to care. Of the three groups of furniture that we bought, each delivery was damaged and had to be reordered. Two of those times we called to check on the new delivery date, only to be told that the item had never been reordered. One item had to be redelivered three times and we accepted it on the third try because my husband figured it would be less trouble to just fix it himself."
"Customer care department is a true misnomer. They have no interest whatsoever in resolving problems with defective products even when they agree that product is defective."
"Sales associates are all over you...not a pleasant experience."
"I can't understand how this guy manages to stay in business. He doesn't stand by his commitments."
As you can see, there is a lot that can go wrong. See below for a summary of the kinds of complaints we find in the reviews we get from surveyed subscribers.
Fortunately, there are steps you can take that should help you avoid common furniture-buying pitfalls.
To get a perspective on stores' service quality, we gathered ratings of furniture stores by surveying CHECKBOOK and Consumer Reports subscribers. Our Ratings Tables show the ratings of area stores for which we received at least 10 ratings. (For more information on our customer survey and other research methods, click here.)
At stores rated highly for "advice," you might expect to get helpful interior design suggestions plus prompt and full answers to questions without over-heavy sales pressure. Stores with high ratings for "ease of looking at/testing products" can be expected to have well-designed showrooms that enhance the value of a good sales staff.
Our Ratings Tables also show customer survey ratings on "reliability (standing behind products, doing what was promised, etc.)" and "promptness of service"—two aspects of quality that could relate to serious inconvenience or other problems. Some of the stores were rated either "adequate" or "superior" for "reliability" by 80 percent or more of their surveyed customers, but others received "inferior" ratings from 20 percent or more of their surveyed customers.
For stores that were evaluated in our last full, published article, our Ratings Tables also show counts of complaints we gathered from local Better Business Bureaus (BBB) for a recent three-year period.
You can check current BBB complaint information on any company at www.bbb.org or by phoning the BBB that serves the area where the company is located (see below for contact information). For any store listed on our Ratings Tables , subscribers can click a link on the detailed ratings page to go directly to the BBB's most up-to-date report on the store.
When using the complaint information, keep in mind that complaints are not always justified; sometimes customers are unreasonable. Remember that we didn't have a measure of business volume; large stores are more likely to incur complaints simply because they serve more customers. Also be aware that some stores may be at greater risk of incurring complaints than others because of the specific types of business they do.
One major category of furniture-related consumer complaints is damaged or defective goods. To avoid such problems, you'll want to choose highly rated stores and deal with them in a businesslike fashion.
Some product faults are apparent immediately—scratched tables, poorly matched upholstery, improperly shaped cushions. Others, like fading upholstery or poorly glued chair legs, materialize only over time.
Except for makers of recliners, sofa beds, and other items with mechanical parts, furniture manufacturers seldom offer warranties directly to the consumer. Unlike televisions and refrigerators, new furniture doesn't arrive with a warranty statement. Manufacturers do often make expressed and implied promises, or warranties, to their authorized retailers, but even these are not generally put in writing.
Manufacturers typically expect their retailers to be the point of contact with the consumer. Retailers are expected to inspect items and arrange for repairs. In many cases, repairs can be made by a retailer's own service department or an independent furniture repair shop working for the retailer, which bills the manufacturer for repair costs. While local service obviously is quickest and easiest for everyone, some items have to be returned to the factory for repair or replacement. Many manufacturers have local representatives whom retailers can call in to authorize repair or replacement in questionable cases.
When furniture stores go out of business—a regular occurrence lately—the more responsible manufacturers usually step in to back their furniture, possibly arranging for another retailer or independent repair shop to make repairs. If your retailer is still in business but unresponsive, the manufacturer, to maintain its own reputation, might help you apply pressure on the retailer or help you directly—but the manufacturer is under no legal obligation to do so.
Most retailers offer their own standard warranty but, in our experience, most do not put this warranty in writing.
Since customers seldom have legal rights against manufacturers, you need a retailer's warranty in order to have a legal leg to stand on. Even if your retailer can recover repair or replacement costs from the manufacturer, the retailer may be more interested in selling furniture than in following through with needed service. You'll be more comfortable if you have a legal basis for forcing action. Furthermore, not all manufacturers are equal, and you may not know much about the reliability of the companies that make pieces you like. So you want a retailer that will come through even if it can't recover costs from the manufacturer.
It's very likely that you can claim an implied warranty of merchantability, or possibly even an expressed warranty, based on something the retailer has told you in person, or in its advertising, or based on a floor sample you've been shown. But life will be simpler in the event of a dispute if you received a written warranty.
If your retailer does not offer a standard written warranty, ask the salesperson to write onto your sales ticket warranty language like that we give you here. When special-ordering upholstered furniture, inquire whether the manufacturer guarantees that the fabric pattern will match from base to seat to back (a point where manufacturers often come up short). If it does, note this on the sales slip.
Although we recommend getting your rights in writing, we feel less strongly about written language on warranties than about other types of language discussed below—because with furniture defects legal rights are not usually the main issue. In consumer complaints concerning such defects, retailers generally acknowledge an obligation to provide defect-free goods. Conflicts usually arise over whether the defect is material, whether it was caused by the customer, and how quickly the retailer should act on it.
There are several steps you can take to minimize problems—
Inspect furniture when it's delivered. If it is defective, it may be wise to reject it. But if the defect is minor, you may be better off calling the store to discuss it. Note the defect on the delivery slip; and then—with the store's approval—keep the item until a replacement arrives.
If you discover a defect after delivery, notify the retailer at once. The longer you delay, the more likely the retailer may claim that you caused the damage.
Communicate your complaints to the retailer in writing. If the retailer is slow, you'll have a record of how long you've been trying.
If a piece is defective but usable, and your retailer agrees to let you keep it until a new piece arrives, be sure the retailer agrees in writing to provide a replacement.
Take at least as great care to avoid the second major category of furniture-buying problems: delays in delivery.
Delay problems occur most often when the retailer does not stock the furniture you want and has to special-order it. When a special order is placed, the manufacturer frequently does not have the item in stock and can't ship until after the next production run of the item, described as the next "cutting." On top of this, there may be further, extensive shipping delays because so much furniture is now manufactured overseas. For upholstered furniture, along with waiting for the item to be made, you also suffer additional delays waiting for the upholstering to be done and for the manufacturer to obtain fabric from the fabric maker.
Although these delays are annoying, furniture manufacturers point out that their product would cost more if they maintained large inventories of scores of different models, or if they kept machines ready to make all models on demand. Since you're not going to change the industry, you have to decide whether you want an item enough to wait for it or whether you're willing to accept what the retailer has in stock.
If you do special order, make sure you don't have a vacant spot in your room—and your money tied up—while the retailer sits on your order. Also, if you've been promised delivery in three months but the wait turns out to be twice that long, you want to know as soon as possible, not after three months, when the item doesn't arrive. Most manufacturers send retailers order acknowledgments stating estimated delivery dates within three weeks or so of receiving an order; ask the retailer to tell you if the manufacturer has promised a later date than you initially were told. Moreover, make sure you can cancel and order something you can get sooner if the delay will be substantially longer than the initial estimate. In short, you want a retailer that—
Gives you a realistic estimate of delivery time before you place your order,
Orders promptly and requests a delivery date from the manufacturer,
Lets you know as soon as it knows that delivery will be later than initially estimated, and
Lets you cancel, if you wish, at the time the longer-than-estimated delivery delay is discovered.
Most retailers say they follow these steps routinely, and no doubt many do. But complaints we've received from our subscribers and that we've found in the files at consumer agencies amply demonstrate that some don't.
To minimize delivery problems, get your retailer to sign a copy of the second paragraph of the sales agreement . It imposes on the retailer a legal obligation to follow a reasonable set of steps to improve communication. Your retailer may react with surprise at such a request—or perhaps suspect that you're some kind of troublemaker. Don't worry; just press for a signature. If you feel awkward doing so, say CHECKBOOK made you do it.
Of course, department and chain stores may be so bureaucratic that a salesperson will be afraid to sign such a statement. If so, you'll have to decide whether to rely on the store's concern for its goodwill.
Although a retailer's promise won't make good service happen, a few other steps on your part will help.
First, make as small a down payment as possible. As codes "i," "j," and "k" on our Ratings Tables indicate, some retailers expect you to pay in full when you place a special order, and most expect partial payment in advance when you place a special order—usually between 20 and 50 percent. The less you pay up-front, the more eager the retailer will be to complete the transaction.
Second, if you haven't heard from the retailer three or four weeks after ordering, call and ask whether the manufacturer's acknowledgment has come in and whether the initially estimated delivery date is still valid.
Third, if you are told of an unexpected delay and decide to cancel, notify the retailer quickly so it can cancel the order. Once a manufacturer cuts fabric or ships case goods, the retailer is obligated to pay for your merchandise. If the retailer is on the line, it is likely to resist your efforts to cancel and get your deposit back—especially if you clearly could have avoided this trouble by promptly communicating your desire to cancel.
No matter how well a retailer and manufacturer do their part, you may still dislike the furniture you get. This is a particular problem for special-ordered merchandise. Some retailers will take back special-ordered items and sell them as regular stock or clearance merchandise, but most won't. A returned special-order item means a store is stuck with stocking an item it doesn't want, doesn't have room to display, and can't easily sell to another customer. But some stores will take back special-order items, as indicated on our Ratings Tables.
For items that you buy out of a store's current stock, returns should cause no such difficulty. Our Ratings Tables show which retailers told us they accept returns of regularly stocked furniture in original condition.
Keep in mind that furniture returns may be limited to a few days or weeks. Also, some stores offer only store credit, and others charge restocking fees.
If a retailer promises that you'll be able to return an item, get the promise in writing. Ask the retailer to write on your sales slip language similar to the third paragraph of the sales agreement, or bring a copy of that paragraph and ask the salesperson to sign.
Some stores are more flexible than others on payment arrangements. Almost all stores accept major credit cards and some offer their own charge accounts (open-end, revolving credit). Both arrangements offer flexibility on timing your payments and, under the Fair Credit Billing Act, in many cases allow you to refuse payment for unsatisfactory or undelivered merchandise. Other stores offer financing through installment loans, promote special financing terms under which interest is not calculated for a certain period or payments are delayed, or have layaway plans. Unfortunately, store-sponsored financing arrangements often impose very high interest rates.
A final service consideration is the store's convenience services. Our Ratings Tables show which stores offer delivery services and repair services, allow customers to special order from catalogs and select from a variety of upholstery fabrics, offer soil and stain treatment for upholstered furniture, and offer interior design services in the customer's home.
One reason price comparisons are extraordinarily difficult in the furniture marketplace is that many products are sold exclusively by a single chain or only one or a few stores in any market region. Ethan Allen and IKEA, for example, which are affiliated with one specific manufacturer or set of manufacturers, don't carry lines made by other manufacturers, and don't let other stores carry their lines. Crate & Barrel, Pottery Barn, and some other national chains and independent stores make price comparisons impossible by altering brand names and styles from the names given by manufacturers.
At first glance, stores' advertisements and price tags may appear to provide a basis for price comparison. Tags often list a "regular" price, "ticket" price, or some similarly denoted price, and then a "sale" or "discounted" price. But comparing stores' regular and discount prices is meaningless because the concept of "full" or "regular" price means different things in different stores. For many items, manufacturers don't state a "list" price, and even when one is stated, few stores sell at that price.
Another problem is that many stores don't list prices on their websites, forcing their customers either to visit the stores or to call for prices, thus making price comparisons time-consuming. On our Ratings Tables, we list the companies' websites—and indicate if the websites list prices.
The best approach to compare prices among independent stores is to conduct a competitive bidding process. Although it might be difficult to find several local stores that stock the exact item you want, stores that at least carry the make may be able to order the item for you. Use the following steps.
First, get the make, model/style number, and fabric number (for upholstered pieces) from a store which displays the item. Some stores try to mask the needed information; price tags contain a hodgepodge of numbers and only include code numbers to identify manufacturers. Although these stores make comparison shopping difficult, you can usually still identify manufacturers. On upholstered pieces, look for tags under seat cushions; on desks, dressers, and other non-upholstered items, names often appear inside drawers.
If you can't easily determine an item's make, model/style number, and fabric grade or number, ask a salesperson. If necessary, explain that you want this information so you can compare prices. If he or she refuses, ask yourself if you want to buy from a store that fears such comparisons.
As a second step, call the manufacturer or check its website to confirm that it is still making the model/style you want. Then ask the manufacturer (or check its website) for names of retailers selling its products within 50 or 100 miles of your home.
Third, call each retailer and explain that you are conducting a competitive bidding process to get the best possible price on the item. Invite each retailer to quote you a price—and be sure to ask about delivery costs.
If the prices quoted by other retailers are higher than the price at the store where you started, you can be assured that the initial price was good. If not, either buy from one of the other retailers or use their prices to negotiate with the first store.
Unfortunately, this competitive bidding process may work only on moderate- to high-priced items. In our experience, stores that sell budget or low-priced items generally decline to bid.
When comparing local stores' prices, be sure to take into account their delivery charges. Different stores have different ways of calculating delivery charges. Some charge a flat fee regardless of the number or size of the items delivered; others charge per piece, per pound, or per hour; and some waive delivery charges on large orders.
Our shoppers—without disclosing their affiliation with CHECKBOOK—called furniture stores, including some outside the area, to obtain competitive bids for several items (including delivery). For most of the items we shopped, we obtained dramatic store-to-store price variations, as shown on Table 1. For instance, we found prices ranging from $1,795 to $3,415 for a Kincaid Gathering House wardrobe and $445 to $1,187 for a Hooker entertainment console. But keep in mind that the stores that quoted the lowest prices for specific items often had average or above-average prices for other items that we shopped. If you will be buying several pieces of furniture, don't assume that a store's low price on one item ensures you'll get low prices from it for others.
Table 1—Low, Average, and High Bids Obtained Through Competitive Bidding Process for Four Furniture Items
Item
Low price
Average price
High price
Average price quoted by online/mail-order stores
Hooker entertainment console (64 inches) Avondale #249-55-458
$445
$849
$1,187
$923
Berkline #40007 queen sleeper sofa #7800
$885
$1,190
$1,754
$1,089
Kincaid Gathering House wardrobe #43-170
$1,795
$2,393
$3,415
$2,803
Broyhill Sedgemoor rectangular coffee table #3158-001
$310
$454
$645
$516
1 Prices include delivery and setup. Our shoppers called stores and explained they were trying to obtain the lowest possible prices for several furniture items. The shoppers asked stores to quote their best prices with the understanding that the shopper would buy from the store that quoted the lowest price for each item, and that stores would be given only one opportunity to quote their best prices.
A much less precise way to choose a store that offers good value for the money is to become a good judge of furniture quality by looking for the kinds of quality features discussed later in this article, and then making subjective judgments as to whether a store's prices correspond to the quality of its products.
The customer survey ratings for "prices," shown on our Ratings Tables, are a compilation of subjective consumer judgments. Many of our customer survey raters presumably have little or no expertise regarding product quality and prices. But some no doubt do have a degree of expertise and considerable experience in the market.
Several stores were rated "superior" for their prices by 50 percent or more of their surveyed customers. Even for the stores that sell mostly moderate- to high-priced furniture, our raters may have considered the prices justified by the quality of the products sold.
Although the easiest way to get good prices is to go to competitively priced stores, other strategies can help.
Wait for sales. If something you like is not on sale, you can often have the salesperson hold it for you—then close the deal during the next sale.
Look for items on clearance. The prices may be terrific, but be aware that clearance items are often sold "as is." Inspect them closely for defects.
Try to negotiate prices. This may be difficult (though sometimes possible) at department stores or chains, but independent furniture stores are often responsive, especially if you agree to buy a number of items.
Consider buying through an interior designer. Although this doesn't usually get you low prices, sometimes it might—particularly if you can find a designer who for a very modest charge will order for you and pass along his or her discount. (See discussion of designers below.)
Whatever styles you want and prices you find, you will want to be sure you get the quality you expect. By choosing a store that is rated high for advice and reliability and has few or no complaints with consumer agencies, you improve your chances that store personnel will give you honest assessments of the quality and durability of pieces you are considering. But you will benefit by knowing enough to make some assessments of your own.
Unfortunately, Consumer Reports does not (and could not possibly) rate the quality of the many thousands of furniture items found in stores. So you have to do your own product inspection and testing on the spot in each store. Though you may not be able to afford the highest quality furniture, you'll need to know when you're getting less so that you can be sure it is priced accordingly. The signs of quality described here may sound a little abstract at first, but as you visit a number of stores and look at many pieces of furniture, you'll get a feel for quality. There are two broad categories of furniture: upholstered goods and "case" goods. The latter includes tables, desks, dressers, cabinets, and other items that are not upholstered. Each category has its own indicators of quality.
Many signs of upholstered furniture quality are easy to observe. Indeed, the most important indicator is your own comfort—which you can test by sitting on a piece for a few minutes. But to check some aspects of an item's underlying construction, you'll have to ask your retailer for a manufacturer's catalog or other materials that describe, or show, what's inside (possibly a cut-away model of a sofa or mattress).
Frame
Arms should not wobble when you shake them.
The frame of a sofa or loveseat should be rigid and not creak or sag when you lift one corner off the floor.
The best frame construction consists of solid pieces of kiln-dried hardwoods.
The pieces of wood forming the frame should be joined with "dowels"—wooden pegs that connect pieces inserted into holes drilled in the end of each piece.
Corners of the frame should be reinforced with corner blocks that are glued and screwed into place.
Springs and Padding
The entire frame should be covered with padding so that you don't feel hard corners on the arms, seat back, or front edge of the area under the seat cushion. This padding contributes to both comfort and appearance, and greatly reduces wear.
Padding should have no lumps or uneven places.
An excellent construction for the seat beneath the cushions consists of "hand-tied" coiled springs. For the most stores and even response when you sit, springs should be tied to each other eight ways—that is, with twine tying each spring to the other springs or the frame in eight directions. Although such construction is a sure sign of quality, there are other high-quality constructions.
Springs should not compress so much that you feel the hard surface of the frame when you sit.
In the "deck" (the area beneath the seat cushions), springs should be covered by a layer of padding.
Cushions
Reversible cushions—cushions that can be removed and turned over—are best because they provide a second surface if the first becomes dirty or worn.
The most common filler for high-quality furniture cushions is of solid pieces of high-density (at least 1.8 pounds per cubic foot) foam. Springs, down, and synthetic down-like materials also are sometimes used in high-quality pieces. Cushions filled with shredded foam don't maintain their shape as well and allow upholstery seams to shift.
The foam or spring core should be wrapped with a layer of polyester fiberfill or similar product to soften edges and improve wear.
Beneath the upholstery, each cushion should be covered with a fabric liner, or ticking.
Cushions should fit snugly side-by-side and within the frame.
Fabric
The best fabric is tightly woven—the more threads per square inch the better. Threads shouldn't slip or separate under pressure, and backing shouldn't show through.
Woven-in patterns are generally preferable to patterns printed on only one side. Printed fabric is unacceptable if the print comes off when you rub two surfaces together.
Fabric pilling may be a problem if bits of fabric come loose when you rub a piece of upholstery with a pencil eraser.
Treatment with Scotchgard, Teflon, or similar protectors helps fabrics resist soiling.
Look for upholstered goods with the "UFAC" tag, indicating that construction and fabric meet the voluntary fire resistance standards established by the Upholstered Furniture Action Council. (UFAC standards are designed to reduce, but do not eliminate, the risk of cigarette ignition.)
Trim
Fabric should fit tightly around the underlying frame and padding.
Seams and "welting" (round trim composed of fabric-covered cord) should be straight and cleanly finished, with no loose threads or irregularities.
Buttons should be securely sewn into place.
Better-quality cushions are zippered at the back.
Patterns and stripes should be centered and match at seams.
Patterns and stripes should line up from skirt to base to cushion to seat back. If you are ordering custom upholstery, find out whether the manufacturer guarantees such alignment; many middle- and low-end manufacturers do not.
Matching arm covers will add to the life of a piece.
It is somewhat easier to judge the quality of case goods than of upholstered items because it's easier to see how the items are made.
Drawers
Drawers should fit snugly, and open and close effortlessly—even when you push or pull from the right or left end of the drawer. Good-quality drawers have glides either underneath in the center or on both sides.
The sides of high-quality drawers are joined to the front and back with dovetail joints (one piece fits into a series of flared slots on the other piece). Avoid drawers in which the side pieces are just butted up against the front and back.
Side and back panels of drawers should be of wood at least a half-inch thick.
Drawer bottoms should slip into grooves in the drawers' sides. The bottoms should be strong enough that they don't give significantly when pushed down.
The insides of drawers should be smooth, with nothing to snag fabrics.
Dust panels between drawers are a sign of quality. They add strength to the furniture and keep clothes from getting snagged.
Furniture should be constructed with stops to prevent drawers from being accidentally pulled out too far.
Test drawers to make sure they are real, not false fronts.
Doors, Top Lids, and Flip Tops
Doors and other hinged pieces should swing smoothly and quietly, close easily, and latch snugly.
Insides of doors should be finished.
Inset glass panels should fit tightly so they don't rattle.
Long cabinet doors should be hung on piano hinges that run the full length, or nearly the full length, of the door.
Legs
Furniture should not wobble or rock.
Legs are usually stronger if built into the frame, not merely attached to it.
In high-quality chairs, the arm and leg or back and leg are made out of a continuous piece of wood (though this isn't possible with some styles).
Stretchers (pieces of wood connecting two legs near the floor) add strength.
Finish
The finish should feel smooth to the touch and contain no cracks or bubbles.
There should be no deposits of excess glue and no streaks or areas in which excess finish material has collected.
Grain patterns and coloration should be similar on all drawers and doors and should blend with other areas.
Joints should be tight, with no visible space or filler material.
Other
Hardware should be substantial, have no rough or jagged spots, and be firmly bolted from the inside.
In better cabinets, desks, and chests, the back panel is inset and screwed into place, not just nailed or tacked on the back.
Joints that receive stress should be strengthened with corner blocks.
Dining-room table leaves should be easy to insert, fit flush, and match the tabletop. If the table has an apron, leaves should have aprons.
Large pieces should be fitted with leveling devices.
Here's a summary of complaints we find in the furniture store reviews we receive from surveyed CHECKBOOK subscribers.
Customer service/sales staff—Dissatisfaction with advice provided, attitudes of staff, or responsiveness. Mentioned in 45 percent of complaints.
Delay in delivery—Dissatisfaction with length of time to get the item(s). Mentioned in 32 percent of complaints.
Received damaged or incorrect product—Item delivered was damaged or flawed or different from what was ordered. Mentioned in 28 percent of complaints.
Unreliability—Store didn't address concerns or correct problems, had unsatisfactory refund policies, or failed to keep promises. Mentioned in 24 percent of complaints.
Product quality—Item was inferior in quality or wore quickly, or rater was generally dissatisfied with the quality of items offered by the store. Mentioned in 10 percent of complaints.
Delivery quality—Delivery crew provided unsatisfactory service (including damage to item delivered, damage to home, rudeness, etc.). Mentioned in five percent of complaints.
Variety—Dissatisfaction with variety of store's offerings. Mentioned in five percent of complaints.
Difficult to view items/showroom—Dissatisfaction with store layout, display of merchandise, etc. Mentioned in three percent of complaints.
If the job of decorating your home—not only with furniture but with floor and wall coverings, artwork, and other elements—seems too big for your available time, know-how, or artistic talent; if you want the benefit of someone else's ideas; or if you want access to furniture choices available through wholesale showrooms not open to the public; consider using an interior designer.
You can use a designer employed by a store or hire an independent designer. You can hire a designer for the whole job, from developing a design concept to purchasing and supervising installation of the furnishings. Or you can hire one for a two- or three-hour consultation to provide new ideas and perspectives. But even if you hire a designer for the full job, you can remain thoroughly involved. You'll need to meet with the designer regularly to review plans, fabric samples, proposed furniture pieces, and other design elements.
The cost of hiring a fully trained, independent designer to redo a living room (including furniture plus design fee) is typically more than $20,000. But it can cost considerably more or less depending on room size, quantity and quality of items purchased, and other factors. Although some independent designers won't accept clients who aren't prepared to spend in this range, others are willing to work with much more limited budgets, and most understand that you might want a plan now while spreading out actual purchases over many months.
Although some store-based designers offer limited service, some provide fairly extensive service, including drawing floor plans, advising on color, and ordering furniture. Different stores' design departments use different payment formulas. At some stores, you pay a small design fee, which is returned in full if furniture purchases exceed a certain dollar amount. You purchase items through the designer at the store's current prices, including sale prices. At other stores, design departments may charge on a per-hour basis—or charge a flat fee for a consultation and additional hourly fees for other tasks, such as writing up purchase specifications. Stores may waive the fee if your purchase is large enough. Since arrangements vary so widely, check with stores to find what services they offer and how they charge.
Code "h" in the "special services" column on our Ratings Tables indicate which stores offer in-home design services.
Independent designers also charge according to a variety of formulas. A few charge no explicit fee but retain the difference between the discounted price they pay for your furnishings and the "retail" price—typically double what the designer pays. More commonly, designers charge a flat fee or hourly fee and may also collect a markup on the items purchased.
Because the client pays one way or another, we favor an arrangement in which all or most of the designer's compensation is based on a flat fee or hourly rate. Such an arrangement makes the cost explicit, doesn't incentivize the designer to encourage you to spend more than necessary, and avoids the tension that might arise if you spend less than the designer anticipated.
Despite the discounts designers can get, buying through a designer means you will probably spend more than if you bought the same products on your own at one of the area's best priced stores—even if the designer charges on a fee basis and passes along his or her discount.
To get the most for your money from a designer, choose the person carefully. Start by soliciting recommendations from friends whose taste you admire or from owners of homes whose furnishings you like when you take house tours.
Also check for fellow CHECKBOOKsubscribers' reviews of interior designers in the "Neighbor-to-Neighbor" area.
You can also receive referrals from the American Society of Interior Designers (ASID) by calling 202-546-3480 or visiting www.asid.org. ASID membership is a meaningful credential. Full "Professional Members" must complete an exam that lasts more than 10 hours and includes both written and practical components. Before taking the exam, a designer must meet specified standards. For example, one basis for eligibility is completion of a four- or five-year college degree program with a major in interior design and two years of experience.
Meet with any designer you are considering. Talk about your lifestyle, needs, and tastes. If you don't feel comfortable enough with the designer to talk about budget limitations and occasionally reject his or her suggestions, then this is not the person for you. Ask to see samples of the designer's work—either photographs or, better still, the homes themselves.
Be specific about your total budget and discuss the designer's fees. It's reasonable to negotiate fees.
Finally, compose a letter of agreement spelling out your understanding of the specific services the designer will perform (which rooms will be furnished, whether shopping is included, and whether tradespeople will be supervised), how fees will be calculated, and whether the designer will retain any portion of the actual price paid for purchased items.
There have always been mail-order alternatives to local furniture stores, and now most of those outlets have made a transition to the Web. The existence of numerous out-of-town shopping options benefits you by pressuring local independent retailers to keep prices down.
But do you want to buy via the Web? The only really compelling reason to do so would be price. But as our Ratings Tables show, we routinely found that our shoppers were quoted prices by local retailers that, on average, were roughly equivalent to—and sometimes less than—prices on the Web when delivery costs were added. (Delivery from Web-based sellers often costs $150 to $200 for large pieces; local stores generally charge less than half of that, and sometimes nothing.)
Along with the lack of a price advantage, consider several other possible disadvantages:
There will always be a delay. Not only will shipping itself take time, but there is usually a delay while the seller special orders your items. Of course, there's also a delay on special orders from local retailers, but many local stores stock substantial quantities of merchandise that can be delivered in a week or less.
It may be difficult to prove you received a defective product to an out-of-town Web-based store, since it probably won't have anyone in the area to inspect the furniture. You can, of course, send pictures or call in an independent appraiser, but it may be difficult to force a remedy. Because most Web/mail-order companies do not have repair capabilities in the area, you may have to pay shipping and give up the piece to have repairs made. (For minor repairs, the seller might let you use a local repair service and bill the seller.) And if you must go to court, you'll probably have to travel to the location of the Web-based store.
If an item is damaged, and an independent van line or freight carrier has delivered the shipment, you won't know whether the carrier caused the damage or it was present before the carrier received the item. If neither company accepts responsibility, you'll be left in the middle, trying to force one or the other to make amends.
If there are long delivery delays and the seller won't return your deposit, you might have to go to where the Web/mail-order outlet is located to sue.
Some Web-based stores offer delivery only via freight carrier. Goods might be deposited in your front yard or driveway, leaving you to unpack them and place them in your home. Many stores do offer "white glove" delivery, which includes unpacking, assembly, and placement in the home—for an extra fee.
If you decide, despite these possible disadvantages, to go ahead and order from a Web/mail-order retailer, here are a few suggestions—
Have your furniture shipped by a van line that will pack it blanket-wrapped after the seller has inspected it and put it where you want it in your home—assembling the items, if necessary. This way you can inspect before you accept.
Order from a store that accepts deposits of no more than 30 percent of the purchase price when you place your order, and pay no more until the store claims the item is ready to ship. The smaller the deposit the better your leverage for prompt service and the lower your risk if disputes arise or the company goes bankrupt.
Before submitting your deposit, send the seller a written notice that includes the first two clauses of the sales agreement (regarding warranty coverage and promptness of delivery); have the seller sign both clauses and return the paper to you.
Pay by credit card. If there is a problem, you'll have the option of disputing the transaction with your credit card issuer.
Delaware Office of the Attorney General—Consumer Protection Unit
820 North French Street
Carvel State Building
Wilmington, DE 19801
302-577-8600
New Jersey Office of Consumer Protection
124 Halsey Street
P.O. Box 45025
Newark, NJ 07101
800-242-5846 or 973-504-6200
Pennsylvania Office of the Attorney General—Bureau of Consumer Protection
14th Floor, Strawberry Square
Harrisburg, PA 17120
800-441-2555 or 717-787-9707
Burlington County Consumer Affairs
49 Rancocas Road, 3rd Floor
Mount Holly, NJ 08060
609-265-5054
Camden County Consumer Protection
DiPiero Center, Lakeland Road
Blackwood, NJ 08012
856-374-6161
Gloucester County Consumer Protection
254 County House Road
Clarksboro, NJ 08020
856-384-6851
Philadelphia Regional Office of the Bureau of Consumer Protection
21 South 12th Street, 2nd Floor
Philadelphia, PA 19107
215-560-2414
Better Business Bureau of Delaware
60 Reads Way
New Castle, DE 19720
302-230-0108
http://delaware.bbb.org
Better Business Bureau of New Jersey
1700 Whitehorse-Hamilton Sq. Road
Trenton, NJ 08690
609-588-0808
http://newjersey.bbb.org
Better Business Bureau Serving Eastern Pennsylvania
1880 JFK Boulevard #1330
Philadelphia, PA 19103
215-985-9313
www.easternpa.bbb.org