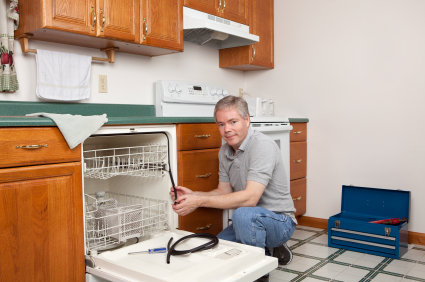 Our ratings of area appliance repair services reveal substantial quality differences between companies. Several appliance repair services were rated "superior" for overall quality by at least 90 percent of their surveyed customers. Others received such favorable ratings from fewer than 50 percent.
Fortunately, some of the area's lower priced companies are among the highest rated for service quality. In fact, on average, lower priced companies rate higher on service quality than their higher priced competitors.
And price differences can be substantial. For example, we found that prices to replace the door gaskets on a Whirlpool refrigerator ranged from $316 to $603 at different shops in the area, and prices to replace the motor and pump on a General Electric dishwasher ranged from $172 to $377.
If your appliance is still covered under its manufacturer's warranty, use a shop authorized to do in-warranty repairs. But after the warranty expires, be sure to consider shops that don't perform warranty repairs. We have found that, on average, independent shops rate better than factory repair services (although some independents do score low).
The most common complaint we receive about appliance repair services is failure to correctly fix the appliance—sometimes after multiple attempts. Other common problems are missed service appointments, failure to bring the right parts, and delays in obtaining parts.
To get good service from any company, describe your appliance's symptoms—along with its manufacturer and model number—when you first call for service and find out how the company charges for service calls (how much time is included in the minimum charge, how charges are figured after the minimum, etc.). Confirm with the serviceperson details on how labor charges are calculated when he or she arrives. After the diagnosis is made, ask the serviceperson to provide a written estimate before proceeding with repairs, and obtain a written invoice—including itemized charges for labor and parts, date, and company warranty—before you pay.
Unfortunately, no easy rules of thumb exist for determining whether an appliance is worth repairing. Don't pay much attention to often-quoted average-lifespan figures. If you are happy with your appliance's appearance, size, features, and energy usage, and it seems to be in good condition, it should probably be repaired—it is likely to provide many years of service beyond its average lifespan.
If you decide it's time for a new appliance, our Major Appliance Stores article will help you find reliable stores that charge low prices.
But even if you've had a poor track record with unreliable appliances, don't buy an extended warranty. We consider these warranties incredibly bad deals for most consumers who buy them.
Like much in life, when it comes to major appliances you don't know what you've got until it's gone—and you're left scrambling. Picnic coolers, camp stoves, and laundromats are lousy substitutes for refrigerators, ranges, washers, and dryers. When an appliance breaks down, you need to get it repaired right and right away—so you can start taking it for granted again. Our ratings of area repair services for quality and price will help you find a solution.
We gathered information on area appliance repair services. We surveyed consumers, counted complaints at the Better Business Bureau, and collected price information. The services listed on our Ratings Tables received at least 10 ratings in our customer survey, and some received 50, 100, or more.
If you decide to buy a new appliance, our Major Appliance Stores article will help you find reliable stores that charge low prices. If you're on the fence over the repair-or-replace issue, check out our advice below.
Ratings from Customers
We surveyed area consumers (primarily CHECKBOOK and Consumer Reports subscribers) and asked them to rate appliance repair services they had recently used on several questions related to service quality: "doing work properly on the first try," "starting and completing work promptly," "letting you know cost early," and "overall quality. Our Ratings Tables show what percent of each company's surveyed customers rated it "superior" (as opposed to "adequate" or "inferior") on each question. The table also reports the percent of surveyed customers who rated each company "adequate" or "superior" (as opposed to "inferior") for "overall performance." (Click here for further description of our customer survey and other research methods.)
Based on their responses, you have good reason to choose a service carefully. Several of the companies listed on our Ratings Tables were rated "superior" overall by more than 90 percent of their surveyed customers. But some received "superior" ratings from fewer than 50 percent.
Consumer Complaints
Our Ratings Tables also show counts of complaints we gathered from the Better Business Bureau (BBB) for a recent three-year period.
Although this article focuses on repair work, we were unable to select only those complaints at the BBB that relate to repairs (as opposed to complaints about appliance sales or other lines of business). The complaint counts we report include all complaints filed against the companies.
You can check current BBB complaint information on any company by visiting www.bbb.org or by phoning 312-832-0500. You can check current customer survey ratings by clicking on the company's name on our Ratings Tables and, in the details under our listing for the company, click a link to go directly to the BBB's most up-to-date report on the company.
When using the complaint information, keep in mind that complaints are not always justified; sometimes customers are unreasonable. Remember that we didn't have a measure of business volume; large companies are more likely to incur complaints simply because they serve more customers. Also be aware that some companies may be at greater risk of incurring complaints than others because of the specific types of business they do.
Warranty Repairs and Specialization
You might expect that a manufacturer's authorization to a company to perform, and be reimbursed for, warranty repairs would be an indicator of good service quality. But warranty-work authorization actually reveals little about a company's overall competence: Shops that perform warranty work are much less likely to perform repairs properly than shops that do not perform warranty repairs.
This is because some manufacturers never check on the quality of their authorized shops, and few conduct more than occasional cursory reviews. In addition, shops not authorized to perform warranty work for any manufacturer generally do not sell appliances; because their livelihood depends on service rather than sales, they have an especially strong incentive to perform quality repairs.
There's also a meaningful distinction between specialists and generalists. Repair services that work on only a handful of appliance makes can stock their trucks with a relatively large selection of the parts they might need. Furthermore, their technicians are likely to possess extensive experience servicing specific machines.
But, as with companies authorized to perform warranty repairs, the expected advantages of specialization aren't actually reflected in our customer survey ratings.
Once you have identified repair services that offer high-quality workmanship, you need to consider price. Our Ratings Tables show our price index score for each company that was evaluated in our last full, published article. To calculate these price index scores, our researchers—without revealing their affiliation with CHECKBOOK—shopped each company for prices on four different repair jobs. The scores show how each company's prices compared to the average price for all surveyed companies. The scores are adjusted so that the average price index score is $100. A company with a score of $90, for example, had prices 10 percent lower than the average.
As shown on Table 1, shop-to-shop price differences can be substantial. For example, prices to replace the door gaskets on a Whirlpool refrigerator ranged from $316 to $603, and prices to replace the motor and pump on a General Electric dishwasher ranged from $172 to $377. These large differences are reflected in companies' price index scores, which range from $72 to $154.
| | | | |
| --- | --- | --- | --- |
| Replace gaskets for upper and lower doors on a Whirlpool refrigerator | $316 | $408 | $603 |
| Replace drum belt on a Kenmore clothes dryer | $84 | $132 | $195 |
| Replace bake element on a General Electric oven | $120 | $168 | $294 |
| Replace motor and pump on a General Electric dishwasher | $172 | $274 | $377 |
1 For each of these jobs, the companies were given additional, detailed specifications.
In addition to price index scores, our Ratings Tables report each company's "minimum charge for a service call" and indicates in parentheses whether this charge covers a complete diagnosis or specified amount of time.
Most of the repair services listed on our Ratings Tables charge flat rates after diagnosis—they compute a job's labor charge by multiplying an hourly labor rate by the amount of time allotted for that job according to one of several published manuals. If the manual calls for 30 minutes to replace the heat element in an electric clothes dryer, the customer pays for 30 minutes of labor, regardless of the amount of time it actually takes to complete the repair. The benefit of this system to consumers is that after diagnosis you will know the exact cost of the repairs. But the downside of the flat-rate system is you might pay more than if the company charged for time actually spent. For example, if a flat-rate manual calls for 30 minutes of labor for a job, and the technician finishes the job in 10 minutes, you still pay for the extra 20 minutes.
Some companies listed on our Ratings Tables charge on a time-and-materials basis for the work performed beyond the time covered by their minimum service call charge. We found these companies' hourly labor rates range from $60 to $120 per hour. These companies charge by time units—typically 15 or 30 minutes—and some round up to the next higher time unit—a company that charges in 15-minute units would charge two units for a 20-minute job. Others round to the nearest time unit—a company that uses 15-minute units would charge for one unit for a job that actually takes 20 minutes.
In this industry, as in so many we have studied, we found no evidence of any relationship between price and service quality. In fact, companies with below-average prices tended to have higher scores on our customer survey than companies with above-average prices.
Even if you've been unlucky and have a poor track record with unreliable appliances, don't buy an extended warranty when you buy a new appliance. As discussed in our article "Just Say 'No' to Extended Warranties," each year consumers waste billions of dollars on extended warranties (also called "protection plans"). Retailers increasingly count on the sales of extended warranties for most—or even all—of their profits, and we believe these warranties are incredibly bad deals for most of the consumers who buy them.
Finding a good repair service is only the beginning of the battle. How you deal with whichever shop you choose also matters. Here are some guidelines:
When you call for an appointment, ask about the company's system for calculating charges—especially about what the minimum charge covers. Also find out the company's policy on travel charges if the technician has to return to the shop for parts. Repair services usually don't charge for travel time for the second visit, but it can't hurt to make sure. If the company charges on a time-and-materials basis, find out how it calculates time charges—by what time unit (per 15 minutes or per 30 minutes, for example) and how much it costs per unit.
During this initial call describe as accurately as possible your appliance's symptoms—when in the operating cycle the problem occurs, what it sounds like, etc. This description will help the company assign the right technician to the job, put necessary parts on the truck, and schedule enough time for the job.
Unless you are content to wait around all day, request an appointment for a specific hour.
To make sure they show up, call back the morning of the appointment. A morning call also lets you confirm that the company really is planning to come and has the right address.
Improve your chances of getting an exact arrival time by suggesting that the technician start the day at your home.
If you can't get an exact time, at least arrange for the technician to call you a half hour or so before arriving. Many companies are glad to do this.
Before the technician arrives, clear everything away from the appliance so that work can start at once.
Note what time the technician arrives.
Describe the appliance's problem to the technician just as you did over the phone. You can also be more helpful at this point—for instance, by showing samples of clothes damaged by the washing machine.
But avoid offering your own diagnosis of the problem. Otherwise the technician may make the repair you request instead of fixing the machine.
After the diagnosis is complete, request an estimate. Make sure the estimate is a firm quote that will not be altered regardless of how long the job actually takes. Any company that charges on a flat-rate basis should, of course, be willing to treat its estimate as binding. And even companies that price on a time-and-materials basis will ordinarily stick to their estimates, except on very unusual jobs. Before work begins, ask the technician to write down the price quote—perhaps on a service call ticket.
If the estimate seems too high, and you can get along without your appliance for a few days, ask the technician how long the estimate is good for and whether coming back will incur an additional travel charge. Many companies will give you a few days to think about a repair and not charge for travel a second time.
If you decide you want to shop around, get the technician to write out an itemized estimate.
Use the estimate to call a few other repair services for price quotes. To check on the fairness of parts prices, call a local parts distributor. The repair service's prices for parts should not be much higher than what you'd pay if you buy direct.
Avoid letting the technician take your appliance away from your home. Virtually all repairs can be made in the home, and by retaining your appliance you retain your leverage.
Ask about any warranties on parts and labor.
If you go ahead with the repair, ask to keep (or at least see) any replaced parts. You have a right to these parts.
Ask the technician to explain what he or she will be doing. Observe the process, but don't tie up the technician in needless chitchat. You could be charged for the time you waste.
Get an itemized invoice before you pay. The invoice should contain:
Name, address, and phone number of repair service;
Your name and address;
Description of appliance repaired, including make and model;
Date of invoice;
Itemized charges, including a breakdown of labor and description and prices for each part (including whether used parts were installed);
Name of technician; and
Any warranty on parts and/or labor.
No matter what repair service you choose—and no matter how well you deal with it—professional help costs money. Because the average minimum service charge for appliance repair costs about $75, you can often save a lot by doing it yourself.
Industry estimates indicate that consumers could avoid about 30 percent of service calls by reading the owner's manual and using a little common sense. All too often the appliance is simply unplugged, a circuit breaker has tripped, a fuse has blown, or the water is cut off. And many homeowners can handle even more complex problems. If you want to give it a try, consult the appliance's troubleshooting list in do-it-yourself guides. These are especially helpful for dishwashers and clothes washers, the two appliances that are safest and easiest to service. You can buy parts from local distributors or from websites like www.repairclinic.com, which also offers a lot of other useful how-to information.
The recent increase in the number of consumers fixing their own appliances has not gone unnoticed by the major manufacturers. The websites of all the major manufacturers now post information to help customers complete simple repairs on their own and download repair manuals for free. For the most common appliance repair jobs, several manufacturers sell repair kits that include the necessary parts and instructions on how to complete the work.
Much of the diagnosis and repair work most homeowners can handle can be performed with screwdrivers, wrenches, and other common household tools—plus one somewhat specialized item: a continuity tester to determine whether and where an electric circuit is broken. You can buy one for under $20 online, from an appliance parts dealer, and most hardware stores.
But before you take on a repair, note a few important cautions:
Always unplug the appliance before you start working.
Never plug a continuity tester into a wall outlet until you have attached the test clips, and never use a continuity tester on a plugged-in appliance. (Also, some appliance models have solid-state controls that can be damaged by your continuity tester.)
Always think before you touch anything. Make sure you don't become part of an electrical circuit.
If you're uncomfortable with your grasp of the fundamentals of electricity, leave appliance repair to the professionals.
Major appliances wouldn't be fixtures of nearly every home if they were dangerous. Occasionally, however, they can cause serious damage.
The main risks are from water damage. A clothes washer's supply hoses may burst or crack and produce a spray of water much like turning a garden hose loose in your house. That's bad if your washer is in an unfinished basement, terrible in a finished basement, and a catastrophe on an upstairs floor. Insurance companies, which may have to pay homeowners' claims after such mishaps, recommend changing washer supply hoses every three to five years. Since insurance companies aren't buying the hoses, they have selfish reasons for eliminating all possible risk. But other experts recommend replacing hoses after five years, seven at most. Use heavy-duty, steel-reinforced hoses, which cost less than $20 a pair.
Although a clothes washer's discharge hose can also break, this is less of a risk since it is not under constant pressure. If it does break, the flood will generally be limited to one load of dirty, soapy water. Worse, if the hose breaks down low near the discharge outlet while the washer is in use, the washer will keep trying to fill and discharge until you turn it off. Consequently, some homeowners replace the discharge hose at the same time they replace the supply hoses.
Another flood risk is the possibility that the water shut-off valve on either your clothes washer or dishwasher fails, and the appliance keeps filling until water spills over the top. This problem is uncommon and most homeowners just live with the risk. But to cut the risk—and also the risk of supply-line breaks—you can install on each of your supply lines an electronically activated shut-off valve connected to an electronic moisture detector; if moisture appears on the floor, the detector senses it and shuts off the supply lines.
An electronic moisture detector will protect you from even slow leaks—for instance, a pinhole leak or faulty seal that leaks a little water in a hard-to-see spot below your clothes washer or dishwasher. That kind of slow leak won't, of course, cause sudden damage, but in time may cause your flooring to rot out or damage the ceiling below. To avoid slow leaks, a simpler precaution is to inspect periodically right after running the appliance. Remove the trim strip/access panel below the door to see under your dishwasher.
To avoid slow leaks from your clothes washer, place a plastic pan or tray under the entire washer—but don't count on this pan to deal with water from a burst pipe or failed shut-off valve. Even if the pan is hooked up to a drain system, it won't be able to handle an onslaught of water.
The other most common appliance-related disaster is fire. Thousands of fires start each year when dryer exhausts become clogged with lint. The best protection here is to note if your dryer seems to be getting less efficient—if, for example, you have to run it twice as long as before to dry a load of clothes. If so, clean out the entire exhaust duct from the dryer to the outdoors. You can buy a 10- or 20-foot flexible dryer vent brush at an appliance parts outlet for less than $40.
Another fire risk has resulted from defects in dishwashers. In 2007, General Electric, Jenn-Air, and Maytag issued recalls for over 5 million dishwashers due to risk of fire caused when leaky rinse-aid dispensers short-circuited the wiring. Maytag—including its Amana, Jenn-Air, Admiral, Magic Chef, and Crosley lines—apparently continues to have problems making safe dishwashers: In 2010, it recalled another 1.7 million units because the heating elements posed a serious fire hazard. Periodically check the U.S. Consumer Product Safety Commission website (www.cpsc.gov) to see if your appliances are on a recall list and, if so, arrange for a free repair.
As a general precaution against disasters, run your clothes washer and dishwasher only when you are home. If you are going on vacation, consider shutting off clothes washer supply valves.
Your seven-year-old dryer isn't working. The repair estimate is $250. Do you repair it or buy a new one?
Lists are published all the time showing the lifespan of various types of major appliances, and you may have read somewhere that 12 years is typical for a dryer. So why spend $300 for five more years when a new dryer costs $600? To decide whether to repair or replace any appliance, consider how much time your investment is likely to buy you—but be aware that published lifespan figures can be misleading.
First, the 12 years is an average. If yours is already seven years old, it's likely to last longer than the 12 years. Small households that use appliances lightly can expect longer-than-usual lifespans. And because lifespans of appliance models are all over the map, a well-built appliance with few fancy controls might last much longer than its less-durable, more high-tech brethren.
Second, many appliances are discarded because owners want different features, a new color, or another size; or don't want to move it to a new house; or want to get rid of the machine for reasons unrelated to durability. Some might even be terminated because owners misuse published lifespan figures—a self-fulfilling prophecy that prematurely condemns many appliances to the junk heap. If you are happy with your dryer, these factors are irrelevant.
Also, just because something breaks on your appliance doesn't necessarily mean other things will break. Even on new appliances things break. An appliance with no visible damage that, except for the problem prompting the repair, has functioned well might last many years without other problems—and the next problem also might require only a reasonably priced repair. Many major appliances, including relatively inexpensive models—which may cost less because they have few extra (and failure-prone) controls—labor on for decades.
If you are considering replacing an appliance because you don't want to have to deal with an unexpected future outage, keep in mind that appliance problems are generally inconvenient, not disastrous. It's not like having the brakes fail on your car or the bottom falling out of your water heater and flooding your house. The worst catastrophe that could result from an appliance breakdown is flooding caused by the failure of a clothes washer's or dishwasher's shut-off valve (see above), and that is very unlikely.
There are, of course, good reasons for replacing a broken appliance—
Many new appliances are more energy efficient than older models, and some are designed to be as "green" as possible. But to make an environmentally based decision you'll need to do the math, because some appliances (especially dryers) have not improved much in efficiency in recent decades; and even clothes washers and dishwashers, which have made strides, won't make a big difference in energy use if you do only a handful of loads a week.
Rust and other visible flaws might signal impending problems.
You like the features and looks of new appliances: a new washer that operates more quietly; a new range with sealed gas burners to keep out spills; a new refrigerator with more storage capacity.
In short, the repair-or-replace decision is not always easy. And you will have to do some balancing.