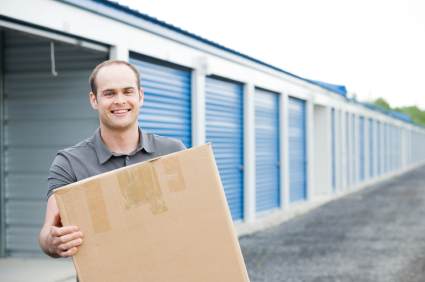 Moving to a new home or office that isn't yet ready? Crowded out by stuff that's too valuable to part with? Need temporary storage for any of a host of other reasons? The self-storage industry wants to meet your needs.
Self-storage facilities are set up for the purpose of renting or leasing individual storage spaces to customers to store personal property on a self-serve basis. At these facilities, operated by national companies like Public Storage and Shurgard Storage and by various local companies, you rent a space and can move your things in and out as you please.
We have shopped a sampling of facilities in the Washington area—centrally located facilities and facilities farther out in the suburbs, national-chain-run facilities and locally operated facilities. This table shows some of the prices we found for: (1) taking a space with a six-month minimum commitment and then keeping it for one year, and (2) taking a space just on a month-to-month basis.
The following are a few findings from our shopping, along with some shopping and storage tips for you—
Shop prices. You will find big price differences. For example, when we checked prices at a sample of facilities in Fairfax County, for one year's use of a five-foot by 10-foot storage space (roughly enough for the contents of a studio apartment), we found prices ranging from $843 at the Shurgard Storage facility in Herndon to $1,321 at the Public Storage facility in Falls Church—a difference of $478. For facilities we called in Montgomery County, for one year's use of a 10-foot by 20-foot storage space (roughly enough for the contents of a three-bedroom house), we found prices ranging from $2,208 at Private Storage in Silver Spring to $4,260 at Security Public Storage in Bethesda—a difference of $2,052.
Check different locations. Even among facilities owned by the same company, you will find substantial price differences. For example, we found a $1,400 difference between two of the Storage USA facilities we checked for use of a 10-foot by 20-foot storage space for one year.
Consider remote locations. In general, you will find lower prices as you get farther out into the suburbs. But the suburbs are not always cheaper than the city. If you will not be going back and forth often to move stuff into and out of storage, you may save by considering facilities that are in fairly remote locations.
Check both chains and independents. There is no consistent rule of thumb as to the relative price levels of facilities operated by national chains as compared to independent facilities and facilities operated by smaller regional chains.
Check several chains. Among the four chains we shopped, none had consistently better prices than the others.
Winners and losers differ by unit size. Just because a facility has good prices for a specific size of unit doesn't mean its prices will be equally competitive for other sizes. For example, the Shurgard Storage facility in Laurel had the lowest price we found for a five-foot by 10-foot unit but its price for a 10-foot by 20-foot unit was only about average. Prices for each size of unit are affected by supply and demand; a facility with a lot of small units in an area where most customers need larger units will mark down the smaller units to a low enough price to get them rented.
Consider floor level. Ground floor storage may be more convenient, but storage on higher floors often costs less. So long as units on higher floors are elevator-accessible (and almost all are), the savings may justify the minor inconvenience.
Consider indoor versus outdoor access. At some facilities, you may have a choice for certain sizes of spaces between outdoor access (drive your car up and unload directly) or inside access (located on a hallway). Outdoor access may be more convenient but is often more expensive.
Climate control costs. Some facilities offer climate-controlled units. That makes them more comfortable to be in when you're moving goods in and out. Climate control may also reduce risk of damage to your goods, for instance, from mildew, from freezing if you will be storing liquids, or from heat damage to glues if you will be storing antique furniture. But you pay for climate control—often more than 30 percent above what you would pay for similar facilities without climate control.
Ask for discounts. Many facilities offer discounts. For example, without your even asking, you might be offered 50 percent off your first month's rent or the first month for $1. But be sure to ask. We found that some facilities became more forthcoming when our shoppers said they would be calling other facilities looking for the best price. It was only with that kind of a nudge that some offered a $1 rental for the first month or a free truck and driver to help us move. So, do shop around, and be sure to tell each facility that's what you're doing.
Consider a long-term commitment. Some facilities will offer a discounted monthly rate or other special deal if you agree to prepay for, say, six months or a year at a time. Some firms that won't offer discounts on their rates might offer other incentives, such as a free lock for the unit, free use of a moving truck, or waiver of their administrative fee. The one-year costs shown on the table on the left reflect any discounts we were offered before we said we would be shopping elsewhere—including discounts based on making a six-month rental commitment.
Check websites. Check whether any facility you are considering has a website. Several facilities told our shoppers that they could go to the facility's website and print out a coupon offering, say, a free lock or half off the first month's rent. Some facilities also offer a discount if you register for a unit online.
Beware of extra fees. Most facilities charge a one-time "administration," "set up," or "processing" fee of $10 to $20, due when you sign the lease. Most require you to supply your own lock or buy one from the facility. Those are the only up-front charges you're likely to encounter. But be sure to ask each facility to tell you any and all ancillary charges.
When you pay. Similar to renting an apartment, you will probably be expected to make a security deposit that should be returned to you at the end of the lease if you leave the premises in good condition. You will be expected to pay your first month's rent before moving in and pay each month in advance.
Check actual unit size. If you think you will be close to filling up a unit of some advertised size, be sure to check the unit's actual size. We found, for instance, that some facilities' units that were listed as five-feet by 10-feet actually proved to be only five-feet by nine-feet when checked with a tape measure. Also, be sure to ask about height. Depending on what you will be storing, you might be able to fit substantially more into the 10-foot high units found at some facilities than you can fit into the seven-foot high units other facilities offer.
Get needed insurance. Consider whether you will want to purchase insurance against damage or theft of your goods while they are in storage. If you have a homeowners or renters policy, that policy may include coverage up to a specified dollar limit for personal property at locations other than your home; call your insurer to get the details. If the coverage you already have is not sufficient, most facilities will offer special policies for goods stored on their premises. For example, one facility we checked was offering $2,000 of coverage for $6 per month and $5,000 of coverage for $13 per month.
Beware of late fees. Be sure to ask how much the late fee will be if you don't make a monthly rental payment on time—and be sure to set up some reminder system to assure that you don't miss payments. You are storing stuff, after all, to get it out of your life for a while, so it is not surprising that you might not think about it each month, but late fees might add 30 percent or more to your monthly costs.
Check hours of access. If it will not be convenient for you to access your unit during normal working hours, look for a facility that has longer hours.