CHECKBOOK provides:
Award winning articles and ratings reports compiled from more than 191,000 Bay Area Consumers' CHECKBOOK area consumer ratings by Consumers' CHECKBOOK and Consumer Reports magazine subscribers who have used these companies and professionals.
Thousands of hours of undercover price shopping.
Review of complaints received by local consumer agencies such as Better Business Bureau (BBB) and attorney general offices.
In-depth research.
No advertising.
No ballot-box stuffing.
Nonprofit
Read CHECKBOOK's free advice on choosing local auto body shops.
Cooks Collision of Walnut Creek
1414 Pine St
Walnut Creek, CA 94596
Phone: 925-935-4041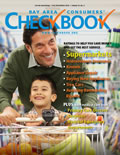 "If you want specific, practical, useful information, not generic bull, you'll find it in Bay Area Consumers' CHECKBOOK."
"I can attest to [CHECKBOOK's] magical transformation: What looks like an overflow of information becomes a welcome guide to the perplexed when you actually need to use it."
A Consumers' CHECKBOOK Subscriber
I've never been disappointed by the recommendations from Consumers' CHECKBOOK. After all the reviews are from consumers,not advertisers.
What can Consumers' CHECKBOOK tell you about Cooks Collision of Walnut Creek?
Consumer Ratings
| | |
| --- | --- |
| Number of customer survey ratings: | 48 |
| Percent of customers who rated firm "superior" for "doing work properly": | |
| Percent of customers who rated firm "superior" for "starting and completing work promptly": | |
| Percent of customers who rated firm "superior" for "letting you know cost early": | |
| Percent of customers rating firm "superior" for "advice on service options and costs": | |
| Percent of customers who rated firm "superior" for "overall performance": | |
| Percent of customers who rated firm "adequate" or "superior" for "overall performance": | |
Prices
| | |
| --- | --- |
| Price Index | |
| Firm's hourly labor rate for body repair work: | |