CHECKBOOK provides:
Award winning articles and ratings reports compiled from more than 432,000 Washington Consumers' CHECKBOOK area consumer ratings by Consumers' CHECKBOOK and Consumer Reports magazine subscribers who have used these companies and professionals.
Thousands of hours of undercover price shopping.
Review of complaints received by local consumer agencies such as Better Business Bureau (BBB) and attorney general offices.
In-depth research.
No advertising.
No ballot-box stuffing.
Nonprofit
Fine Craft Contractors
104 Summit Hall Rd
Gaithersburg, MD 20877
Phone: 301-330-9191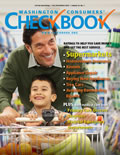 "If you don't have a friend or a neighbor who happens to know a great doctor or contractor for every occasion, you might try Washington Consumers' CHECKBOOK magazine."
"For years, one of my most favorite consumer publications has been Washington Consumers' CHECKBOOK. It's where I always go to check on the best car-repair shops, plumbers, furniture stores, doctors, roofers, cobblers, etc. You name the field, CHECKBOOK has price and quality ratings for the companies."
A Consumers' CHECKBOOK Subscriber
I have much to thank CHECKBOOK for. You have saved me a passle of money, I have used throughout this 220K renovation, I am 1/2 way through…Some day I will sit down and figure out how many thousands and tens of thousands of dollars you have saved me…