CHECKBOOK provides:
Award winning articles and ratings reports compiled from more than 197,000 Puget Sound Consumers' CHECKBOOK area consumer ratings by Consumers' CHECKBOOK and Consumer Reports magazine subscribers who have used these companies and professionals.
Thousands of hours of undercover price shopping.
Review of complaints received by local consumer agencies such as Better Business Bureau (BBB) and attorney general offices.
In-depth research.
No advertising.
No ballot-box stuffing.
Nonprofit
Read CHECKBOOK's free advice on choosing local roofers.
Rainier Roof Restoration
PO Box 65966
University Place, WA 98464
Phone: 253-565-5200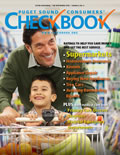 "Even businesses that don't fare well in the ratings have grudging respect for [CHECKBOOK]'s attention to detail."
"One of the best sources of information for consumers is Puget Sound Consumers' CHECKBOOK magazine. It offers ratings and advice so consumers can get the area's best prices and services."
A Consumers' CHECKBOOK Subscriber
This magazine has saved me a lot of headaches and pointed me in the right direction on several topics. Worth every penny! Local, so it's better than Angie's List and less expensive too.
What can Consumers' CHECKBOOK tell you about Rainier Roof Restoration?
Specific Info
Areas Firm Serves:
King Co.
Pierce Co.
Snohomish Co.
Types of repair work firm performs:
Asphalt shingle
Cement tile
Clay tile
Metal shingle
Wood shingle/shake
Consumer Ratings
| | |
| --- | --- |
| Number of Ratings | 10 |
| Percent of customers who rated firm "adequate" or "superior" for "overall performance": | |
| Percent of customers who rated firm "superior" for "overall performance": | |
| Percent of customers who rated firm "superior" for "doing service properly on first try": | |
| Percent of customers who rated firm "superior" for "starting and completing work promptly": | |
| Percent of customers who rated firm "superior" for "letting you know cost early": | |
| Percent of customers who rated firm "superior" for "neatness of work": | |
| Percent of customers who rated firm "superior" for "advice on service options and costs": | |
Complaints
| | |
| --- | --- |
| Number of complaints on file with Attorney General's Office | |
| Complaint rate : | |
Prices
| | |
| --- | --- |
| Portion of price for a $3,000 job firm usually lets customer pay at completion : | |