Delaware Valley Consumers' CHECKBOOK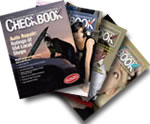 Rigorous ratings of local auto repair shops, plumbers, veterinarians, banks, doctors, dentists, carpet cleaners, and many more. In-depth articles with advice. Nonprofit, no-advertising.
With a CHECKBOOK subscription, you get:
Immediate online access to all ratings and articles from CHECKBOOK, plus new ratings, advice, and updates for two years
Immediate online access to CHECKBOOK's Neighbor-to-Neighbor information exchange, where subscribers share recommendations and comments on specific businesses
Immediate online access to CHECKBOOK's Guide to Top Doctors, Guide to Hospitals, and Diseases and Treatments information
Four comprehensive semi-annual print issues, plus newsletter updates between each issue, mailed to you
"CHECKBOOK's strength is its listings, which name names, some undoubtedly in your neighborhood. It suggests which businesses are worth a try — and which, by implication, to treat warily."
"Easy-to-follow charts map out everything from price and reliability to quality of customer service."