Twin Cities Consumers' CHECKBOOK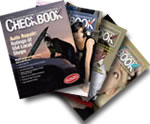 Rigorous ratings of local auto repair shops, plumbers, veterinarians, banks, doctors, dentists, carpet cleaners, and many more. In-depth articles with advice. Nonprofit, no-advertising.
With a CHECKBOOK subscription, you get:
Immediate online access to all ratings and articles from CHECKBOOK, plus new ratings, advice, and updates for two years
Immediate online access to CHECKBOOK's Neighbor-to-Neighbor information exchange, where subscribers share recommendations and comments on specific businesses
Immediate online access to CHECKBOOK's Guide to Top Doctors, Guide to Hospitals, and Diseases and Treatments information
Four comprehensive semi-annual print issues, plus newsletter updates between each issue, mailed to you
"Face it, when the computer isn't booting and the car isn't braking, shopping around isn't Job One. There's a faster, easier way with CHECKBOOK."
"If you like charts and analysis, plus buying tips and advice — think local version of Consumer Reports magazine — CHECKBOOK is for you."
"Twin Cities Consumers' CHECKBOOK Can Save You Big $$$"
"It's difficult to imagine a better investment of $10 than the Spring/Summer 2011 issue of Twin Cities' Consumers' CHECKBOOK."