Washington Consumers' CHECKBOOK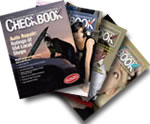 Rigorous ratings of local auto repair shops, plumbers, veterinarians, banks, doctors, dentists, carpet cleaners, and many more. In-depth articles with advice. Nonprofit, no-advertising.
With a CHECKBOOK subscription, you get:
Immediate online access to all ratings and articles from CHECKBOOK, plus new ratings, advice, and updates for two years
Immediate online access to CHECKBOOK's Neighbor-to-Neighbor information exchange, where subscribers share recommendations and comments on specific businesses
Immediate online access to CHECKBOOK's Guide to Top Doctors, Guide to Hospitals, and Diseases and Treatments information
Four comprehensive semi-annual print issues, plus newsletter updates between each issue, mailed to you
"... It's where I always go to check on the best car-repair shops, plumbers, furniture stores, doctors, roofers, cobblers, etc. You name the field, CHECKBOOK has price and quality ratings for the companies."
"If you don't have a friend or a neighbor who happens to know a great doctor or contractor for every occasion, you might try Washington Consumers' CHECKBOOK magazine."