Appliance Repairs You Can Make
Last updated in November 2015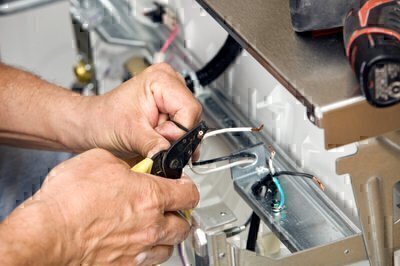 No matter what repair service you choose—and no matter how well you deal with it—professional help costs money. Because the average minimum service charge for appliance repair is more than $80, you can often save a lot by doing it yourself.
Industry estimates indicate that consumers could avoid about 30 percent of service calls by reading the owner's manual and using a little common sense. All too often the appliance is simply unplugged, a circuit breaker has tripped, the water is cut off, or a reset button needs pushing. Beyond the simple solutions, many homeowners can fix more complex problems. If you want to give it a try, consult the appliance's troubleshooting list in do-it-yourself guides. These are especially helpful for dishwashers and clothes washers, the two appliances that are safest and easiest to service.
Here are 10 of the most common difficulties that experts say often have relatively simple DIY fixes:
Dishwasher isn't cleaning successfully.

Common fix: Replace water inlet valve.

Oven's cooking times are way off the mark.

Common fix: Recalibrate temperature readout.

Washing machine fills and moves clothes around but won't drain or spin.

Common fix: Replace lid switch.

Oven isn't heating properly or cooking foods evenly.

Common fix: Replace heating element.

Refrigerator runs noisily.

Common fix: Replace evaporator fan motor.

Refrigerator's icemaker won't make ice.

Common fix: Replace water inlet valve.

Washing machine thumps and vibrates.

Common fix: Adjust legs to re-level the unit.

Electric clothes dryer won't heat at all.

Common fix: Replace heating element.

Refrigerator runs and runs and runs.

Common fix: Clean condenser coils.

Clothes dryer takes forever to complete a cycle.

Common fix: Clean lint buildup in venting.
The recent increase in the number of consumers fixing their own appliances has not gone unnoticed by major manufacturers. Websites operated by all the major appliance makers and many leading distributors now post information to help customers complete simple fixes on their own, letting them download repair manuals for free or watch step-by-step instructional videos. For the most common jobs, several manufacturers sell repair kits that include the necessary parts and instructions on how to perform the work. You can also buy parts from local distributors or from websites like RepairClinic.com, which offers a lot of other useful how-to information, as well.
Much of the diagnosis and repair work most homeowners are able to handle can be performed with screwdrivers, wrenches, and other common household tools—plus one somewhat specialized item: a continuity tester to determine whether and where an electric circuit is broken. You can buy one for under $20 online, from an appliance parts dealer, and at most hardware stores.
However, before you take on a repair:
Always unplug the appliance.
Never plug a continuity tester into a wall outlet until you have attached the test clips, and never use a continuity tester on a plugged-in appliance. (Also, some appliance models have solid-state controls that can be damaged by a continuity tester.)
Always think before you touch anything. Make sure you don't become part of an electrical circuit.
If you're uncomfortable with the fundamentals of electricity, leave appliance repair to the professionals.