How to Choose New Windows
Last updated in November 2016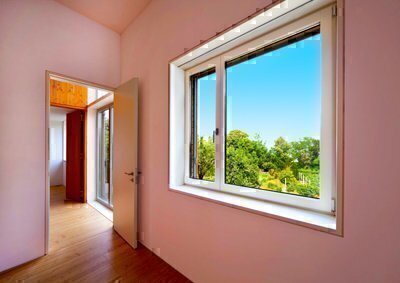 Want a hotel room with a view? That'll be $100 extra. Looking to spy on the sidewalk traffic at a busy restaurant? Make a reservation. Want an office that overlooks something other than the building across the alley? Get a promotion.
Windows are big deals, and you can find plenty of reasons to replace your old ones. They may have deteriorated to the point that they're ugly or drafty. They may be difficult to open or to keep open. They may be hard to clean. You may want to minimize your home's energy use and impact on the environment. You might also want to install a window where there was no window before.
But new windows are very expensive deals. Although window sellers may make extravagant claims about how much their windows will reduce your energy bills, even new windows that replace old, very drafty ones are unlikely to "pay for themselves" in energy savings. In addition to sketchy claims about the environment, some companies abuse customers with high-pressure sales tactics and substandard products and installations.
Start by visiting installers' showrooms. Let salespersons describe window features and the different installation techniques. Grab catalogs to peruse later. If you are adding or enlarging windows, or doing new construction, you can get creative ideas on the web and from home design magazines. You'll find you have a lot of decisions to make.
Styles
There are many features to consider when selecting windows. Of course, if you are adding windows or doing new construction, you will have more to think about than if you are replacing existing windows. You'll want windows appropriate for the architecture of your house and your neighborhood. If you live in a historic district, or if your neighborhood is governed by a homeowners association, find out what is allowed. For example, preservation officials or homeowners association rules might ban vinyl windows, or specify certain types of window muntins (grids). Ignore these rules at the peril of having to tear out what you install.
The most common window styles are—
Double- and single-hung. Double- and single-hung units look the same, but on single-hungs only the bottom sash moves. These windows can be cracked for ventilation and locked in that position, with window pins for security. Tilt-in models are easy to clean on both sides, with the marginal downside that only half the window area can be open at any time, while other styles open fully for greater ventilation.
Casement. These outward-swinging windows open fully for ventilation, and the view isn't obstructed midway by the frames of two sashes. The weak link is often the cranking hardware, particularly on large units. Because casement windows also provide too-slow escape routes in the event of fire, they shouldn't be installed in bedrooms.
Awning and hopper. Awning-style windows swing out at the bottom; hoppers swing in at the top. Both types of rectangular units (which look like casements turned on their sides) can be inset at the top of foundation walls to provide light and ventilation to basements.
Frame Materials
All styles are available in different materials, including wood, vinyl, fiberglass, and—to a lesser extent these days—aluminum. While many buyers base their choice of material on appearance, cost, energy efficiency, maintenance, or a combination of factors, the most significant differences are not materials but quality of construction. A cheaply made wood frame won't hold up as well as a top-quality vinyl or fiberglass frame, and vice versa. Aluminum is no longer a popular option because it is a poor insulator, requiring disconnects (called "thermal breaks") between the inside and outside frame surfaces. And they may still be subject to condensation in cold climates—even when the new double glazing prevents it on the glass.
There is a very wide price range for each type of frame material. But vinyl is the least expensive option on average; wood is usually mid-range, with exterior-clad wood more expensive; and fiberglass models tops the price list. A quick rundown of other pros and cons—
Vinyl—The first generations of vinyl windows had problems with expansion and contraction during temperature swings. Modern formulations have greatly reduced that problem, although most manufacturers stick to light colors and no longer offer dark brown frames because they absorb too much heat from the sun's rays. Frames with welded corners are the sturdiest and most energy efficient.
Wood—This traditional choice is a good natural insulator that can be milled to provide classic architectural detailing—even styles that comply with historic districts and neighborhood association restrictions. Many come factory primed, ready for a finish coat in any color. That versatility is also the main drawback: They need to be scraped and repainted every few years. Vinyl cladding on all exterior parts of wood windows increases the price and may limit your ability to change color schemes over time, but it can eliminate the need for regular repainting.
Fiberglass—This grainy synthetic is considered the most durable and strongest type, making it a good choice for large panes of glass and assemblies of several windows. It can be extruded into slimmer profiles than vinyl, making it a good choice for frame-plus-sash replacements. It can be painted to suit and is available with wood veneer facings on the interior side.
In addition to choice of the material, you'll need to decide on other style details, including thicker or thinner frames, more or less substantial grids (muntins), and various types of hardware.
Durability
Depending on construction, windows can last for decades—or rot and fail within a few years. Start by checking out Consumer Reports' ratings of windows. It periodically tests about 25 models for resistance to wind and rain. One key finding from Consumer Reports' tests is that paying more doesn't necessarily get you better product: Some of the most expensive tested models performed far worse in its tests than less expensive options.
Since Consumer Reports tested a fairly small selection of windows, you might have to do your own evaluations of durability.
Check guarantees. Better-sealed window units tend to come with warranties of 20 years or more and don't prorate reductions in the covered value as time passes.
Consider the claims salespersons make about durability. By talking to various installers, you can get opinions on durability from companies that sell multiple brands, but this will provide a rough gauge at most.
Because major causes of window failure are weak corner joints in vinyl and wood-frame windows, and moisture (especially from condensation in wood windows), ask for information relating to these hazards. To avoid moisture accumulation in wood window frames and sashes, buy windows with drainage holes and spaces for air circulation.
Keep in mind that with vinyl windows there is no required maintenance. Similarly, vinyl- or aluminum-clad areas of wooden windows require no maintenance. Exposed wood surfaces require painting, but the better manufacturers apply a thorough undercoating in the factory.