How to Get a Good Deal on Carpet
Last updated in April 2016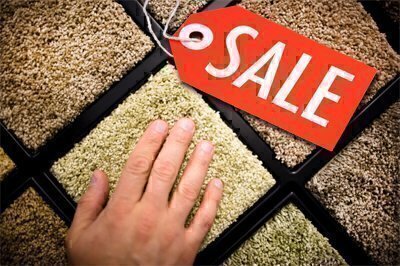 Our Ratings Tables will help you select carpet stores that offer great advice and quality installation work. Among reliable stores that carry carpets you like, choose one that provides the best value for the entire job—carpet, pad, and installation.
Comparing carpet prices is not easy. Although carpets from several major manufacturers are sold at most stores, it is often difficult to find exactly the same carpet style and grade on display at any two stores, since thousands of styles are available. Comparing prices becomes even harder because many retailers (especially the bigger stores) change carpets' style names from the names bestowed by the manufacturers, and some chains—Home Depot and Lowe's, for example—have exclusive rights to sell certain carpet styles.
Price comparisons are possible, though, if the manufacturer's style name or number appears on the carpet label and you can find at least two stores that sell it. As long as you provide the correct style information, many stores will provide per-square-foot price quotes over the phone for carpet manufacturers they regularly carry.
Our mystery shoppers called area stores and asked each to provide price quotes for 810 square feet of the same carpet, pad, and installation services. We used these prices to compute the price comparison scores reported on our Ratings Tables. The price comparison scores show how each store's prices compared to the average price quoted for the same job. For instance, if two stores quoted on the same jobs, and one store has a price index score of $110 while a second shop has a score of $100, this means that the first shop's quotes averaged 10 percent higher than the second shop's.
Take the time to do some shopping. As the table below reveals, significant store-to-store price differences exist for the same products. For example, for Dixie Silken Thread, we received price quotes ranging from $3,556 to $5,630. For Masland Londonderry, we were quoted prices ranging from $7,460 to $11,000.
In addition to working with a low-priced store, the following tips will help you save:
Get a reliable estimate of the amount of carpet needed. One way some stores take advantage of customers is by charging for more carpet than they need. Ask salespersons at several stores to estimate how much you'll need. Getting the "grain" of the carpet to look right, and to locate seams in acceptable places, usually requires more square feet of carpet than the exact area of the room. So while some waste is inevitable, a good store will plan installations that keep waste to a minimum. Ask all salespersons to explain their measurements. If estimates differ, find out why.
Ask stores to bid. Once you have decided on a specific style of carpet, note the style name or number: It should appear on the carpet sample tag. Then contact five or six of the stores rated favorably on our Ratings Tables, and ask for their installed price for that style and your choice of padding. Let each salesperson know that you are calling several stores, and that they have only one chance to bid. Although stores will seldom stock the style you want, many will be able to get it from the factory. If you can't find stores that sell your style, ask the manufacturer for names of local stores that sell its carpets.
Get bottom-line prices for the entire job. Price quotes you collect should include—
Type and grade of padding;
Whether delivery is included;
Whether installation is included;
Who is responsible for moving furniture;
Whether take-up and removal of old carpet are included;
Whether installation of new quarter-round molding at the base of the woodwork is included, if you want it (this usually is an add-on);
Whether metal or wood strips are to be provided where carpet ends at doorways; and
Whether doors that don't clear the carpet will be cut down (many stores won't perform this service).
Beware of "free" offers. The cost of "free" installation is often built into the price of the carpet. You are likely to get a lower price for the carpet itself somewhere else where installation is not free. As previously noted, if the price of the carpet includes padding, check the quality of what's offered and, if necessary, find out if you can upgrade.
Beware of advertisements quoting prices by the room. The rooms envisioned by those ads are likely to be a lot smaller than yours. And there is a good chance that what you consider one room—an L-shaped room, for example—will be considered two rooms by some stores.
Our Undercover Shoppers Were Quoted Big Price Differences by Stores for the Same Carpet and Installation Work*
CARPET BRAND AND STYLE
LOW PRICE
AVERAGE
HIGH PRICE
Shaw Stylishly Soft
$3,451
$4,261
$5,192
Shaw Unrivaled Precision
$2,908
$3,625
$4,658
Dixie Bonterra
$3,499
$4,541
$5,557
Dixie Silken Thread
$3,556
$4,459
$5,630
Fabrica Accolade
$5,216
$6,438
$7,606
Fabrica Montrachet
$5,581
$7,005
$8,011
Mohawk Gentle Essence
$3,613
$4,497
$5,549
Masland Key West
$3,078
$4,076
$5,046
Masland Londonderry
$7,460
$8,647
$11,000
Tuftex Sasha
$3,281
$4,016
$5,289
Tuftex Izzy
$3,289
$4,280
$5,581
* Prices include 810 square feet of carpet, specified padding, installation, and take-up and removal of old carpeting.