Collect Proposals and Bids
Last updated in November 2015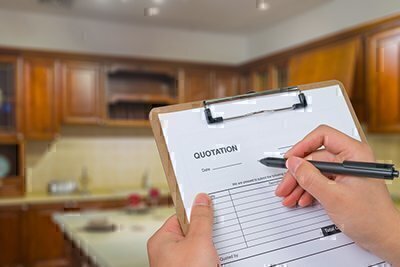 Provide your plan to contractors that check out, and ask them to submit proposals and fixed prices for doing the work.
Checkbook's mystery shoppers asked contractors to bid on two different projects. The first job was to expand and completely remodel a kitchen, enlarge and remodel an existing family room addition, and reconfigure other parts of the first floor to create a center hall. The other job was to completely remodel a master bath. As the figure below reveals, company-to-company price differences were striking. For the kitchen and great room expansion and remodel, quotes ranged from $113,000 to $205,000—a difference of $92,000. For the master bath remodel, prices ranged from $26,000 to $61,000—a difference of $35,000.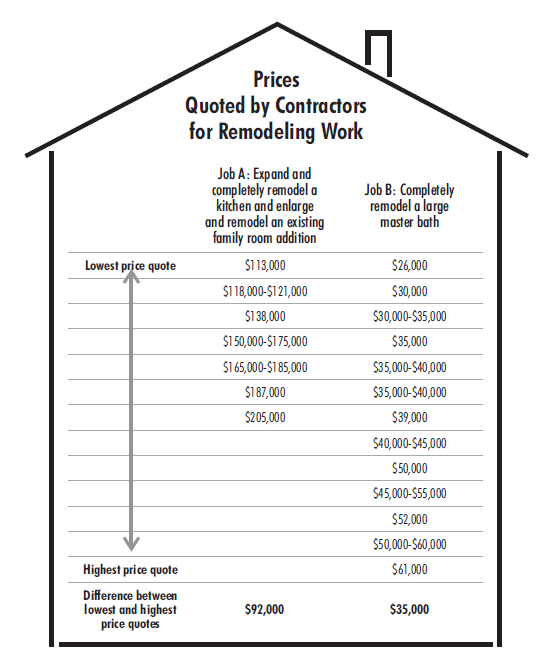 The lesson? Get several bids.
There's no firm rule as to exactly how many bids you should get. You can't know in advance whether each additional bid will be lower than others—it could be tens of thousands of dollars less or be higher. Get at least three bids; the more you can get, the better.
Don't assume that high-priced companies perform better work than low-priced companies. Our experience collecting tens of thousands of prices with dozens of types of home improvement services is that there is no relationship between price and quality. The best contractors are just as likely to charge low prices as lousy outfits.
Ask for and look for detailed pricing, which will let you compare proposed materials, products, and work. Even if you have plans that detail every facet of your job—down to the make and model of each faucet and the exact number of tiles needed for your backsplash—contractors often will propose to do at least some parts of the job differently and supply slightly different products and materials. Make sure that any differences meet your expectations and preferences—and that major components of your project weren't omitted from the proposal.
While you should expect companies to deliver binding proposals and price quotes for the work, most companies will insist on provisions for extra charges if they discover something unexpected after work starts—for example, inadequate insulation behind walls, rotten plywood under roof shingles, or asbestos tile underneath a few layers of flooring. Most contracts state that such extra work will be performed on a time-and-materials basis, which means that you'll pay separately for additional materials and labor. Get as much detail from companies up front on how much they'll charge: How much per hour for carpentry? For plumbing work? For electrical?
In addition to ensuring a low price, collecting multiple bids will minimize surprises. If Company A proposes to install a header and Company B does not, ask Company B why not. If it tells you it's probably not needed, ask it to add it to its proposal as an option and avoid a possible surprise cost increase later.
Another benefit of detailed pricing is that it makes it easier to calculate your savings if you scale back the job.
Keep in mind that if the plan you provide contractors isn't fully detailed with an exact layout, specs, products, and materials, remodelers likely will pepper their proposals with amounts they refer to as "allowances," which act as placeholders for materials and products that you've yet to select, along with the labor needed to install them.
Contractors also often use allowances for kitchen cabinets, appliances, countertops, and other products you'll choose later. A proposal may include, for example, three allowance amounts for cabinets depending on whether you decide on a premium, standard, or budget line. Before accepting a proposal, do what you can to nail down all these details so you establish a fixed cost for all parts of the job.
For items you can buy on your own, check prices with retailers to make sure you can't do significantly better, especially for appliances, cabinets, and fixtures. When calculating budgets and bids for customers, most remodelers mark up the prices they pay their retail and wholesale sources, sometimes by a lot. Click here for advice on the pros and cons of buying your own products; our advice on buying appliances provides advice on getting the best prices for appliances, which many remodeling customers buy on their own.
Proposals should also include descriptions of warranties, payment terms, lateness penalties, and many of the other items described in the section below.