Ways to Save on Groceries No Matter Where You Shop
Last updated in November 2015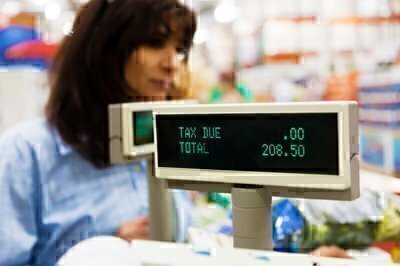 Whichever store you choose, how you shop will substantially impact your annual grocery costs. Consider the following tactics—
Plan your meals, make a shopping list, and stick to it. If meals are planned in advance, most shoppers are less susceptible to buying high-priced, low-nutrition impulse items. By planning ahead and making a list, you can save money on food. If planning reduces the number of trips to the supermarket, you save money on gas (and time).
List the 100 to 200 items you purchase most often in the order you encounter them in the aisles of your usual store. Many stores now let you research this at their websites. Print out copies of the list, or store it on a smartphone or other device you can take to the supermarket. Then, before each trip, mark the items on the list you need and add any items that aren't on the list. In addition to reducing the chances of forgetting something that will require a return trip, a list saves you time in the store. Because you will reach items in the aisles at the same time you reach them on the list, you will rarely miss items and have to backtrack.
Shop specials. Unless you have plenty of time, you won't want to pursue specials from store to store, but you may want to choose a store based on its weekly specials. More important, take full advantage of the specials offered by any store you visit. If an item that usually sells for $4 is marked down to $2, consider buying in quantity.
Keep track of what you throw away. Buying food that you dispose of adds significantly to food costs. Keep track of the types of food that spoils and buy less of it. Make a concerted effort to eat leftovers. And check expiration dates when shopping; if you keep perishable products for more than two or three days, buy items that have the most time left before their pull dates.
Cut down on convenience foods. You can save by washing and cutting your own produce, slicing and grating your own cheese, and making your own sauces. You can also save by avoiding products available in individual serving packets.
Go online for coupons. You can probably find coupons for most brand-name items online. Most manufacturers post printable coupons on their websites, and you can find even more on sites such as SmartSource.com, Coupons.com, and RedPlum.com. Some stores have websites and apps that let you load coupons onto your store loyalty card, eliminating the need to remember to bring coupons and have them scanned at checkout.
Avoid stores' spending traps. It's no coincidence that impulse items are located at the ends of aisles and dairy items at the rear—stores know that the more items you pass en route to what you need, the more likely you'll buy items you hadn't intended to get. As previously noted, making a shopping list and sticking to it will help.
Don't shop while hungry. Studies have shown that shoppers tend to buy more groceries when they're hungry.
Consider changing your overall eating habits. Eating less meat can save money and may help keep your weight down and stay healthier. Especially consider cooking ethnic dishes, which usually consist of much less meat than traditional American dishes.
Be flexible. Adjust your buying preferences and eating habits to take advantage of bargains. If a brand of ketchup you usually don't buy is on sale, consider trying it instead of your preferred brand. When beef prices rise and chicken prices go down, eat more chicken. If you had been planning to buy peaches but pears are on sale, consider changing your plans.
Try store brands instead of national brands. Keep in mind our finding that substituting store brands for about one-sixth of the items in our price-shopping market basket typically cuts grocery bills by about five percent. In blind taste tests we once conducted, store brands often were rated almost as high as, and sometimes were rated higher than, national brands.
Use per-unit pricing (for example, price per ounce) to determine which products offer the best value.
Calculate cost per serving, not just cost per pound. Some products generate more waste than others. For instance, bone-in roasts and chops provide two or three servings per pound while boneless meat provides three or four.
Check out items marked down for quick sale, such as day-old bread, extra-ripe bananas, and cans with damaged labels.
Select sizes carefully. Big roasts, hams, and turkeys usually have a higher meat-to-bone ratio than smaller ones. Large sizes of flour, sugar, rice, oil, and other storable staples also usually save you money. And milk is usually cheaper by the gallon. But small apples and bananas may be perfect for families with small children, and buying other smaller-sized items may save money by eliminating wasted leftovers.
Consider "regular" ground beef unless a very small difference in fat content makes a big difference to you. The lean component of "extra lean" ground beef costs considerably more than the lean component of "regular." In addition, research has shown that "extra lean" loses a lot of water and "regular" loses a lot of fat in cooking, producing an almost identical cooked product.
Buy inexpensive cuts of meat and learn ways to cook them.
When you want steak or chops, buy a roast. Beef rib eye roast and rib loin pork roast, for example, generally cost $.50 to $1 per pound less than the steaks or chops into which they can be sliced. Simply choose a roast and ask the butcher to cut it up for you. Most butchers are glad to provide this service for free.
Examine meat carefully before you buy. In a study we once conducted to assess waste in meats, one rib steak was 88 percent lean and another was 48 percent lean; as a result, the leaner piece cost 45 percent less per lean pound than the piece with more fat.
Compare sizes of item-priced fresh produce before you buy. In the same store, we have found heads of iceberg lettuce that weighed as little as 10 ounces and others that weighed as much as 29 ounces—both at the same price per head.
Compare prices of fresh, frozen, and canned fruits and vegetables. For example, green beans and peaches might be cheaper fresh in season but cheaper processed at other times.
Plan your menus and purchases by the calendar. Eat citrus when it is cheapest, in the winter; apples in the fall; tomatoes in the summer.
Choose size and quality to suit your needs. You don't need perfect fruit for a cobbler or whole canned tomatoes for marinara sauce.
Pay attention to nutrition and ingredient labels. They will help you buy brands of processed foods that don't have excessive fat, water, and other ingredients with little or no nutritional value.
Consider your travel patterns. If no lower-priced store is located near you, think about whether you occasionally drive near one. Even if you don't pass one of these stores every week, plan to shop there whenever you do.