Should You Buy Pet Health Insurance?
Because veterinary treatment can be expensive, especially when severe accidents or illnesses occur, subscribers often ask us whether they should buy health insurance for their pets. In the last decade, there has been much expansion of this business: More than 10 companies now offer policies. Some of these plans appear very affordable, but to fully understand what you're getting you have to read a lot of (sometimes hard-to-find) fine print.
Start by determining what you would do if your pet required expensive medical care. While many pet owners will pay anything to save their pets, others won't. If you are in the latter group, pet insurance may not be for you.
If you belong to the pay-any-price group, consider buying pet insurance if big vet bills would strain your finances. Keep in mind that, as is the case with any insurance, in terms of total out-of-pocket costs over the life of your pet, chances are you'll do better without insurance. As an alternative to paying pet insurance premiums, start a savings account earmarked for vet bills, stashing in it what you'd otherwise spend on insurance premiums.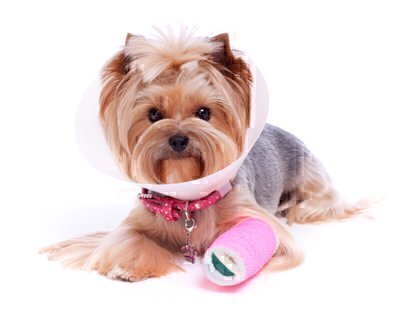 Of course, insurance policies also offer peace of mind. And many pet owners who have faced expensive vet bills for hospitalizations for dogs that swallow tennis balls or suffer from chronic pancreatitis will happily tell you that they're glad they bought insurance coverage.
Before buying pet health insurance, dig into plan details to carefully review provisions and limitations. We're working on a separate evaluation of available plans for a future article; look for it here and in our next Update newsletter. We're comparing a number of companies and policies, and finding that many of them are expensive, have big coverage gaps, and/or impose high deductibles, making it difficult for consumers to compare their real costs.
Don't choose a plan based solely on premium; a lower monthly cost may seem appealing—until you need to use the coverage. For example, for a three-month-old cocker spaniel, Nationwide offers a plan for $31 per month with a $250 annual deductible. For the same puppy, Trupanion and Healthy Paws each offer a policy with a $500 annual deductible for $38 and $40 a month, respectively. Although Nationwide offers a lower monthly premium and better deductible than the other two plans, it pays on a per-condition or per-procedure fee schedule, with preset amounts for each treatment that effectively cap its payouts, and the allowances are low compared to what vets usually charge. For instance, it will cover only $990 a year toward CT scans, significantly less than the typical cost of a single scan. If your vet charges a lot more than that for a CT scan, or you need more than one scan this year, you have to fork over the difference. On the other hand, although their monthly fees are higher, Trupanion and Healthy Paws reimburse a percentage of vet costs for accidents and illnesses with no annual or lifetime maximums, making their products much better deals—so long as you actually need to use the insurance.
When shopping:
Focus on plans that have high or unlimited annual payout caps. Some others charge $400 or more a year for coverage that maxes out at $5,000 in reimbursements.
Ask friends, family, and your veterinarian's office for their experiences and feedback.
If you're considering a plan that has a set fee schedule, print it out and ask your vet to compare his or her fees to the insurance plan's allowances. If the allowances are a lot lower than the vet's fees, find a different plan.
Compare coverage for congenital diseases, cancer, and preexisting conditions. Some plans cover treatment for these, but many don't. Also look out for waiting periods and physical exam requirements.
Consider enrolling when your pet is young to lock in a lower rate. Also, by signing up early, the plan can't deny claims based on a preexisting-condition clause.
You can usually get significantly lower premiums by choosing the highest deductible you can comfortably afford. For a similar monthly premium, it may be possible to get higher coverage percentages, say 90 instead of 80, by taking a higher deductible ($500 instead of $250 for example), which could work out in your favor.
Many plans don't pay for routine care, such as vaccinations, annual physical exams, behavioral problems, heartworm protection, flea control, spaying or neutering, and teeth cleaning. But don't pay extra for "wellness care" options offered by some plans. They're not worth the extra premiums.
Watch out for annual premium hikes. If your plan's premium increases suddenly, consider switching to a different plan—but remember that a new plan might not cover preexisting conditions.