Last updated November 2017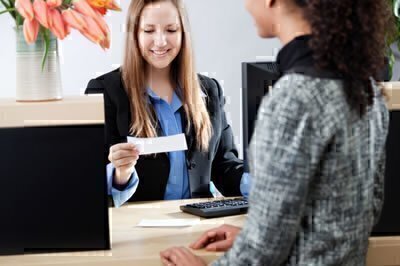 You may go for months without getting anywhere closer to your bank than its website, smartphone app, or ATM. But eventually you'll need a real person to help you change an account, handle an unusual transaction, report a problem. And just like the bank's automated functions, you want these service encounters to be convenient, pleasant, quick, and competent.
While many area consumers are highly dissatisfied with their banks, the news is not all bad: We've also found that you can still obtain high-quality service at some banks. Our Ratings Tables show the results from our surveys of area consumers (primarily Checkbook and Consumer Reports subscribers) who were asked to rate banks and credit unions they have used "inferior," "adequate," or "superior" on the following aspects of customer service: "knowledge of staff"; "speed of service"; "pleasantness of staff"; "convenience of hours"; "reasonableness of fee policies"; "clarity of written communications"; and "overall service." For each of these aspects of service, our Ratings Tables report the percent of customers who rated each institution "superior" (as opposed to "adequate" or "inferior"). We have reported results for all banks and credit unions for which we received at least 10 ratings. (For more information on our research methods, click here.)
As you can see, we found huge bank-to-bank differences in service quality. For example, for "knowledge of staff," some banks were rated "superior" by more than 80 percent of their surveyed customers while others received "superior" ratings for this aspect of service from fewer than half of their surveyed customers.
You'll notice from our Ratings Tables that none of the area's largest banks rates tops for service, and also that several small banks and credit unions got relatively high ratings. But not all small banks and not all credit unions scored so well. Even among the area's largest banks, there is substantial bank-to-bank variation.
Many banks received their lowest scores for "reasonableness of fee policies." With banks relying increasingly on special fees to boost profits, before opening a new account carefully review the bank's fees—and consider taking your business elsewhere if your current bank begins imposing unreasonable fees.
Our Ratings Tables also report our count of the number of branches each bank has in the area, and in which parts of the area the branches are located. Keep in mind that locations open and close frequently. Also be aware that at many credit unions, customers can use "shared branches" to make deposits and withdrawals, transfer funds, etc. When we made our counts of branch locations for each bank, we did not take into account shared branch arrangements.
In general, credit unions earn higher customer satisfaction scores than banks. Although some credit unions narrowly restrict membership, others have very loose requirements. For example, although Pacific Service Credit Union originally was set up for just PG&E employees, now anyone who lives, works, worships, or attends school anywhere in the Bay Area can join.