Options for Pet Care While You Travel
Last updated in November 2015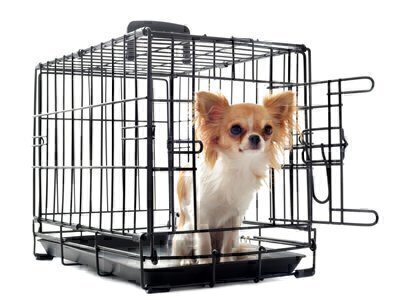 Before settling on a kennel, consider other alternatives.
Take Them Along
Traveling with your pet has several advantages. You'll share the experience with it, know it will receive loving care, spare it (and yourself) the stress of separation, and avoid the expense and inconvenience of arranging for a sitter or a kennel.
But taking your pet might not be possible. You might be traveling for work, for one thing, but even vacation lodgings may not allow pets; or your means of transportation may make bringing a pet impossible or prohibitively expensive. What's more, having a pet along may be thoroughly inconvenient. What do you do with the pet when you go out to dinner, to a museum, or to a ballgame, much less to a business meeting?
And there are risks. Pets may be terrified and injured if they are treated roughly by airline baggage handlers. Some have been left for many hours in airline handling areas or shipped to the wrong destinations. Dogs have died of heatstroke in airplane baggage compartments.
Other problems are possible, even likely, depending on your pet. If it comes along for the ride and isn't accustomed to car travel, it may become anxious and endanger humans by disturbing the driver. Your pet could also become sick, at least mildly, when it changes water supplies. Most important, if you don't keep your dog on a leash at all times, it may wander off, become disoriented, and be lost for good.
Finally, you can't leave your pet alone in a car, even briefly, without exposing it to a serious risk of heatstroke. If you want to take a dog along, check out the list of hotels and motels that accommodate dogs in the book Traveling With Your Pet, from the American Automobile Association. We discuss this option more fully here.
Friends, Neighbors, and Pet Sitters
Another option is to leave your pet with a friend, neighbor, or pet sitter. Having your pet stay with a friend or neighbor means that you'll know the individuals who will be caring for it, your pet won't be alone overnight, and you'll avoid some inconvenience and expense. But you can't be sure how skillful and careful a friend or neighbor will be. In addition to burdening a friend with the responsibility, your pet may get lost or injured trying to return to your home; the pet may suffer stress caused by separation from you and its usual environment; and it may become anxious and harm the friend's belongings, pets, or family members.
Having a pet sitter come to your home to check, feed, exercise, clean up after, and relate to your pet has significant advantages. Your pet stays in familiar surroundings, eats its usual food, and continues familiar routines (although the timing is likely to be different from when you're home). Your pet won't be exposed to illnesses or parasites it could pick up in a kennel, and it avoids the stress of staying in an environment with other animals. In addition, the sitter can provide services such as picking up newspapers and mail, watering plants, and making your house look occupied. And, of course, you won't need to burden a friend or neighbor with the responsibility.
But pet sitters, too, come with important disadvantages. Whether the sitter is from a commercial pet-sitting service or a youngster from the neighborhood, you can't be sure of the skill, knowledge, or diligence he or she brings to the job. You have to hope the sitter shows up when promised, even if weather or personal problems make this difficult. Unless you arrange for the sitter to stay at your home overnight, your pet will still be alone for long hours. Your pet might slip away to look for you or damage your home in reaction to being abandoned. If you use a commercial pet-sitting service, you give a stranger access to your home. And the cost of care—especially if rendered by a commercial service—can be quite high.
You can get leads on local pet-sitting services by checking our ratings and reviews from other consumers in our "Pet Sitters" section. Most of what we hear from pet-sitting customers is positive, but there are enough negatives to warrant a measure of caution.
Kennels
Like the other options, kennels have pluses and minuses.
Assuming everything goes right, your pet will be taken care of, and you won't have to worry about last-minute foul-ups. You can be sure that your pet will not be left alone. Serious health problems will be spotted and referred to a veterinarian. And you don't have to impose on anyone.
But using a kennel can be expensive and, if it's far from your home, inconvenient. Also, a stay in a kennel—if your pet isn't used to it—exposes the pet to the stress of separation from you and its familiar environment. Stress makes pets especially susceptible to disease, and proximity to other animals increases exposure to some kinds of health problems. Many kennels largely avoid these problems by employing caring, attentive staff and maintaining comfortable, clean, and stress-free facilities. But based on the astonishing number of serious complaints we receive from consumers, you need to exercise caution when selecting a kennel. The next sections will help you find a top-quality kennel that charges a reasonable price.