How to Find a Good Electrician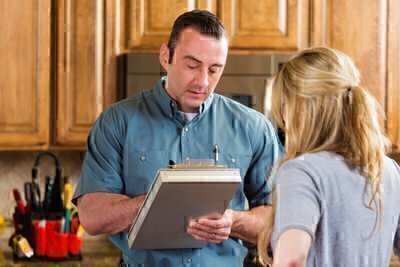 You'll save big by doing your own home-improvement work and repairs. But most of us are justifiably uneasy about fooling around with 110 volts and 15 or 20 amps of electricity. Electrical work is a dangerous task—and not only because of the shock hazards you can create while doing the job. If you do it poorly, you can also create potential fire or health hazards. Fortunately, we've found several good electricians in the area you can count on for help.
Some area electricians do shockingly bad work, attracting comments that often include the words "incompetent," "messy," "no-show," "overcharged," and "unresponsive." Of course, instances of lousy workmanship among home-repair services aren't exactly headline news. But sloppy work by an electrician can create dangerous—and potentially life-threatening—situations.
Fortunately, we've found several area electricians worthy of your trust. Our Ratings Tables include ratings from area consumers (primarily Consumers' Checkbook and Consumer Reports subscribers) for electrical contractors that received 10 or more ratings on our surveys. The tables show the percentage of each company's surveyed customers who rated it "superior" (as opposed to "adequate" or "inferior") on several questions: "overall performance quality," "doing work properly," "starting and completing work promptly," "letting you know cost early," and "advice on service options and costs." As you can see, there is major company-to-company variation in scores. Click here for more details on our customer survey and other research methods.
Our Ratings Tables also show counts of complaints we gathered from the Better Business Bureau (BBB) for a recent three-year period, the number of complaints on file with the Consumer Protection Division of the Illinois Office of the Attorney General for a recent two-year period, and complaint rates relative to the volume of work companies do. Click here for more information on reported complaint counts and rates.
Before authorizing any work, ask the contractor to provide proof that it carries both liability and workers' compensation insurance. Insurance companies readily issue such certificates. And make sure the company is licensed. By choosing a licensed contractor, you can use the threat of license cancellation as one form of leverage in working to resolve a dispute.
To compare companies' prices, our mystery shoppers called the companies listed on our Ratings Tables and requested price quotes for four installation jobs; the ranges of prices quoted are shown the table below. We used those prices to calculate a price comparison score for each company, shown on our Ratings Tables. The scores, which are adjusted so that the average for all companies equals $100, tell you how each company's quotes, on average, compare to the average price for all companies quoting on the same jobs. Thus, a score of $110 means a company's quotes average 10 percent above the all-company average. The price comparison scores can steer you to good candidates for reasonably priced installation work. But don't rule out companies with relatively high price comparison scores. In many cases, companies with high prices on some jobs have low prices on others.
Low, Average, and High Prices Quoted by Companies for Illustrative Electrical Work1
Description of job
Low price
Average price
High price
Replace a ceiling light fixture with a customer-supplied new ceiling fan
$125
$214
$375
Replace six wall outlet receptacles and one light switch with new outlets and wall plates
$78
$198
$330
Install a customer-supplied outdoor flood light
$65
$251
$391
Replace an outdoor outlet with a watertight GFCI outlet, installed inside a new weatherproof box
$110
$166
$307
1 Some prices were rounded to the nearest whole dollar. For each job, companies were given additional, detailed specifications.
Here's an important fact to keep in mind: You don't have to pay more for good service. The companies listed on our Ratings Tables that receive our top rating for quality were about as likely to charge low prices than the companies with lower ratings.
The key to getting a good price is to obtain several bids. For simple jobs, you'll be able to get bids by phone. For more complex jobs, an estimator will usually visit your home. Time invested getting at least two or three bids usually pays off, especially for large jobs. The second bid may be higher than the first, but as often as not it is lower. For example, getting two additional bids on the outdoor floodlight installation job we shopped would have, on average, cut the cost by about $75. For larger jobs, two more bids may save $250 or more.
Although it is always best to get a fixed-price bid, companies usually visit homes to provide free price quotes for only relatively large jobs; you can get bids by phone only when you know exactly what needs to be done. For many small installation jobs, and most repair jobs, you'll have to pay on a time-and-materials basis.
To give you an idea which companies are likely to be least expensive for jobs done on a time-and-materials basis, our Ratings Tables indicates each company's hourly labor rate and minimum charge for service calls. Keep in mind that hourly labor rates don't reflect differences in charges for parts and materials, and don't account for the speed at which different companies work.
When comparing hourly labor rates and minimum charges, check several details—
Does the company impose a minimum charge for service calls? If so, how much? How much time does it cover? Is travel time charged against this minimum? While most companies charge all customers the same minimum service fee regardless of where they live, it's a point worth checking.
Into what increments does the company divide its billing time (for example, quarter hours or half hours)?
How much does the company charge per time unit?
How does the company handle fractions of time units? (For example, does it round to the nearest half hour—either up or down—or always round up?)
How many electricians does the rate cover?
Does the company ever charge for a service call based on a flat rate rather than actual hours? 3