Options to Joining a Gym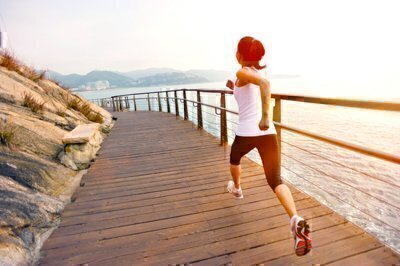 You had such good intentions when you bought that expensive recumbent exercise bicycle—so why are you only using it to stack magazines? You were also certain the "ab" contraption you bought—while sitting on your couch watching late-night TV and inhaling a pint of Ben & Jerry's—would make all the difference, but so far it's just a convenient footrest. Ring a bell? Well, at least you have plenty of company: The fitness industry thrives on good intentions.
Maybe the facilities of a health and fitness club—coupled with the financial commitment of membership—could finally provide the motivations you need to get fit and stay fit.
Our Ratings Tables will help you compare the quality, prices, facilities, and services offered by local clubs. But before joining the fitness-center club, first compare the costs of joining a club to the many other fitness options. A lot of fitness-club customers waste a lot of money on memberships they don't use.
Before joining a club, think about your own motivations and interests—and consider alternatives. Many consumers pay fitness clubs a lot of money for activities available more cheaply elsewhere.
In fact, most people can save money and meet all their fitness and recreation needs without joining private fitness clubs. You can do pushups, situps, and many other exercises at home for free. Walking, running, and biking are very inexpensive. A regular soccer or basketball game at a nearby park is not only inexpensive but probably a lot more fun than lugging weights around a smelly gym. For a one-time investment of a few hundred dollars, you can buy various types of home exercise equipment.
Local governments offer exercise facilities and programs. Recreation centers and local parks have cardiovascular fitness equipment, weightlifting rooms, tennis courts, swimming pools, aerobics classes, basketball courts, sports leagues, and much more—all free or much cheaper than comparably equipped private health clubs.
For example, the Fountain View Recreation Center in Carol Stream, which opened in September 2013, offers a 7,500-square-foot fitness center, indoor track, indoor pool, gym, and a wide range of group exercise classes plus free childcare. A one-year pass for adults costs $517 for residents ($583 for nonresidents). There are discounts for seniors, youths, and family memberships.
Elmhurst's Courts Plus is a large fitness center with facilities comparable to those at the best-equipped private health clubs: more than 70 pieces of exercise equipment, 38 strength-training machines, indoor pool, four-lane indoor track, six indoor tennis courts, an indoor climbing wall, and group exercise classes. Adult residents pay $502 per year after paying a $100 joining fee (discounts are available for senior, youth, and family memberships). You can also use the facility for a $10 daily rate or $55 monthly rate.
The Chicago Park District maintains hundreds of parks throughout the city, 72 with fitness centers, 28 with indoor pools (plus 14 Chicago Public School pools with community programs), and over 150 with gymnasiums. A one-year fitness membership costs $250 (or $80 for three months) and includes access to all the fitness centers in the Chicago Park District. A lap swim membership, which includes access to all of Chicago Park District's indoor and outdoor pools, costs $25 per month (or $40 for three months).
There are plenty of other government-run fitness deals. Seniors ages 50 and up can use the Arlington Athletic Club, inside the Arlington Heights Senior Center, for just $165 per year. Rosemont residents can use the exercise room at the Barry Recreation Center for free.
Even if you expect to eventually join a private health and fitness club, spend a few months trying the alternatives. That will give you a better idea as to whether you really are likely to stick it out at a club and which activities and facilities matter to you.