Last updated February 2007
If your house is designed with the garage door facing front, how that door looks has a big impact on how the whole house looks. If the garage door faces to the side or back, or possibly to an alley, looks may matter less to you, but choice of the right door is still important. You want durability, reliability, ease of use, easy maintenance, and security. If your garage is attached to your home, especially if there is living space above it, or if you use it for more than just parking and storage, you will also care about insulation and how quietly the door operates.
You have plenty of choices in doors—at very different prices. And you have many choices of companies that sell, install, and repair doors. We found companies that will sell a basic steel door for a single-car garage opening, fully installed with power opener, for less than $875. But we found other companies that would charge more than $1,400 for that same type of door. And you can pay much more if your tastes are at the high end: the highest quality custom wood doors cost more than $6,000 installed.
Repair or Replace?
Before replacing an old door, it makes sense to consider whether it can be repaired. Most companies that sell new doors also make service calls. You might be able to replace a door panel, spring, cables, rollers, hinges, operating motor, or other components, or repair bent tracks. Some of these jobs can be done by a do-it-yourselfer.
You might also be able to give your door a facelift with a fresh paint job.
Equipment Choices
If you decide it's time to get a new door, you will want to consider how it opens, its design, what it is made of, how it is constructed, whether it will have windows, what kind of opener it will have, what operating hardware it will have, and the color.
How It Will Open
The vast majority of residential garage doors sold today are roll-up sectional doors. These doors are made up of several long sections that run horizontally the width of the garage opening and that are hinged together. The sections are mounted with rollers on tracks at each side of the opening so that the door can roll straight up and back above the interior of the garage. It is possible to find single-panel doors that pivot out and up. But the roll-up doors dominate the market because they have several advantages, including being able to be opened if a car is parked directly in front of the door, allowing good vertical clearance inside the garage, and offering good safety features.
Design
While the basic opening system is the same in all roll-up doors, the look can vary dramatically. Some doors are designed to look like carriage house doors—so that from a distance it appears that there are two doors that are hinged on the side of the garage opening and that swing out from the middle. Others are designed to look like folding doors. Many doors are designed with frame and inset panels, but there are many other looks.
What They Are Made of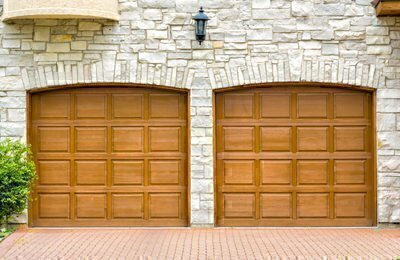 Wooden garage doors are popular primarily for their appearance. They can be manufactured to blend in to a wide variety of architectural styles and allow for an almost infinite number of painting and staining options. On the other hand, compared to doors made of metal, wooden doors are usually more expensive and are much more susceptible to weathering, meaning they periodically must be repainted or stained to prevent rotting.
Among wood doors, the premium models are constructed with solid wood components, rather than using a hollow-core construction with laminated wood. Hollow-core models aren't nearly as durable as solid-wood models.
Most garage doors sold today are constructed of steel. Although steel models don't offer the breadth of finishing options of wooden models, steel doors can be embossed with a coating that creates a wood-grain pattern.
A major benefit of steel doors is that they are almost always made with galvanized steel that is then clad in vinyl or has a baked-on finish, which, unlike wood, doesn't have to be regularly painted. (Most steel doors come with warranties that guarantee the doors won't ever rust—although these warranties don't guarantee that the finish of the door won't fade.)
With wood doors, it is assumed that you will apply your own paint or stain. With steel doors, many homeowners simply live with one of the factory-applied colors, which often include variants of white, tan, gray, dark green, and brown. But steel doors can be painted with latex paint to match your home's color scheme.
With steel doors, you can choose between insulated models, which are made with a Styrofoam or polyurethane core sandwiched between two thin layers of steel (sometimes the layer for the inside of the garage is vinyl rather than steel); non-insulated models, which are similar to insulated models, except that their cores are hollow; and single-skin models, which don't have a second layer of steel or vinyl on the inside of the garage (although some have an insulation layer).
A sign of quality in a steel door is the thickness of the steel layer(s). Premium doors use 24-gauge steel. Cheaper steel models use thinner material, possibly 28-gauge steel.
As a general rule, the thicker and sturdier the door, the more expensive it will be. What you get for that expense is greater durability—less chance of warping or bending and less chance of dents from soccer balls, basketballs, bicycles, and other moving objects. Thicker insulation also means better temperature control. And sturdy, well-insulated doors generally make less noise when being opened and closed.
In addition to wood and steel, there are aluminum doors—usually manufactured with a foam core. These doors are lightweight, can offer good insulation, and can be repainted. But they are generally less resistant to dents than steel doors are.
Finally, there are plastic doors—some made of high-density, sturdy material like the material used in truck liners. Plastic offers lightweight durability with no need for painting or other upkeep, and no risk of rot or corrosion. Also, they open and close very quietly.
Insulation
If your garage is not attached to your home, you probably won't care too much about the insulation properties of the garage door—unless you use it as a workshop or otherwise spend a substantial amount of time there. But if your garage is attached, and especially if you have living areas located above the garage, you'll want to buy a door with good insulation properties.
A door's R-value will give you a pretty good idea of how well it is insulated: the higher its R-value, the better its insulation. Single-skin steel doors typically have R-values of five or lower (meaning they'll pretty much just act as a wind-break and will offer very little insulation); insulated steel doors may have R-values of 10, 15, or higher. Solid-core wood doors usually have R-values between seven and 12. Again, thicker, sturdier doors offer better insulation, but cost more.
If you're looking to buy a door with good insulation, you'll also want to consider its weatherstripping. Look for doors that have thick weatherstripping along the entire bottom edge of the door designed to create a seal with the garage floor, vinyl capping along the sides and top of the door, and weatherstripping between each section of the door itself.
Windows
Most garage doors can be fitted with windows made of glass or plexiglass. There are many options as to shape of opening and as to how the glass or plexiglass is treated (including clear, frosted, tinted, or mirrored). In addition to their effects on appearance, windows offer the benefit of letting light into what might otherwise be a dark space. But windows, even fitted with plexiglass, are likely to make your garage a little less secure.
Opener Options
Just about all residential garage door openers are manufactured by two companies: Chamberlain and Overhead Door; the two companies market their products under the names Craftsman, Genie, and LiftMaster. Between the two manufacturers, you'll have about 16 models to choose from.
All garage door openers work by using a chain, screw, or belt to raise or lower the door. The least expensive, chain-driven models cost less than $200; the most expensive, belt-driven models cost more than $300. In general, the more expensive models operate more quickly and quietly than less expensive models, but in its tests, Consumer Reports found that just about all of the garage door openers it tested worked well and that a few high-scoring, relatively inexpensive models operated just as quietly and as fast as more expensive units.
Just about all of the opener models have a switch that lets you open or close the door from inside the garage, but only a handful of models come with a keypad that lets you enter in a code that will automatically open the door from outside the garage.
All models also come with safety devices, including an electronic "eye" that reverses a closing door if the light beam near the ground is interrupted, and also have a mechanism within the motor that automatically reverses a closing door if the door encounters an object that gives enough resistance (usually about 30 to 45 pounds of resistance). Because garage doors are so heavy, after installation you'll want to make sure these safety devices are working properly.
Operating Hardware
If your garage is attached to your house, and especially if it is below living quarters, you'll be interested in keeping down the noise of door openings and closings. Buying a sturdy, insulated door and a belt-driven opener will help, but you can improve the sound performance still more by paying attention to the hardware that the door will travel on when going up and down. Plastic rollers are less noisy than steel. Tracks that are made of powder-coated steel tend not only to look better but also to operate more quietly than tracks made of galvanized steel.
Hiring a Company
Replacing just an opener or making small repairs can be relatively simple, do-it-yourself tasks, but if you're having a new door installed or aren't mechanically inclined, you'll probably want to turn to a professional.
Our ratings of garage door installers should help you get started in your shopping efforts.
Most of the comments we've received for garage door installers have been positive—
"Arrived on time and completed the work in a very timely way. Great attention to detail. Even adjusted without charge a second garage door for which they hadn't been called. Pleasant and helpful providing advice on how to adjust door periodically for best service."
"Charged me $130 (on a Saturday) for what another firm was going to charge close to $1,000. Came back to fix a related but different item on a Saturday—NO CHARGE."
"They told me what to do so I could fix my garage door myself... They didn't make a cent. I spoke to two different folks and both were very helpful. They went out of their way to save me a service call."
As with most services we cover, however, there are also bad eggs that you'll want to avoid—
"Immediately after the servicing employees left, the garage door opener fell apart."
"A disaster from start to finish. The estimators (subcontractors) took three weeks to come out and measure the garage; then nearly two weeks passed before [the store] got the estimate... [The store] then told us we had to come to the store to learn more about the estimate. So we drove out...only to learn that [the store] doesn't have any garage doors that would fit our garage."
"Estimator low-balled estimate, then changed the price up by about 20 percent. Installation done first by new guy and had to be rebuilt."
"Stay away from this place! Had a broken pulley, which [the company] estimated over the phone would cost $65 to repair. However when the tech arrived three hours late the next day he wanted $1,100 for a complete garage-door rebuild. Went with [a different company] instead—they charged $110..."
One quality check you can make on your own is to ask about the warranties offered by the different companies you're considering. Most installers offer only one-year warranties for parts and labor (the garage doors and openers themselves are backed by manufacturers' limited warranties—for doors, typically 10 years, 20 years, or lifetime). But some installers will agree to provide a warranty with a longer term.
Once you've decided on the type of door and opener you want, shop for price. So long as you can describe in detail the size and specifications of the door and the opener you want, you should be able to get prices by phone. Our mystery shoppers called a sample of area garage door dealers/installers and asked them to quote their prices to install a single-car garage door and opening system (with a door opening measuring nine feet by seven feet). We told companies that they would be able to use the garage's existing tracks, and that we wanted them to supply their least expensive insulated steel door with an R-value of at least nine, coated with a baked-on, white polymer finish, with no windows. We also told each company we wanted it to supply and install the least expensive, chain-driven opener they offered, along with two remote controls. As you can see from the table below, the range of prices we were quoted was substantial, from $709 to $1,520.
Prices Quoted to Supply and Install a Single-Car
Garage Door and Opening System1

Best prices are in bold italics

A All Style Remodeling & Door, 104 Sunset Ln, Bolingbrook, 630-887-1080
$950
Able Garage Doors, 2912 S 11th Ave, Broadview, 708-453-8832
$1000
Ace Overhead Door, 20W480 Camder Dr, Downers Grove, 630-910-3030
$860
All American Garage Doors, 260 Cortland Ave 11, Lombard, 630-620-6500
$1120
Allied Garage Door Repairs, 712 N Ardmore Ave, Villa Park, 630-355-0900
$924
Arlington Garage Door, 132 W Northwest Hwy, Arlington Heights, 847-255-3939
$1020
Barrett Garage Doors, 411 Evergreen Ave, Bensenville, 630-782-6650
$950
Better Built Garages, 17350 S Cicero Ave, Country Club Hills, 708-799-9393
$1263
Consolidated Garage Doors, 1870 Suncast Ln, Batavia, 630-628-0628
$1068
Crosstown Garage, 5212 S Archer, Chicago, 773-284-1100
$1520
Doormaster Garage Door, 44W110 Hwy 20, Hampshire, 847-426-3030
$1015
Electric Garage Door Co, 266 W Lake St, Elmhurst, 630-834-0448
$1015
Fox Valley Door, 365 Woodbury St, South Elgin, 630-351-2288
$1050
Helson's Garage Door Store, 5737 S Harlen Ave, Chicago, 773-229-2082
$1070
Home Depot, 1919 N Cicero Ave, Chicago, 773-622-8860
$855
JMar Overhead Doors, 119 Butterfield Rd, North Aurora, 630-896-4800
$1027
LaGrange Garage Door Service, 960-B Weigel Dr, Elmhurst, 708-354-2318
$1020
Lowe's, 2630 N Narragansett Ave, Chicago, 773-413-5120
$709
Lowe's, 101 N Barrington Rd, Schaumburg, 847-230-6419
$871
Overhead Door Co, 34691 N Wison Rd, Ingleside, 847-215-7500
$1044
Premium Door Corp, 2436 W Wadsworth Rd D1, Waukegan, 847-625-9999
$870
Pride Door, 33 Bunkerhill Ave, South Elgin, 847-888-9773
$1020-$1045
R & S Garage Door Service, Aurora, 630-898-7276
$915
William H Wood Overhead Doors, 9311 S Kedzie Ave, Evergreen Park, 708-403-9663
$1445
1 Our shoppers asked firms to quote their prices to install a single-car garage door and opening system (with a door opening measuring nine feet by seven feet). We told firms that they would be able to use the garage's existing tracks, and that we wanted them to supply their least expensive insulated steel door with an R-value of at least nine, coated with a baked-on, white polymer finish, with no windows. We also told each firm we wanted it to supply and install the least expensive, chain-driven opener they offered, along with two remote controls. The firms were asked to quote prices without sales tax, but many of the firms were unable to deduct sales tax from their prices.