How Do You Hire an Estate Sale Company?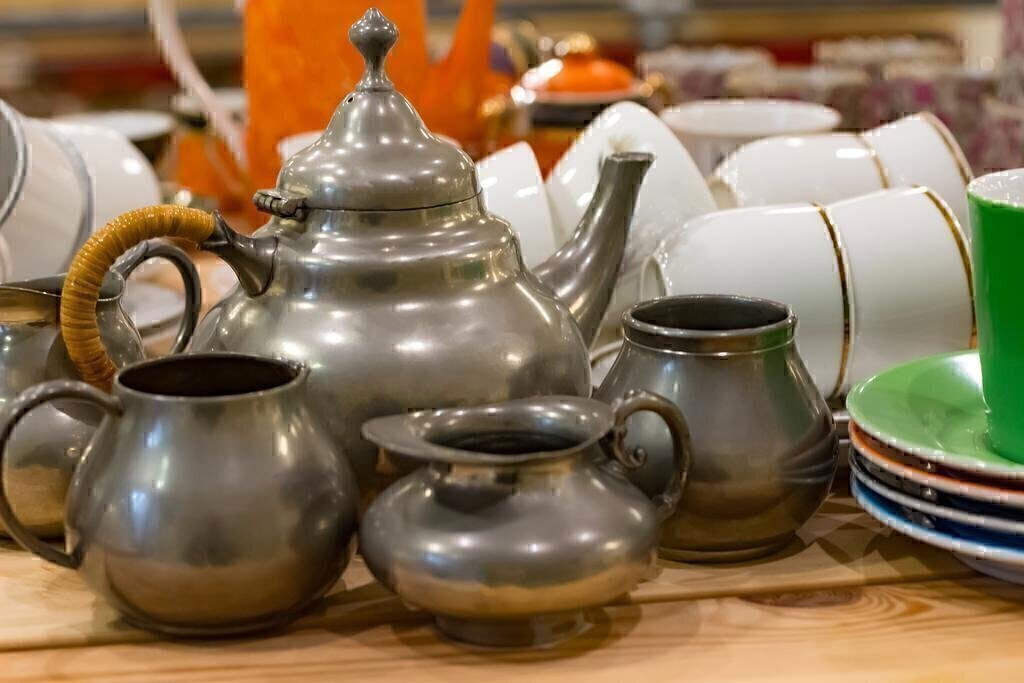 Whether because of death, downsizing, divorce, or, heck, you just decide to chuck it all and become a Buddhist monk, sometimes you need to unload a household's worth of things. Estate sales and auctions are the easiest way to do that, and both will earn you some money—though not as much as you might want. More on that later.
Despite its name, an estate sale isn't a grand event that happens only at the homes of royals or the richy-rich. Most take place at the house, cottage, or condo down the block.
At most events, over two or three days an estate-sale company (or, occasionally, a family member) presides over a jumbo tag sale with a goal of offloading the entire contents of the property. Furniture, art, dishes, clothing, and even unused rolls of toilet
paper are all game. The idea? Usually it's to liquidate belongings so that the family can settle the estate and get the property ready for resale. Sometimes it's to get rid of stuff after the homeowners have downsized. Either way, the point is to quickly shuttle a lot of stuff—and to make a bit of money.
Most estate-sale companies come in before the event to tag and price items, though a few operate on a "make-me-an-offer" basis. No matter the approach, almost all liquidators take a big cut of each item's selling price. That cut typically ranges from 30 to 50 percent, depending on the company, with most hovering between 30 and 40 percent.
Looking for a Liquidator
You want a company that will widely advertise your sale to bring in lots of buyers (remember, you get paid only for stuff that sells). The best outfits employ staffers with appraisal skills who can suss out whether Great Uncle Bob's wingback chair is a valuable antique or a wreck and determine if those old family diamonds are really cubic zirconias. Generally speaking, a home with $3,000 or more in furnishings, clothing, and other household goods is a candidate for an estate sale.
If you want to hire an estate-sale company, first check with professionals who often deal with death and downsizing: realtors, estate attorneys, and assisted-living facilities. It doesn't hurt to ask friends, neighbors, and community organizations that serve the elderly. We've added estate-sale businesses as a category here at Checkbook.org; if you've used one of these businesses, please help others by submitting ratings for it.
Some companies advertise membership in the American Society of Estate Liquidators and the National Estate Sales Association. Each lists members on its website. Although no certification program exists for estate-sale businesses, and some good companies don't bother joining these types of groups, membership might at least confirms that an outfit sees its work as a profession, rather than a side business.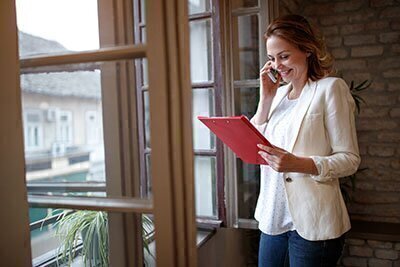 At the end of this article, we list the estate-sale businesses operating in the Chicago area that we identified from recent sales listed on EstateSales.org and EstateSales.net, sites where estate-sale fans—who range from antiques dealers to obsessive glass clown-statue collectors—often search for events. For each company we report the areas it serves; standard commission it reported to our undercover shoppers for a typical job; association membership; whether it conducts live auctions, buyouts, and online sales; and whether it offers consignment.
Also find out how long a given company has been in business, and how often it hosts sales. A long-running, busy estate-sale company is less likely to rip you off than a new business or an inexperienced individual.
Once you've found a few promising companies, check out how they advertise their sales on sites such as EstateSales.org, EstateSales.net, and Craigslist. Do their ads contain concise and catchy verbiage? Does the outfit run quality photos of items for sale? You're looking for a company that will promote your sale widely, take and use good photos to depict your stuff, and unload your items for as much profit (and as little trouble) as possible for you.
If you've got time, drop by a sale or two run by any company you are considering. Is the sale well-organized? Are staffers polite? Are there enough signs up on the roads approaching the sale? Do they secure valuable items?
Then call each company that passes your initial check. Ask questions on the phone and, if you like the answers, schedule an in-person meeting where staffers look over what you've got and answer additional questions.
Start by explaining:
Your situation (e.g., your grandfather is moving into assisted living and you need to downsize his personal property)
Your time frame
Your intention (sell entire estate or sell parts of it)
Condition of house and goods in the estate
Then ask:
Do I have enough stuff for an estate sale?
What services do you provide?
Do you charge a flat fee, collect a percentage of sales, or work on a sliding scale? What fees will I pay?
How long have you been in business?
How many sales have you conducted? How many in the past three months?
Are there additional charges for you to dispose of anything left over after the sale, whether donating it to charity, holding an additional estate sale, or taking it to the dump?
How and where will you advertise my sale?
How many people will see your ads?
How many people usually attend your sales?
Is the company insured?
How do you handle crowd control?
Do you have security on hand during sales?
Can you provide three references of families you recently worked with?
When will I get paid?
Do you clean out and clean up the house when the sale is over? (Most companies do, but get it in writing.)
Do you accept credit cards from buyers during the sale? If so, do you charge extra for it? Because credit card companies take a three-to-five-percent bite out of sales, many estate-sale businesses operate on a cash- or check-only basis.
Will you bring items from other estates to my sale? (This is common.)
Do you also run a consignment shop? (This can be a red flag. Some shop owners intentionally do lousy jobs at estate sales so they can sell the most valuable items back at their stores and keep all the proceeds.)
When you meet with prospective companies, show them which items you want to sell and which you want to keep. But if you're selling off the contents of an entire house, remove anything you want to keep before the meeting. This lets the company focus on what's up for grabs, rather than try to sort out what's unavailable.
Ask each company for a written proposal that indicates how it calculates its fees and estimates how much you'll earn from the sale.
Because when most estate liquidators evaluate a potential sale they look at both how much work it'll be and what kind of return they'll get, many operate on a sliding percentage-rate scale based on the sale's proceeds. A company that charges a 40 percent commission for smaller estates ($3,000 to $5,000) might charge only 30 percent for a large estate.
Minimum sale amounts and fees are also common; Checkbook's researchers were quoted minimums ranging from about $500 to $3,000. Some companies charge extra for clearing out the property after the sale, which might include housecleaning and junk hauling; others include these tasks in their fees.
Many estate-sale companies also offer other house- or estate-related services. Some will stage houses for sale; others moonlight as professional organizers or downsizing experts.
Once you've chosen a company, get a written contract including all the details from the points and questions discussed above. Then pick a date. Most sales begin on Thursday or Friday and continue through Saturday or Sunday.
Prepping for the Sale
After you've hired an estate-sale company, its staff will sort, appraise, photograph, and price items. They'll eventually arrange everything by room, by type, or, sometimes, on tables or racks they provide. The pros may deem some items unworthy to sell, too. You'll need to know what happens to those items as well as to unsold items at the end of the sale. Does the percentage or fee the company charges cover removal of unsold items, either to charity, another estate sale (a common practice), or a landfill?
Because many estate agents include clauses that prevent clients from selling items independently before their sales—and impose 50 percent penalties on customers who do—remove anything that's not part of the sale before you sign a contract. Also take out other things you don't want strangers handling; for example, identity documents, financial papers, family photos, and firearms.
To maximize profits, skilled estate-sale companies employ or call in expert appraisers to value higher-ticket items. Estate sellers sometimes send individual pieces of art or rare antiques to auctions if they think they will net more cash. If you have valuable collectibles or antiques, get in writing how the company plans to sell them.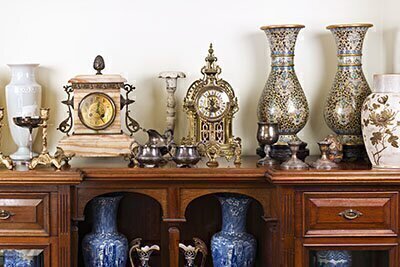 Don't throw out anything before the estate-sale company sorts through everything. If you've never experienced an estate sale, you may be dumbfounded by what sells. Buyers swoop up everything from unopened bottles of cranberry juice to broken toys to beat-up pots and pans. Liquidators usually tag and try to sell virtually everything; they don't want to accidentally dispose of some other guy's treasure. One estate pro told us about finding a museum-quality Louis Vuitton 1920s trunk in a dumpster behind an estate she was offloading. It went on to sell for more than $1,000.
Still, manage your profit expectations. Most items won't sell for anything close to the prices you or your relatives paid even decades ago. Tastes and lifestyles have shifted. Yep, in the 1970s Mom and Dad laid out a bundle for that giant, dark wood
Ethan Allen china cabinet. But millennials don't use china, and current furniture trends favor minimalism, lightness, and industrial cool. The stuff your parents or grandparents collected—snow globes, those creepy little Hummel figurines—may no longer be popular or valuable. But some items have held or increased their value, for example, Mid-century Modern furniture and accessories, gold jewelry, and some gemstones.
If the estate includes valuable jewelry, liquidators will likely bring in a locking glass case for security. If Cousin Stella left behind a slew of 1960s cocktail frocks, the estate sellers should hang them on clothing racks. Good liquidators will merchandise items to make the home look appealing and well-arranged, but if there's a large amount of stuff, or the space was crammed and dusty to begin with, don't expect an HGTV-like makeover.
A few weeks before the sale, the estate-sale company should start promoting the event via websites, via its own email lists and social media, and, sometimes, by advertising in a local paper or other publication. On sale days, the company should erect signs directing people driving through the area (and nosy neighbors) to the sale—random foot traffic is often a great source of buyers. If parking is tricky in the area, staffers may direct people to spots.
What Happens During the Sale
Steer clear of the house during the sale. Because most sales occur after death or illness, it might be hard to separate your feelings from the mountains of stuff you need to disperse. It can be painful to witness items that belonged to a loved one being bargained for, and your sentimental involvement may hinder your effectiveness.
Sales generally take place on weekends, often beginning on Thursday and ending Sunday. Buyers often queue up early in the morning; some liquidation companies hand out numbers, deli-counter style, to manage volume. Be sure you've hired a firm that has an orderly system for handling crowds, and ask what it does to ensure the security of both the property and the goods within.
Liquidators start out pricing items at close to what they think they're worth (but generally less than what they go for on eBay or Craigslist). Then, as the weekend (or day) progresses, estate sellers start slashing prices. For example, for a Friday-to-Sunday sale, many companies reduce prices by 25 percent Saturday morning, 50 percent Saturday afternoon, and 75 percent Sunday. Although written receipts aren't the norm, ask the company to at least keep a running tally of prices paid.
The Aftermath
After the sale, if you've hired a company to completely empty the property, you should return to a broom-clean house. Many companies include this service as part of their cut. Get in writing a detailed description of whatever arrangement you want. If you want to examine unsold items, also specify that.
Staffers will dispose of unsold items, either by donating them to charity, throwing them away, or selling them via another estate sale or at a consignment shop. Have it written into your contract that the company will provide an itemized list of donated or unsold goods for your tax returns.
Most companies disburse funds within two to three weeks after
the sale. It's crucial to specify a deadline for payment in your written contract. Although there don't appear to be too many dishonest estate-sale companies operating, you don't want to mourn both your loved one and the proceeds of their estate.
Other Options
Take It Online
Many estate-sale companies now offer online auction-type sales either instead of or in addition to onsite sales. Similar to eBay auctions, these sales accept online bidding and often require local pickup of goods. The idea? More eyeballs see your stuff when it's on the internet.
Many local estate-sale companies will host online sales; there's also a national outfit, Everything But The House, which operates online estate auctions in multiple cities across the country, including the Chicago area.
Online auctions are good options if the estate has a rural location, contains a lot of small valuable items like jewelry, or includes a specialized collection that would earn higher prices if exposed to a bigger audience—think a collection of vintage Star Trek memorabilia or hundreds of 1960s Barbie dolls.
Live Auctions
Some estate-sale companies will send out an item or two from your sale to auction; for example, a painting by a noted artist likely to fetch top dollar. If the home is in a rural area unlikely to receive foot traffic at an estate sale, an in-person estate auction is also a good option. Some experts recommend auctions for large estates, too.
Contract terms and fee structures of the various live-auction operators are similar to onsite estate sales. A sliding scale is most common, wherein the estate-sale company takes incrementally lower percentages as the overall sale amount increases. For example, if the grand total of the sale is $5,000, the commission paid to the estate-sale agent may be 40 percent; but if the total sale reaches $10,000 or more, that commission may drop to 30 percent. Some companies base commissions on the prices they get for each item, with lower-priced items subject to higher commissions, even if the overall sale is substantial.
In nearly all cases, you shouldn't have to pay an estate-sale company up front; it will take a portion of the sale proceeds as payment. Consultations should be free, and contracts should include the same details as for a conventional estate sale: photography, advertising, set-up, pricing, and security plus what you've agreed on for junk hauling and cleanup post-sale.
Get a Buyout
If time is too short to conduct an estate sale, go for a buyout, wherein you sell everything to an estate-sale operator. The buyer pays you an agreed-upon price for everything and then scoops it all up. The downside: You won't make as much money as you would in an estate sale.
Another option is to have a junk hauler get rid of everything. Don't do this unless several estate-sale companies recommend it. With cleanouts, you have to pay for the removal work—and then the company likely will then turn around and sell your stuff itself.
DIY
You can hold your own estate sale. However, most of us would find it difficult to price items, and, since most sales happen during big life transitions, it can be upsetting to sell your possessions or those of a loved one. If you host your own sale, you'll probably pull in less revenue; but since you keep all the proceeds, you might net more money.
If you choose to do it on your own, spend a lot of time researching prices at other estate sales and on Craigslist and eBay. Advertise your sale on EstateSales.org, EstateSales.net, Craigslist, and on neighborhood Listservs. During the sale, get help for crowd control, sales, and maintaining security.