Last updated January 2020
This Nail Gun for Hire
That ominous Kentucky-shaped water stain on your ceiling. The single tile that came untethered from your kitchen backsplash. A backdoor hinge with a mysterious, maddening squeak. There are likely several things around your place that need to be repaired, but often, you don't have the skills, tools, or time to keep your home from falling apart.
You can hire a handyman service and turn over your home's to-do list to an expert. The best outfits have workers who can fix just about anything, have the tools for an infinite number of tasks, and provide prompt, courteous service.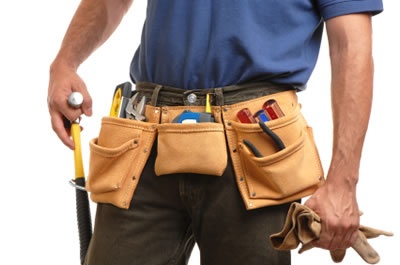 But Checkbook receives a lot of complaints about handyman services that do shoddy or incompetent work. Many consumers also feel they get overcharged for their jobs.
Looking for help? Here's advice for choosing a top-notch home helper—and steps to take to make sure you don't spend too much.
Make a list.
When you contact a handyman service, provide as many details as you can. Know that some companies won't perform some tasks, such as painting, while others avoid specialized work like electrical, plumbing, or masonry. Some services accept only small projects; others work only on multiday remodeling jobs. A list of tasks is also essential for getting a price quote or even a rough time estimate, and will help you determine whether companies will need to drop by to see the job and draft written cost proposals.
Ask about areas of expertise.
Workers often have strong backgrounds in some areas—say, carpentry—and know enough to do small jobs related to other trades. If your list consists primarily of projects related to one type of work, ask prospective companies if they have workers with expertise in that area. We get a lot of complaints from consumers who hire jacks-of-all-trades but get workers who don't have the knowledge or skill to complete work satisfactorily.
Other than for simple jobs, there's little reason to hire a handyman service to perform specialized work. If you need plumbing work, hire a plumber—or an electrician for electrical work, or a tiler for tiling.
Check ratings and references.
Ask friends, neighbors, and colleagues for recommendations. At Checkbook.org, we've done this work for you by collecting ratings and reviews from consumers we have surveyed.
Also ask companies for references from former customers who live near you, for jobs done within the past year, or with other particulars that force them to reach beyond standard sets of two or three satisfied customers (or relatives).
Check on insurance.
Anyone you hire to work in or around your home should carry general liability and workers' compensation insurance. General liability covers damages if, for example, a ladder smashes through your (or your neighbor's) window. Workers' comp covers injuries if a worker falls off a ladder. If the company doesn't have these coverages, you could be stuck paying claims.
Try to get a fixed price.
Some handyman services work on a fixed-price basis for all jobs, regardless of size; others provide fixed-price quotes, if requested, but sometimes for only medium-sized and large jobs; and still others work on only a time-and-materials basis, billing according to their hourly labor rate plus charges for items supplied.
We believe a fixed price is always preferable. Knowing in advance exactly what you'll pay eliminates the possibility of future disputes—and helps you shop around for a fair price. It's especially important to get a price commitment in advance for small remodeling jobs or other multiday projects. To save time, email or text pics of the work area—along with a detailed description of the job to prospective companies—and ask for price proposals.
If you can't get fixed-price quotes, at least nail down hourly rates and minimum charges.
Ask about companies' hourly labor rates and how many workers are included in the rates (some send two people to every job). Also ask about minimum charges. Many handyman services have minimums of two hours or more, and some tack on a half-hour of labor or more for travel time (most home services charge the same fees for travel time regardless of where customers live). If the jobs on your list can be done in an hour, don't hire a company that charges a three-hour minimum. Because many handyman services bill labor charges in one-hour increments, have a few optional jobs ready in case you need to fill up a worker's hour.
The table below reports labor charges for several increments of work (per worker) for a sample of area handyman services, collected by our undercover shoppers. There are big differences: For one hour of work, you can pay between $25 and $300; for six hours between $150 and $780. The table also shows companies' hourly rates.
The problem with using a company that charges on a time-and-materials basis, of course, is that some handymen work much faster than others. If you agree to pay on a time-and-materials basis, review your tasks with them as soon as they arrive, and ask them to commit to a final price.
Don't assume that paying a higher price buys better work; it doesn't.
When it comes to home repairs, you don't have to pay more to get more: We regularly find that low-priced companies are just as likely to do good work as high-priced ones.
Determine in advance who is responsible for providing materials.
Many handyman services charge for the time workers take to go out and shop for needed items.
If you are willing to buy and pick up the materials yourself, you avoid paying for shopping and pickup time. But you may find it inconvenient, strenuous, and time-consuming to haul a load of bricks, a few large sheets of plywood, or similar items. If the company will be doing the shopping and buying, get the company to commit to the time and cost for that task; some will agree that there will be no extra charge.
Agree who will be responsible for the cost of the materials.
Most companies will agree that they will give you receipts for all materials they purchase for your job and charge you only what they paid. An advantage of having the company make the purchases is that it may get contractor discounts.
Get it in writing.
A written agreement benefits both parties: The company gets to know the limits of the project, and you get to know what to expect.
When drafting an agreement, err on the side of being too specific. If a new French door is to be installed and painted, the agreement should stipulate the type of door, where it will be purchased, who will purchase it, whether it will be primed and painted and how many coats, the lockset that will be installed, whether the doorway will be weather-stripped, and that it will properly clear carpet or rugs when opened. Include language that work areas will be left broom clean, and, if possible, make material disposal part of the company's job.
Pay only when the job is complete to your satisfaction.
Avoid companies that require large deposits or advance payment. If your job requires a lot of materials, and the company is responsible for buying them, it's reasonable for it to ask you to put up a deposit. Otherwise, arrange to pay for all work only when the job is done. This gives you leverage to make sure work is done properly, and it's another reason why a fixed-price arrangement works in your favor: A set fee means a company can't charge for additional hours if it has to take extra time to correct errors.
Be prepared, and deal promptly with surprises.
Clearing work areas in advance will help get the job started right. Handymen are there to be handy, not to move furniture or clear cabinets.
Also, deal promptly with problems and, if necessary, ask for amended pricing. Essential materials may be unavailable; dry rot may be exposed, requiring more work than planned; outside work might be halted because of foul weather. Understand that no one can anticipate every possibility.