Finding the Best Appliance Fixers
The fridge stopped cooling, spoiling all the milk and meats from your latest grocery run. You press "start" on the washing machine, but it just sits there, full of dirty laundry, mocking you. And that burning odor wafting from the dishwasher during its drying cycle cannot be good. When your major appliances go offline, it can feel like a far-from-minor problem. (Hey, we need cold orange juice and clean underwear!)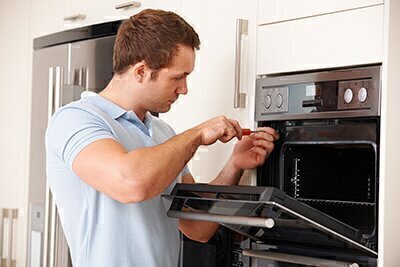 When you need relief pronto, our ratings evaluate local fixers for quality and price. If you decide to buy a new appliance, our ratings of appliance stores will help you find reliable stores that charge low prices. We also have advice if you're on the fence over the repair-or-replace issue.
Checking What Past Customers Say
Our Ratings Tables list the repair services that received 10 or more ratings in our surveys of area consumers. Our surveys on appliance repair ask customers to rate companies they used as "inferior," "adequate," or "superior" for "doing work properly," "starting and completing work promptly," "letting you know cost early," and "overall quality." We surveyed Checkbook and Consumer Reports subscribers, plus other randomly chosen individuals. Click here for further description of our customer survey and other research methods.
Our Ratings Tables report what percent of each company's surveyed customers rated it "superior" (as opposed to "adequate" or "inferior") on each survey question. They also report the percent of surveyed customers who rated each company "adequate" or "superior" (as opposed to "inferior") for "overall quality."
These ratings provide good reason to choose a service carefully. Several companies were rated "superior" overall by more than 90 percent of their surveyed customers, but some received "superior" ratings from fewer than half of their surveyed customers.
Checking for Complaints
Our Ratings Tables also show counts of complaints we gathered from the Better Business Bureau (BBB) for a recent three-year period and the number of complaints on file with the Consumer Protection Division of the Illinois Office of the Attorney General for a recent two-year period. Click here for more information on complaint counts.
Are You Better Off Hiring a "Factory-Authorized" Outfit or One That Specializes in Only a Few Brands?
You might expect that a manufacturer's authorization to perform, and be reimbursed for, warranty repairs would be an indicator of good service quality. But authorization to perform warranty work actually reveals little about a company's overall competence: Shops that perform warranty repairs are much less likely to perform appliance repairs properly than shops that don't.
This is because some manufacturers never check on the quality of their authorized shops, and few conduct more than occasional cursory reviews. In addition, shops not authorized to perform warranty work for any manufacturer generally don't sell appliances, and since their livelihood depends on service rather than sales, they have a strong incentive to perform quality repairs.
There's also a meaningful distinction between specialists and generalists. Repair services that work on only a handful of appliance brands can stock their trucks with a relatively large selection of parts. Furthermore, their technicians are likely to possess extensive experience servicing specific machines. But, as with companies authorized to perform warranty repairs, the expected advantages of specialization aren't reflected in our customer survey ratings.