Grocery Delivery: How Much Extra Will You Pay to Skip the Store?
Last updated September 2018
For 20 years and counting, dot-com pundits have predicted grocery delivery would be one of the next big online retail phenoms. Nonetheless, most of us still regularly schlep to the grocery store, wander up and down dozens of aisles, peer at every pint of strawberries and thump a dozen melons to find the best, forget something and backtrack six aisles, tell our kids "no" 200 times, wait in line to check out, load the car, unload the car.
Several companies, including Amazon and some venture-capital-well-funded companies are still betting that, just as the internet has taken over so many other consumer services, lots of us finally will start using computers or smartphones to buy our apples and zucchini. There are now more grocery delivery options than ever.
There for sure is a (so far slowly) growing market for grocery delivery. Some consumers view going to the grocery store as a chore and hassle, and delivery services can definitely save you a lot of time. And these services can greatly help those who can't get to local markets due to physical impairments or who lack transportation.
But there are several reasons why so many shoppers still spend a lot of time buying their groceries in person. Ordering online requires more foresight than popping into a store on the way home from work and demands somewhat more planning than wandering aisles and throwing what looks good into a cart. With most delivery services you must be home to greet your goods, which requires scheduling. Building a list of products you want to buy makes the online shopping part of the process a lot more efficient—just pull up your list and click the things you need—but that list-building is, at least at first, tedious. You must trust that delivery service personnel will select the best-quality produce and other products, and make the right call on substitutions when your choices aren't available. And most of the online options cost more than shopping yourself.
In theory, grocery delivery should benefit both retailers and consumers. Well-designed websites, along with high-tech warehouses and inventory control systems, would allow you to see a continually updated list of available items and prices, get organized by creating lists of things you buy, and bring it to you when you want it. They could send you special offers based on your purchase history, or even offer recipes and meal planning tips and ideas. But the big appeal for most shoppers is saving time.
Grocers could benefit from a shift to delivery because it would let them close stores and sell from just a few centralized distribution warehouses. That would save a lot on real estate and sharply consolidate their distribution networks, eliminating a lot of energy use. Fewer facilities would also let them combine bakery, meat cutting, and kitchens to make prepared-food items. Without retail stores, they wouldn't have to maintain attractive facilities, stock shelves, and display produce to appeal to customers. And in these specialized warehouses and distribution facilities, they could more efficiently keep perishables refrigerated or frozen.
But most delivery services haven't moved toward that type of centralized model. In most major metro areas, only Amazon and a few regional players like Peapod and FreshDirect work out of warehouses; Instacart and most other delivery services send their personnel into local retail grocery stores to walk up and down the aisles, select the items you order, and then bring them to you—hardly an efficient operation. While their shoppers might move through stores faster than you can (it helps that they're working from a finite, organized list and don't bring along kids to herd), these services in effect have only transferred from you to their workers the labor of picking out items at a store and driving them home. So, a potential big time-saver for you? Yes. But most charge a lot extra for it.
All the delivery services we checked charge delivery fees, mark up stores' item pricing, or both. The price penalty depends on which service you use and what you sign up for. The figure below reports for seven metro areas how grocery delivery services we evaluated compare for price. To compare their prices for groceries, we shopped delivery services using our market basket of 150+ items.
We started by comparing the prices we collected from delivery services to those offered in-store at several brick-and-mortar stores we surveyed in each of the seven metro areas. The figure reports how much more or less you'd spend with each delivery service, compared to the average prices we found at all surveyed local brick-and-mortar grocery stores.
We calculated how much you'd spend with each of the grocery delivery services per month for groceries that would cost $200 per week in-store at an "average" grocery store. Then we added in each delivery service's extra fees, assuming our hypothetical shopper would place orders once a week. Finally, we added a 10 percent tip for each order.

You can see that there are often big cost consequences to hiring someone to do your shopping. In general, where available, Walmart and Shipt from Target were price winners.
Walmart has tried out several delivery models in pilot cities, and its latest foray is a partnership with companies like DoorDash, which is a restaurant delivery business. Walmart store employees assemble grocery orders and the delivery service's drivers pick up and drive them; you pay Walmart's low in-store prices, plus a $9.95 delivery fee. While this arrangement offers low costs, so far, in most metro areas, Walmart's delivery service area is small.
Shipt is also undergoing rapid changes after being acquired by Target late in 2017. While it offers low prices compared to most of its competition, we unfortunately found the site very clunky and difficult to use: It often doesn't include product details (exact sizes, ingredients), and, unlike other sites, lacks filters and sort functions that let us narrow or sort choices by brand, type, or price.
Almost all of the other delivery options we shopped came with a price penalty. For groceries that would cost $867 a month at the "average" brick-and-mortar grocery store, our estimates for delivery services typically cost more than $200 a month more—with some services, we'd pay more than $1,400 a month.
The 1,000-pound gorilla of grocery delivery, of course, is Amazon, which with its purchase of Whole Foods has accelerated its expansion into the supermarket scene. In many large metro areas, it now offers both its Fresh and Prime Now services. To use either, you have to first sign up for Amazon Prime ($119/year); to join Fresh, you also have to pay $14.99/month. All orders with Fresh are fulfilled at an Amazon facility. With Prime Now, you can choose Amazon or a nearby store (in most areas, so far the local option is usually just Whole Foods). Our research finds Fresh offers lower prices than Prime Now, which will make up for its monthly fee if you buy a lot. As Amazon continues its take-over-all-retail strategy, we expect it will offer more options and features—and possibly lower prices.
Instacart is listed several times in our price comparisons because it works somewhat differently than the others. Rather than procuring groceries from one store or warehouse, it lets customers choose among many different chains, where it will send a shopper-driver to find the items you ordered, check out, and bring them to you. So, you could make one order for Whole Foods and another for Wegmans or your favorite local chain and yet another for Costco (each trip would be treated as a separate order).
Instacart has partnerships with some of the grocery stores it uses; store personnel at some stores do the shopping and Instacart handles only the delivery. But most grocery stores it uses just put up with Instacart's workers coming in and shopping for clients.
We found that Instacart and a few other delivery services add a big markup to the prices you'd pay on your own in-store. For Instacart, that markup is typically smaller than the others at its partner stores. Often, the markup is significant: In our shopping, Instacart's markup at Safeway in the San Francisco Bay Area was 20 percent; at Harris Teeter in the Washington, DC, area, it was nearly 40 percent; at Costco in the Chicago area it was 34 percent, enough to wipe out Costco's big price advantage. Instacart also adds a five percent service fee to each order; that fee isn't a tip, it goes to Instacart.
Several of the services drive up your costs by charging high delivery fees. For example, in some areas, Safeway charges as much as $12.95 per delivery for popular time slots. With many, you can pay a membership fee to get unlimited free deliveries—for example, with Instacart you can pay $5.99 to $11.99 per order or $149 per year. If you order often, you'll save a lot by joining. (In our cost comparisons, we assumed our shopper would choose the least expensive option for delivery fees.)
We also added a 10 percent tip to our hypothetical weekly orders. If that's more or less than you'd tip, then adjust our estimates accordingly. Some services accommodate tipping better than others; with some, there's no way to do it while ordering, so you have to tip with cash. Some companies say their drivers are not allowed to accept gratuities; we didn't include tips in our estimates for those.
On the quality side, the table below reports results from our recent limited survey of Checkbook subscribers. We asked them to rate services they had used as "superior" (as opposed to "adequate" or "inferior") on several aspects of service. The table reports the percent who gave "superior" ratings. The scores are combined ratings from subscribers in all of the seven metro areas where we publish Checkbook; we report ratings for the companies that received at least 10 ratings. Note that for Instacart we report all the ratings we obtained for it; because it shops at several different chains, each with different buying standards, these scores for product quality issues aren't as meaningful as for the other services.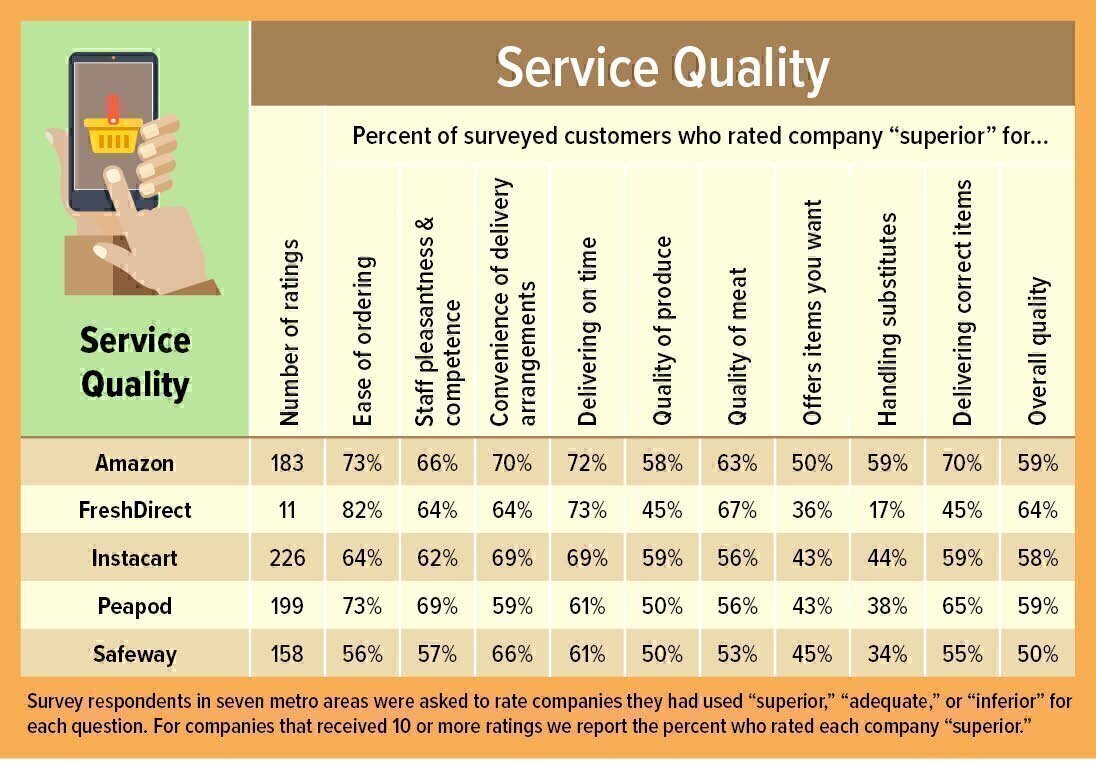 Surprisingly, none of the services were rated highly by their surveyed customers, but none of them received notably poor ratings, either. We'll update these ratings as we continue to collect survey results for grocery delivery services.
Keep in mind that grocery delivery options are changing rapidly—a few went online or disappeared while we were doing our price research and writing this. By the time you read this, more changes likely occurred.
In addition to higher costs, we found other drawbacks when trying out grocery delivery:
Selecting produce and meat—You might not like having someone else select your produce and meat. This is where the delivery service's quality standards are key. When we tried out multiple services, we were often disappointed at the quality of produce we received: About half the time, they bought several items that were rotten, squashed, or frozen.
Missing items—If you're shopping and the store is out of an item, you can usually find a substitute. With most delivery services you tell it whether to pick a substitute or bring your order without that item; some even let you leave a note for each item for your shopper. But ratings we receive for delivery services and our staff's experience is that in general orders are too often brought with missing items. Using a delivery service is no time-saver if you have to trek to a store anyway.
You must make a list—It's really inefficient to shop online without setting up a list of items you want to buy. Making a list—and sticking to it—is something you should do to avoid forgetting items and to minimize impulse purchases even if you shop in-store. But if you don't have it in you to make even a sketchy list, delivery services probably aren't for you.
You have to schedule—Some of the services can leave shipments in coolers if you're not home, and most will deliver at night or on weekends. That's not so bad if the service offers wide choices regarding delivery time, short delivery windows, and prompt service, but not all are so accommodating. When scheduling, our shoppers sometimes found the most convenient delivery times (nights, weekends) weren't available for several days out.
On the other hand, one thing we really liked about shopping online is that it drastically cut back on impulse buys. And, again, delivery services give the gift of time.
Some stores offer online ordering with at-store pickup. You still have to be able to stomach the planning and list-making process, but you don't have to be home for deliveries, and you can check the quality of produce and meat before leaving the store. We didn't price out these types of arrangements—we just didn't have time to do everything—but several Checkbook staffers love this hybrid option.