Last updated December 2017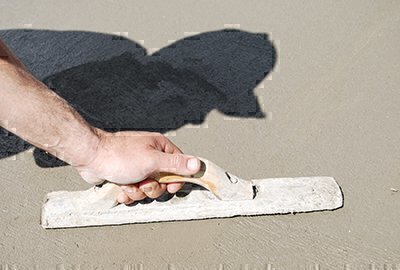 The latest trends and technical innovations in concrete mean it's no longer just the stuff of sidewalks, driveways, patios, and the like, and no longer limited to an elephant-gray hard surface underfoot. You can now install polished concrete as the floor of your family room or kitchen, and get an almost indestructible poured concrete kitchen countertop that screams Brooklyn loft. And thanks to new colored varieties (Red rock orange! Fieldstone gray!), higher stone content, and cool shapes, you can often put down that aforementioned patio (or pool surround) and have it resemble a Roman stone terrace or cobblestoned British lane—at a fraction of the cost of real stone.
If you're handy, you can purchase cement pavers or tiles and do many jobs on your own, such as a small back patio with pavers inset into a gravel base. More complex undertakings involve either busting up old concrete (jackhammer or sledgehammer required), and pouring and building up a new slab. You can rent equipment or arrange for a pour from a concrete truck for these tasks, but most of us will want to hire a concrete contractor rather than go the backbreaking-labor route for big jobs.
A concrete pro should be able to minimize disruption to your property (particularly important with indoor jobs), get the job done quickly, and, hopefully, ensure that the new hard stuff doesn't crack under pressure, heat, or human folly. They should know to watch for problems like discoloration, curling, and scaling, and show up with their own equipment, kid-attracting mixing truck and all.
Before seeking out your pro, determine what sort of project you have in mind, and do a bit of sleuthing. Consult our customer reviews (we survey Checkbook and Consumer Reports subscribers, plus randomly invite other homeowners to participate). Check out companies' portfolios so you know if you've got a fancy pool paver company or just a couple of guys and a truck who specialize in carports and sidewalks.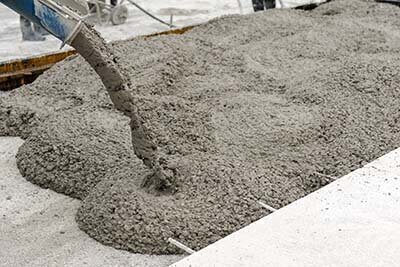 Draw up a list of possible contractors and ask them lots of questions. Go over your plans and ideas with them, and ask about their experience with your type of job. Then check references. Ask past customers if the company suggested money-saving solutions, if the work was as attractive and as well done as expected, if it stuck to its agreed-upon prices, and whether it minimized the Dreaded Three Ds: dust, dirt, and disruption.
To protect your finances against big damage claims, ask companies for proof that it carries general liability and worker's compensation insurance.
Get at least three fixed-price bids, but the more the merrier. You'll get a very wide range of pricing for the same job among
equally qualified contractors. And don't assume there's any relationship between how much you spend and the quality of work you'll get. We find again and again that even the best home improvement contractors often charge low prices. The only way to make sure you don't pay too much is to get several bids.
Once you've chosen the best candidate, get it in writing in a formal contract that covers everything from payment terms to deadlines to who will be doing the work. It should also include a description of the work (preferably with drawings), the depth to which the concrete will be poured, start and end dates, and a warranty on work and materials, preferably one that lasts several years. Concrete is a finicky beast: Sidewalks can crack, water can leak through seemingly solid walls, and other bizarre things can happen. You'll need to let the project settle, sit, and encounter different weather before you can be sure it and the workmanship are rock-solid.
Arrange to pay as little as possible until the work is finished and you are satisfied with it. Avoid contractors that require large deposits or payment in advance. If your job requires a lot of materials, it's reasonable to pay a deposit against these expenses. But paying for everything or almost everything at the end gives you max leverage in making sure the work is done properly.
Deal promptly with problems and, if necessary, ask for amended pricing. Understand that no one can anticipate every possibility. If problems are encountered, work with your contractor to seek middle ground to reach a solution.