Last updated November 2022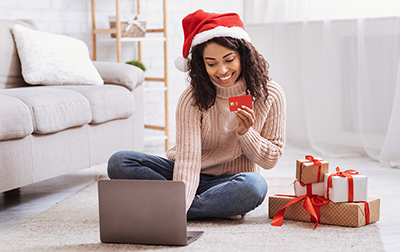 While the term "retail therapy" indicates some find shopping a gratifying task, others grumble at the very thought of scouring the internet or trekking to a mall or big box store to buy the stuff they need. Whether shopping brings you joy or pain, here is a roundup of our top tips for saving money and avoiding hassles.
Most Sale Prices and Discounts Are Bogus
Most sales and discounts posted by retailers aren't real deals. Consumers' Checkbook's researchers spent 33 weeks tracking sale prices at 25 major retailers and found that most stores' discount claims aren't really discounts at all, but attempts to mislead. And the shady sales practice is worse than ever before.
Even if a retailer promises savings of 60 percent or more, it's probably a marketing gimmick, not a genuine discount—and likely not the lowest available price. Before buying, shop around to make sure you're not overpaying. Fortunately, there are a few easy ways to do that.
Compare Prices
There are dozens of smartphone apps and websites that can help you shop for the lowest prices quickly, including Honey, PriceGrabber, ShopSavvy, and Yahoo! Shopping. Amazon's price-checking tool is integrated into its mobile app. And we find CamelCamelCamel, which tracks price histories of items sold by Amazon for the past year, is often helpful with identifying how low an item's price might go on that site.
A quick internet search will usually help you determine if a store is offering a low or high price. Also check prices offered by the store's main competitors (for example, Lowe's/Home Depot and Target/Walmart).
None of these search options work perfectly; we're often frustrated by false leads. But we find that by spending a few minutes using these tools usually results in big savings.
Be a Promo Code Pro
When making purchases online, you'll often see spaces where you can enter a promotional or coupon code. These spaces may as well be labeled "Hey! Here's free money!" Do an internet search for discount codes for the site (for example, search for "Lands' End discount code"). There are several websites that try to track these deals; we most often check CouponCabin, RetailMeNot, and SlickDeals.
While we sometimes find only expired deals or false leads, we still think the few minutes of effort is worth the potential savings. We recently cut 40 percent off a photo order from Shutterfly; saved $20 off a $100 Foot Locker buy; and snagged 40 percent off at Gap. We almost never shell out for shipping because there are so many codes that offer that for free. And many sites will let you stack coupons for even greater savings and/or free shipping.
Ask About Special Discounts
If you're a senior, military or veteran family, teacher, student, or first responder, check whether you qualify for a special discount. Some retailers only allow these discounts for in-store purchases, but others apply the discount to online orders after a verification process. New Balance, for example, is offering a 25 percent discount to verified members of the military, first responders, nurses, teachers, college students, hospital employees, and government employees until the end of the year. Older than 55? Check The Senior List for a roundup of discounts available to you.
Try Cash-Back Shopping Portals
As we discuss in our article on cash-back shopping portals, many online retailers pay referral commissions to businesses that send them customers. Online shopping portals, including BeFrugal, CouponCabin, Rakuten, and MrRebates give their customers a cut of those funds (anywhere from one percent to 40 percent of the shopper's total purchase amount). Adidas was recently offering 15 percent cashback via Rakuten; Nike was offering 10 percent. Especially when combined with the store's coupons, that extra coin can make a significant difference in your total spend.
You must click through to the retailer's website via the portal's website (or install the portal's browser extension, which most of them offer, to connect automatically). Most portals let you simplify things—and remind you of available rebates—with the extensions and mobile apps that tell you when there's cash back available as you visit websites.
One of our favorite features of the cash-back services we use is that they keep track of stores' promo and coupon codes and automatically apply those discounts as we add items to our carts. Sometimes one portal will offer a better rebate than others. Before making a big buy, we check with CashbackMonitor, which aggregates offers for various rebate sites and reports the best current payouts.
Get Social
Connect with retailers on Facebook, Twitter, and Instagram and sign up for their promotional emails, which retailers use to share discount codes and other deals. Many stores offer one-time discounts of 10 to 25 percent when you agree to sign up for their email lists. Have more than one email address? Sign up with another address the next time you're ready to buy.
If the retailer has a frequent customer program, join it. You may qualify for special offers, like free shipping and birthday discounts. Following style bloggers and Instagram influencers can also pay off when retailers partner with them to offer special deals to their followers.
Keep an Eye on Your Snail Mail
It may seem passé, but many retailers are still hit mailboxes with catalogs and coupons. The trick is to avoid temptation for things you don't need and only save the ones you know jibe with your shopping list. If there's a coupon code, snap a pic with your phone and trash the catalog to avoid a junk pile.
Ask for a Price Match
If you're shopping in-store, and find a lower price elsewhere, ask a salesperson or cashier for a price match. Many stores will honor lower prices offered by their competitors, and we find most stores make it quite easy to do.
Don't Snooze on Price Adjustments
Keep an eye on retailers' sites for a couple weeks after you've shopped to see if prices have dropped. Many stores will refund the difference. Check polices on websites, some stores offer an adjustment within seven days of purchase, some 30 days or longer.
For example, Target has announced an extended price adjustment window for the 2022 holiday season: Oct. 6 until Dec. 24.
Play Your Cards
You can usually get a big one-time discount for your first purchase made with a retailer-issued credit card, and with some you continue to get smaller regular discounts or rebates every time you use their cards.
For example, Target's Redcard offers a five percent discount on all purchases, free two-day shipping on most items, early access to special events and promotions, and an extra 30 days for making returns. Amazon's Prime Visa earns five percent cash back at Amazon and Whole Foods Market; two percent for dining, gas, and drugstore purchases; and one percent cash back elsewhere. Credit cards offered by Gap companies (Gap, Banana Republic, Old Navy, Athleta) give a 15-to-35 percent discount off your first purchase when you open a card account, then five percent rebates when you use its card at its stores. Customers who have the Visa versions of the company's cards also get a one percent rebate on all purchases made elsewhere.
But before signing up for a dozen retailer credit cards, know that each application will trigger an inquiry on your credit report, and might negatively affect your credit score. Even more important: Most store credit cards charge very high interest rates (routinely 25 percent APR or higher); avoid these high interest rates by paying the bill in full each month. And compare any rebate programs with those offered by other cards. Click here for more advice on choosing a credit card and websites that help you choose the one best suited to your needs.
Think Twice Before Signing Up for Buy Now, Pay Later Offers
Buy now, pay later (BNPL) is relatively new to the retail scene, offered as a convenient way to pay for gift purchases. The basic model for retail purchases is simple: Buy what you want and pay back the loan in equal installments, often without interest.
As we've reported, while BNPL is marketed as a smarter, more consumer-friendly way to pay, these point-of-sale loans can lure you into buying things you can't afford. Sellers offer BNPL because they've found these arrangements help them close deals, but most consumers who sign up for these plans don't really know how they work.
Not all BNPL offers are the same; check the terms and conditions before using a service. Most BNPL loans have late fees, which in some cases, may be reported to the credit bureaus and damage your credit history. It's important to find out how that company handles late payments before you sign up.
Very important: BNPL loans lack the consumer protections that apply to credit cards. If you buy something worth more than $50 with a credit card, and it does not arrive, or the quality is unsatisfactory—and you've tried to resolve the issue with the seller—you can dispute the charge with the credit card company. You don't get the same protections on BNPL transactions.
Consider Gift Cards and Experience Gifts
Most of us have too much stuff. You can avoid gifting potentially unwanted items—and eliminate the pressure of shopping during the crazy holiday shopping season—by buying gift cards and experience gifts (yoga passes, cooking classes, hotel or airline gift cards, massages, museum memberships). Services you can provide also make wonderful presents (for example, a coupon for babysitting or a homemade meal). Want to make the gift feel extra special, even if it's a certificate or card? Wrap it beautifully, and possibly include a small, practical item to go with it, such as tennis balls to go with a certificate for lessons.
Go Local
The pandemic was tough on small businesses. Supporting local merchants is a win-win: You'll feel good about keeping your dollars in the community, and you'll help local businesses succeed. In addition to brick-and-mortar shops and restaurants, check out craft fairs, holiday bazaars, farmers' markets, and independently owned salons and spas for gift cards. Small Business Saturday is November 26, and many businesses will offer specials to shoppers.
Beware of Shady Sellers
If prices seem too good to be true, they are. Scammers love to lure shoppers via text and email with offers on hot and tough-to-get items. Do your homework before buying from third-party sellers on large sites like Amazon, Facebook, and Walmart; we sometimes find they make returns difficult, and we have heard complaints about products arriving late or not at all.
Spot a great deal? Make sure the seller has tons of positive reviews and check for complaints on file with the Better Business Bureau.
Protect Yourself by Paying with a Credit Card
When you pay with plastic you get strong consumer protections. If you're a victim of fraud, get a defective item or service, or otherwise encounter problems that the seller won't put right, you can dispute the charge and likely will get your money back.