The Hustle: Many Pet Insurance Premiums Skyrocket as Pets Get Old
You might consider buying pet health insurance to protect your beloved cat or dog with affordable, lifelong medical coverage.
But a Checkbook investigation has exposed a fundamental flaw in most accident and illness plans that eventually renders them neither affordable nor lifelong. Here's the problem: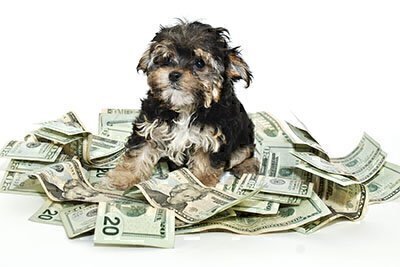 Most buyers sign up for insurance when their pets are young and monthly premiums are low. But four or five years after you buy insurance for your puppy or kitten, the premiums most companies charge start to aggressively rise—purely because the pets get older. Sooner or later, the price becomes unaffordable.
How unaffordable? Take a male mixed-breed dog insured by Pets Best in Philadelphia. His premium as a puppy would be $28 a month, but by age eight that more than doubles, to $66. By age 12, it ratchets to $119 per month. That's more than $1,400 per year—enough to make his owner howl.
Thus, over nearly 13 years, that tail-wagging $28-a-month premium grows into a rabid $8,944 in total premiums.
Those age-based premium increases do not include future veterinary price inflation, which will likely add yet more to your monthly pet insurance bill.
And more's the pity for folks who own pure breeds. When we checked premiums for a selection of breeds as puppies and at age 12, ASPCA Pet Health Insurance quoted us $64 and $207 for a beagle and $76 and $244 per month for a Dogue de Bordeaux.
We also found thumbscrew pricing at several insurers: Nationwide—the largest pet insurer—and other smaller national players, including AKC and PetPartners (both brands are underwritten by the same insurer); Embrace, Figo, and Petplan. Age-based premium hikes imposed by these companies varied from carrier to carrier within a wide range, from up 155 percent to up 330 percent for our example puppy as he grew through age 12.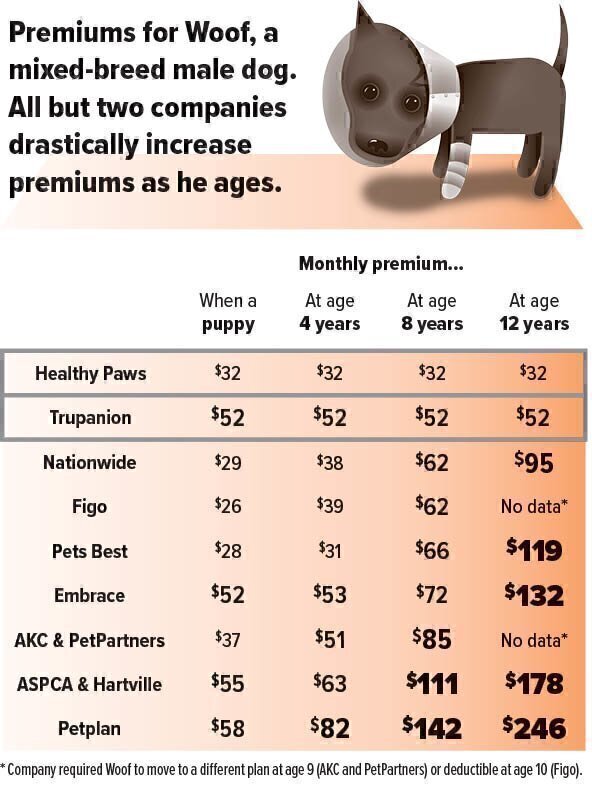 However, we did find two companies that don't raise prices as pets age: Healthy Paws and Trupanion.
You may be more than a little miffed to learn that pet insurers know all about this ticking time bomb: At most companies "premiums are generally low during pet adolescent years and sharply increase as the pet ages," Trupanion told the Washington State Office of the Insurance Commissioner in a 2016 required rate filing that few pet insurance consumers will ever see. "Policy owners do not often expect this and are likely to lapse [cancel] the policy when this occurs," the filing says.
Consequently, the average policyholder insures not for the life of their pet but for only three years, Trupanion's filing says. That puts most pet insurance plans in an entirely new light, one that makes them look like a product that's guaranteed to break your heart.
That's because pet insurance is sold and bought with emotional appeals to "pet parents." Buyers are seduced into signing up for insurance that will pay for all the most advanced veterinary medical treatment now available for animals— such as MRIs, hip replacements, laparoscopic surgery, heart operations plus surgery, chemo, and radiation for cancer, which can cost thousands. Buyers also want to avoid the heartbreaking decision to euthanize their pride and joy should he or she fall seriously ill or injured. That's understandable, super-caring, and sweet. And insurers do pay up when claims come in.
But then many plans' rising premiums badger pet parents to pull the plug on coverage. That's a cruel twist, because once they cancel, their animal child is again at risk to economic euthanasia—which defeats all the good intentions that drew them to the initial purchase.
So why buy pet insurance in the first place if you're only going to get skunked?
That's only the most damning potential deal-breaker you should consider before buying it; this special report details others. But if you still want to buy the promised peace of mind, our report will help you make a fully informed decision and provide the advice you need to shop for the best deal possible.