Last updated December 2021
Manufacturers of vehicles, electronics, appliances, and more are making it tough for independent shops and DIYers to make repairs. Shouldn't you be able to get stuff you own fixed where and how you want?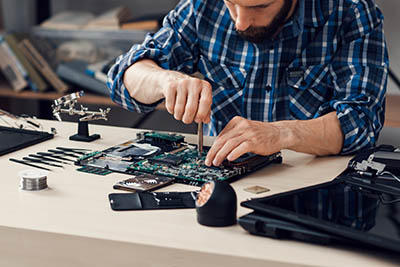 Justin Grimes of Peabody, Mass., enjoys tinkering with his electronics and vehicles. But lately the IT professional and former computer repair shop owner says it's getting too difficult.
He can't fully retrieve the diagnostic repair codes from his Ford F-150 pickup. It took him four hours to replace a cracked screen on his former boss's Microsoft Surface laptop; six months later, when the battery failed, it took another seven hours to replace that. Both the screen and battery had been glued into the computer, requiring surgery-like precision to replace them without breaking something else.
Grimes also hates that replacing the keyboard on one model of Apple's MacBook Pro involves removing more than 50 screws, each of which easily can be stripped.
"Everywhere you turn, you run into more of this," said Grimes.
Manufacturers are erecting numerous roadblocks to repairs: complicated designs; warranty restrictions; limiting access to parts, manuals, and repair tools; and even threatening to sue individuals and companies that post schematics online or sell inexpensive "unauthorized" parts.
Many manufacturers are forcing their customers to pay for expensive fixes using their own repair centers or "authorized" service partners that must use parts made by the manufacturers, not third parties, which restricts trade and increases manufacturers' revenue.
Because repairs are overly complicated, expensive, or too difficult to obtain, many consumers give up and buy new phones, computers, and even cars. Goods that could have provided years of service get tossed.
Right-to-repair advocates say some of these practices violate federal laws; others, they say, are legal but in many cases shouldn't be.
In what could be a significant victory for advocates, in mid-November 2021, just as we were finalizing this article, Apple announced it would launch a self-service repair program that would allow its customers to purchase some parts from it and provide access to its repair manuals. Advocates told Checkbook they were awaiting more details to determine if the program is useful.
Are Manufacturers Breaking the Law?
In July 2021 the Federal Trade Commission (FTC) announced it would ramp up efforts under existing laws to pursue companies "that make it extremely difficult for purchasers to repair their products or shop around for other service providers to do it for them."
"Restricting consumers and businesses from choosing how they repair products can substantially increase the total cost of repairs, generate harmful electronic waste, and unnecessarily increase wait times for repairs," the FTC said in announcing the initiative.
The action came just days after President Biden, as part of an executive order promoting more competition in the U.S. economy, called on the FTC to act.
In May, two years after opening an inquiry into the issue, the FTC sent a 56-page report to Congress detailing the many ways manufacturers make it difficult for consumers to repair products themselves or to use independent shops.
Many manufacturers likely violate federal law by threatening to void warranties if customers don't use the companies' authorized facilities for repairs, maintenance, or upgrades, or if they install unapproved parts. Unless a manufacturer foots the bill for repairs, these types of warranty limitations are illegal unless a waiver is first obtained from the FTC—and it has never granted one.
There are many reasons you might want to repair something still under warranty at an independent shop or via DIY. The warranty might not cover your problem, such as a cracked phone or laptop screen. Even if the item is eligible for a free warranty repair, you may find that there's no authorized service center nearby or that you'll have to wait weeks or months for a fix.
But federal law hasn't stopped some manufacturers from trying to compel customers to use their authorized service centers. In 2018, and again in April 2021, public advocacy group U.S. PIRG announced the results of its examination of warranties offered by dozens of appliance manufacturers. In most cases, it found warranties voided coverage for consumers who performed DIY repairs or had products serviced by independent shops. When U.S. PIRG found unclear specifics in the warranties it reviewed, it asked the companies' customer service representatives, and in most cases they were told such repairs weren't allowed or received conflicting, confusing information.
For example, the Waterpik warranty U.S. PIRG reviewed says: "If product is opened/disassembled for ANY reason warranty is VOID." Similarly, the lifetime limited warranty from a VacuMaid system cautions: "The warranty will be void if service is provided by anyone other than an authorized VacuMaid dealer using VacuMaid replacement parts."
The warranty for Mr. Coffee products states: "Do not attempt to repair or adjust any electrical or mechanical functions on this product. Doing so will void this warranty."
In 2018, the FTC sent letters to ASUS, Hyundai, Microsoft, Nintendo, and Sony warning them not to continue requiring product owners to use specified parts or manufacturer-approved service providers to maintain warranties. Some companies placed stickers over openings or seams that declared if they were broken, warranties would be voided.
Nathan Proctor, senior director of U.S. PIRG's Campaign for the Right to Repair, said such practices are unacceptable: "We need a competitive environment where the best service gets the job. When we don't have that, things go really badly for consumers. It drives up waste; it drives up cost; it reduces convenience."
Controlling Customers
Companies also use several perfectly legal tactics to steer their customers toward buying parts they make or using their own shops or franchise partners for repairs.
Some have refused to pay for a covered repair even if the customer had no choice but to use an independent repair shop. That happened to the owner of an LG refrigerator last year when two local authorized repair shops told him he'd have to wait a month for warranty service to fix a failed compressor. He posted in an online customer forum that LG refused to reimburse him after he paid an independent service more than $700 to fix it.
Manufacturers also interfere with independent and DIY repairs by withholding parts, manuals, tools, and product software and updates.
Dwayne Myers, who owns four auto repair shops in Maryland, pointed to three recent cases from just one of his facilities in which he was forced to refer customers to dealerships: twice when his scanning equipment couldn't read the trouble codes on a Mini Cooper and GM pickup truck; another when he couldn't acquire the tool needed to repair a Kia's engine timing issue.
Myers said he's troubled by the increasing number of vehicles, including some Volkswagens and Volvos, that require factory scan tools just to turn off oil change reminder lights, which otherwise usually requires pressing a button. "They are only doing it because they are trying to control the service," he said.
Right-to-repair advocates say Apple is notorious for interfering with independent and DIY repairs. The company has even threatened to sue those who post online its service manuals or circuit schematics, said Kyle Wiens, CEO of the self-repair website iFixit, a recipient of one of Apple's lawsuit threats.
Apple disables functions in some iPhones when they sense repairs were made with non-Apple parts or by unauthorized technicians, said Wiens.
Louis Rossmann, a right-to-repair activist and owner of Rossmann Repair Group in New York City, said Apple will not sell him parts, even though he has specialized in fixing its products for 13 years. He said he feels like a drug runner, relying on Apple suppliers to sell him parts on the sly and hoping for product information leaks. "I rely on the kindness of strangers: a stranger that's going to make a chip available, a stranger that's going to make a schematic available, a stranger that's going to make a screen available," he said. "I would like the ability to buy that screen from a legitimate broker."
Rossmann said the parts he obtains from unapproved sources sometimes don't work. That drives up his costs and prices.
He has refused to enroll in Apple's independent repair provider program, which it launched more than two years ago to allow independent shops to purchase Apple parts under certain conditions. He said the program has too many restrictions and that the parts Apple makes available are too limited and too expensive. Its program requires him, for example, to purchase an entire computer LCD screen for hundreds of dollars rather than just the failed screen component, which would cost far less. That kind of restriction, he said, makes many repairs almost as expensive as buying a new device.
Rossmann said he fears Apple will do the same thing with its recently announced self-service repair program. The company has promised to make commonly requested parts—including displays, batteries, and cameras—available to owners of its iPhones 12 and 13, beginning in January 2022. Apple said it will later expand the program to include additional parts for those phones and for Macs equipped with M1 chips. The program will also provide access to repair manuals.
Rossman said he was waiting for Apple to disclose the complete list of available parts and its prices before judging whether the program is a real breakthrough or "just virtue signaling" to preempt recent efforts by Congress and the FTC to impose right-to-repair rules. "I've been down this road before," he said.
Proctor of U.S. PIRG said he too is awaiting further details. But he said Apple's announcement amounts to an acknowledgment that its previous statements about restricting access to parts and manuals over concerns about security and quality of work from DIY and independent shops (see "Manufacturer Pushback," below) were overblown.
Creating Repair Obstacles by Design
Companies also design products to be difficult or impossible to repair.
"Intentionally complex product designs, such as the use of specialized screws, the excessive use of glue inside of a device, or hard-soldered components, can limit the physical repairability of products in the first place," the Brookings Institution reported in a blog post after the Biden order.
Apple infuriated some users in 2009 when it began replacing ordinary Phillips-head screws on some devices with pentalobe ones, which couldn't be operated by commonly available tools. On the iPhone 5, those screws were used only on the outer case, an obvious attempt to control access to inner workings, said Wiens.
In a filing with the Australian Productivity Commission, which also has been examining the right-to-repair issue, iFixit noted the rare tri-point screws used on Nintendo's products, Amazon's use of similar tri-wing screws on its Fire TVs, and Sony's security torx screws on its PlayStation 4—all fasteners that most consumers lack the tools to loosen.
An increasing number of computer manufacturers are soldering memory cards and storage drives onto motherboards, making it impossible to repair or upgrade devices.
For Samsung's popular Galaxy S20 Ultra smartphone, iFixit reports: "Every repair starts with painstakingly ungluing the fragile glass rear cover," and "replacing the glued-down battery is tougher than ever, especially with board interconnect cables to work around."
Right-to-repair advocates acknowledge that sometimes a design change that impacts repairability is due to the manufacturer's effort to improve the product—perhaps to make it lighter, thinner, waterproof, or easier and cheaper to produce.
For example, in a submission to the FTC, Microsoft said the batteries that it glues into some devices are flexible "pouch" cells that lack rigid material that can be screwed in place. It said this eliminates unnecessary bulk, allowing the company to use more powerful batteries.
But Wiens insists that innovation doesn't have to come at the expense of repairability. He pointed out that later versions of Microsoft's Surface Pro are far easier to fix than earlier models. Wiens said some manufacturers go even further by designing products that are meant to be fixed and upgraded by their customers, such as the Framework laptop and Fairphone smartphones; each was awarded a rare iFixit "repairability score" of 10 out of 10. To access the battery for a Framework laptop, iFixit said, "all you need to do is disconnect it and loosen three captive screws."
Along with creating repair-unfriendly designs, another legal way that manufacturers entice or even compel customers to use their parts and service is to include statements in manuals, technical service bulletins, and elsewhere discouraging or even disparaging the use of aftermarket parts and independent shops. For example, a statement in a 2017 Hyundai owner's manual makes no reference to customers' right to have an independent shop change engine oil or do the task themselves: "Have engine oil and filter changed by an authorized Hyundai dealer," it says.
One Bosch clothes washer warranty ominously warns: "For safety and property damage concerns, Bosch highly recommends that you do not attempt to repair the product yourself, or use a nonauthorized service provider; Bosch will have no responsibility or liability for repairs or work performed by a non-authorized service provider."
Enacting Fair Right-to-Repair Requirements
Consumer advocates, including Checkbook, are calling on the federal government to pass right-to-repair laws compelling manufacturers to allow product owners and independent repair services access to the same manuals, tools, parts, diagnostics, and other resources they make available to authorized repair facilities.
"The right to repair gives consumers choice; it gives them convenience. It can extend the useful life of their products, and it can reduce unnecessary waste," said George Slover, senior policy counsel for Consumer Reports.
Right-to-repair legislation spurs strong opposition from manufacturers and their trade groups in the states where it has been proposed. Despite resistance from most automakers, in 2013 Massachusetts enacted major right-to-repair protections. Passed with overwhelming support from voters, the law required automakers, starting with the 2002 model year for passenger cars, to make available to independent shops and owners the same diagnostic repair tools and information they provide their dealers.
In 2014, fearing a possible deluge of similar state laws, two automaker trade groups signed a memorandum of understanding with automotive aftermarket parts and service companies agreeing essentially to observe the requirements of the Massachusetts law nationwide. Starting with the 2018 model year, the agreement required automakers to provide third parties with computer access to their onboard diagnostic and repair information.
In 2020, Massachusetts expanded its 2013 law to include a capability that had been excluded from the original law and automakers' commitments to parts manufacturers. The new requirement would force manufacturers to offer car owners and independent shops access to vehicle telematics, a technology by which diagnostic information is transmitted wirelessly to and from vehicles to repair shops and automakers. Independent auto repair shops say they need that information to properly diagnose and repair modern cars and trucks.
Manufacturer Pushback
Automakers are challenging in court Massachusetts' new requirements to share telematics technology, arguing, in part, that the measure doesn't safeguard against hacks of critical vehicle components. The National Highway Traffic Safety Administration (NHTSA) has raised similar concerns.
Similarly, manufacturers of other types of products that use wireless communication—appliances; fire, smoke, and carbon monoxide detectors; smart thermostats; and more—say those products too could be more vulnerable to intrusion if they're required to provide independent repair shops and DIYers access to their wireless technology.
The threat of illegal intrusion into critical vehicle components clearly is a concern. Researchers have, on hundreds of occasions, demonstrated they can remotely access vehicle systems to unlock them and even control throttles, brakes, and steering.
So far, we haven't yet seen an entire fleet of cars disabled by bad actors or widespread hacks attacking critical vehicle components. And it's not clear that giving independent repair shops and vehicle owners access to the operating software would exacerbate risks of cyberattack.
Manufacturers also say staff at their own facilities or authorized repair shops typically undergo specialized training and have accountability to the manufacturer if they do shoddy repairs.
"We believe the safest and most reliable repair is one handled by a trained technician using genuine parts that have been properly engineered and rigorously tested," Jeff Williams, Apple's chief operating officer, said in 2019.
Manufacturers also advocate using replacement parts made by themselves or their licensed partners. They often cite rechargeable lithium ion batteries as a leading safety issue. Using a bad or wrong battery can cause thermal runaway, resulting in fire or even explosion.
Similarly, in a document filed with the FTC, Microsoft reported that it regularly sees serious product overheating and other safety issues caused by incorrect power supplies, including at least 12 cases involving its Surface laptop.
Another concern is the improper repair of components used in the vehicle advanced driver assistance systems (ADAS) that provide blind spot detection, adaptive cruise control, rear cross-traffic alert and emergency braking, among other safety benefits.
In a technical service bulletin issued in January 2020, GM disavowed aftermarket, reconditioned, and salvage bumpers on vehicles with ADAS sensors, saying they might keep safety systems from functioning properly.
The FTC hasn't been impressed by the manufacturers' arguments, either. It says manufacturers failed to provide evidence that repairs performed by third parties are any less safe, or that independent shops are any more likely to compromise or misuse customer data. In fact, it says there is "scant evidence to support manufacturers' justifications for repair restrictions" overall.
"By not making parts and manuals available to individuals and independent repair shops, and not including information in these manuals about the dangers of particular repairs, manufacturers may be exacerbating the very safety concerns they have raised," the agency reported to Congress.
By limiting access to information about their products, manufacturers are smothering innovation, says Peter Mui, the electrical engineer behind Fixit Clinic, where volunteers help others fix their own stuff. He said having more data makes it easier for third parties to develop improvements. Someone might, for example, make a battery that's better than the original. "Imagine all the innovation that's stifled in [manufacturers'] efforts to preserve the little moats around their products," he said.
Data collected by Checkbook disagree with manufacturers' assertions that their factory-authorized repair services do better work. For more than 45 years, our surveys of auto repair customers have found that, on average, independent shops receive considerably higher ratings for doing work properly and overall quality, compared to new-car dealers' service centers. The same is true when we've asked for ratings of appliance repair services: Factory-authorized companies receive far lower marks than independents.
Independents not only tend to offer better service and results, but also lower prices. When our undercover shoppers collect prices for carefully specified repair jobs, we consistently find that factory-authorized appliance services and car dealerships on average charge higher prices than others.
What You Can Do Now
As the debate continues, there are actions you can take to reduce the chances you'll be unfairly limited in how and where you can repair your own stuff.
Research Before Buying
Because some products are designed in ways that make them far easier to repair or upgrade than others, find out which models you're considering are easiest to fix.
Think about how you'll use a product, especially an expensive one. How difficult is it to maintain? Will it need an upgrade or would you bother to repair it if it breaks? If it's a computer, for example, will you ever need to expand the memory or replace the rechargeable batteries? Find out how easy the product is to work on and whether parts are readily available and reasonably priced.
There are many sources of info, including the product manual, often posted on the manufacturer's website. If the manual warns that the item has no user-serviceable parts, that might be a product you should skip.
Using an internet search, you'll probably find user forums for the particular brand or type of product you're considering. Peruse the discussions and post questions.
Before purchasing a smartphone, tablet, or laptop, consider the score it received from iFixit for repairability.
Also, read the warranty. Federal law requires sellers to make it available before you buy. Review what it says about any effect self- and third-party repairs may have on the coverage. If it isn't clear, call the company's customer service for clarification. (If the company says that a self- or third-party repair automatically voids the warranty, file a complaint, urges the FTC.)
Considering buying a particular car or truck? "Talk to your repair shop. It probably will give you guidance on new cars and what their experience is," advised Aaron Lowe, senior vice president of regulatory and government affairs for the Auto Care Association, which represents the aftermarket auto care industry.
Of course, selecting reliable products will help to avoid the need for repairs. Before buying vehicles, appliances, computers, and other electronics, check product ratings at Consumer Reports.
Use the Best Pros
If the issue is covered by the manufacturer's warranty, you'll likely need to send the product to the manufacturer or take it to a dealer or authorized repair shop.
If the product is out-of-warranty, you can use an authorized or independent shop.
For either scenario, check out companies' ratings beforehand—here at Checkbook.org we have ratings of auto repair, appliance repair, and computer repair shops for quality and price, plus advice on selecting and dealing with each type of shop.
Want to Fix It Yourself?
Start by reading the product's user manual. Even if you threw it away you usually can find a replacement online. Sometimes manuals describe common problems and their solutions.
After that, do an online search to look for other owners who have encountered your issue. You may turn up a manufacturer's technical service bulletin on the issue or even a product recall entitling you to a free repair, even if the product no longer is under warranty.
There are a staggering number of online resources for DIYers, including instructional videos and parts suppliers. Need to fix a cracked screen on a MacBook Pro? "You can search for 'broken screen, MacBook' with model number, and you can probably find 50 videos on YouTube of a person sitting in their kitchen showing you how to do it," said Rossmann of Rossmann Repair Group.
iFixit alone has posted more than 70,000 repair guides for many products, including electronics, cars and trucks, appliances, mowers and lawn and garden equipment, furniture, medical devices, and even musical instruments.
Before you tackle a repair, check several resources to make sure you're getting accurate and complete intel.
You can also post your problem on product forums hosted on manufacturers' websites and elsewhere (do a web search to find them). Participants are often technicians or handy owners who help users diagnose and address issues and assist those who get into jams.
There are also DIY communities that can steer you toward successful fixes—or even a volunteer to do it for you. Fixit Clinic and Repair Café help local DIY groups; volunteers may be able to assist your efforts or even fix it for you, whether it's an electronic device, appliance, bike, or anything else. Peter Mui, Fixit Clinic's founder, said the group's coaches have a 70 percent success rate in helping consumers repair their own products.
Lauren Gross, who in 2013 founded Repair PDX, a Portland, Ore., repair café, said volunteers helped her replace a timer on a clothes dryer, fix a coffee grinder, and replace a deadbolt on a door. "It is very empowering to fix something yourself," she said. "It also is just fun."
One caution: When performing a repair or other service, always learn about and follow safety precautions. Working on some products can be dangerous. For example, major appliances and microwaves pose electrocution hazards, warns the U.S. Consumer Product Safety Commission (CPSC).