How to Deal with an Auto Repair Shop
Last updated December 2020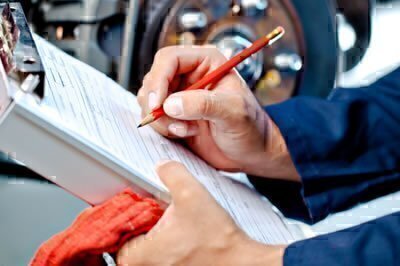 Our Ratings Tables will help you select a top-quality, reasonably-priced auto repair shop.
Once you find a great shop, follow good business practices in dealing with it, especially on your first visit.
Communication Counts
Your ability to get your point across can help you get your car fixed and avoid unnecessary repairs. Even mediocre mechanics can fix most cars if they know exactly what's wrong.
Distinguish between what you know and what you think you know. If you know what needs to be repaired, tell the shop. But if you don't know, don't guess; simply describe the symptoms. If you mention a specific repair—say, fixing the water pump—the shop may check or even replace it—and then go on to fix what is actually wrong (possibly worn out alternator bearings).
Describe symptoms. Note changes in the way the car sounds and drives since the problem started. Describe how long you've had the issue and when it happens: in hot or cold weather, when the engine is hot or cold, at high or low speeds. If the problem is hard to describe, ask the shop to have someone take a drive with you.
Write it down. Make a list of the problems you want to check or fix, and leave the list with or email it to the shop.
Go to the shop when it is less busy. You'll get closer attention if you visit between mid-morning and mid-afternoon, when things are usually least hectic.
Talk with the mechanic who will work on your car. Service write-up personnel at dealerships and large shops often know very little about car repair. Discussing symptoms directly with the technician who will work on your car will improve the likelihood that you will get good work.
Get a Written Estimate and Work Order
The shop should provide a work order that clearly documents the work you have authorized and how much it will cost.
If you know what repairs are needed, ask for a price and have the shop write that and a description of the work on the work order.
If you don't know what is needed, write on the work order: "Shop will provide customer a written estimate. The charge for the estimate will be $_____. No other charges will be incurred without customer's authorization following the estimate."
Also, write this at the bottom of the work order: "Keep replaced parts for customer's inspection." Even if you can't tell an alternator from a tailpipe, the shop doesn't know it—and can't be sure you won't show the parts to someone who does.
If all the work you need is covered under a warranty, don't bother with an estimate or detailed work order but write: "Only warranty repairs are authorized" on the work order.
If you ask your shop to check on a problem and give you a call, don't automatically approve any major repair at any price the shop suggests. To maintain the flexibility to go to a second shop, take your car in for repairs—whenever possible—before a problem becomes so severe that it can't be driven.
Pick It Up Right
The shop should give you an invoice including its name and address, your name, and your car's license number and mileage. It should indicate the labor charge; name, number, and price of each part replaced; and whether parts are new or rebuilt.
Keep your invoice. If you're unhappy with your repairs, you might need it to prove you paid.
The invoice should indicate the shop's warranty. If not, have it added, both for labor and any parts that were installed.
If you find the car was not fixed correctly, take it back right away. The best approach is to get the service writer to put a signed and dated acknowledgment on your copy of the invoice. Alternatively, send the shop an email citing the problem and your intention to bring back the car to have it corrected. Do not rely on the service writer's verbal promise that you can bring in the car any time for a free adjustment. You may find later that the writer can't remember the pledge and believes the problem is a new one caused by something that happened after the car left the shop.
Be Persistent
Despite your precautions, you and your shop may still have disagreements. If so, you have several forms of recourse.
The first step: Speak to the service manager or owner. If you don't get results, you can complain to government consumer agencies, manufacturers' zone offices, and the Better Business Bureau.
If you paid by credit card, and you tried to work out the problem with the shop but it wouldn't make things right, dispute the repair charges with your credit card company. The Fair Credit Billing Act and policies of the credit card companies provide you with strong protections that allow you to get refunds for unsatisfactory purchases.
If none of these efforts provide satisfaction, go to small claims court.
Your Rights
Delaware, New Jersey, and Pennsylvania have "lemon laws" that provide relief for new-car buyers who have had repeated problems with their vehicles.
Cost Estimates: All shops in the area are required to provide a cost estimate before work begins. Shops in Delaware and New Jersey must provide a written estimate; shops in Pennsylvania may provide either a verbal or written estimate. All area shops may charge a fee to provide an estimate.
Cost Exceeding the Estimate: In Delaware, no shop may charge more than 20 percent, or $50, above its estimate, whichever is less. In New Jersey and Pennsylvania, no shop may charge any amount above its estimate without customer approval.
Time Estimates: In Delaware, shops are required to provide an estimated completion date for repair work. New Jersey has no time estimate requirements. Pennsylvania does not require time estimates, but if the customer and the shop agree to a time of completion, the shop must complete all work within 24 hours of that time.
Return of Parts: All shops in the area are required to return replaced parts, if requested. Parts that must be returned to a manufacturer under a warranty agreement are excepted, but customers have a right to inspect parts covered by warranty.
Invoices: All shops in the area must provide a written invoice that includes a description of the work performed; a list of parts supplied by the repair shop; all labor charges; and whether the shop used new, used, rebuilt, or reconditioned parts.