Selecting a Funeral Home
Last updated November 2017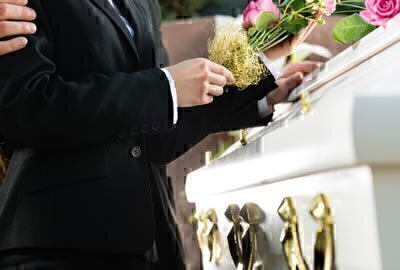 Most people need help making funeral arrangements. Our ratings of area funeral homes will help you find a firm you can trust. But there is one firm rule: Never go by yourself to a funeral home to choose the services you will be purchasing. You need a less-involved companion to assure you that sensible cost-saving decisions are all right.
Our Ratings Tables will help you select a trusted funeral home that offers sensible advice and charges reasonable fees.
Ratings from Clients
We surveyed area consumers (primarily Checkbook and Consumer Reports subscribers) for their ratings of funeral homes they have used. Our Ratings Tables show results for the homes for which we received 10 or more ratings. Most of the funeral homes rate rather high. Click here for more information on our survey and other research methods.
Prices
Our undercover shoppers called the funeral homes listed on our Ratings Tables and asked for prices of three types of services:
Direct cremation—Includes home's basic fee, least expensive cremation container/casket, and crematory cost.
Immediate burial—Includes home's basic fee, least expensive casket, and least expensive grave liner.
Traditional funeral—Includes the minimum services of the funeral director and staff; transfer of deceased from place of death to funeral home; embalming, cosmetology, hairdressing, dressing, and casketing; least expensive oak casket; least expensive grave liner; one two-hour visitation session at funeral home the day before the service; supervision by staff of funeral service at a church; hearse; and supervision of a committal/graveside service.
The price range for each type of service was very large. The price of direct cremation ranged from $995 to $5,450, with an average of $2,895. For our sample traditional funeral, the price ranged from $6,921 to $16,310—a $9,389 spread—with an average of $10,672.
If you want services different from what's included in our packages, the table below indicates the range of prices for several services if selected separately. As you can see, the variation is large.
Low, Average, and High Prices at Surveyed Funeral Homes for Elements of a Traditional Funeral

Service
Low price
Average price
High price
Transfer remains to funeral home
$200
$410
$850
Embalming
$550
$904
$1,760
Cosmetology, dressing, and casketing
$150
$429
$1,200
Least expensive oak casket
$1,500
$3,261
$5,500
Visitation at funeral home the day before the funeral service for two hours
$250
$694
$2,000
Supervision of funeral service at a church (day after visitation)
$200
$698
$3,115
Hearse
$250
$411
$865
When discussing options and costs with a funeral home, start by asking for its General Price List (GPL). The Federal Trade Commission (FTC) requires funeral homes to provide a copy of their prices if you visit their facilities and ask about costs. Although they are not required to send you the entire price list if you call or email to request it, many will. (If you have chosen a specific type of service, such as a simple cremation, they are required to quote a price over the phone, upon request.) Some funeral homes now also post their GPLs on their websites.
When you call or email to ask about prices or for price lists, some funeral directors may encourage you to come in because "These matters are too complicated to discuss over the phone," or "We will surely be able to work something out between us." Our advice: Deal only with funeral homes that readily supply detailed pricing info to potential clients without requiring an on-site appointment.