Last updated November 2018
In 2001 a handful of older residents of Boston's Beacon Hill neighborhood became concerned about how they would stay in their neighborhood and their homes into their 80s and 90s. This led to the founding of the country's first elder village, Beacon Hill Village, a volunteer neighborhood group designed to provide social connections and practical assistance to older adults. There are now hundreds of these villages in the U.S., with many more in development. Some cover an entire county, others focus on small, often walkable neighborhoods.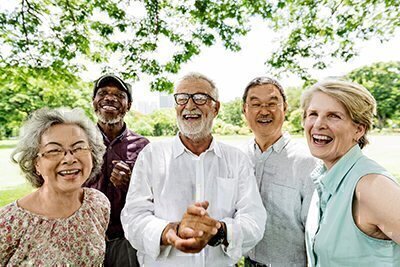 Each village offers a range of services and benefits, from finding teenagers to play chess with residents to helping with grocery shopping. Typically, a small tax-deductible fee (usually $100 to $500 a year, with many villages offering scholarships for lower-income residents) lets members take advantage of benefits like rides to medical appointments, dog-walking, yard work, home fix-ups, and tech assistance. The most active villages also offer social activities like book clubs and walking groups.
If there's no village in your area, you can help found one. You'll need to:
Organize a group of nearby neighbors interested in staying in their homes.
Visit vtvnetwork.org to learn about the village model and for referrals to other resources.
Decide on a geographic area you'd like to cover. Many active villages serve smaller walkable neighborhoods; some encompass whole counties.
To avoid duplicating services already offered for free or almost free by local governments, talk to local councils or agencies on aging (click for a list of those resources). Also find out if your local aging agencies have policies or programs to encourage village-forming.
Evaluate whether you'd like to operate the village as a primarily volunteer operation (lower operating costs and lower membership fees) or a staffed organization. Volunteer villages often grow into staffed villages as membership increases.
Can you establish a brick-and-mortar headquarters, or do you want to run the village remotely? Again, both have advantages and disadvantages. Having a physical location often benefits members, but it can be expensive.
You can sign up for a six-month Opportunity Member Trial Membership with the Village to Village Network for $125, with access to its library of documents, webinars, toolkits, and other resources. (Regular memberships cost $425/year per village.)
Sign up with the Village to Village Network mentor program to get an experienced organizer to help you plan and develop your village (included in Opportunity Member fee).
Below, we list the active villages we could find for the Bay Area. Did we miss any? Have an update to the info we collected? Email us at [email protected] We'll try to keep this list up to date.
Elder Villages in the Bay Area

Ashby Village
1821 Catalina Avenue, Berkeley, 510-204-9200, ashbyvillage.org, [email protected]
Serves residents age 50+ of Albany, Berkeley, El Cerrito, Emeryville, Kensington, and North Oakland
Transportation, light gardening, small repairs, appointment assistance, technology assistance, companionship, organizing, food prep, pet care, absent home care, support services, wellness outings, cultural activities, interest groups
Individual membership: $750 annually; household membership: $1,200 annually; subsidized memberships available
Avenidas Village
4000 Middlefield Road, Suite #I-2, Palo Alto, 650-289-5400, avenidas.org, [email protected]
Open to those age 50+ living in Los Altos, Atherton, East Palo Alto, Los Altos Hills, Menlo Park, Mountain View, Palo Alto, Portola Valley, Stanford, and Woodside
Lifelong learning classes, social outings, leisure classes, transportation, health and wellness classes, handyman services, technology assistance, support groups, social work services, legal assistance, interest groups
Individual membership: $970 annually; dual household membership: $1,390 annually
Carquinez Village
P.O. Box 207, Benecia, 707-297-2472,
carquinezvillage.org, [email protected]
Serves residents age 60+ of the Benecia area, including Vallejo
Transportation, errands, grocery shopping, clothing care, gardening help, paperwork and appointment assistance, friendly visits and phone calls, light housekeeping, light household repairs, meal preparation, medical appointment notetaking, technology assistance, social activities, cultural and educational programs
Individual membership: $360 annually; household membership: $540 annually
Clayton Valley Village
P.O. Box 1274, Clayton, 925-626-0411, claytonvalleyvillage.org, [email protected]
Serves residents of Clayton and parts of South Clayton.
Transportation for medical appointments and errands, light home maintenance and gardening help, technology assistance, friendly visits, social activities, educational and cultural events
Individual membership: $600 annually; household membership: $900 annually
Eden Area Village
P.O. Box 474, Hayward, 510-969-2732, https://edenareavillage.clubexpress.com, [email protected]
Serves senior residents of Hayward, San Lorenzo, and Castro Valley
Transportation, light household maintenance and repairs, technology assistance, help accessing senior resources, friendly phone calls, social events
Free (donations accepted)
Foster City Village
1000 Hillsdale Boulevard, Suite 210, Foster City,
650-378-8541, fostercityvillage.org, [email protected]
Serves residents of Zip code 94404
Access to preferred service providers, home safety assessments, social events, field trips, education, fall prevention, check-ins, doctor visit assistance, errands, transportation, technology assistance, yard clean up, pet care, minor household repairs and maintenance
Individual membership: $365 annually; couples membership: $475 annually. Associate and subsidized memberships also available
Golden Gate Village
6221 Geary Boulevard, San Francisco, 415-876-3333, ggvillage.org, [email protected]
Serves residents of San Francisco's Richmond District (Zip codes 94121 and 92118)
Technology assistance, errands, pet care, grocery and meal delivery, neighbor visits, exercise classes, medication reminders, support groups, walking groups, art classes, book clubs
No member fees
Lamorinda Village
P.O. Box 57, Lafayette, 925-283-3500, lamorindavillage.org, [email protected]
Serves residents of Zip codes 94563, 94549, and 94556
Transportation, exercise activities, book clubs, occasional meal prep, home maintenance, technology assistance, social support, home visits, professional referrals, educational activities, social events
Individual membership: $840 annually; household membership: $1,200 annually; social membership: $300 individual, $600 couples
Marin Villages
4340 Redwood Highway, Suite F142, San Rafael, 415-457-4633, www.marinvillages.org, [email protected]
Serves residents of Mill Valley, Novato, Ross Valley, San Rafael, Tiburon Peninsula, Twin Cities
Social events, educational programs, interest groups, transportation, grocery shopping, errands, technology assistance, small household tasks, pet care, service referrals, check-ins
Individual Membership: $365 annually; household
membership: $450 annually
NEXT Village SF
P.O. Box 330278, San Francisco, 415-888-2868, nextvillagesf.org
Serves residents in northeast corner of San Francisco, including: the Financial District, The Marina, Nob Hill, North Beach, Northern Waterfront, Polk Gulch, Russian Hill, and Telegraph Hill
Transportation, errands, shopping help, social events, in-home support, friendly visits, absent home care, pet sitting, technology assistance
Full membership: $600 annually; associate member (social events and limited service): $120 annually; income under $48,500: free
North Oakland Village
2501 Harrison Street, Oakland, 510-547-8500, northoaklandvillage.org
Serves seniors living in Oakland and Piedmont
Social events, educational programs, transportation, light household tasks and gardening, technology assistance, friendly visits, errands, medical appointment help
Individual membership: $700 annually; household membership $850 annually
San Francisco Village
3220 Fulton Street, San Francisco, 415-387-1375, sfvillage.org
Serves residents of Castro, Civic Center, Cole Valley, Diamond Heights, Glen Park, Haight Ashbury, Inner Richmond, Laurel Heights, Marina, Mid-Market, Nob Hill, Noe Valley, North Waterfront, Outer Richmond, Pacific Heights, Potrero Hill, Russian Hill, Sunset, West of Twin Peaks
Social events, home safety assessments, friendly phone calls and visits, exercise classes, transportation, errand help, technology assistance, light household help, light gardening
Individual membership: $600 annually; household membership: $750 annually; reduced-fee memberships available
Sausalito Village
P.O. Box 208, Sausalito, 415-332-3325, sausalitovillage.org, [email protected]
Serves all residents living in the city of Sausalito and the Floating Homes community
Transportation, friendly check-ins, healthcare help, one-call support for information and referrals, errand help, technology assistance, social events, social clubs, discounts
for local businesses
Household membership: $200 annually
707 Villages
P.O. Box 835, Petaluma, 707villages.org
Serves residents age 55+ in the Sonoma County area
Access to volunteer services, learning and socializing opportunities, and service referrals
Annual membership: $600/individual, $900/household
Villages of San Mateo County (Sequoia Village and Mid-Peninsula Villages)
711 Nevada Street, Redwood City, 650-260-4569, villagesofsmc.org, [email protected]
Serves residents of the Sequoia (Belmont, San Carlos, Redwood City, and Redwood Shores) or the Mid-Peninsula Region (San Mateo, Burlingame, and Hillsborough)
Access to volunteer services (full membership level), learning and socializing opportunities
Individual membership: $600 annually; household membership: $750 annually; associate individual membership: $300 annually; associate household membership: $425 annually
Walnut Creek Village
712 Bancroft Road, Suite 871, Walnut Creek, 925-956-1990, walnutcreekvillage.org
Serves those age 55 and older living in Alamo, Walnut Creek, and bordering areas that lack villages
Social events, access to preferred service providers, transportation, grocery shopping, home maintenance, pet care, technology assistance, exercise classes, interest groups, cultural and educational events
Individual membership: $730 annually; household membership: $950 annually