Looking for a dependable masonry contractor to repair a chimney, create an outdoor fireplace, add interior stonework, build a stone wall, install a brick patio, or handle other masonry projects? Here's some rock-solid advice on how to plan the work, find a company to do it, evaluate proposals, get a good price, and avoid problems down the road. A good place to start: Reviews of masonry contractors by their customers.
Think Things Through
If you already know what you want—how it should look and work—get it down on paper (or into a digital file) so you can communicate your thoughts clearly to potential contractors. If you don't know exactly what you want, or have an idea but not a lot of details, page through home magazines or visit websites for information and inspiration. If relatives, friends, or neighbors have similar or identical projects in place—ones that appeal to your eye and are functioning the way you'd like yours to—take photos to share with prospective contractors.
Your goal is to create a written plan that includes precise instructions for the project, including drawings for anything more than simple repairs. If the project is straightforward, like repairing or replacing a chimney, redoing a concrete walkway, or rebuilding a small stone wall, you can spec out the job with a contractor, who should be able to draw up a simple rendering, if necessary.
However, if your project is multifaceted or involves other parts of the house, outbuildings, or lot, think about calling in a landscape designer (for exterior work) or interior designer (for inside jobs). If you do the planning, you probably won't be able to assemble all the specifications, product schedules, and drawings a professional designer would deliver, but even rudimentary sketches and notes will help focus the work.
As you plan, think about the following:
Use scale drawings for more complicated projects. They cut down on—and may even eliminate—flaws in the design and help you more accurately estimate quantities of building materials. Landscape and interior designers can give you a hand with these.
Exact color, texture, shape, density, weight, and other characteristics are often tough to grasp from photos. Get samples to bring home so you can see how they look alongside existing design features. Masonry contractors and their suppliers usually have sample boards, along with sets of mortar tint, to help you select complementary materials.
For outdoor projects, proper drainage is a key to durability. Test soil drainage by digging a hole about four inches in diameter and 12 inches deep. Fill the hole with water. If the water is still there after 24 hours, the drainage on your site may be inadequate. Tell the designer or contractor, who might need to install a water barrier as part of the project.
Keep in mind that patios, walkways, paths, arches, and other features with square corners are comparatively easy to build. Curves and angles complicate installation and increase costs.
Note that local building codes often come into play if you're planning a masonry walkway. They may affect size, location, and permissible building materials.
Simple garden walls are a snap to build. However, bigger walls and those with more complex designs often require reinforcement.
Finding a Solid Contractor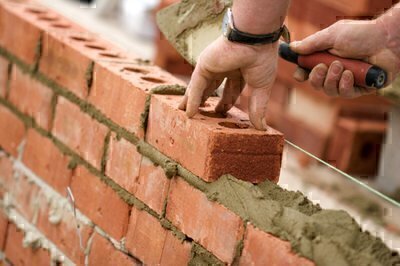 If you're working with a landscape designer, interior designer, or remodeling contractor, he or she can help pinpoint companies with the right experience. However, if you're working solo, or the project is complex or unusual, you'll have to search on your own for companies to bid on the project.
Masonry contractors tend to be specialists, concentrating on certain jobs, materials, and methods. Some focus on brickwork (repairing chimneys is a common specialty); others on stone and stucco; still others on concrete. Some prefer new construction; others concentrate on remodeling, repair, and restoration projects. Some do mostly exterior jobs; others, interior. Many masonry contractors, especially larger companies, deal only with general contractors on big residential or commercial projects and won't work with consumers at all. Smaller companies tend to accept a wider range of jobs.
Even if a masonry contractor specializes in the kind of project you're planning, don't include it on your list if the company does sloppy work or gives customers frequent headaches. Unfortunately, the reviews we've collected of many masonry contractors indicate some companies often make customers regret their choices. Common complaints include:
Work is performed improperly or specs aren't followed.
Company is unwilling to correct errors quickly—or at all.
Company tries to change the terms of the deal mid-project, raising the price in the process.
Property is damaged.
Pushy representatives ask customers to decide quickly on questions.
Follow-up is spotty or completely lacking.
Communication is lousy.
Project is frequently delayed.
Cleanup of jobsite is poor.
Fortunately, other contractors have received favorable reviews.
Ask prospective contractors to send pictures of similar jobs. Also ask for references, but keep in mind that you're probably not going to get them for customers who are unhappy with the contractor's work. At the very least, consider references as evidence the company has been active in the market and busy on projects like yours. Also, check to make sure the contractor has a business license; is bonded (note the amount; it should at least equal the value of your project); and carries both liability and worker's compensation insurance. Ask to see a copy of the current license and up-to-date certificates of insurance.
Request and Evaluate Proposals and Prices
Once you have a plan (or, for small jobs or repairs, a description of the work), use it to obtain price quotes from multiple companies. Get a fixed-price contract for all the materials and labor the company will supply.
You'll find tremendous price variation from company to company for the same work. Our mystery shoppers requested price quotes from a sample of masonry contractors in the area for installation of a brick patio. We provided each company with the same specs, product list, photos of the site, and drawings, prepared for us by a professional landscape designer.
Prices Quoted by Companies to Build a Brick Patio
Price quoted
Manuel Iglesias Concrete, Oakley, 925-679-3969
$5,874
True Masonry, Oakland, 510-698-4448
$6,383
Pendergrast Masonry, Oakland, 510-562-6400
$6,400
Brazil Construction, Scotts Valley, 650-670-0070
$6,175-$8,175
Dalfar Concrete Services, Hayward, 510-938-7199
$7,800
Brogan Masonry, San Francisco, 415-681-4803
$9,475
Van Midde & Son, San Rafael, 415-459-2530
$9,500
Petty Masonry, Novato, 415-898-2200
$10,000
Heritage Brick & Stone, San Anselmo, 415-847-1697
$11,000-$11,500
Jones Masonry, San Jose, 408-377-7512
$12,740
Creative Masonry, Livermore, 925-606-8466
$14,142
Soares Masonry, Mountain View, 650-968-8500
$18,619
Job specifications:

Create a new, rectangular brick patio measuring 16'-8" x 12' using Belden Brick Belcrest 500
Brick (or an equivalent sand-molded substitute), laid in a herringbone pattern with brick edging.
Dig out existing grass, create a standard slope (one inch for every four feet), and compact soil.
Lay down a four-inch base of gravel.
Cover the gravel with six-mil plastic or polyethylene sheet.
Pour a four-inch-thick mesh-reinforced concrete slab.
Lay the bricks atop the mortar slab; use mortared joints.
Guarantee the work for a minimum of one year following completion.
Assume the owner will furnish water and electricity, as needed, and obtain all necessary permits and permissions.
The price quotes we obtained are listed on the table above. As you can see, we received a wide range of prices. Clearly, getting bids from multiple companies is time well spent. For your job, we recommend obtaining three to five bids. Make sure each company bids on exactly the same job. If you learn about a product or technique that's worth incorporating into your project, be sure to communicate the change to each bidder so they're all using the same information.
Companies' proposals should include:
Company name, address, phone number, and license number.
Itemized pricing.
Payment terms.
Step-by-step description of the work, including a reference to construction plans, if applicable.
Description of change orders—agreed-upon alterations to the original plan—and a method to handle them.
Anticipated start and completion dates (along with language about how bad weather would affect progress on an exterior project).
Description of the work day: when it starts, when it ends, what daily cleanup involves.
Estimated total hours of work.
Description of who will actually perform the work (company employees? day laborers? subcontractors?) and who will supervise them.
Products to be used.
Equipment to be used and under what circumstances. If heavy equipment is needed, an explanation of how the company will minimize damage it might cause.
Reference to securing all necessary building permits and permissions.
Type of warranty you'll receive. Masonry contractors commonly offer three- to five-year warranties guaranteeing repairs to their work but often warranty concrete driveways and patios for only one year. In addition, many contractors provide variable warranties depending on the fix; for example, one year for repairing cracks of a certain size and three years for surface scaling. Obviously, you'll want to push for warranties that have longer terms and fewer limitations.
Be sure to negotiate favorable payment terms. Even for relatively small projects, upfront payments of as much as 20 percent are common. For larger jobs, writing checks as the project proceeds—so-called progress payments for work done on schedule to spec—is also a typical arrangement. However, limiting any payments until the contractor finishes the job will be worth your while; the more you can hold back, the more leverage you'll have to make sure the contractor completes the job to your satisfaction. If possible, pay by credit card, which will allow you to challenge payments under the Fair Credit Billing Act should serious problems arise and things don't go as planned.
Proposals often double as contracts; if not, put the agreed-to items in writing with the winning bidder. Ask for any needed corrections or small changes (they should be small at this point). And be sure to read the fine print. If you find something disagreeable or nonsensical, don't assume it's written in stone. Ask. Also, remember that while contracts have legal punch, if you need it, from your perspective their most important function by far is to serve as a precise guide to completing the work successfully.
Prepare, Supervise, and Follow Up
As work begins and progresses, make sure the company is following the plan—but also do your part to keep the job running smoothly:
Clear the area. You're paying the contractor to build stuff, not move your patio furniture and kids' toys.
As the job begins, determine which workers will be on site throughout, make sure the work will be continuous, and pinpoint where the contractor will store materials and equipment.
Stay engaged. Check in daily with the contractor for progress reports. If you have questions or complaints, bring them up as soon as possible.
Deal promptly with surprises and changes. No contract can anticipate every possibility. Materials may be unavailable. Additional drainage may be necessary. A week of lousy weather can cause delay. Respond to problems promptly; if there's a dispute, seek a middle ground that both you and the contractor can live with.
Provide a bathroom for workers.
Subcontractors, suppliers, even workers may be able to take out liens against your house if the contractor doesn't pay for their labor or materials. To protect against the possibility, and prior to making any payments, ask the contractor to provide you with lien releases corresponding to labor and materials covered by that payment.