Last updated January 31, 2023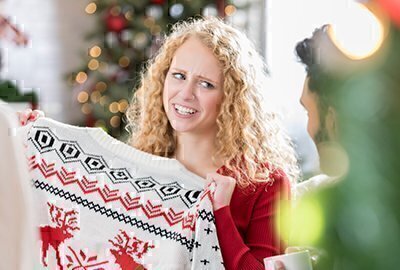 We've all made regrettable purchases or received gifts that just didn't do it for us. Unfortunately, many stores have restrictive return policies or make sending back online purchases too much of a hassle. Some are now trying to discourage returns by charging return shipping fees. But don't give up! Instead, follow our tips on how to get your money back or exchange your it's-the-thought-that-counts items.
Check the time frame.
While most stores give you months to act, not all are so generous. Many retailers extend their return time frames for items purchased during the holiday season—for example, you get 60 days to return it, instead of 30. But you can't count on that. At some stores, return windows are quite short—as little as 14 days for electronics and computers. And after offering lengthy time frames for returns during the peak pandemic years, this year many retailers, including juggernaut Amazon, began to shorten their return windows.
Push for a full refund.
By default, many stores offer exchanges or credits. Unless you're happy to swap the item, seek a full refund. Store credits might expire or be forgotten. And you might find you can purchase a replacement item for less money elsewhere.
Keep receipts.
Without one, or some other way to prove what you paid (confirmation email, online purchase history, etc.), you likely will receive the current selling price of the item—which is often less than what the gift giver paid, especially if post-holiday sales are in full swing.
If you don't have a receipt and you think the store is offering a too-low payout, complain. Explain that the item was a gift, and ask to speak with a manager, if needed.
Handle with care.
Leave any tags, labels, or stickers attached to the item. Too much tampering or de-tagging and you may be out of luck for a return.
Avoid opening boxes, particularly for electronics and especially for computer-related devices. Some retailers reserve the right to refuse a return if the box has been opened or even if a seal is broken; others charge restocking fees. If you open a box, keep track of what went where so you can repack it later, making sure all the parts and equipment that came with the item (manual, power cords, etc.) are there when you return it.
If the item is defective, different rules might apply.
You have a right to receive defect- and trouble-free merchandise.
Manufacturers that offer warranties urge buyers to contact them to arrange for a repair or replacement, rather than returning items to stores. It might be worthwhile to first contact the manufacturer to make sure you're using the product correctly. But if the problem truly is a defect, it's best to return the item for a refund or exchange—if the retailer allows it and you're still in the return period. After all, it has your money; if you want a refund, that's who will provide one.
Even if a store's return period has expired, it's reasonable to expect a retailer to stand behind the products it sells.
In the U.S., by law, any purchase includes an implied warranty—that items you buy are defect-free and will remain so for a reasonable amount of time. Under implied warranty laws, you have the right to defect-free merchandise, regardless of any restrictions imposed by a store's return policy.
If you've paid by credit card, federal law also provides you with relief from defective merchandise or dissatisfactory purchases. The Fair Credit Billing Act requires credit card companies to allow consumers to dispute charges for goods and services that were not provided as promised.
Avoid consumer-unfriendly fees.
A growing number of online retailers are deducting shipping fees from the amount they refund. Major retailers now charging these fees include Abercrombie & Fitch ($7), Anthropologie ($5.95), JCPenney ($8), J. Crew ($7.50), and Zara ($3.95). Even L.L. Bean, famous for its one-year, return-for-any-reason policy, now charges $6.50 for returns and exchanges made via UPS or the U.S. Postal Service. (It waives the fee if a purchase was made using an L.L. Bean MasterCard or paid entirely with Bean Bucks, its loyalty points program.)
You can dodge these fees by returning to a brick-and-mortar location or checking to see if the retailer offers free takebacks via return bars like Happy Returns, which help retailers minimize costs involved with mail returns by shipping returned merchandise in batches. These return hubs are usually located in stores that are more accessible/plentiful than the retailers' locations.
Watch out for restocking fees, too.
After much badgering from consumer advocacy groups—including Checkbook—many retailers stopped charging these ridiculous fees. But some still do, especially on electronics (Best Buy, for example, charges $45 to restock "activatable devices" such as cell phones and tablets). Ask stores to waive these absurd penalties.
If an electronic item doesn't work properly, either right out of the box or soon after, take it back to the store and insist that it allow you to exchange it, rather than submitting it to the manufacturer under a warranty repair claim. Some stores offer to help you ship only broken items to the manufacturer. Our view: Stores should stand behind all products they sell and immediately move to make things right if there's a defect or mechanical problem, rather than making customers wait weeks or even months for a warranty repair or for a manufacturer to send a replacement.
Be courteous.
Politeness and a smile can make a difference in whether store personnel care to work out a problem for you.
But stick up for yourself, too.
Returns and exchanges are part of the retail business, and stores should treat this transaction as smoothly as they do purchases. If the store's return policy is unreasonable, or if its personnel are uncooperative, tell a manager you plan to dispute the charge with your credit card company (or ask the person who bought the item to do so). As we've mentioned, federal law and the policies of credit card companies grant consumers enormous leverage when they seek to return dissatisfactory or defective merchandise.
Before you buy, compare the store's return policies to those of its competitors.
Each year, ConsumerWorld.org reports on the policies of several major retailers.