Finding the Best Hardware Stores
Last updated in October 2014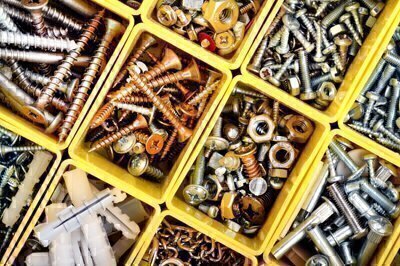 ThisOldHouse.com's list of must-have tools includes a screwdriver set, tape measure, large toolbox, hammer, duct tape, flashlight, various pliers, utility knife, putty knife, handsaw, and adjustable wrench. It's a good list (although our editor believes his mother's tool arsenal—a butter knife and an old shoe—is equally effective). No matter your fix-it skillset and toolset, every do-it-yourselfer also needs a reliable hardware store at the ready—preferably one that charges reasonable prices. To help you find one, our Ratings Tables have ratings of area stores for quality and price.
Finding Stores that Offer Great Service and Advice
Running a top-notch hardware store starts with recruiting well-informed, helpful staff. Because the best hardware store salespersons must possess the knowledge of plumbers, painters, electricians, roofers, landscapers, carpenters, and a dozen other tradespeople, finding and retaining a cadre of these professional know-it-alls is no easy feat.
In addition to superior staff, the best hardware stores somehow manage to stock just about everything their customers need, and organize this amazing jumble of products so customers and staff can find them.
Luckily, many hardware stores in the area meet these challenges, as evidenced by the rave reviews they receive from their customers. Our Ratings Tables report how area consumers we surveyed (primarily Consumers' Checkbook and Consumer Reports subscribers) rated hardware stores they used. The table lists ratings for the area hardware stores that received at least 10 ratings on our surveys. We asked consumers to rate stores they had used as "inferior," "adequate," or "superior" on several aspects of service, including "advice on choice and use of products," "promptness of service," "staff attitudes/atmosphere," "ease of looking at/testing products," "variety of products," "reliability (standing behind products, doing what's promised, etc.)," and "overall quality." Our Ratings Tables show the percent of customers who rated each store "superior" (as opposed to "adequate" or "inferior") on each question. Our customer survey and other research methods are further described here.
As you can see from our Ratings Tables, to get good advice and the best staff attitudes—the two aspects of service hardware store customers care about most—you'll likely have to turn to an independent store; the largest chains received, on average, relatively poor ratings in these areas. At the time of our last full, published report, Home Depot was rated "superior" for quality of advice by only 16 percent of its surveyed customers, Lowe's by only 35 percent, and Orchard Supply by only 53 percent. That compares unfavorably to the numerous independent stores throughout the Bay Area that were rated "superior" for advice by 80 percent or more of their surveyed customers.
Among the area's many Ace and True Value stores, there is no consistent pattern in ratings for advice or other aspects of service. That is not surprising since Ace and True Value are buying cooperatives for independent stores that impose no performance standards or specific operating procedures on affiliates.
Whichever store you choose, seek out the specific clerks most capable of providing helpful advice. Over time, you'll learn who they are by trial and error, but you can expedite the process by asking questions—for example, "Who can give me the most expert advice about plumbing?"
Once you have identified staff with the knowhow, make sure you get served by them, rather than by less-knowledgeable staff members. We have all experienced the frustration of being latched onto by a staff member who doesn't know the answers. One strategy when approached by other staff is to thank them but explain that there is a specific staff member you want to talk with.
Finding the Stuff You Need
In contrast to their low ratings for quality of advice, the big chains score better in terms of another key consideration in store selection: variety of products. Although they generally don't rate as high for variety as for advice, many independent stores do a masterful job—often in a relatively small space—of offering the variety of items their customers want.
In addition to variations in the range of products, hardware stores also vary in special services offered. Services such as tool sharpening, key making, and glass cutting are offered by many stores, while bicycle and lawn mower repair are offered by very few. Some stores offer free classes on such topics as landscaping, floor installation, and cabinet installation. And of the many places to rent tools, your local hardware store is likely to be the most convenient.
Finding Reasonable Return Policies
Before buying items at a hardware store, find out about its return policy. A liberal return policy is important in the hardware business because it is fairly easy to miscalculate the volume of paint, number of nails, or size of a hinge a job needs. If you buy materials for a project ahead of time, it may be months before you realize that you have too much, the wrong thing, or a defective product. It helps to buy from a hardware store that willingly accepts returns.
From the store's standpoint, however, there are real disadvantages to a liberal return policy. First, long delays may mean a store no longer carries the product customers want to return. Second, customers probably will have damaged the packaging. Hardware manufacturers, for inventory and merchandising reasons, now prepackage many items that used to be sold out of bins or from other types of open displays. Everything from bolts to braces now comes sealed in clear plastic packs. If you find out only after opening the package that you need to return an unsuitable corner brace, the store knows it will be very hard to sell. A further problem is crime: Like other types of retailers, hardware stores must deal with crooks who seek cash refunds for stolen merchandise.
Despite these problems, return practices at most hardware stores are remarkably liberal. Almost all stores offer a full refund on returns for an indefinite period—as long as the customer presents a receipt and the item can be resold. And managers whose stores' stated policies impose time limits and proof of purchase requirements indicate that, in practice, they are often much more flexible. Even if a sign over the checkout counter says "No returns after 30 days," the store might offer regular customers a refund on merchandise purchased over a year before. Some stores even offer refunds to regular customers who have no receipts and even if the items have no price tags.
Our Ratings Tables show how surveyed consumers rated their stores for "reliability (standing behind products, doing what's promised, etc.)." Given the consumer-friendly return policies of many stores, it is not surprising that we found less variation in scores for reliability than for the other quality measures.
Finding Low Prices
To compare prices, our mystery shoppers called each of the stores listed on our Ratings Tables several times and, without revealing their affiliation with Consumers' Checkbook, requested prices for 27 items.
We used those prices to calculate each store's price comparison score, reported on our Ratings Tables. Our price comparison scores show how a store's prices compare to the average prices at all surveyed stores for the same mix of items. The price comparison scores are calculated so that a score of $100 is about average, a score of $110 means prices about 10 percent above average, and a score of $90 about 10 percent below average.
For the chains—which had little price variation among outlets—we averaged the prices at several sample stores and calculated the chains' price comparison scores for all their stores.
Although the area's independent stores tended to score higher than the big chains for customer satisfaction, none beat Home Depot or Lowe's for price, and only a handful of independents had lower prices than Orchard Supply. We did, however, find a number of independents—including some that rated high on advice and other quality measures—with below-average prices.
At many stores, you can save money just by asking for a discount. Some independent stores offer a 10 to 15 percent discount on all items to customers who use a store charge account or the store's own credit card. Because our price comparison scores don't take such discounts into account, these discounts would make those stores' prices more competitive with the big chains than our Ratings Tables indicate.
For large projects that require a lot of equipment and materials, you might get a 10 to 20 percent contractor's discount from an independent store—but not from the big chains—simply by requesting it. Some stores offer discounts to homeowners who plan to spend over $500—and in some cases even less—over a couple of weeks. Our price comparison scores don't reflect such discounts.