Last updated October 2016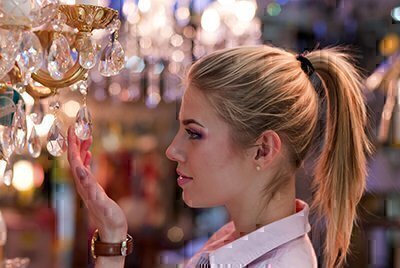 When American houses first got electrical lighting in the late 19th and early 20th century, many fixtures were just bare bulbs suspended from cords, often with unsightly exposed wiring. In 1891, Benjamin Harrison became the first president to use lightbulb-powered fixtures in the White House—but he wouldn't touch the switches because he feared electrocution.
The ways—and the styles—with which we illuminate our homes have evolved greatly in the century since. You can buy Versailles-worthy crystal chandeliers, mod table lamps, and a ceiling light/fan combination that resembles a space station (yes, really). With so many choices, how do you shop for lighting without feeling left in the dark?
And for advice on navigating the new types of lightbulbs for sale, see our article here.
Think in Threes
Most interior spaces need three kinds of lighting: ambient or overall lighting (the kind that illuminates a whole room); task lighting (think a desk or reading lamp); and accent lighting (spotlights on artworks, decorative sconces). That's both for practicality (the hall light that keeps you from running into the wall) and atmosphere (soft light for a dinner party). Having multiple sources of light creates shadows, depth, and moods, from a romantically dimmed bedroom to a brightly lit playroom.
Where to shop
You can find lamps and light fixtures at lighting showrooms, big-box home improvement stores (Home Depot, Lowe's), lighting showrooms, and many housewares and furniture stores. Our customer reviews of lighting showrooms will help you identify local favorites and avoid lousy ones. Most stores offer a range of fixtures and lamps, from fancy chandeliers to humble task lights.
If you're looking for a lot of specialized advice, consider shopping at a retailer certified by the American Lighting Association, an industry association that operates extensive training programs.
In general, the offerings at specialized lighting stores will cost more than those at the big-box joints. But you'll likely find far more selection at dedicated lighting stores—and higher-end finishes.
Furniture retailers also offer a range of lamps and fixtures, often flaunting the style (and price range) the store is known for: moderately priced mid-century styles at West Elm; expensive macho-meets-industrial stuff at Restoration Hardware.
Online options: In addition to local retailers, the internet is aglow with lighting retailers hawking a range of fixtures,lampshades, finials (those little decorative screwtops you put on top of lamp shades), and ceiling fan/light combos.
A few of our favorites include the hip, slightly preppy Shades of Light, contempo-cool Lightology, and American-made, retro-style Schoolhouse Electric & Supply Co. For lampshades, try Lamps Plus, which stocks nearly 2,000 varieties.
What to Look For
Before shopping, make a detailed list of your lighting needs.Hunting for reading lamps for your daughter's all-purple bedroom? A chandelier to go over the new dining room table? Measure your spaces—How high is the living room ceiling? How wide is that end table?—then keep in mind, particularly for task lighting or accent lighting, what you want to light up. Your Rembrandt painting? A kitchen counter? The more info you come armed with, the easier it'll be to sift through a showroom full of fixtures.
Picking fixtures
Start by thinking about what kind of light you want to cast, then narrow your choices by style. To get that layered look in a kitchen, for instance, consider recessed can lights for the ceiling (ambient), a couple of pendants to go over the island (task), and a spotlight to show off your treasured poster of French cheeses. And not all lights in a given space need to match. A dining room with a gilded chandelier could look stylish with sleek contemporary sconces, or vice versa. You can also mix metals.
In general, you'll get a more pleasant-feeling and -looking room if you use a central fixture or multiple pendants than if you just install recessed lighting, which can create a sterile airplane-runway vibe. And adding floor and table lamps into the mash-up provides both task lighting and ambiance.
Wall sconces, which are generally considered accent lighting, might also figure in your mix. They're great for adding extra style and mood in a dining room, and ideal for illuminating narrow or challenging spaces like stairways and halls.
A Brighter Bath
Choosing bathroom lights can be challenging for two reasons. First, it's wet in there! And secondly, since most bathrooms contain mirrors, getting the lighting right around them can be a challenge.
For any lights that will be near a tub or bath, snag a fixture with a UL damp rating, which means it's sealed against moisture. And don't buy a single-bulb fixture and mount it over the mirror—it'll cast unflattering shadows. Instead, consider a style with multiple bulbs or, if you have space, sconces or pendants on either side. And be sure to install a dimmer if you crave spa-like baths or just don't like bright light first thing in the a.m.
Size Matters
Interior designers say it's more common to pick a light that's too small than too large. It helps if you remember a few rules.
For an overhead fixture, a general rule of thumb is to add the length and the width of the room in feet together. The sum, in inches, is a good guide for the diameter of the fixture you choose. So if your townhouse living room is 12 feet by 30 feet, a 32-inch diameter fixture would both look good and cast enough light. For a chandelier that goes over a dining or kitchen table, aim for a width that's one-half to one-third of the table. A collection of small pendants also works well over a table or bar area.
In general, the higher the ceiling, the taller the light fixture should be. A good rule of thumb is two to three inches of fixture height for each foot of ceiling height. That means a standard, eight-foot ceiling needs a 20- to 24-inch tall fixture.
Online retailer Lightology has a handy tool that estimates ceiling light and chandelier sizes.
Hang it High Enough
The biggest rule in hanging light fixtures: Don't mount anything so low that people will bump into it. Pendants and chandeliers used over bars or tables hang lower than other fixtures. A chandelier should hang about 30 to 36 inches above a dining table. Bar or kitchen island pendants should be 28 to 34 inches above the surface they're lighting.
Go for a Dimmer
The light you need varies depending on the time of day, the mood you want to create, and personal preference. That's why you should put dimmer switches on all of your overhead fixtures. They cost as little as $5 each, are easy to install, and work on most non-fluorescent lights.
Lamp Counseling
Most retailers offer a mix of table and floor lamps. It's nice to use both in a room, and they don't even need to match. Which style you pick is very much a personal choice, since you can find everything from industrial-cool floor lamps to stained-glass, Tiffany-esque table lamps on showroom floors. Check how many watts the lamp you want will take, especially if you're planning on using it as a reading lamp or for task lighting.
Some lamps come with a shade; others need a separate shade. If you aren't buying the lamp and shade at the same time, it's helpful to bring the lamp shopping with you. (Hey, Lampy, want to go for a ride in the car?)
For table lamps, choose a shade that's two-thirds the height of the base; that way the lamp won't look top- or bottom-heavy. Also be sure that the shade doesn't expose the lightbulb. In general, you'll want to match the shade to the shape of a lamp, e.g., a round lamp with a round shade. And for a lamp you read by, choose a translucent shade.
Also consider using lamps in non-traditional ways. A table lamp placed on a dining room buffet, paired with a chandelier on a dimmer, adds a warm glow. Place an accent lamp on top of an armoire to cozy up a bedroom.
Consider Vintage or Antique
You'll often get a bargain—and a dose of high style—if you pick up a second-hand lamp or light fixture. Think a pink glass number from the "Mad Men" era or an Art Deco crystal chandelier. Some lighting showrooms sell them, and you can also acquire lights with a past at antique stores, thrift shops, and on eBay. You may need to rewire older fixtures, but it's an easy, cheap fix.