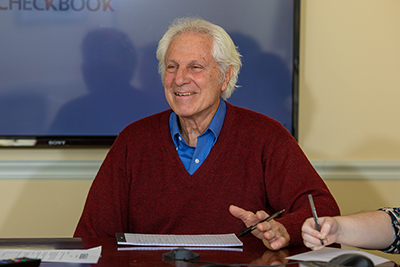 Robert Krughoff, founder and president of Consumers' Checkbook for more than 40 years, passed away on February 26.

The Washington Post highlighted his many accomplishments in an obituary and in a wonderful profile published after he retired in 2021. We also want to tell you what an incredible person he was and describe the impact he had on the staff at Checkbook as a colleague, mentor, and friend.
Robert was a pioneer. When he started Checkbook in 1974, there were no other services providing ratings of local businesses. Robert would often reminisce about sharing his idea for creating "a Consumer Reports, but for local services," and how, at the time, everyone told him it wouldn't work. They drastically underestimated his resourcefulness, dedication, work ethic, and stubbornness—and that so many consumers shared his passion.
Robert initially planned to launch Checkbook and then pursue other endeavors, but it quickly became his life's work. We're all glad it did; our lives are fuller for knowing him and working with him.
Drawing on his previous experience at the Department of Health, Education, and Welfare, Robert helped spearhead ways to evaluate the quality of healthcare providers. He was astonished that patients could access so little information about the staggering differences in quality of care and services supplied by doctors, hospitals, and insurance plans. He spent countless hours fighting for the release of data that could be used to evaluate performance.
Over the years, Robert's work earned numerous awards. They included an award for consumer journalism from the National Press Club; the inaugural Consumers and Patients for Quality Award from the National Quality Forum; the Health Data Liberator Award from AcademyHealth; the Esther Peterson Consumer Service Award from the Consumer Federation of America; and a Lifetime Achievement Award from the National Consumers League.
Robert was proud of these recognitions, but also somewhat uneasy about being singled out to receive the acclaim. Even though he deserved it, he always stressed that any credit belonged to his team.
Robert was immensely curious about everything and eager to learn from everyone he met. That could be in committee meetings, on-site with a company processing our mail, at a conference of statistics experts, or in between games on the basketball court. He embraced opportunities provided by chance encounters—if you ever found yourself sitting next to him on a plane, you probably remember the experience. He was even known to drop in at a factory or other place of business he happened to be driving by to find out more about the work that it did.
Checkbook's mission came from Robert's empathy for consumers facing difficult choices, whether they were trying to fix or replace a water heater or trying to decide which hospital to go to for major surgery. Robert was creative in thinking about how to measure performance. He trusted consumer feedback but also tried to learn from experts. He asked clergy about nursing homes, EMTs about hospital emergency departments, veterinarians about kennels, and auto body shops about insurance companies. He was committed to transparency and making sure that Checkbook users could understand how we did our evaluations. Robert was dedicated to "getting it right" and held himself and the entire organization to a very high standard.
The Checkbook staff loved Robert and fed off of his passion for helping consumers. He inspired great loyalty to the organization. Despite his busy schedule, he always made time for with a colleague in need. He approached any problem—whether professional or personal—with the same careful consideration and compassion.
Robert was just as interested in what we were doing in our free time as how our work projects were progressing. Marathon meetings often ran even longer because he loved hearing about our lives and activities outside of work and learning from them. The exchange went both ways as Robert had a wide array of interests and delighted in sharing them with us. He taught himself how to paint. He grew vegetables and fruit trees in his small Capitol Hill backyard and in the yards of his neighbors, if they'd allow it.
He traveled the world and loved an adventure; his favorite trips were backpacking in the Wind River Range of Wyoming and the San Juan Mountains in Colorado, and canoeing in Maine or Quebec. His trips often included being lost in the wilderness for "a few extra days," which sometimes would alarm his travel companions, but for Robert that was just part of the experience.
Another big passion was playing games. Robert played his brand of full-contact, elbows-out basketball until his knees forced him to stop at age 71, after which he turned his focus to tennis (on soft courts) and pickleball, scheduling regular games with a diverse array of friends.
From poker to horseshoes, Robert always tried to draw in as many players as possible. He'd promote our weekly office volleyball games, constantly welcoming new players. While he certainly enjoyed winning, he was always far more concerned that everyone had fun.
More than anything, Robert loved his family. He spoke often about being incredibly proud of his son, Alex; his daughter, Anna; and his amazing grandchildren, Josephine, Naya, and Rafael. And he absolutely adored his wife Gayle, who accepted and encouraged his many passions.
Robert was one of a kind. We will miss him and will work hard to carry on his vision.