Last updated November 2018
Whack! A pebble hits your windshield. Well, in fairness to the rock, it's more like you hit that poor innocent pebble. But now you have a damaged windshield, which is more than just a cosmetic issue: A cracked window impedes your sightline, and if it fails you're in even bigger trouble. If your ride's windshield or windows suffer damage, you want it fixed quickly with little hassle and without overpaying. Read on for help finding a glass act.
Consider a Repair Before Replacing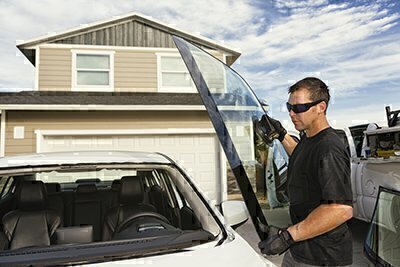 Damaged auto glass doesn't necessarily have to be replaced—chips can often be repaired. Modern windshields are essentially made with two layers of glass sandwiching a layer of vinyl, designed so glass breaks into tiny cracks, rather than shattering. These cracks can be filled by injecting polymer into them and then smoothing the area once it sets. Repairs are possible for relatively large areas of damage—larger than you might expect. Generally, chips that penetrate at an angle perpendicular to the surface or at a shallow angle can be repaired. If you're not sure repair is possible, ask a glass repair shop for an inspection.
Other windows in your car aren't comprised of the same kind of sandwich; they're typically "tempered" glass, made by heating it to over 1000°F and then quickly cooling it. This process strengthens the glass and ensures it will break up into very small pieces, which limits injury. If these windows haven't shattered, they're also candidates for repairs, instead of replacement.
Small repairs are relatively inexpensive, around $50–$75. But repairs must be made as soon as possible after the damage occurs. Rain and dirt will infiltrate damaged areas over time, and air will quickly make windshield cracks worse, making repair impossible.
Choosing a Shop
While it's a good idea to get a windshield or other glass repaired as soon as possible, you want to choose a repair shop carefully.
Here at Checkbook.org, you'll find customer reviews of auto glass outfits. (We regularly survey Checkbook and Consumer Reports subscribers, plus other individuals who we randomly invite to participate.)
If the damage was caused by someone else, and his or her insurance company is paying for the fix, start by checking with the insurer. Some have price agreements with networks of shops and chains, and while they'll pay for repairs done by others, they might not fully compensate you if you use a higher-priced glass company.
If you're paying, shop around a bit. Our undercover shoppers collected price quotes from a sample of local shops for four jobs and found it was quite easy. The table below reports the prices shops quoted us. As you can see, we found fairly sizable price differences; for example, from $746 to $1,260 to replace a cracked windshield on a 2017 Honda Odyssey ELX van.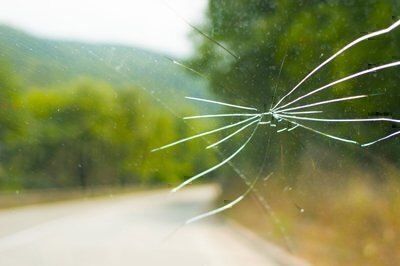 The last column on the table also reports for each shop our price comparison score. These scores indicate how each shop's quotes, on average, compare to the average price for all shops quoting on the same mix of jobs. The price comparison scores are adjusted so that the average for all shops equals $100. A shop with a score of $110 had prices 10 percent higher than the average shop's prices; a score of $90 indicates the shop's prices were 10 percent lower than average.
When collecting prices, also get a timetable for when the shop can get to your car and how long you have to wait after the repair/replacement is done before you drive the car.
Most auto glass services are mobile: They meet you at your home or office parking lot. But you might need to remain parked for a bit after a replacement or repair. How long varies by vehicle, weather, and materials used. For example, cars with passenger-side airbags require either more time or a faster-acting auto glass adhesive because the glass needs additional strength to support the deployment of the passenger-side airbag.
Ask for the warranty details. Look for one that covers the service life of the vehicle—and make sure it covers the glass and labor.
When contacting shops, ask if your technician is certified by the Auto Glass Safety Council (AGSC), which offers training programs and maintains standards for replacement techniques and monitors product performance.
Many auto glass repair shops are members of the AGSC, but any company can employ an AGSC-certified technician. Membership requires the shop to agree to abide by work standards and pass site inspections. These are nice safeguards, but the key is to make sure your technician does great work.
There are three levels of certification:
AGSC Master Technicians have passed the AGSC master technician certification test and work for AGSC-Registered Member Companies.
AGSC Certified Technicians have passed the AGSC general technician certification test and work for AGSC-Registered Member Companies.
AGSC Qualified Technicians have passed the AGSC general technician certification test but do not work for AGSC-Registered Member Companies.
Check on Source of Parts
All automotive glass must meet certain Federal Motor Vehicle Safety Standards, but depending on your vehicle and your insurer, you'll likely have a choice between replacement glass from the original equipment manufacturer (OEM) or from a different manufacturer that is considered an original equipment equivalent (OEE), or "aftermarket" part.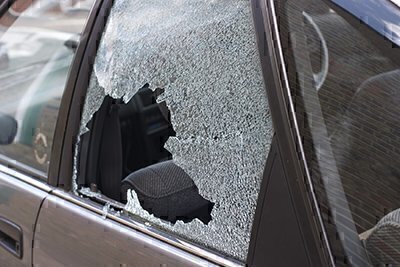 It makes sense to ask about any cost savings you might get from using an aftermarket glass replacement, but, especially for windshields, it's usually best to stick with an OEM model. As is the case with other auto body parts, there is some concern over the quality of non-OEM windshields and glass. A lot of aftermarket windshields and windows fit poorly.
Some carmakers—including at the time of this writing Honda, Mercedes-Benz, Nissan, and Subaru—publicly recommend OEM replacements. The reason: Beyond structural and airbag support, other new safety technologies rely on windshields. Adaptive cruise control, collision avoidance braking, forward collision warning, lane departure warning, and similar features depend on cameras and/or radar. These manufacturers argue that aftermarket glass might cause errors in these safety systems.
Ask any shop to give you a written promise that all the materials it supplies for your job meet or exceed ANSI Z 26.1 and all pertinent Federal Motor Vehicle Safety Standards.
Insurance
Auto glass is covered under a policy's comprehensive coverage. If you don't have comprehensive coverage on your vehicle, you can't claim repairs or replacement on your policy. But before you file a claim, find out how much your repair or replacement will cost and compare that to your deductible. It's not worth bothering to make a claim if it doesn't substantially exceed your deductible. And even if it does, you may want to pay out of pocket rather than face the possibility of a hefty premium hike.
Many insurers offer "full glass" deductible options, which pay all costs of windshield and window replacements. But don't buy this protection unless it costs less than $30–$40 per year. Many companies charge a lot more than that, making the cost of the coverage not worth the possible benefit.
Illustrative Prices for Auto Glass Work

At-home replacement of windshield for 2017 Honda Odyssey
At-home replacement of passenger side rear window for VW Golf
In-shop
replacement of windshield for 2017 Ford Taurus
In-shop repair of 1"-wide chip in windshield
Price comparison score
($100 = average)
A Best Auto Glass
8245 Backlick Rd #F, Lorton, VA, 703-339-2266
$400
$500
$69
$110
A Clear View Auto Glass
Alexandria, VA, 703-799-3067
$746
$322
$350
$65
$87
AAA Quality Auto Glass
2702 Sutton Rd, Vienna, VA, 703-938-0070
$1,200
$385
$485
$75
$115
Advance Auto Glass
9245 Berger Rd #110, Columbia, MD, 443-259-0555
$840
$375
$390
$60
$94
All American Auto Glass
7228 Lockport Pl, Lorton, VA, 703-455-4051
$848
$327
$366
$85
$98
Auto Glass
Woodbridge, VA, 703-212-9008
$925
$399
$475
$50
$100
Auto Glass Fitters
328 N Stonestreet Ave, Rockville, MD, 301-251-9100
$751
$193
$350
$80
$82
Auto Glass Warehouse
5125 Lawrence Pl, Hyattsville, MD, 301-864-5555
$840
$370
$102
Beltway Auto Glass
2810 Merrilee Dr, Fairfax, VA, 703-850-4849
$900-$950
$500
$462
$89
$120
Budget Auto Glass
9205 Enterprise Ct #B, Manassas Park, VA, 703-368-7943
$1,219
$312
$400
$75
$105
Chapin Auto Glass
Arlington, VA, 703-819-6964
$1,150
$370
$590
$70
$117
Elite Auto Glass
Haymarket, VA, 703-334-1020
$890
$493
$60
$97
Glass America
703 E Ordinance Rd, Glen Burnie, MD, 240-454-3420
$315
$534
$85
$111
Glass America
6699-F Springfield Mall, Springfield, VA, 571-303-1651
$855
$270
$464
$80
$98
Global Glass
7901 Kincannon Pl, Lorton, VA, 703-550-1248
$756
$192
$404
$50
$75
Metropolitan Auto Glass
10612 New Hampshire Ave, Silver Spring, MD, 301-585-2323
$889
$250
$398
$30
$76
Novus Glass
Bowie, MD, 301-925-4223
$782
$242
$517
$99
$103
Patriot Auto Glass
44050 Ashburn Shopping Plz #195, Ashburn, VA, 703-981-8300
$900
$325
$379
$75
$96
Preferred Auto Glass
Annandale, VA, 703-975-7211
$941
$375
$490
$70
$106
Safelite AutoGlass
Multiple locations, 800-800-2727
$1,260
$500
$360
$118
$133
Star Windshield Repair
12345 Lawyers Rd, Herndon, VA, 703-264-9700
$1,000
$200-$250
$450
$85
$109
That Glass Place
873 Highams Ct, Woodbridge, VA, 703-491-7557
$866
$267
$405
$65
$89
Virginia Glass
Multiple locations, 703-753-7533
$906
$292
$398
$75
$95
Windshield City
14620 Flint Lee Rd, Chantilly, VA, 703-502-9870
$785
$260
$380
$70
$87