Last updated January 2019
Think of gutters as rain gear for your house. If they're installed, and regularly cleaned and maintained, gutters prevent water from dripping onto and damaging exterior walls, backing up underneath roof shingles, and carrying rain away from the perimeter of the structure, preventing moisture issues inside.
Repair or Replace?
Before replacing your gutters, determine whether they can be repaired. Gutters made of galvanized steel or aluminum can last for 20 years; more expensive copper ones can hang on for 50 years or more.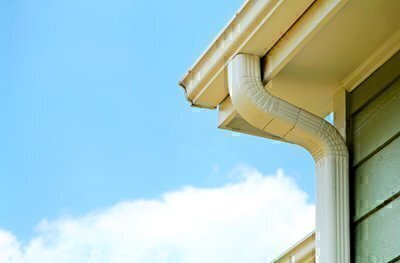 To determine if yours need replacement, look for a few telltale signs:
Gutters that are separated from each other or the roof.
Nails or screws falling out (a bit of attrition is OK, but multiple losses could indicate the gutters are worn out).
Multiple cracks, holes, and rust spots.
Multiple broken fasteners (replacing a few fasteners is no big deal, but multiple fasteners out of commission could be a sign of failing gutters).
Sagging or improperly angled gutters, which are prone to either pooling water on your roof or dumping it onto the side of your house.
Peeling exterior paint or stains, which could indicate water seeping into your siding or house trim.
Material Matters
Gutters (and their BFFs, the downspouts that carry all the water away) can be made from a range of materials, from plastic to carved stone. Here are some of the most common materials and their plusses and minuses:
Vinyl: easy to install, inexpensive, and quiet—but the least durable option; vinyl gutters might last less than 10 years.
Aluminum: rust and rot-resistant, comes in many colors, and long-lasting. Less expensive than gutters made with other metal options and more durable than vinyl, but can still dent, split, or tear.
Stainless steel and zinc: more durable than aluminum, but more expensive. Gutters made with either metal on their own or blended together are strong, rustproof, and last 20 to 50 years.
Copper: won't rust or need repainting and can last for 100 years but very expensive. Once installed, copper hue will oxidize to a matte brown in a few months and after a few years to a dreamy verdigris blue-green.
Other Considerations
Gutters work in tandem with mounting gear attached to fascia and downspouts that take the water away. To keep naturally occurring debris out of gutters, a range of gutter guards (mesh screens) and covers are available. They will make cleanings less frequent, but a drawback is lots of professional cleaning outfits won't work on gutters with guards or covers.
Gutters themselves come in two basic forms: seamless and sectional. Seamless gutters are fabricated on-site by your installer into one long strip. They cost more than sectional ones, which must be pieced together. But seamless styles generally last longer and are more reliable albeit more difficult to install.
Gutters can be shaped as semicircular troughs, half round, or K-style. K-style gutters, the most popular type, have flat bottoms and an outside face that tilts out to bring water away from the house toward downspouts. The shape you choose depends on the architecture of your house and your personal aesthetic; it's worth seeking advice at the hardware store if you're installing them yourself. A good installer can suggest which shape would work best for your property.
Finding a Pro
If you decide to hire a pro to install your new gutters, our ratings of area businesses will get you started.
Most of the comments we've received about gutter installers have been positive:
"My gutters were totally replaced. A very professional job. My wife didn't want me cleaning gutters anymore from a ladder, so this design should keep them from clogging."
"We got great advice on gutters. We have heavy foliage in the fall due to our house backing up to woods. We chose extra-large gutters with downspouts. They did not try to oversell us with systems that don't work. We are very happy with outcome and they look/work great on our home. This company uses their own employees to install and don't sub out."
"Excellent work and advice. The price was higher than others, but the quality of work results in excellent value."
But there are also some stinkers:
"They charged my credit card before the job was completed, and they never finished the job."
"New gutters leaked worse than the old gutters and the screen guards are no good at all: Water runs off in heavy rain."
As you would when hiring any kind of professional, make appointments with three to five companies with high ratings from Checkbook to inspect your gutters and provide estimates.
Ask companies for proof that they carry general liability and workers' compensation insurance.
Once you've chosen the best candidate, get a written contract for the work that includes a description of the job, type of materials to be used, any warranty, and payment schedule. Arrange to pay as little as possible until the work is finished and you are satisfied with it.
Paying for everything or almost everything at the end gives you max leverage in making sure the work is done properly.