What to Do If You Need an Out-of-Town Floral Delivery
Last updated November 2019
Want to send flowers to someone in another city? You can order directly through a florist there, ask a local florist to coordinate the order, or go through a national floral outfit or network.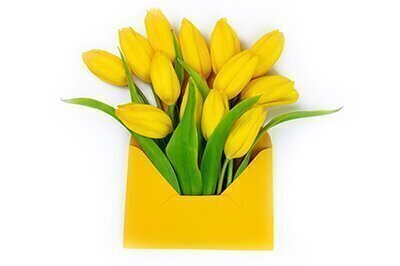 You're most likely to be satisfied if you contact a top-rated florist in your neighborhood, work with it to create the order, and then have it contact a florist in the recipient's area to fill and deliver the goods. "Your local florist is going to have a network of colleagues in other places, and they'll know who does good work better than you will," says Tim Farrell, a Philadelphia florist and the past president of the American Institute of Floral Designers. "Plus, a local pro is interested in building a relationship with you, and they have a vested interest in making you happy."
It's best if your local pro already knows a good florist in the recipient's area. If they don't, the next-best option is to identify one via a national network such as FTD or Teleflora. The big wire services offer guarantees on blooms ordered through their systems. And you'll have someone to complain to if your cousin in Tempe or Tallahassee gets three roses, not the three dozen you paid for.
Another option is to get in touch with a distant florist on your own. But be careful: Many lousy order-taking services pose on the internet as local florists, and these companies often create problems for their customers. Order-taking companies (and many national floral services) give customers little control over the final arrangement and often produce problems. A common one: An order-taking service charges a customer too little for an arrangement and sends the order to a participating florist, which rejects it. The order-taking service hits up a different florist, and again, after several hours, the order is rejected. Sometimes this flower-order merry-go-round continues for days—we've heard about orders finally delivered more than a week late. Just as bad, that out-of-town florist might skimp on the flowers in your arrangement, even though you carefully specified "pink roses" or pinpointed a specific bouquet in a catalog.
Make sure a florist is real by checking street view on Google maps to verify it operates a storefront, then look at sample arrangements posted on its website or Instagram account. "Be sure the website shows real original bouquets, not stock photos," says Farrell. This way you'll save money on wire fees and speak directly to the person who will be crafting your arrangement, too.
You can also use a service (like ProFlowers.com) that picks, arranges, and packages flowers, and ships them directly to the recipient.
Regardless of whom you hire, pay by credit card. If a florist screws up and is unwilling to make things right, you'll have the option of contesting the charge with your credit card company.